Abstract
Relocating ground squirrels within their natural distribution range is a popular tool in wildlife management in Central–Eastern Europe. Nevertheless, wildlife management lacks both a carefully developed and tested translocation guide and methods. We evaluated conditions of release method (time of release and retention of animals) that affect short-term settlement of translocated ground squirrels in the central region of Hungary. In a field experiment, we translocated 117 individuals from an international airport to a protected site in 2000. We found that release time should precede the animals' natural, daily activity peak. The use of retention caps combined with artificial burrows instead of complex acclimation cages works successfully to prevent animals from dispersing from the release site.
Access options
Buy single article
Instant access to the full article PDF.
US$ 39.95
Tax calculation will be finalised during checkout.
Subscribe to journal
Immediate online access to all issues from 2019. Subscription will auto renew annually.
US$ 79
Tax calculation will be finalised during checkout.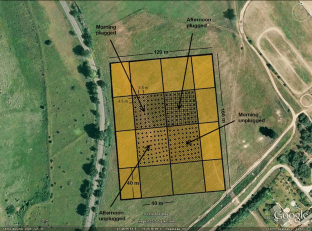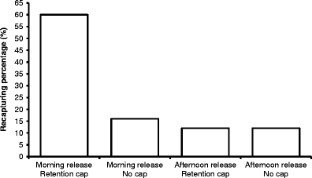 References
Aschoff J (1966) Circadian activity pattern with two peaks. Ecology 47:657–662

Bajomi B, Pullin AS, Stewart GB, Takács-Sánta A (2010) Bias and dispersal in the animal reintroduction literature. Oryx 44:358–365

Calvete C, Estrada R (2004) Short-term survival and dispersal of translocated European wild rabbits. Improving the release protocol. Biol Conservat 120:507–516

Cepáková E, Hulová Š (2002) Current distribution of the European souslik (Spermophilus citellus) in the Czech Republic. Lynx 33:89–103

Coroiu C, Kryštufek B, Vohralík V, Zagorodnyuk I (2008) Spermophilus citellus. In: IUCN 2008. 2008 IUCN Red List of Threatened Species. http://www.iucnredlist.org/details/20472

Fischer J, Lindenmayer DB (2000) An assessment of the published results of animal relocations. Biol Conservat 96:1–11

Hanski A, Simberloff D (1997) The metapopulation approach, its history, conceptual domain, and application to conservation. In: Hanski IA, Gilpin ME (eds) Metapopulation Biology: Ecology, Genetics, and Evolution. Academic, San Diego, pp 5–26

Hoogland JL (2005) Conservation of the Black-tailed Prairie Dog: Saving North America's Western Grasslands. Island Press, Washington

Hulová Š, Sedláček F (2008) Population genetic structure of the European ground squirrel in the Czech Republic. Conserv Genet 9:615–625

Hut RA, Scharff A (1998) Endoscopic observations on tunnel blocking behaviour in the European ground squirrel (Spermophilus citellus). Z Saugetierkd 63:377–380

IUCN (1987) IUCN/ SSC Translocation of Living Organisms. IUCN Species Survival Commission, Gland

IUCN (1998) IUCN/SSC Guidelines for Reintroductions. IUCN/SSC Reintroduction Specialist Group, Gland

IUCN (2008) The IUCN Red List of Threatened Species. Spermophilus citellus.http://www.iucnredlist.org/details/20472/0/full. Accessed 22 December 2009

Katona K, Váczi O, Altbäcker V (2002) Topographic distribution and daily activity of the European ground squirrel population in Bugacpuszta, Hungary. Acta Theriol 47:45–54

Kis J, Váczi O, Katona K, Altbäcker V (1998) A növényzet magasságának hatása a cinegési ürgék élőhelyválasztására. [The effect of vegetation height to habitat selection of ground squirrels in Cinegés. In Hungarian with English abstract]. Termvéd Közl 7:117–123

Koshev Y, Kocheva M (2008) Daily activity pattern in free-living European ground squirrels Spermophilus citellus (Mammalia: Rodentia) from Northwestern Bulgaria. Acta Zool Bulg suppl 2:149–154

Kryštufek B (1999) Spermophilus citellus (Linnaeus, 1766). In: Mitchell-Jones AJ et al (eds) The Atlas of European Mammals. Academic, London

Long RA, Martin TJ, Barnes BM (2005) Body temperature and activity patterns in free-living arctic ground squirrels. J Mammal 86:314–322

Moorhouse TP, Gelling M, Macdonald DW (2009) Effects of habitat quality upon reintroduction success in water voles: evidence from a replicated experiment. Biol Conservat 142:53–60

Pinter-Wollman N, Isbell LA, Hart LA (2009) Assessing translocation outcome: comparing behavioral and physiological aspects of translocated and resident African elephants (Loxodonta africana). Biol Conservat 142:1116–1124

Poole A, Lawton C (2009) The translocation and post release settlement of red squirrels Sciurus vulgaris to a previously uninhabited woodland. Biodivers Conservat 18:3205–3218

Roe AK, Roe MC (2004) A relocation technique for black-tailed prairie dogs. West N Am Nat 64:445–453

Rouco C, Ferreras P, Castro F, Villafuerte R (2008) The effect of exclusion of terrestrial predators on short-term survival of translocated European wild rabbits. Wildl Res 35:625–632

Rouco C, Villafuerte R, Castro F, Ferreras P (2010) A longer confinement period favors European wild rabbit (Oryctolagus cuniculus) survival during soft releases in low-cover habitats. Eur J Wildl Res 56:215–219

Seddon PJ (1999) Persistence without intervention: assessing success in wildlife reintroductions. Trends Ecol Evol 14:503

Seddon PJ, Armstron DP, Maloney RF (2007) Developing the science of reintroduction biology. Conservat Biol 21:303–312

Simms K (2009) Reintroduction of Black-tailed prairie dogs. BLM Tucson Field Office, Las Cienegas, NCA

Spitzenberger F, Bauer K (2001) Ziesel Spermophilus citellus (Linnaeus, 1766). In: Spitzenberger F (ed) Die Säugetierfauna Österreichs. Grüne Reihe, Ministry of Agriculture and Forestry, Environment and Water Management, Vienna, Austria, pp 356–365

StatSoft, Inc., (2009) STATISTICA (data analysis software system), version 9.0. www.statsoft.com

Teixeira CP, Schetinil de Azevedo C, Mendl M, Cipreste CF, Young RJ (2007) Revisiting translocation and reintroduction programmes: the importance of considering stress. Anim Behav 73:1–13

Váczi O, Koósz B, Altbäcker V (2006) Modified ambient temperature perception affects daily activity patterns in the European ground squirrel (Spermophilus citellus). J Mammal 87:54–59
Acknowledgments
Duna-Ipoly National Park Directorate and Alsó-Tisza-vidéki Environment, Nature Protection and Water Authority permitted us the scientific work on the protected species (permission number: 1363/2/2000). In addition, we express our thanks to the anonymous reviewers for their useful and helpful comments, and in particular to Lee C. Drickamer for thoroughly editing the text. The experiments comply with the current laws of the Republic of Hungary.
Additional information
Communicated by C. Gortázar
About this article
Cite this article
Gedeon, C.I., Váczi, O., Koósz, B. et al. Morning release into artificial burrows with retention caps facilitates success of European ground squirrel (Spermophilus citellus) translocations. Eur J Wildl Res 57, 1101–1105 (2011). https://doi.org/10.1007/s10344-011-0504-3
Received:

Revised:

Accepted:

Published:

Issue Date:
Keywords
Retention cap

Timing of release

Translocation

Ground squirrel