Abstract
A comparison was made between two anaesthetic combinations in 35 free-ranging adult Iberian ibexes (Capra pyrenaica), from May to December 2005. Sixteen ibexes (10 males, 6 females) were captured using xylazine–ketamine (3.0 ± 0.4 + 3.0 ± 0.4 mg/kg) and 19 ibexes (12 males, 7 females) with medetomidine–ketamine (0.10 ± 0.02 + 2.1 ± 0.3 mg/kg). Anaesthetic times were evaluated, as well as clinical variables (respiratory and heart rates, rectal temperature, haemoglobin oxygen saturation), haematological and biochemical variables, at the time of induction and after 1 h. The heart rate of ibex immobilized with medetomidine–ketamine was higher than those immobilized with xylazine–ketamine. Stabilization of the heart rate of ibex immobilized with medetomidine–ketamine came earlier than those immobilized with xylazine–ketamine. Rectal temperature decreased and stabilized in both groups, but earlier in the xylazine–ketamine group, and hypoxemia was observed in both groups. The white blood cell count of ibex immobilized with medetomidine–ketamine was lower than those immobilized with xylazine–ketamine throughout anaesthesia, while sodium concentration was higher only after 1 h of anaesthesia. In ibex immobilized with xylazine–ketamine, the neutrophil count, serum creatinine kinase activity and aspartate aminotransferase activity increased after 1 h of immobilization, while triglycerides decreased. Changes found in haematological and biochemical variables suggest no major differences in the different drug combinations used, but clinical findings of this study, as well as hypoxemia, hypothermia and bradycardia, were important records that should be taken into account when performing a safe operation.
Access options
Buy single article
Instant access to the full article PDF.
US$ 39.95
Tax calculation will be finalised during checkout.
Subscribe to journal
Immediate online access to all issues from 2019. Subscription will auto renew annually.
US$ 79
Tax calculation will be finalised during checkout.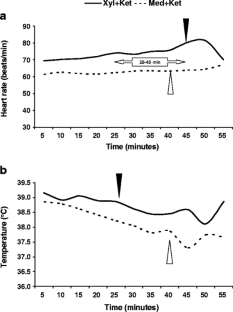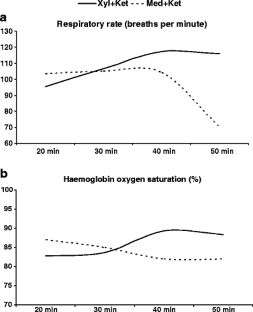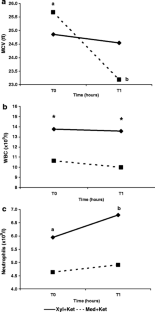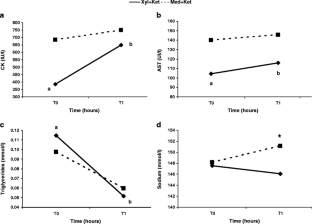 References
Abderhalden VW, Buchli C, Godli D (1998) Einfang und immobilisation von Alpensteinböcken (Capra i. ibex). Z Jagdwiss 44:123–132

Adamson DT, Mills CA (1996) Oxygenation and ventilation. In: Duke J, Rosenberg SJ (eds) Anaesthesia secrets. Hanley and Belfus, Pennsylvania, pp 6–12

Afshar FS, Baniadam A, Marashipour SP (2005) Effect of xylazine-ketamine on arterial blood pressure, arterial blood pH, blood gases, rectal temperature, heart and respiratory rates in goats. Bull Vet Inst Pulawy 49:481–484

Bouts T, Harrison N, Berry K, Taylor P, Routh A, Gasthuys F (2010) Comparison of three anaesthetic protocols in Bennett's wallabies (Macropus rufogriseus). Vet Anaesth Analg 37:207–214

Broom DM, Johnson KG (1993) Stress and animal welfare. Chapman & Hall, London

Caulkett N, Haigh JC (2007) Wild sheep and goats. In: West G, Heard D, Caulkett N (eds) Zoo and wildlife immobilization and anaesthesia. Blackwell Publishing, Ames, pp 629–633

Celly CS, Mcdonell WN, Young SS, Black WD (1997) The comparative hypoxaemic effect of four α2 adrenoceptor agonists (xylazine, romifidine, detomidine and medetomidine) in sheep. J Vet Pharmacol Ther 20:464–471

Gaertner DJ, Boschert KR, Schoeb TR (1987) Muscle necrosis in Syrian hamsters resulting from intramuscular injections of ketamine and xylazine. Lab Anim Sci 37:80–83

Golightly RT, Hofstra TD (1989) Immobilization of elk with a ketamine-xylazine mix and rapid reversal with yohimbine hydrochloride. Wildl Soc Bull 17:53–58

Gross ME, Booth NH (1995) Tranquilizers. In: Adams HR (ed) Veterinary pharmacology and therapeutics, 7th edn. Iowa State University Press, Ames, pp 320–349

Harthoorn AM (1982) Physical aspects of both mechanical and chemical capture. In: Nielsen L, Haigh JC, Fowler ME (eds.) Chemical Immobilization of North American Wildlife. Wisconsin Human Society, Milwaukee, pp 63–71

Jackson P, Cockcroft P (2002) Clinical examination of the goat. In: Clinical examination of farm animals. Blackwell Science Ltd, Oxford, pp 281–300

Jalanka HH, Roeken BO (1990) The use of medetomidine, medetomidine-ketamine combination, and atipamezole in non-domestic mammals: a review. J Zoo Wildl Med 21:259–282

Jessup DA (1999) Capture and handling of mountain sheep and goats. In: Fowler ME, Miller RE (ed) Zoo and wild animal medicine. Current Therapy 4. Saunders WB Company, Philadelphia, pp 681–687

Kocan AA, Glenn BL, Thedford TR, Doyle R, Waldrup K, Kubat G, Shaw MG (1981) Effects of chemical immobilization on hematologic and serum chemical values in captive white-tailed deer. J Am Vet Med Assoc 149:1153–1156

Kreeger JM, Arnemo JM (2002) Handbook of wildlife chemical immobilization. 3rd edition. Sunquest, USA. p 418

Mahmood MB, Mohammad FK (2008) Antagonism of medetomidine sedation in goats by atipamezole and yohimbine. Turk J Vet Anim Sci 32:429–432

Montané J, Marco I, López-Olvera J, Manteca X, Lavín S (2003) Effects of acepromazine on capture stress in roe deer (Capreolus capreolus). J Wildl Dis 39:375–386

Pawde AM, Singh Amarpal GR, Kumar N (1996) Clinicophysiological effects of medetomidine in female goats. Small Rumin Res 20:95–98

Peinado VI, Fernández-Arias A, Viscor G, Palomeque J (1991) Hematology and serum chemistry values for some wild ungulates. In: Spitz F, Janeau G, González G, Aulagnier S (eds) Proceedings of the international symposium 'Ongulés / Ungulates 91'. Paris & Institut de Recherche sur les Grands Mammifères, Paris, pp 95–98

Peinado VI, Fernández-Arias A, Viscor G, Palomeque J (1993) Haematology of Spanish ibex (Capra pyrenaica hispanica) restrained by physical or chemical means. Vet Rec 132:580–583

Peinado VI, Celdrán JF, Palomeque J (1999) Basic haematological values in some wild ruminants in captivity. Comp Biochem Physiol A 124:199–203

Peracino V, Bassano B (1993) Bilan de 30 années d'expériences de capture des ongulés sauvages –bouquetin des Alpes (Capra ibex ibex) et chamois (Rupicapra rupicapra rupicapra)– dans le Parc National du Grand Paradis (Italia). In: Dubray D (ed) Proceedings: actes du symposium sur les techniques de Capture et de Marquage des Ongulés Sauvages. FDC de l'Herault, Montpellier, pp 37–44

Pérez JM, Granados JE, González FJ, Ruíz-Martínez I, Soriguer RC (1999) Hematologic parameters of the Spanish ibex (Capra pyrenaica). J Zoo Wildl Med 30:550–554

Plumb DC (2008) Veterinary drug handbook, 6th edn. Iowa State University Press, Ames, p 1120

Santiago-Moreno J, Toledano-Díaz A, Sookhthezary A, Gómez-Guillamón F, Salas de la Vega R, Pulido-Pastor A, López-Sebastián A (2011) Effects of anesthetic protocols on electroejaculation variables of Iberian ibex (Capra pyrenaica). Eur J Wildl Res 90:150–155

Wiesner H, von Hegel G (1985) Practische hinweise zur immobilisation von wild- und zootieren. Tierärztl Prax 13:113–127
Acknowledgements
The authors would like to express their gratitude to the directors and rangers of the Sierra Nevada National Park for their invaluable collaboration. Thanks are also due to University students and volunteers for helping in the handling of the animals. This study was funded by Spanish government grant REN2001-1989/GLO.
About this article
Cite this article
Casas-Díaz, E., Marco, I., López-Olvera, J.R. et al. Comparison of xylazine–ketamine and medetomidine–ketamine anaesthesia in the Iberian ibex (Capra pyrenaica). Eur J Wildl Res 57, 887–893 (2011). https://doi.org/10.1007/s10344-011-0500-7
Received:

Revised:

Accepted:

Published:

Issue Date:
Keywords
Anaesthesia

Capra pyrenaica

Iberian ibex

Medetomidine

Ketamine

Xylazine