Abstract
Rabbit restocking is widely used in Spain for conservation and/or hunting purposes; however, the success of rabbit restocking is generally low. Thus, many studies have assessed ways to reduce this problem, one of which is the use of a "soft-release" procedure whereby rabbits are acclimated to their release site for a variable time period prior to release. This study assessed the short-term effects of two soft-release confinement periods on the survival of rabbits during an experimental restocking program carried out in southwest Spain. The post-release survival rate of rabbits confined at the release site for six nights was significantly higher than that of rabbits confined for three nights. The longer acclimation period after rabbit translocation minimized mortality while rabbits adapted to their new environment.
This is a preview of subscription content,
to check access.
Access this article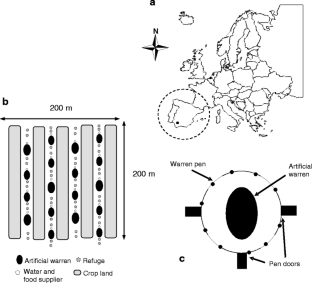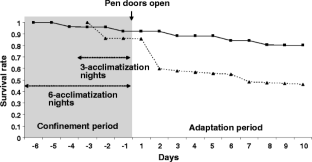 Similar content being viewed by others
References
Angulo E, Villafuerte R (2004) Modelling hunting strategies for the conservation of wild rabbit populations. Biol Conserv 115:291–301

Bright PW, Morris PA (1994) Animal translocations for conservation performance of dormice in relation to release methods, origin and season. J Appl Ecol 31:699–708

Calvete C, Estrada R (2004) Short-term survival and dispersal of translocated European wild rabbits. Improving the release protocol. Biol Conserv 120:507–516

Calvete C, Villafuerte R, Lucientes J, Osacar JJ (1997) Effectiveness of traditional wild rabbit restocking in Spain. J Zool 241:271–277

Delibes-Mateos M, Delibes M, Ferreras P, Villafuerte R (2008a) The key role of European rabbits in the conservation of the western Mediterranean basin hotspot. Conserv Biol 22:1106–1117

Delibes-Mateos M, Ramírez FP, Villafuerte R (2008b) Translocations as a risk for the conservation of European wild rabbit Oryctolagus cuniculus lineages. Oryx 42:259–264

Heisey DM, Fuller TK (1985) Evaluation of survival and cause-specific mortality rates using telemetry data. J Wildl Manage 49:668–674

Jefferies DJ, Wayre P, Jessop RM, Mitchell-Jones AJ (1986) Reinforcing the native otter Lutra lutra population in East Anglia: an analysis of the behaviour and range development of the first release group. Mammal Rev 16:65–79

Letty J, Marchandeau S, Clobert J, Aubineau J (2000) Improving translocations success: an experimental study of antistress treatment and release method for wild rabbit. Anim Conserv 3:211–219

Letty J, Marchandeau S, Reitz S, Clobert J, Sarrazin F (2002) Survival and movements of translocated wild rabbits (Oryctolagus cuniculus). Game Wildl Sci 19:1–23

Letty J, Aubineau J, Marchandeau S (2008) Improving rabbit restocking success: a review of field experiments in France. In: Alves PC, Ferrand N, Hackländer K (eds) Lagomorph biology: evolution, ecology and conservation. Springer-Verlag, Berlin, pp 327–348

Moreno S, Villafuerte R (1995) Traditional management of scrubland for the conservation of rabbits Oryctolagus cuniculus and their predators in Doñana National Park, Spain. Biol Conserv 73:81–85

Moreno S, Villafuerte R, Cabezas S, Lombarda L (2004) Wild rabbit restocking for predator conservation in Spain. Biol Conserv 118:183–193

Moreno S, Beltrán JF, Cotilla I, Kuffner B, Laffite R, Jordán G, Ayala J, Quintero C, Jiménez A, Castro F, Cabezas S, Villafuerte R (2007) Long-term decline of the European wild rabbit (Oryctolagus cuniculus) in south-western Spain. Wildl Res 34:652–658

Rouco C, Ferreras P, Castro F, Villafuerte R (2008) Effect of terrestrial predator exclusion on short-term survival of translocated European wild rabbits. Wildl Res 35:625–632

Short J, Bradshaw SD, Giles J, Prince RIT, Wilson GR (1992) Reintroducction of macropods (Marsupiala: Macropodoidea) in Australia—a review. Biol Conserv 62:189–204

Teixeira CP, Schetini de Azevedo C, Mendl M, Cipreste C, Young RJ (2007) Revisiting translocations and reintroduction programmes: the importance of considering stress. Anim Behav 73:1–13
Acknowledgements
C. Rouco was supported by a postdoctoral grant from the regional government of Castilla-La Mancha (JCCM), and the European Social Fund. Funding was provided by the projects by Confederación Hidrográfica del Guadalquivir, by the Projects CGL2005-02340/BOS, FAU2006-0014-C-02-02, PAI06-170, and PREG-05-022. Special thanks go to C. Calvete, G. Calabuig, M. Delibes-Mateos, R. Estrada, C. Iriarte, A. Linares, S. Luna, L. E. Mínguez, O. Rodriguez, and M. Reglero for support during field work and to Dr. Walburga Lutz and two anonymous referees for their helpful comments on previous drafts of the manuscript. The work reported in this paper comply with the standards and procedures laid down by the Spanish legislation.
Additional information
Communicated by C. Gortázar
About this article
Cite this article
Rouco, C., Ferreras, P., Castro, F. et al. A longer confinement period favors European wild rabbit (Oryctolagus cuniculus) survival during soft releases in low-cover habitats. Eur J Wildl Res 56, 215–219 (2010). https://doi.org/10.1007/s10344-009-0305-0
Received:

Revised:

Accepted:

Published:

Issue Date:

DOI: https://doi.org/10.1007/s10344-009-0305-0
Keywords