Abstract
Accurate determination of age is essential for many ecological studies. Though counts of cementum annuli zones in teeth usually provide the most accurate measure of age in mammals, the technique is technically demanding, highly invasive and expensive. Consequently, ecologists and archaeologists are constantly seeking alternative methods of accurate age determination. In this study, we correlated the age of Eurasian beaver (Castor fiber) with skull length and width, body length and mass, hind foot length, tail width and length and an index of tail size to determine if these measurements were accurate predictors of age. The relationships between all measurements and age were curvilinear, making them particularly unreliable for older age classes. Skull length and width were the best predictors of age, but only individuals ≤2 years could be assigned to their correct age class with a probability >50%. However, when allowing for an error of ±1 year, the success rate of both skull measurements increased to ≥60% for females up to 4 years of age and for males up to 3 years of age. We concluded that body measurements are unsuitable predictors of accurate individual age in beavers but that especially skull length and skull width may be useful if separation into age classes such as juvenile, subadult and adult is sufficient.
This is a preview of subscription content, log in to check access.
Access options
Buy single article
Instant access to the full article PDF.
US$ 39.95
Price includes VAT for USA
Subscribe to journal
Immediate online access to all issues from 2019. Subscription will auto renew annually.
US$ 99
This is the net price. Taxes to be calculated in checkout.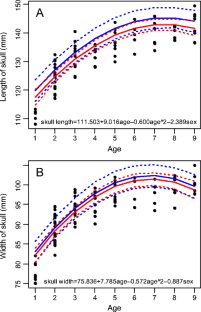 References
Burnham KP, Anderson DR (2002) Model selection and multimodel inference. A practical information-theoretic approach. Second edition. Springer, New York USA

Fancy SG (1980) Preparation of mammalian teeth for age determination by cementum layers: a review. Wildl Soc Bull 8:242–245

Fandén A (2005) Ageing the beaver (Castor fiber L.): a skeletal development and life history calendar based on epiphyseal fusion. Archaeofauna 14:199–213

Festa-Bianchet M, Blanchard P, Gaillard JM, Hewison JM (2002) Tooth extraction is not an acceptable technique to age live ungulates. Wildl Soc Bull 30:282–283

Frahert S (2000) Wachstumbedingte proportionsveränderungen am schädel des bibers, Castor fiber L., 1758 (Rodentia, Castoridae): taxonomische bedeutung und diskussion funktioneller aspekte. Bonn Zool Beitr 49:131–153

Frahert S, Heidecke D (1992) Kraniometrische analyse eurasischer biber, Castor fiber L. (Rodentia, Castoridae)- erste ergebnisse. Semiaquatische Saugetiere. Wiss Beitr Univ Halle 1:175–189

Hartman G (1992) Age determination of live beaver by dental X-ray. Wildl Soc Bull 20:216–220

Hatting T (1969) Age determination for subfossil beavers (Castor fiber L.) (Mammalia) on the basis of radiographs of the teeth. Vidensk Meddr Dansk Naturh Foren 132:115–128

Johnson DDP, Macdonald DW (2001) Why are group-living badgers (Meles meles) sexually dimorphic. J Zool (Lond) 255:199–204. doi:10.1017/S0952836901001273

Klevezal GA, Kleinenberg SE (1969) Age determination of mammals from annual layers in teeth and bones. Israel Program for Scientific Translations, Jerusalem 128 pp

Komosa M, Frackowiak H, Godynicki S (2007) Skulls of Neolithic Eurasian beavers (Castor fiber L.) in comparison with skulls of contemporary beavers from natural biotopes of Wielkopolska region (Poland). Pol J Environ Stud 16:697–704

Larson JS, van Nostrand FC (1968) An evaluation of beaver aging techniques. J Wildl Manage 32:99–103. doi:10.2307/3798242

Morris P (1972) A review of mammalian age determination methods. Mamm Rev 2:69–104. doi:10.1111/j.1365-2907.1972.tb00160.x

Mysterud A, Østbye E (2006) Comparing simple methods for aging roe deer Capreolus capreolus: are any of them useful for management? Wildl Biol 12:101–107. doi:10.2981/0909-6396(2006)12[101:CSMFAR]2.0.CO;2

Nelson ME (2002) The science, ethics, and philosophy of tooth extractions from live-captured white tailed-deer: a response to Festa-Bianchet et al. Wildl Soc Bull 30:284–288

Nolet BA, Baveco JM (1996) Development and viability of a translocated beaver Castor fiber population in the Netherlands. Biol Conserv 75:125–137. doi:10.1016/0006-3207(95)00063-1

Novak M (1987) Beaver. In: Novak M, Baker JA, Obbard ME, Malloch B (eds) Wild furbearer management and conservation. Ontario Ministry of Natural Resources, Toronto, pp 282–314

Parker H, Rosell F, Hermansen TA, Sørløkk G, Stærk M (2002) Sex and age composition of spring-hunted Eurasian beaver in Norway. J Wildl Manage 66:1164–1170. doi:10.2307/3802949

Patric EF, Webb WL (1960) An evaluation of three age determination criteria in live beavers. J Wildl Manage 24:37–45. doi:10.2307/3797354

Piechocki R (1986) Osteologische kriterien zur alterbestimmung des Elbebiber Castor fiber albicus. Zoologische Abh/ Staatliches Mus Tierkunde Dresden 41:177–183

R Development Core Team (2008) R: A language and environment for statistical computing. R Foundation for Statistical Computing, Vienna, Austria. ISBN 3-900051-070, URL http://www.R-project.org

Stefen C (2009) Intraspecific variability of beaver teeth (Castoridae: Rodentia). Zool J Linn Soc 155:926–936. doi:10.1111/j.1096-3642.2008.00467.x

Van Deelen TR (1994) A field technique for aging live beavers, Castor canadensis. Can Field Nat 108:361–363

van Nostrand FC, Stephenson AB (1964) Age determination for beavers by tooth development. J Wildl Manage 28:430–434. doi:10.2307/3798194
Acknowledgements
We wish to thank F. Bergan, B. Hovde, J. I. Sanda and numerous other hunters who participated in the study and F. Bergan, R. D. Campbell and A. Fanden for preparing the skulls and assisting in measurements. The study was financially supported by the Norwegian Directorate for Nature Management; the Conservation Commissions in the counties of Telemark, Aust-Agder, Vest-Agder, Oslo & Akershus, Østfold, Vestfold, Oppland, Buskerud, Hedmark and Sør-Trondelag and the Department of Environmental and Health Studies, Telemark University College.
Additional information
Communicated by H. Kierdorf
About this article
Cite this article
Rosell, F., Zedrosser, A. & Parker, H. Correlates of body measurements and age in Eurasian beaver from Norway. Eur J Wildl Res 56, 43–48 (2010). https://doi.org/10.1007/s10344-009-0289-9
Received:

Revised:

Accepted:

Published:

Issue Date:
Keywords
Eurasian beaver

Skull and body measurements

Age determination

Norway