Abstract
During the last decades wild rabbit (Oryctolagus cuniculus) populations have been progressively declining in the Iberian Peninsula as a result of several factors, namely habitat deterioration. Hence, habitat management has become one of the most commonly used management techniques to restore wild rabbit populations. To test the efficacy of some of these measures (creation of pastures, opening firebreaks) in rabbit populations, two managed (M1 and M2) and two control areas (C1 and C2) were selected in the Portuguese Southwest (SW) Coast. In each study area, the influence of habitat management was tested assessing temporal changes in rabbit abundance obtained from pellet counts and in rabbits' diet through microhistological analysis of fecal pellets. Rabbit densities were higher in managed than in control areas (mean annual values: M1–1.08 pellets/m2; M2–1.60 pellets/m2; C1–0.69 pellets/m2; C2–0.40 pellets/m2). In general, Gramineae was the most consumed plant group throughout the year and in all study areas. In control areas, consumption of alternative species with low nutritive value (e.g., Cistus ladanifer) was observed, especially in summer. Our data suggest a positive influence of habitat management on rabbit populations since in managed areas individuals presented an overall higher abundance and a more nutritive diet. In addition, there was no evidence that sown species were consumed in detriment to naturally occurring grasses, suggesting that in Mediterranean semi-arid regions clearing vegetation inside the scrubland might be sufficient to improve habitat conditions for rabbits.
Access options
Buy single article
Instant access to the full article PDF.
US$ 39.95
Tax calculation will be finalised during checkout.
Subscribe to journal
Immediate online access to all issues from 2019. Subscription will auto renew annually.
US$ 79
Tax calculation will be finalised during checkout.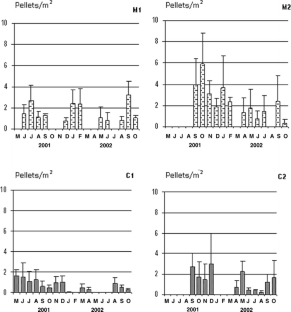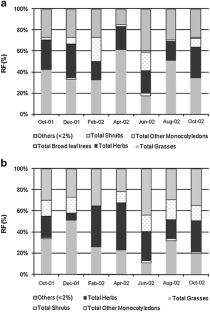 References
Alves PC, Ferreira C (2002) Determinação da abundância relativa das populações de coelho-bravo (Oryctolagus cuniculus algirus) em Portugal Continental. Final Report of the Project "Review of the Portuguese Red Book of Vertebrates". CIBIO-UP/ICN

Beltrán JF (1991) Temporal abundance pattern of the wild rabbit in Doñana, SW Spain. Mammalia 55(4):591–599

Cabezas S, Moreno S (2007) An experimental study of translocation success and habitat improvement in wild rabbits. Anim Conserv 10:340–348. doi:10.1111/j.1469-1795.2007.00119.x

Calvete C, Villafuerte R, Lucientes J, Osacar JJ (1997) Effectiveness of traditional wild rabbit restocking in Spain. J Zool (Lond) 241:1–7

Carretero MA (2004) From set menu to a la carte. Linking issues in trophic ecology of Mediterranean lacertids. Ital J Zool (Modena) 2(Suppl):121–133. doi:10.1080/11250000409356621

Catalán I, Rodríguez-Hidalgo P, Tortosa F (2008) Is habitat management an effective tool for wild rabbit (Oryctolagus cuniculus) population reinforcement? Eur J Wildl Res 54:449–453. doi:10.1007/s10344-007-0169-0

Chapuis JL (1979) Le régime alimentaire du lapin de garenne, Oryctolagus cuniculus (L. 1758) dans deux habitats contrastés: une lande bretonne et un domain de l'Ile de France. PhD Thesis. Rennes University, France

Clarcke KR, Warwick RM (1994) Change in marine communities: an approach to statistical analysis and interpretation. Natural Environment Research Council, UK

Cooke BD (2008) Managing the European rabbit: converging interests between Australian research for rabbit control and European research for their conservation. In: Alves PC, Ferrand N, Hackländer K (eds) Lagomorph biology: evolution, ecology and conservation. Springer, Berlin, pp 317–326

Delibes-Mateos M, Delibes M, Ferreras P, Villafuerte R (2008a) Key role of European rabbits in the conservation of the Western Mediterranean Basin Hotspot. Conserv Biol 22(5):1106–1117. doi:10.1111/j.1523-1739.2008.00993.x

Delibes-Mateos M, Ferreras P, Villafuerte R (2008b) Rabbit populations and game management: the situation after 15 years of rabbit haemorrhagic disease in central-southern Spain. Biodiv Cons 17:559–574. doi:10.1007/s10531-007-9272-5

Faragó S, Giczi F, Wurm H (2001) Management for the great bustard (Otis tarda) in western Hungary. Game Wildl Sci 18(2):171–181

Ferreira C (2001) Avaliação do impacto de medidas de gestão do habitat numa população de coelho-bravo (Oryctolagus cuniculus algirus) num ecossistema mediterrânico. Degree final report. Sciences Faculty. University of Porto, Portugal

Gálvez L, López-Pintor A, De Miguel JM, Alonso G, Rueda M, Rebollo S, Gómez-Sal A (2008) Ecosystem engineering effects of European rabbits in a Mediterranean habitat. In: Alves PC, Ferrand N, Hackländer K (eds) Lagomorph biology: evolution, ecology and conservation. Springer, Berlin, pp 125–139

Gonçalves H, Alves PC, Rocha A (2002) Seasonal variation in the reproductive activity of the wild rabbits (Oryctolagus cuniculus algirus) in a Mediterranean ecosystem. Wildl Res 29:165–173. doi:10.1071/WR00048

Havet P, Granval P (1996) Jachère et faune sauvage: les objectifs du monde de la chasse. Bulletin mensuel de l'ONCFS 214:6–13

Homolka M (1988) Diet of the wild rabbit (Oryctolagus cuniculus) in an agrocoenosis. Folia Zool (Brno) 37(2):121–128

Lombardi L, Fernández N, Moreno S, Villafuerte R (2003) Habitat-related differences in rabbit (Oryctolagus cuniculus) abundance, distribution, and activity. J Mammal 84(1):26–36. doi:10.1644/1545-1542(2003) 084<0026:HRDIRO>2.0.CO;2

Maia MJ, Rego FC, Fonseca MM, Bugalho JF (1996) Dieta de uma população de veados (Cervus elaphus L.) durante um período de reprodução: análise micro-histológica das fezes. Rev Florestal 9:277–286

Margalef R (1995) Ecologia, 8th edn. Ediciones Omega, S.A., Barcelona

Marques C, Mathias ML (2001) The diet of the European wild rabbit, Oryctolagus cuniculus (L.), on different coastal habitats of Central Portugal. Mammalia 65(4):437–449

Martins H, Milne JS, Rego F (2002) Seasonal and spatial variation in the diet of the wild rabbit (Oryctolagus cuniculus L.) in Portugal. J Zool (Lond) 258:395–404. doi:10.1017/S0952836902001541

Moreno S, Villafuerte R (1995) Traditional management of scrubland for the conservation of rabbits Oryctolagus cuniculus and their predators in Doñana National Park, Spain. Biol Conserv 73:81–85. doi:10.1016/0006-3207(95) 90069-1

Moreno S, Villafuerte R, Delibes M (1996) Cover is safe during the day but dangerous at night: the use of vegetation by European wild rabbits. Can J Zool 74:1656–1660. doi:10.1139/z96-183

Moreno S, Villafuerte R (1997) Translocating rabbits (Oryctolagus cuniculus): the influence of habitat quality on survival rate and population growth. In: Proceedings of the XIIth Lagomorph Workshop, Clermont-Ferrand, France, 8–11 July 1996. Gibier Faune Sauvage 14(3):520–521

Muller A, Freitas J, Silva E, Le Gall-Reculé G, Zwingelstein F, Abrantes J, Esteves PJ, Alves PC, van der Loo W, Kolodziejek J, Nowotny N, Thompson G (2009) Evolution of rabbit haemorrhagic disease virus (RHDV) in the European rabbit (Oryctolagus cuniculus) from the Iberian peninsula. Vet Microbiol 135:368–373. doi 10.1016/j.vetmic.2008.09.057

Myers K, Parer I, Wood D, Cooke BD (1994) The history and biology of a successful colonizer: the rabbit in Australia. In: Thompson HV, King CM (eds) The European rabbit. Oxford Science Publications, Oxford, pp 101–157

Oliveira V (2000) Contribuição para o estudo da distribuição do Lince-ibérico (Lynx pardinus Temminck, 1858) no Barlavento Algarvio. Internal report. Instituto de Conservação da Natureza/Divisão de Habitats e Ecossistemas, Portugal

Palma L, Beja P, Rodrigues M (1999) The use of sighting data to analyse Iberian lynx habitat and distribution. J Appl Ecol 36:812–824. doi:10.1046/j.1365-2664.1999.00436.x

Palomares F (2001) Comparison of 3 methods to estimate rabbit abundance in a Mediterranean environment. Wildl Soc Bull 29(2):578–585

Pinto B (2000) Situação actual do Lince-ibérico no Barlavento Algarvio e Sudoeste Alentejano. Internal report. Instituto de Conservação da Natureza/Divisão de Habitats e Ecossistemas, Portugal

Rivas-Martínez S, Lousã M, Díaz TE, González FF, Costa JC (1990) Le vegetación del sur de Portugal (Sado, Alentejo y Algarve). It Geobot 3:5–126

Schoener TW (1968) The Anolis lizards of Bimini: resource partitioning in a complex fauna. Ecology 49:704–726. doi:10.2307/1935534

Trout RC, Tittensor AM (1989) Can predators regulate wild rabbit Oryctolagus cuniculus population density in England and Wales? Mammal Rev 19(4):153–173. doi:10.1111/j.1365-2907.1989.tb00409.x

Vavra M, Holechek JL (1980) Factors influencing microhistological analysis of herbivore diets. J Range Manage 33(5):371–373. doi:10.2307/3897886

Villafuerte R (1994) Riesgos de predación y estratégias defensivas del conejo (Oryctolagus cuniculus) en el Parque Nacional de Doñana. Ph.D. Thesis. University of Córdoba, Spain

Villafuerte R, Calvete C, Blanco JC, Lucientes J (1995) Incidence of viral hemorrhagic disease in wild rabbit populations in Spain. Mammalia 59:651–659

Villafuerte R, Lazo A, Moreno S (1997) Influence of food abundance and quality on rabbit fluctuations: conservation and management implications in Doñana National Park (SW Spain). Rev Ecol (Terre Vie) 52:345–356
Acknowledgments
This work was partially funded by the Instituto da Conservação da Natureza e da Biodiversidade (ICNB, Portugal). We wish to thank the Director of the Parque Natural do Sudoeste Alentejano e Costa Vicentina for all the support given during field work. We are also grateful to F. Barreto Caldas, J. Honrado, and R. Silva from the Botanic Department of Porto University for help in plant identification, J. Paupério for help in diet analysis, M. Carretero and A. Múrias for helpful comments on the statistical analysis, and B. Cooke and R. Villafuerte for valuable comments on an early draft of the manuscript.
Additional information
Communicated by: C. Gortázar
About this article
Cite this article
Ferreira, C., Alves, P.C. Influence of habitat management on the abundance and diet of wild rabbit (Oryctolagus cuniculus algirus) populations in Mediterranean ecosystems. Eur J Wildl Res 55, 487–496 (2009). https://doi.org/10.1007/s10344-009-0257-4
Received:

Revised:

Accepted:

Published:

Issue Date:
Keywords
Oryctolagus cuniculus algirus

Microhistological analysis

Relative abundance

Habitat management

South Portugal