Abstract
The German Wildlife Information System, founded in 2001, is a long-term monitoring program documenting occurrence, number, and development of game populations throughout Germany. Population numbers are recorded by standardized counting methods in so-called reference areas. The population densities of the European hare are calculated by spotlight strip censuses in the reference areas each spring and autumn all across Germany. From 2002 to 2005, the censuses were carried out by local hunters in 510 to 676 reference areas each year. During these years, the calculated spring densities increased significantly from 11.0 (2002) to 14.5 hares/km2 (2005) nationwide. The overall increase in spring densities was primarily caused by the population rise from spring 2003 to 2004, which correlates with the high net growth rate in 2003. In 2005, the number of counted hares varied between less than 1 and more than 107 hares/km2 in spring and between 0 and more than 170 hares/km2 in autumn. Because of differing landscapes in Germany, three regions were differentiated. In spring 2005, the average population densities (median) in East Germany (5.4 hares/km2) and Southwest Germany (14.6 hares/km2) were significantly lower than in Northwest Germany (23.9 hares/km2). These regional differences had been similarly distinct in former years.
Access options
Buy single article
Instant access to the full article PDF.
USD 39.95
Price excludes VAT (USA)
Tax calculation will be finalised during checkout.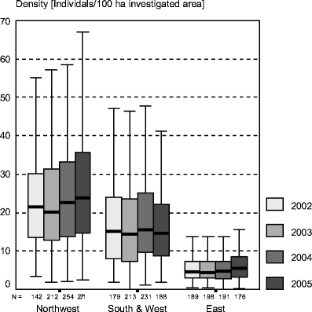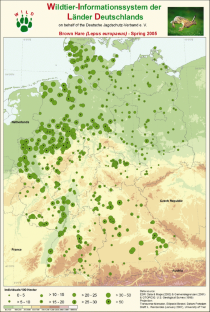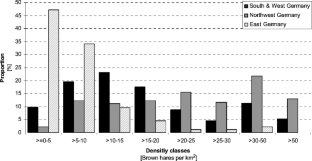 References
Averianov A, Niethammer J, Pegel M (2003) Lepus europaeus PALLAS, 1778-Feldhase. In: Krapp F (ed) Handbuch der Säugetiere Europas. AULA, Wiebelsheim

Becker R (1997) Zum Ergebnis des hessischen Feldhasen-Untersuchungsprogramms. Beitr Jagd-Wildforsch 22:141–148

Deutscher Jagdschutz-Verband e.V. (eds) (2003) Wildtier-Informationssystem der Länder Deutschlands (WILD). Projekthandbuch, Bonn

Deutscher Jagdschutz-Verband e.V. (eds) (2004) DJV-Handbuch. Dieter Hoffmann, Mainz

DWD (2003) Witterungsreport. Jahresausgabe 2003. Deutscher Wetterdienst, Offenbach

Eskens U, Frölich K, Kugel B, Frost JW, Streich WJ, Bensinger S (2000) Seroepidemiologische Untersuchungen zur Verbreitung des European Brwon Hare Syndrome (EBHS) und der Rabbit Haemorrhagic Disease (RHD) in Feldhasenbeständen ausgewählter Reviere in der Bundesrepublik Deutschland. Z Jagdwiss 46:61–72

Focardi S, De Marinis AM, Rizzotto M, Pucci A (2001) Comparative evaluation of thermal infrared imaging and spotlighting to survey wildlife. Wildl Soc Bull 29:133–139

Frölich K, Wisser J, Schmüser H, Fehlberg U, Neubauer H, Grunow R, Nikolaou K, Priemer J, Thiede S, Streich WJ, Speck S (2003) Epizootiologic and ecologic investigations of European brown hares (Lepus europaeus) in selected populations from Schleswig–Holstein, Germany. J Wildl Dis 39:751–761

Hoffman D (2003) Populationsdynamik und -entwicklung des Feldhasen in Schleswig-Holstein im Beziehungsgefüge von Klima, Prädation und Lebensraum. Dissertation. Universität Trier Kiel, p 220

Jennings N, Smith RK, Hackländer K, Harris S, White PCL (2006) Variation in demography, condition and dietary quality of hares Lepus europaeus from high-density and low-density populations. Wildlife Biol 12:179–189

Langbein J, Hutchings MR, Harris S, Stoate C, Tapper SC, Wray S (1999) Techniques for assessing the abundance of Brown Hares Lepus europaeus. Mamm Rev 29:93–116

Panek M, Kamieniarz R, Bresiński W (2006) The effect of experimental removal of red foxes Vulpes vulpes on spring density of brown hares Lepus europaeus in western Poland. Acta Theriol 51:187–193

Pegel M (1986) Der Feldhase (Lepus europaeus Pallas) im Beziehungsgefüge seiner Um- und Mitweltfaktoren. Schriften des Arbeitskreises Wildbiologie und Jagdwissenschaft an der Justus-Liebig-Universität Gießen. Stuttgart, F. Enke Verlag, p 224

Pfister HP (1984) Raum-zeitliches Verteilungsmuster von Feldhasen (Lepus europaeus PALLAS) in einem Ackerbaugebiet des Schweizerischen Mittellandes. Diss Uni Zürich, Zürich

Pfister HP, Kohli L, Kästli P, Birrer S (2002) Feldhase. Schlussbericht 1991–2000: Bundesamt für Umwelt, Wald und Landschaft, Bern, und Schweiz. Vogelwarte, Sempach, p 150

Rimathé R (1977) Zur saisonalen Abundanzdynamik des Feldhasen (Lepus europaeus PALLAS) im Schweizerischen Mittelland. Diss Uni Zürich, Zürich, p 176

Salzmann-Wandeler I, Salzmann HC (1973) Erste Erfahrungen bei Feldhasenzählungen mit Scheinwerfern. Jahrb Naturhist Mus Stadt Bern 5:201–216

Schmidt NM, Asferg T, Forchhammer MC (2004) Long-term patterns in European brown hare population dynamics in Denmark: effects of agriculture, predation and climate. BMC Ecology 4:1–7

Smith RK, Vaughan Jennings N, Harris S (2005) A quantitative analysis of the abundance and demography of European hares Lepus europaeus in relation to habitat type, intensity of agriculture and climate. Mamm Rev 35:1–24

Späth V (1989) Untersuchungen zur Populationsökologie des Feldhasen (Lepus europaeus Pallas) in der Oberrheinebene. Univ. Diss., Freiburg im Breisgau, p 198

Strauss E, Pohlmeyer K (2001) Zur Populationsökologie des Feldhasen. In: Wo liegt der hase im pfeffer: Naturschutz und rote liste—Jagd und Hege? Tagungsband der Natur- und Umweltschutz-Akademie des Landes Nordrhein-Westfalen (NUA), Recklinghausen, pp 5–20
About this article
Cite this article
Strauß, E., Grauer, A., Bartel, M. et al. The German wildlife information system: population densities and development of European Hare (Lepus europaeus PALLAS) during 2002–2005 in Germany. Eur J Wildl Res 54, 142–147 (2008). https://doi.org/10.1007/s10344-007-0112-4
Received:

Revised:

Accepted:

Published:

Issue Date:

DOI: https://doi.org/10.1007/s10344-007-0112-4
Keywords
Monitoring

Reference areas

Spotlight census

Net growth rate

Population growth rate