Abstract
Cost–benefit considerations of wildlife monitoring are essential, particularly, in areas outside national park boundaries, where resources for conducting wildlife censuses are scarce, but that, at the same time, are subject to high pressure for wildlife utilization, such as hunting. Large mammal survey data from various sources were collated and analyzed to investigate which methods are best suited for monitoring purposes at low cost in the Tarangire–Manyara ecosystem, northern Tanzania. Our results indicate that primary data (from aerial and road transects counts) that involve direct species observations, although sometimes very expensive, are required for establishing the status of the target species in terms of density or population size. Concomitantly, secondary data from various sources, such as interviews, hunting quota, and damage reports, obtained over wide areas and over longer periods of time, can provide important information on presence/absence and distribution of species within an area. In addition, the study revealed that hunting quotas set did not correlate with species abundance/numbers from the primary data surveys for most of the large mammals hunted within the ecosystem. For a better conservation and management of wildlife, in particular with respect to the forthcoming formation of Wildlife Management Areas, we propose an integrated approach to wildlife monitoring using primary and secondary data sources through the involvement of local people's knowledge.
Access options
Buy single article
Instant access to the full article PDF.
USD 39.95
Price excludes VAT (USA)
Tax calculation will be finalised during checkout.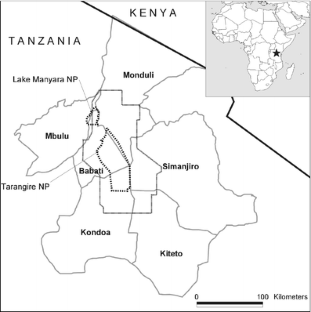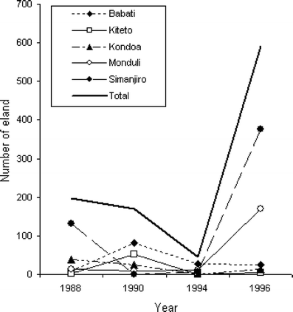 References
Baldus RD, Cauldwell AE (2004) Tourist hunting and it's role in development of wildlife management areas in Tanzania. VI International Game Ranching Symposium, Paris, http://www.wildlifeprogramme.gtz.de/wildlife/download/hunting_wma.doc

Baldus RD, Hahn R, Kaggi D, Kaihula S, Murphree M, Mahundi CC, Roettcher K, Siege L, Zacharia M (2001) Experiences with community based wildlife conservation in Tanzania. Tanzania Wildlife discussion paper no. 29, Dar Es Salaam, Tanzania

Bauer M, Van der Merwe S (2004) Inventory of free-ranging lions Panthera leo in Africa. Oryx 38:26–31

Borner M (1985) The increasing isolation of Tarangire National Park. Oryx 19:91–96

Burrough PA, Rachel AM (1998) Principles of geographic information systems (GIS), 1st edn. Oxford University Press, Oxford

Campbell K (1991) Using geographical information system (GIS) for wildlife conservation in Tanzania: possibilities and prospects. Conserv Monit News 3:3–4

Caro TM, Pelkey N, Borner M, Severre ELM, Campbell KLI, Huish SA, Ole Kuwai J, Farm B, Woodworth BL (1998) The impact of tourist hunting on large mammals in Tanzania: an initial assessment. Afr J Ecol 36:321–346

Environmental Systems Research Institute (1996) User's guide: using ARCView GIS. Redlands, USA

Fryxell JM, Sinclair ARE (1988) Causes and consequences of migration by large herbivores. Trends Ecol Evol 9:237–241

Galanti V, Tosi G, Rossi R, Foley C (2000) The use of GPS radio-collars to track elephants (Loxodonta africana) in the Tarangire National Park (Tanzania). Hystrix 11:27–37

Georgiadis N, Hack M, Turpin C (2003) The influence of rainfall on zebra population dynamics: implications for management. J Appl Ecol 40:125–136

Gillingham S, Lee PC (1999) The impact of wildlife-related benefits on the conservation attitudes of local people around the Selous Game Reserve, Tanzania. Environ Conserv 26:218–228

Grimm U (1998) Conservation and use of wildlife in southern Tanzania. Anim Res Dev 48:7–19

Hilton-Taylor C (2000) 2000 IUCN red list of threatened species. IUCN—The World Conservation Union, Gland, Switzerland

Hulme D, Murphree M (2001) African wildlife and livelihoods. The promise and performance of community conservation. James Currey, Oxford

IUCN (1996) 1996 IUCN red list of threatened animals. IUCN, Gland, Switzerland

Kahurananga J (1981) Population estimates, densities and biomass of large herbivores in Simanjiro palins, northern Tanzania. Aftr J Ecol 19:225–238

Kideghesho JR, Shombe-Hassan N, Porokwa J (2000) Can Tarangire survive? Kakakuona 18:10–17

Lamprey HF (1964) Estimation of large mammal densities, biomass and energy exchange in the Tarangire Game Reserve and the Maasai Steppe in Tanganyika. Afr J Ecol 2:1–46

Leader-Williams N, Kayera JA, Overton GL (1996) Community-based conservation in Tanzania. IUCN, Gland, Switzerland

Martinoli A, Preatoni D, Galanti V, Codipietro P, Kilewo M, Fernandes CAR, Wauters LA, Tosi G (2006) Species richness and habitat use of small carnivores in the Arusha National Park (Tanzania). Biodivers Conserv 15:1729–1744

Moe SR, Kapela EB, Wegge P (1992) Land use conflicts at National Park borders: a case study of Lake Burungi area in Tanzania. In: Wegge P (ed) Mammalian conservation in developing countries. A new approach. Proceedings of a Workshop held at the 5th Theriological Congress in Rome, Italy, August 1989. NORAGRIC occasional Paper Series C, Agricultural Univ. of Norway. Development and Environment 11:101–105

Msoffe FU (2003) Assessment of primary and secondary data for GIS mapping of key migratory wildlife species in the Tarangire–Manyara ecosystem-complex. MSc Thesis, University Dar es Salaam, Tanzania

Mwalyosi RBB (1991) Ecological evaluation for wildlife corridors and buffer zones for Lake Manyara National Park, Tanzania, and its immediate environment. Biol Conserv 57:171–186

National Survey of Tanzania (2000) Instructions for field workers. Oxford Research International, Oxford

Newmark WD (1996) Insularization of Tanzanian parks and the local extinction of large mammals. Conserv Biol 10:1549–1556

Norton-Griffiths M (1978) Handbook no. 1.Techniques in African wildlife ecology, 2nd edn. The African Wildlife Foundation, Nairobi, Kenya

SAS (1999) SAS STAT users guide, version v.8.0. SAS Institute, Cary, NC, USA

Shombe-Hassan N (2000) Conservation status of the Kwakuchinja Wildlife Corridor in the last two decades. Kakakuona 16:12–15

Songorwa AN (1999) Community-based wildlife management (CWM) in Tanzania: are the communities interested? World Dev 27:2061–2079

Songorwa AN, Buehrs T, Hughley KFD (2000) Community-based wildlife management in Africa: a critical assessment of the literature. Nat Resour J 40:603–643

TANAPA (2001) Tarangire National Park: draft general management plan/environmental impact assessment. Department of Planning and Development Projects, Arusha, Tanzania

Tanzania Wildlife Conservation Monitoring [TWCM] (2000) Aerial wildlife census Tarangire National Park, dry season 1999. TWCM/FZS Wildlife Survey Report, Dar es Salaam, Tanzania

Tarangire Conservation Project [TCP] (1997) Analysis of migratory movements of the large mammals and their interactions with human activities in the Tarangire area, Tanzania, as a contribution to a conservation and sustainable development strategy. Final report. European Commission, Directorate General for Development. University of Milan and Istituto Oikos, Italy, pp 1–217, in collaboration with Tanzania National Parks (TANAPA)

Verbeke G, Molenberghs G (2000) Linear mixed models for longitudinal data. Springer series in statistics. Springer, Berlin Heidelberg New York

Whitman K, Starfield M, Quadling S, Packer C (2004) Sustainable trophy hunting of African lions. Nature 428:175–178

Woodworth B, Farm B (1996) Tanzania wildlife conservation monitoring: procedures manual. Frankfurt Zoological Society, Arusha, Tanzania
Acknowledgment
This study was part of the Tarangire–Mayara Conservation project (TMCP) funded by USAID through WWF Tanzania Programme Office and Oikos Institute. Further support was provided by TANAPA, Wildlife Division, Hunting Companies, and local communities in the study area. Special thanks to Oikos Institute president, Dr. Rossella Rossi who coordinated the project and provided logistical support, to Janemary Ntalwila and the entire Oikos staff—Tanzania branch.
Appendices
Appendix 1
Hunting block quota (HBQ) of the major wildlife species in the different open areas (OA) and game-controlled areas (GCA) in the study area
Appendix 2
District hunting quota (HDQ) of the major wildlife species in the study area
About this article
Cite this article
Msoffe, F., Mturi, F.A., Galanti, V. et al. Comparing data of different survey methods for sustainable wildlife management in hunting areas: the case of Tarangire–Manyara ecosystem, northern Tanzania. Eur J Wildl Res 53, 112–124 (2007). https://doi.org/10.1007/s10344-006-0078-7
Received:

Accepted:

Published:

Issue Date:

DOI: https://doi.org/10.1007/s10344-006-0078-7
Keywords