Abstract
In many parts of Africa, illegal hunting is considered the most pressing issue in protected areas. Poaching has remained a persistent problem through the 50 year long history of Serengeti National Park. Around 2 million people live along the borders of the park. Poverty is widespread, and the population is increasing rapidly. In this paper we examine the local perceptions of importance and reasons for hunting, gender differences and opinions about mitigating measures among villagers around Serengeti's Western Corridor. The data were collected through interviewing 590 persons in eight villages close to the borders of the park. Hunting is driven by the need to not only increase food supply and cash income, but also fulfil cultural and social needs. We also identified a proactive attitude in the rural communities towards reducing illegal hunting and more constructive relationships with the management authorities of the national park. The role of hunting in community life extends beyond the immediate poverty issue, and should be seen as an element in the larger development agenda of rural Tanzania and the quest for models for sustainable wildlife management.
Access options
Buy single article
Instant access to the full article PDF.
US$ 39.95
Tax calculation will be finalised during checkout.
Subscribe to journal
Immediate online access to all issues from 2019. Subscription will auto renew annually.
US$ 79
Tax calculation will be finalised during checkout.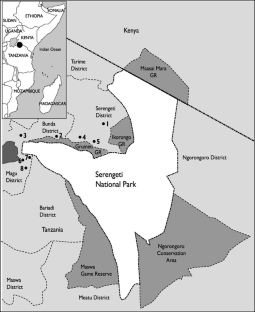 References
Adams WM, Hulme D (2001) If community conservation is the answer in Africa, what is the question?. Oryx 35:193–200

Agrawal A, Gibson CC (1999) Enchantment and disenchantment: the role of community in natural resource conservation. World Dev 27:629–649

Alpert P (1996) Integrated conservation and development projects Examples from Africa. BioScience 46:845–855

Arcese P, Hando J, Campbell K (1995) Historical and present-dayanti-poaching efforts in Serengeti. In: Sinclair ARE, Arcese P (eds) Serengeti II Dynamics, management, and conservation of an ecosystem. The University of Chicago Press, Chicago, pp 506 – 533

Balciauskiene L, Balsciauskas L (2001) Threat perception of large carnivores: Are there sexual differences?—Large carnivore initiative for Europe (LCIE), Internet version

Borge A (2003) Essays on the economics of African wildlife and utilization and management. Dr polit Thesis, University of Trondheim, NTNU, 187 pp

Brashares JS, Arcese P, Moses KS, Coppolino PB, Sinclair ARE, Balmford A (2004) Bushmeat hunting, wildlife declines, and fish supply in West Africa. Science 306:1180–1183

Bryan TA (2004) Tragedy averted: the promise of collaboration. Soc Nat Resour 17:881–896

Campbell, K, Hofer H (1995) People and wildlife: spatial dynamics and zones of interaction. In: Sinclair ARE, Arcese P (eds) Serengeti II Dynamics, management, and conservation of an ecosystem. The University of Chicago Press, Chicago, pp 534–570

Campbell K, Nelson V, Loibooki M (2001) Sustainable use of wildland resources: ecological, economic and social interactions. Natural Resources Institute, University of Greenwich, Main Report

Carpenter LH, Decker DJ, Lipscomb (2000) Stakeholder acceptance capacity in wildlife management. Hum Dimens Wildl 5:5–19

Carskadden H, Lober DJ (1998) Environmental stakeholder management as business strategy: the case of the corporate wildlife habitat enhancement programme. J Environ Manage 52:183–202

Child G (1996b) The role of community-based wild resource management in Zimbabwe. Biodivers Conserv 5:355–367

Child G (1996a) The practice and principles of community-based wildlife management in Zimbabwe: the CAMPFIRE programme. Biodivers Conserv 5:369–398

Conley A, Moote MA (2003) Evaluating Collaborative Natural Resource Management. Soc Nat Resour 16:371–386

Damania R, Milner-Gulland EJ, Crookes DJ (2005) A bioeconomic analysis of bushmeat hunting. Proc Roy Soc Lond 272:259–266

du Toit JT, Walker BH, Campbell BM (2003) Conserving tropical nature: current challenges for ecologists. Trends Ecol Evol 19:12–17

Dublin HT, Sinclair ARE, Boutin S, Anderson E, Jago M, Arcese P (1990) Does competition regulate ungulate populations? Further evidence from Serengeti, Tanzania. Oecologia 82:283–288

Fulton DC, Manfredo MJ, Lipscomb J (1996) Wildlife value orientations: a conceptual and measurement approach. Hum Dimens Wildl 1:24–47

Gibson CC (1999) Politicians and Poachers. The Political Economy of Wildlife Policy in Africa. Cambridge University Press, 244 pp

Gibson CC, Marks SA (1995) Transforming rural hunters into conservationists: an assessment of community-based wildlife management programs in Africa. World Dev 23:941–957

Gillingham S, Lee PC (2003) People and protected areas: a study of local perceptions of wildlife crop-damage conflict in an area bordering the Selous Game Reserve, Tanzania. Oryx 37:316–325

Graziano AM, Raulin ML (1989) Research methods—a process of inquiry. Harper and Row, New York, 410 pp

Hackel JD (1999) Community conservation and the future of Africa's wildlife. Conserv Biol 13:726–734

Hampshire K, Bell S, Wallace G, Stepukonis F (2004) "Real" poachers and predators: shades of meaning in local understandings of threats to fisheries. Soc Nat Resour 17:305–318

Hill CM (1998) Confliciting attitudes toward elephants around the Budongo Forest Reserve, Uganda. Environ Conserv 25:244–250

Hofer H, Campbell KLI, East ML, Huish SA (1996) The impact of game meat hunting on target and non-target species in the Serengeti. In: Taylor VJ, Dunstone N (eds) The exploitation of mammal populations. Chapman and Hall, London, pp 117–146

Hofer H, Campbell KLI, East M, Huish SA (2000) Modelling the spatial distribution of the economic costs and benefits of illegal game meat hunting in the Serengeti. Nat Res Model 13:151–177

Holmern T (2000) Hunting and community based conservation outside the serengeti national park—a sustainable approach by the Serengeti Regional Conservation Project (SRCP)? Msc Thesis, Department of Zoology, Norwegian University of Science and Technology

Hough JL (1988) Obstacles to effective management of conflicts between national parks and surrounding human communities in developing countries. Environ Conserv 15:129–136

Hulme D, Murphree M (2001) African wildlife and livelihoods the promise and performance of community conservation. Heinemann/Curry, Oxford, p 336

International Institute for Environment and Development (IIED) (1994) Whose Eden? an overview of community approaches to wildlife management. Russel Press, Nottingham, p 121

IUCN (2003) The Durban action plan. In: IUCN World Parks Congress 2003. IUCN, Gland Switzerland, Durban

Kaltenborn BP, Bjerke T, Vittersø J (1999) Attitudes toward large carnivores among sheep farmers, wildlife managers, and research biologists in Norway. Hum Dimens Wildl 4:57–73

Kaltenborn BP, Nyahongo JW, Mayengo M (2003) People and wildlife around Serengeti National Park. Norwegian Institute for Nature Research, Lillehammer, NINA Project Report 22

Kidegesho JR (2001) Conflict management in protected areas. Kakauona/Tanzania Wildlife

Kirkpatrick DR (1984) Age, gender and patterns of common intense fears among adults. Behav Res Ther 22:141–150

Kiss A (ed) (1990) Living with Wildlife: Wildlife Resource Management with Local Participation in Africa. World Bank Technical Paper no. 130. Africa technical Department Series. World Bank, Washington DC

Loibooki M, Hofer H, Campbell KLI, East M (2002) Bushmeat hunting by communities adjacent to Serengeti National Park, Tanzania: the importance of livestock ownership and alternative sources of protein and income. Environ Conserv 29:391–398

Lybbert T, Barrett CB (2004) Does resource commercialization induce local conservation? a cautionary tale from southwestern Morocco. Soc Nat Resour 17:413–430

Mduma SAR, Hilborn R, Sinclair ARE (1998) Limits to exploitation of Serengeti wildebeest and implications for its management. In: Newbury DM, Prins HHT, Brown P (eds) Dynamics of tropical communities. Blackwell Science, Oxford, pp 243–265

MNRT (Ministry of Natural Resources and Tourism) (1998) The wildlife policy of Tanzania. Government Printers, Dar es Salaam

Mordecai OO, Woodroffe R, Oguge NO, Frank LG (2003) Limiting depradation by African carnivores: the role of livestock husbandry. Conserv Biol 17:1521–1530

Naughton-Treves L, Grossberg R, Treves A (2003) Paying for tolerance: rural citizens' attitudes toward wolf depredation and compensation. Conserv Biol 17:1500 – 1511

Neumann RP (1995) Local challenges to global agendas: conservation, economic liberalization, and the pastoralists' rights movement in Tanzania. Antipode 27:363–382

Neumann RP (1997) Primitive Ideas: Protected area buffer zones and the politics of land in Africa. Dev Change 28:559–582

Newmark WD, Hough JL (2000) Conserving wildlife in Africa: integrated conservation and development projects and beyond. BioScience 50:585–592

Quinn Patton M (1990) Qualitative Evaluation and Research Methods. Sage, London, p 532

Røskaft E, Bjerke T, Kaltenborn BP, Linnell JDC, Andersen R (2003) Patterns of self-reported fear towards large carnivores among the Norwegian public. Evol Hum Behav 24:184–198

Saberwal VK, Gibbs JP, Chellam R, Johnsingh AJT (1994) Lion-human conflict in The Gir Forest, India. Conserv Biol 8:501–507

Scheaffer RL, Mendenhall W, Ott L (1990) Elementary survey sampling. PWS-KENT Publishing Company, Boston, 270 pp

Schusler TM, Chase LC, Decker D (2000) Community-based co-management: sharing responsibility when tolerance for wildlife is exceeded. Hum Dimens Wildl 5:34–49

Sinclair ARE, Arcese P (eds) (1995) Serengeti II. Dynamics, management, and conservation of an ecosystem University of Chicago Press, Chicago, p 665

Skonhoft A (1998) Resource utilization, property rights and welfare—wildlife and local people. Ecol Econ 26:67–80

Songorwa AN (1999) Community-based wildlife management (CWM) in Tanzania: are the communities interested?. World Dev 27:2061–2079

Songorwa AN, Bührs, T, Hughey KFD (2000) Community-based wildlife management in Africa: a critical assessment of the literature. Nat Resour J 40:603–643

Strauss A, Corbin J (1990) Basics of qualitative research. Sage, London, p 270

Terborgh J, van Schaik C, Davenport L, Rao M (2002) Making parks work. Island Press, Washington, p 511

Treves A, Karanth KU (2003) Human–carnivore conflict and perspectives on carnivore management worldwide. Conserv Biol 17:1491–1499

Virtanen P (2003) Local management of global values: community-based wildlife management in Zimbabwe and Zambia. Soc Nat Resour 16:179–190

Walker PA, Hurley PT (2004) Collaboration derailed: the politics of "community-based" resource management in Nevada County. Soc Nat Resour 17:735–751

World Bank (2003) World development indicators database. http://devdata.worldbank.org

Zinn HC, Manfredo MJ, Vaske JJ (2000) Social psychological bases for stakeholder acceptance capacity. Hum Dimens Wildl 5:20–33
Acknowledgements
This study is part of the project "Biodiversity and the Human–Wildlife Interface in the Serengeti". The work is funded by the Norwegian Research Council and NORAD. We are grateful to all the TAWIRI staff who helped with logistics and services, and all the people in the villages around Serengeti who gave generously of their time and thoughts to enable this study.
About this article
Cite this article
Kaltenborn, B.P., Nyahongo, J.W. & Tingstad, K.M. The nature of hunting around the Western Corridor of Serengeti National Park, Tanzania. Eur J Wildl Res 51, 213–222 (2005). https://doi.org/10.1007/s10344-005-0109-9
Received:

Accepted:

Published:

Issue Date:
Keywords
Illegal hunting

Serengeti National Park

Resource conflicts

Community development