Abstract
This study examined the effects of different irrigation levels and plastic mulching on table tomatoes (Lycopersicon esculentum Mill., cv. Zahide) yield, fruit quality, and water productivity. A field experiment was conducted in western Turkey during the summer seasons of 2017 and 2018 at the Application and Research Station, University of Bilecik Seyh Edebali. The research was designed as a split-plot design with three replications. The main plots consisted of two mulch applications (mulch (M) and no mulch (NM)), and sub-plots were consisting of four drip irrigation levels (100% (IL100), 75% (IL75), 50% (IL50), and 25% (IL25) of the evaporation measured in the Class A Pan). IL100 treatment with mulch application obtained the highest marketable yields as 72.56 t ha−1 in 2017 and 75.50 ha−1 in 2018. Increasing irrigation water amounts decreased total soluble solids (TSS), total sugar, titratable acidity, and lycopene values. Fruit yield and fruit weight values were increased with increasing irrigation water amounts. The highest water productivity values were obtained from interaction IL25 × M in both years. Mulching increased water productivity, especially with an effect on plant water consumption. Therefore, for drip irrigation under plastic mulch, the IL100 irrigation level can be recommended under conditions where water resources are sufficient, and IL75 is recommended when insufficient.
Access options
Buy single article
Instant access to the full article PDF.
USD 39.95
Price excludes VAT (USA)
Tax calculation will be finalised during checkout.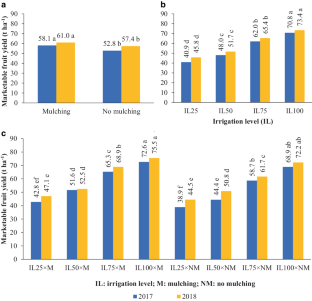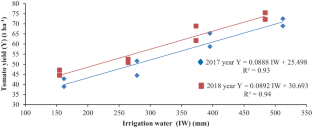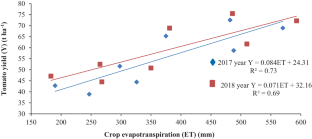 References
Agbna GH, Dongli S, Zhipeng L, Elshaikh NA, Guangcheng S, Timm LC (2017) Effects of deficit irrigation and biochar addition on the growth, yield, and quality of tomato. Sci Hortic 222:90–101. https://doi.org/10.1016/j.scienta.2017.05.004

Aliabadi BT, Hassandokht MR, Etesami H, Alikhani HA, Dehghanisani H (2019) Effect of mulching on some characteristics of tomato (Lycopersicon esculentum Mill.) under deficit irrigation. J Agric Sci Technol 21(4):927–941

Allen RG, Pereira LS, Raes D, Smith M (1998) Crop evapotranspiration. guidelines for computing crop water requirements. FAO Irrigation Drainage Paper No. 56. FAO, Rome

Aruna P, Sudagar IP, Manivannan MI, Rajangam J, Natarajan S (2007) Effect of fertigation and mulching for yield and quality in tomato cv. PKM‑1. Asian. J Hortic 2(2):50–54

Biswas SK, Akanda AR, Rahman MS, Hossain MA (2015) Effect of drip irrigation and mulching on yield, water-use efficiency and economics of tomato. Plant Soil Environ 61(3):97–102. https://doi.org/10.17221/804/2014-PSE

Ekinci M, Dursun A (2006) Mulching for vegetable growing. Derim 23(1):20–27 (in Turkish with English abstract)

Ertek A, Erdal I, Yilmaz HI, Senyigit U (2012) Water and nitrogen application levels for the optimum tomato yield and water use efficiency. J Agric Sci Technol 14(4):889–902

Fawad M, Khan MA (2022) Impact of irrigation timing and weed management practices on chlorophyll content and morphological traits on tomato (Solanum lycopersicum Mill.). Gesunde Pflanz 74:317–332. https://doi.org/10.1007/s10343-021-00611-0

Geerts S, Raes D (2009) Deficit irrigation as an on-farm strategy to maximize crop water productivity in dry areas. Agric Water Manag 96(9):1275–1284. https://doi.org/10.1016/j.agwat.2009.04.009

Hanson BR, May DM (2006) Crop evapotranspiration of processing tomato in the San Joaquin Valley of California, USA. Irrig Sci 24(4):211–221. https://doi.org/10.1007/s00271-005-0020-x

Heuvelink E (2018) Tomatoes. In: Crop production science in horticulture, 2nd edn. CABI, Wageningen. ISBN 978-1-78064-193‑5

Kosterna E (2014) The effect of soil mulching with straw on the yield and selected components of nutritive value in broccoli and tomatoes. Folia Hortic 26(1):31–42. https://doi.org/10.2478/fhort-2014-0003

Kuşçu H, Turhan A, Demir AO (2014a) The response of processing tomato to deficit irrigation at various phenological stages in a sub-humid environment. Agric Water Manag 133:92–103. https://doi.org/10.1016/j.agwat.2013.11.008

Kuscu H, Turhan A, Ozmen N, Aydinol P, Demir AO (2014b) Optimizing levels of water and nitrogen applied through drip irrigation for yield, quality, and water productivity of processing tomato (Lycopersicon esculentum Mill.). Hortic Environ Biotechnol 55(2):103–114. https://doi.org/10.1007/s13580-014-0180-9

Lahoz I, Pérez-de-Castro A, Valcárcel M, Macua JI, Beltrán J, Roselló S, Cebolla-Cornejo J (2016) Effect of water deficit on the agronomical performance and quality of processing tomato. Sci Hortic 200:55–65. https://doi.org/10.1016/j.scienta.2015.12.051

Lushi IM, Haxhinasto L, Balaj N, Hasani F (2012) Comparison of different mulch materials on some tomato (Solanum lycopersicum) cultivars under controlled environment conditions. Res J Agric Sci 44(1):99–103

Mochiah MB, Baidoo PK, Acheampong G (2012) Effects of mulching materials on agronomic characteristics, pests of pepper (Capsicum annuum L.) and their natural enemies population. Agric Biol J N Am 3(6):253–261. https://doi.org/10.5251/abjna.2012.3.6.253.261

Mu L, Liang Y, Zhang C, Wang K, Shi G (2014) Soil respiration of hot pepper (Capsicum annuum L.) under different mulching practices in a greenhouse, including controlling factors in China. Acta Agric Scand Sect B Soil Plant Sci 64(1):85–95. https://doi.org/10.1080/09064710.2014.887141

Mukherjee A, Kundu M, Sarkar S (2010) Role of irrigation and mulch on yield, evapotranspiration rate and water use pattern of tomato (Lycopersicon esculentum L.). Agric Water Manag 98:182–189. https://doi.org/10.1016/j.agwat.2010.08.018

Patanè C, Cosentino SL (2010) Effects of soil water deficit on yield and quality of processing tomato under a Mediterranean climate. Agric Water Manag 97(1):131–138. https://doi.org/10.1016/j.agwat.2009.08.021

Patanè C, Tringali S, Sortino O (2011) Effects of deficit irrigation on biomass, yield, water productivity and fruit quality of processing tomato under semi-arid Mediterranean climate conditions. Sci Hort 129:590–596. https://doi.org/10.1016/j.scienta.2011.04.030

Pereira LS, Cordery I, Iacovides I (2012) Improved indicators of water use performance and productivity for sustainable water conservation and saving. Agric Water Manag 108:39–51. https://doi.org/10.1016/j.agwat.2011.08.022

Rajablariani H, Rafezi R, Hassankhan F (2012) Using colored plastic mulches in tomato (Lycopersicon esculentum L.) production. 4th Int Conf Agric Animal Sci IPCBEE 47(3):12–16

Romero P, Navarro JM, Ordaz PB (2022) Towards a sustainable viticulture: the combination of deficit irrigation strategies and agroecological practices in Mediterranean vineyards. A review and update. Agric Water Manag 259:107216. https://doi.org/10.1016/j.agwat.2021.107216

Rosegrant MW, Ringler C, Zhu T (2009) Water for agriculture: maintaining food security under growing scarcity. Annu Rev Environ Resour 34(1):205–222. https://doi.org/10.1146/ANNUREV.ENVIRON.030308.090351

Salokhe VM, Babel MS, Tantau HJ (2005) Water requirement of drip irrigated tomatoes grown in greenhouse in tropical environment. Agric Water Manag 71(3):225–242. https://doi.org/10.1016/j.agwat.2004.09.003

Samaila AA, Amans EB, Babaji BA (2011) Yield and fruit quality of tomato (Lycopersicon esculentum Mill) as influenced by mulching, nitrogen and irrigation interval. Int Res J Agric Sci Soil Sci 1(3):90–95

Shen Q, Ding R, Du T, Tong L, Li S (2019) Water use effectiveness is enhanced using film mulch through increasing transpiration and decreasing evapotranspiration. Water 11(6):1153. https://doi.org/10.3390/w11061153

Shtull-Trauring E, Azenkot A, Bernstein N (2022) Translational platform for increasing water use efficiency in agriculture: comparative analysis of plantation crops. Water Resour Manag 36:571–587. https://doi.org/10.1007/s11269-021-03040-w

Singh AK, Kamal S (2012) Effect of black plastic mulch on soil temperature and tomato yield in mid hills of Garhwal Himalayas. J Hortic For 4(4):78–80. https://doi.org/10.5897/JHF11.023

Singh R, Kumar S, Nangare DD, Meena MS (2009) Drip irrigation and black polyethylene mulch influence on growth, yield and water-use efficiency of tomato. Afr J Agric Res 4(12):1427–1430

Swiader JM, Ware GW, McCollum JP (1992) Producing vegetable crops, 4th edn. Interstate Printers and Publishers

Tarı AF, Sapmaz M (2017) The effect of different irrigation levels on the yield and quality of tomatoes in greenhouse. Soil Water J 6(2):11–17. https://doi.org/10.21657/topraksu.339821 (in Turkish with English abstract)

Zhang H, Xiong Y, Huang G, Xu X, Huang Q (2017) Effects of water stress on processing tomatoes yield, quality and water use efficiency with plastic mulched drip irrigation in sandy soil of the Hetao Irrigation District. Agric Water Manag 179:205–214. https://doi.org/10.1016/j.agwat.2016.07.022

Zhang H, Huang G, Xu X, Xiong Y, Huang Q (2018) Estimating evapotranspiration of processing tomato under plastic mulch using the SIMDualKc Model. Water 10(8):1088. https://doi.org/10.3390/w10081088
Acknowledgements
The authors would like to thank Bilecik Şeyh Edebali University for financial support.
Ethics declarations
Conflict of interest
M. Karaer, H.T. Gültaş and H. Kuşçu declare that they have no competing interests.
Additional information
The work described has not been published before; that it is not under consideration for publication anywhere else; that its publication has been approved by all co-authors.
Rights and permissions
Springer Nature oder sein Lizenzgeber (z.B. eine Gesellschaft oder ein*e andere*r Vertragspartner*in) hält die ausschließlichen Nutzungsrechte an diesem Artikel kraft eines Verlagsvertrags mit dem/den Autor*in(nen) oder anderen Rechteinhaber*in(nen); die Selbstarchivierung der akzeptierten Manuskriptversion dieses Artikels durch Autor*in(nen) unterliegt ausschließlich den Bedingungen dieses Verlagsvertrags und dem geltenden Recht.
About this article
Cite this article
Karaer, M., Gültaş, H.T. & Kuşçu, H. The Effects of Plastic Mulched Drip Irrigation on Yield, Fruit Quality and Water Productivity of Table Tomatoes. Gesunde Pflanzen 75, 1591–1599 (2023). https://doi.org/10.1007/s10343-023-00848-x
Received:

Accepted:

Published:

Issue Date:

DOI: https://doi.org/10.1007/s10343-023-00848-x
Keywords