Abstract
A green atmosphere and interaction with nature (plants and flowers) can considerably improve the human senses and sanity by decreasing the stress associated with anxiety, depression, neurotic impairment, and other psychologic symptoms. The current paper reports a therapeutic horticultural study's findings regarding the effect of indoor foliage plants and flower arrangements on health prospects of surgical patients. Two surgical wards, ward A (with foliage plants and arranged flowers) and ward B (without foliage plants and flowers), were selected for the study. A total of 270 patients were randomly assigned to either ward to give 135 patients in each. Patients admitted to ward A had significantly more optimistic and promising health improvements than those in ward B. Provision of foliage plants and flower arrangements to the patients in ward A resulted in shorter postoperative stays, lower intake of analgesics, lower pain intensity, less stress fatigue, and improved vital signs (blood pressure, heart rate, respiration rate, body temperature) as compared to patients in ward B. Moreover, analyses showed that patients in ward A had a stronger psychologic frame of mind regarding their recovery from surgery and had more positive emotions and feelings regarding their stay in the hospital. They also felt that the ward atmosphere was more calming, pleasant, and satisfactory. Additionally, small group discussions and focal interviews with ward doctors and nurses confirmed the findings of the questionnaire that foliage plants & flower arrangements create a cherished environment in the ward, reduce patients' stress, improve medical and psychologic status of patients, and also conveye positive messages of the hospital. These findings confirm the therapeutic value of horticultural activities, particularly in surgical patients in a stressed hospital setting.
Zusammenfassung
Eine grüne Atmosphäre und die Interaktion mit Pflanzen (Grünpflanzen und Blumen) können die menschlichen Sinne und die mentale Gesundheit durch Abbau von durch Ängsten, Depressionen, neurotische Beeinträchtigungen und andere psychologische Symptome hervorgerufenem Stress beträchtlich verbessern. Der vorliegende Artikel berichtet von den Ergebnissen einer Studie über therapeutische Hortikultur bezüglich der Auswirkungen von Zimmerpflanzen und Blumenarrangements auf die gesundheitliche Perspektive chirurgischer Patienten. Zwei chirurgische Stationen, Station A (mit Grünpflanzen und Blumenarrangements) und Station B (ohne Grünpflanzen und Blumen) wurden für die Studie ausgewählt. Insgesamt 270 Patienten wurden untersucht, die nach dem Zufallsprinzip so den Stationen zugeteilt wurden, dass in jeder Station 135 Patienten lagen. Die Patienten in Station A zeigten signifikant optimistisch stimmendere und vielversprechendere gesundheitliche Verbesserungen als die auf Station B. Die Ausstattung von Station A mit Grünpflanzen und Blumenarrangements für die Patienten führte zu weniger postoperativen Krankenhaustagen, weniger Schmerzmitteleinsatz, geringerer gefühlter Schmerzintensität, Stress und Müdigkeit bei verbesserten Vitalparametern (Blutdruck, Puls, Atemfrequenz und Körpertemperatur) im Vergleich zu den Patienten auf Station B. Außerdem zeigte eine Analyse, dass die Patienten auf Station A angesichts ihrer Erholung von der Operation in besserer psychischer Verfassung waren und dem Krankenhausaufenthalt gegenüber positiver eingestellt waren. Sie fanden die Atmosphäre auf der Station beruhigend, angenehm und zufriedenstellend. Darüber hinaus bestätigten Gespräche in Kleingruppen und fokussierte Interviews mit Stationsärzten und dem Pflegepersonal die Ergebnisse des Fragebogens, dass Grünpflanzen und Blumenarrangements auf der Station ein Umfeld schaffen, das wertgeschätzt wird, den Stress der Patienten senkt, den medizinischen und psychologischen Zustand der Patienten verbessert und das Krankenhaus in ein positives Licht rückt. Diese Ergebnisse bestätigen den therapeutischen Wert von Aktivitäten der Pflanzenpflege bei chirurgischen Patienten im stressbehafteten Krankenhausumfeld.
Access options
Buy single article
Instant access to the full article PDF.
US$ 39.95
Tax calculation will be finalised during checkout.
Subscribe to journal
Immediate online access to all issues from 2019. Subscription will auto renew annually.
US$ 65.91
Tax calculation will be finalised during checkout.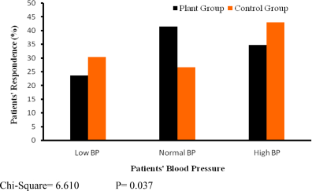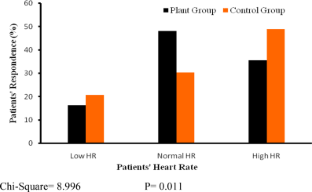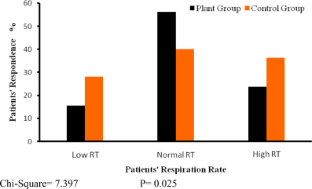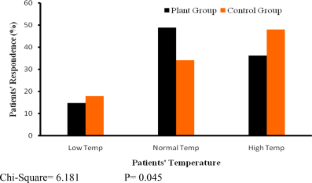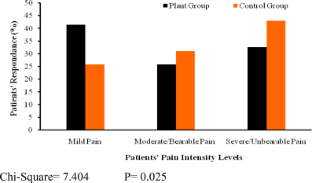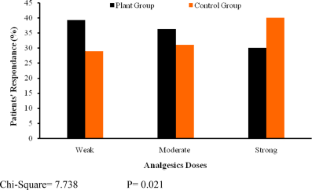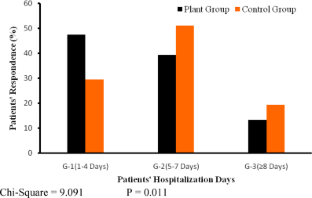 References
Chang CY, Chen PK (2005) Human responses to window views and indoor plants in the workplace. Hort Sci 40:1354–1359

Diette GB, Lechtzin N, Haponik E, Devrotes A, Rubin HR (2003) Distraction Therapy With Nature Sights and Sounds Reduces Pain During Flexible Bronchoscopya. Chest 123(3):941–948

Dolye KO, Hanchek AM, McGrew J (1994) Communication in the language of flowers. Horttechnology 4:211–216

Guyton AC, Hall JE (2005) Human physiology, 6th edn. Saunders, Philadelphia, p 113

Johnson MH, Breakwell G, Douglas W, Humphries S (1998) The effects of imagery and sensory detection distractors on different measures of pain: how does distraction work. Br J Clin Psych 37:141–154

Kumar P, Clark ML (2006) Clinical medicine, 7th edn. Hospital NHS Foundation Trust, London

Lautenbacher S, Pauli P, Zaudig M, Birbaumer N (1998) Attentional control of pain perception: the role of hypochondriasis. J Psychosom Res 44(2):251–259

Lewington A (2003) Plants for people, 2nd edn. Transworld, London, pp 89–91

Lewis CA (2004) Human Health and Well-Being: The psychological, physiological and sociological effects of plants on people: Horticulture in human life, culture and environment. Acta Hort 391:31–40

Lippncott W (2004) Pharmacology, 3rd edn. J.B Lippncott, Philadelphia

Lohr VI, Pearson-Mims CH (2000) Physical discomfort may be reduced in the presence of interior plants. Hort Technology 10:53–58

Mary JG, Rice C (2008) Effects of interior plants in health care. Case study: interior plants can reduce stress, improve perception. Southern Botanical, Inc, Dallas-Fort Worth-Arlington

Mattson RH, Kiyota E (1999) Human dimensions of horticulture. M.Sc. Thesis. Department of Horticulture, Forestry and Recreation Resources. Kansas State University, Manhattan. (USA).

Oyabu T, Sawada A, Yoshioka T (2004) Removing characteristic of indoor air pollutants according to activated carbon pot and plant using a tin oxide gas sensor. Electrochem Jpn 12:813–817

Park SH (2006) Randomized clinical trials evaluating therapeutic influences of Ornamental indoor Plants in hospital rooms on health outcomes of Patients recovering from Surgery. PhD Thesis. Department of Horticulture, Forestry and Recreation Resources, College of Agriculture, Kansas State University, Manhattan (USA).

Park SH, Mattson RH (2009) Therapeutic Influences of Plants in Hospital Rooms on Surgical Recovery. Hort Science 44(1):102–105

Rodin G, Voshart K (1986) Depression in the medically ill: an overview. Amer J Psych 143(6):696–705

Soderback I, Soderstrom M, Schalander E (2004) Horticultural therapy: the 'healing garden' and gardening in rehabilitation measures at Danderyd hospital rehabilitation clinic, Sweden. Pediatr Rehabil 7:245–260

Son, KC, SJ Um, SY Kim, JE Song, HR Kwack (2004) Effect of horticultural therapy on the changes of self-esteem and sociality of individuals with chronic schizophrenia. Acta Horticulturae 639:185–191

Stanley JK (2009) Common plants can help remove indoor air pollutants. Am Soc Hort Sci:  Nov 5. ScienceDaily. http://www.sciencedaily.com/releases/2009/11/091104140816.htm

Tse MMY, Ng JKF, Chung JWY, Wong TKS (2002a) The effect of visual stimuli on pain threshold and tolerance. J Clin Nursing 11:462–469

Tse MMY, Ng JKF, Chung JWY, Wong TKS (2002b) The effect of visual stimulation via the eyeglass display and the perception of pain. Cyber psych Behav 5:65–75

Ulrich R (1984) View through a window may influence recovery from surgery. Science 224(4647):420–421

Ulrich RS (1992) How design impacts wellness. Healthc Forum J 35:20–25

Ulrich RS (2002) Health benefits of gardens in hospitals. Paper for conference, Plants for People International Exhibition Floriade. Center for Health Systems and Design, Colleges of Architecture and Medicine Texas University College State, College State, pp 43–45

Ulrich RS, Gilpin L (2003) "Healing Arts." In: Frampton SB, Gilpin I, Charmel P (eds) Putting Patients First: Designing and Practicing Patient-Centered Care. Jossey-Bass, San Francisco, p 117–146

Walch JM, Rabin BS, Day R, Williams JN, Choi K, Kang JD (2005) The effect of Sunlight on post-operative analgesic medication usage: a prospective study of spinal surgery patients. Psychosom Med 67:156–163

Wichrowski M, Whiteson J, Haas F, Mola A, Rey MJ (2005) Effect of horticultural therapy on mood and heart rate in patients participating in an inpatient cardiopulmonary rehabilitation program. J Cardiopulm Rehabil 25:270–274

de Wied M, Verbaten MN (2001) Affective pictures processing, attention, and pain tolerance. Acta Hortic 90:163–172
Acknowledgements
Authors are greatly thankful to The University of Agriculture Peshawar for funding the project and Dr. Ma Nan, Associate Professor, Department of Ornamental Horticulture, China Agriculture University Beijing for his technical proof reading and revision of the manuscript.
Ethics declarations
Conflict of Interest
M.A. Khan, N. Amin, A. Khan, M. Imtiaz, F. Khan, I. Ahmad, A. Ali, and B. Islam declare that they have no conflict of interest regarding publishing this manuscript.
All procedures performed in studies involving human participants were in accordance with the ethical standards of the institutional and/or national research committee ethical standards and with the 1964 Helsinki declaration and its later amendments or comparable ethical standards. Informed consent was obtained from all individual participants included in the study.
Additional information
Muhammad Ali Khan and Noorul Amin contributed equally.
About this article
Cite this article
Ali Khan, M., Amin, N., Khan, A. et al. Plant Therapy: a Nonpharmacological and Noninvasive Treatment Approach Medically Beneficial to the Wellbeing of Hospital Patients. Gesunde Pflanzen 68, 191–200 (2016). https://doi.org/10.1007/s10343-016-0377-1
Keywords
Horticultural therapy

Patients health

Vital signs

Pain analgesics

Hospitalization days
Schlüsselwörter
Pflanzentherapie

Patientengesundheit

Vitalparameter

Schmerzmittel

Krankenhaustage