Abstract
Albania has rich natural resources and appropriate soil and climatic conditions to produce wild and cultivated Medicinal and Aromatic Plants (MAPs). There are more than 300 species of MAPs in the Albanian flora, which are considered important from a natural resource and economic viewpoint. This paper analyzes the MAPs sector in Albania based on expert interviews and desk research. It provides several insights into the importance of the sector from socioeconomic prospective. It also analyzes the value chain structure, describing various categories of actors in the value chain. The exports, mainly to the EU and US, have increased over the years. However, we can observe a reduced supply of wild plants due to damaged resources and a reduced labor force in mountainous areas. This has been partly compensated by the growing importance of some plants' cultivation. Despite growth and potential, this sector is facing several challenges. Some of these challenges are related to the production and post-harvest technology and practices on the farm, safety and quality standards and traceability. Addressing these issues should be a priority for policy-makers and private sector actors, in order to improve the sector's competitiveness and sustainability.
Zusammenfassung
Albanien verfügt über reiche natürliche Ressourcen und geeignete Boden- und Klimabedingungen, um wilde sowie angebaute Arznei- und Gewürzpflanzen (AGP) zu sammeln bzw. zu produzieren. Derzeit gibt es mehr als 300 AGP-Arten in der albanischen Flora, die sowohl unter dem Aspekt der natürlichen Ressourcen, als auch unter wirtschaftlichen Gesichtspunkten als wichtig angesehen werden könen. Dieser Artikel analysiert den AGP Sektor in Albanien, basierend auf Experteninterviews und sekundären Forschungsergebnissen. Auch werden Einblicke, auf die Bedeutung des Sektors aus der sozio-ökonomischen Perspektive, dargestellt. Analysiert werden die Wertschöpfungsstruktur, sowie verschiedene Akteure in der Wertschöpfungskette. Die Exporte, vor allem in die EU und die USA, haben sich im Laufe der letzten Jahre erhöht. Jedoch konnten wir eine reduzierte Lieferung von Wildpflanzen durch beschädigte Ressourcen und eine verminderte Erwerbsbevölkerung in den Berggebieten beobachten. Dies wird teilweise, durch die wachsende Bedeutung des Anbaus einiger Pflanzen, ausgeglichen. Trotz Wachstum und Potenzial ist dieser Sektor von mehreren Herausforderungen geprägt, z. B. Produktions-, Nacherntetechnologien und -praktiken in den Betrieben, Sicherheits- und Qualitätsstandards und Rückverfolgbarkeit. Die Auseinandersetzung mit diesen Fragen sollte Priorität für politische Entscheidungsträger und private Akteure haben, um die Wettbewerbsfähigkeit und Nachhaltigkeit des Sektors zu verbessern.
Access options
Buy single article
Instant access to the full article PDF.
US$ 39.95
Tax calculation will be finalised during checkout.
Subscribe to journal
Immediate online access to all issues from 2019. Subscription will auto renew annually.
US$ 65.91
Tax calculation will be finalised during checkout.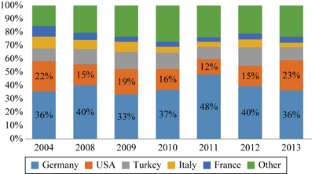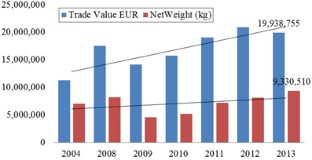 References
Demiri M (1983) Flora eskursioniste e Shqipërisë. Tiranë: Shtëpia Botuese e Librit Shkollor, pp. 986 (in Albanian)

DSA (2009) The Medicinal and Aromatic Plants Value Chain in Albania, report prepared for USAID—Albania Agriculture Competitiveness (AAC) Program

EUROSTAT Trade Database (2014) http://ec.europa.eu/eurostat/en/data/database. Accessed May 2014

FAO (2013) Agrifood chain organization in Albania—the case of MAPs and fruits

Gerdoci G (2014) Governance of exchange relationships and its determinants. PhD Thesis. Tirana University

Ibraliu A, Baldev Singh D, Faslia N, Stich B (2010) Variability of essential oil composition in Albanian accessions of Satureja montana L. J Med Plants Res 4:1359–1364

Ibraliu A, Faslia N, Mullaj A, Mi X (2014a) Status of Medicinal Plant Research in Albania. 2014. Current Trends in Medicinal Botany. I.K. International Publishing House Pvt. Ltd. ISSN 978-93-82332-50-3 pp 61–76

Ibraliu A, Mullaj A, Elezi F, Shehu J, Gixhari B (2014b) Genetic resources of medicinal and aromatic plants of Albania—Current status of the national collection of MAPs in Albania. Proc of 8th CMAPSEEC, Durrës, Albania

IDRA (2010) Survey on MAPs for SNV-Promali covered area (Korçë, Shkodër, Dibër, Kukës, and Elbasan)

INTRACEN (2013) International Trade Center, http://www.intracen.org/itc/market-info-tools/trade-statistics/. Accessed Sept 2015

Papadhopulli G (1976) Bimët Mjekësore dhe Aromatike të Shqipërisë (Medicinal Plants of Albania). Shtëpia botuese "8 Nëntori", Tirana, Albania (in Albanian), pp. 203

Paparisto K, Demire M, Mitrushi I, Qosja Xh (1988) Flora e Shqipërisë [The Flora of Albania]. Vol. 1. Academy of Science of Albania, Tiranë, Albania (in Albanian)

Pieroni A, Ibraliu A, Mehmood Abbasi A, Papajani-Toska V (2015) An ethnobotanical study among Albanians and Aromanians living in the Rraicë and Mokra areas of Eastern Albania. Genet Res Crop Evol 62:477–500

Red List of Wild Flora and Fauna Albania (2013) Approved by ministerial order 1280, 20.11.2013

Schippmann U, Leaman DJ, Cunningham AB (2006) Impact of cultivation and gathering of medicinal plants on biodiversity: global trends and issues. In: Bogers RJ, Craker LE Lange D (eds.), Med Aromat Plants 75–95

UNSTAT Comtrade (2014) http://comtrade.un.org/data/. Accessed Sept 2015

USDA International Trade Database (2015) http://www.usda.gov/wps/portal/usda/usdahome?navid=marketing-trade. Accessed Sept 2015

Vangjeli J, Ruci B, Mullaj A (1995) Libri i Kuq (bimët e kërcënuara dhe të rralla të Shqipërisë). [Red book of threatened and rare species of flora and fauna of Albania]. Institute of Biological Research, Academy of Science, Tirana, Albania (In Albanian)
Acknowledgments
This paper was based on a study on the MAP value chain, which was prepared by the authors of this paper and some more specialists during February and June 2014 within the framework of the EU/FAO project "Preparation of Intersectorial Strategy for Agriculture and Rural Development in Albania."
About this article
Cite this article
Imami, D., Ibraliu, A., Fasllia, N. et al. Analysis of the Medicinal and Aromatic Plants Value Chain in Albania. Gesunde Pflanzen 67, 155–164 (2015). https://doi.org/10.1007/s10343-015-0354-0
Received:

Accepted:

Published:

Issue Date:
Keywords
MAPs

Wild medicinal and aromatic plants

Cultivated medicinal and aromatic plants

Sage

Traceability

Sector analysis

Market

Trade
Schlüsselwörter
Wild-wachsende Arznei- und Gewürzpflanzen

Angebaute Arznei- und Gewürzpflanzen

Salbei

Sektoranalyse

Markt

Handel