Abstract
After the downfall of the socialist economic system in 1990, Albania underwent an agriculture reform in 1992. After the reform execution, all agricultural land was redistributed among village residents. The subsequent land segmentation lead to extreme agriculture production implications.
Gjocaj Commune is located in the centre of Albania at the Peqin District part of the Elbasan Region, which is a typical agricultural area, very close to Tirana and not far from the Adriatic seashore. An analysis of the rural landscape and land fragmentation dynamics is very important in terms of sustainable management of land resources. Our main study objective was the identification of the rural landscape and land fragmentation changes that occurred during the last 20 years through the use of a Geographic Information System (GIS). This work not only provides a spatial database at the municipal level, but collects data on land use, analyzes changes in land use and tracks urbanization of agricultural land. For this purpose we build a land management database for the Gjocaj municipality.
In this study we identify changes in land surfaces used by agriculture and other categories of land resources. Land use changes are analyzed based on information of land use before and after the year 1991. Major changes have occurred on this agricultural land. Transformations from agricultural to non-agricultural classes have been identified. Results show that the surface of agricultural land has been reduced by 127.2 ha or about 5 % of the agricultural land fund, which is destined to become largely non-agricultural land of 76.6 ha or 3 %. Changes are identified also within agricultural land, where 31.6 ha or 1.7 % of the land suitable for agriculture is left without cultivating. The data show that 67 ha (3.6 %) of all available agriculture land has been occupied by new buildings.
At the same time we registered, an increased cultivation of work intensive plants e.g. vegetables and fruit. This phenomenon is due to the extreme segmentation of the agricultural area. The results of this study suggest a rapid intervention to protect agricultural land from further fragmentation and uncontrolled urban development.
Zusammenfassung
Nach dem Zerfall des sozialistischen Wirtschaftssystems 1990, wurde in Albanien im Jahre 1992 eine Agrarreform umgesetzt. Bei der Durchführung dieser Reform wurde die gesamte landwirtschaftliche Fläche an die Dorfbewohner verteilt. Dies führte zu einer extremen Parzellierung der Agrarfläche.
Die Gemeinde Gjocaj, die sich im District Peqin, im Kreis Elbasani im Zentrum Albaniens befindet, ist eine typisch landwirtschaftliche Zone, in der Nähe von Tirana und nicht weit weg von der Adriaküste. Eine Analyse der Landnutzung und Landparzellierung sowie deren Dynamik und Transformation ist wesentlicher Bestandteil im Hinblick auf ein nachhaltiges Management der Landressourcen. Das Hauptziel dieser Studie ist die Untersuchung und Identifizierung der Veränderungen der Landnutzung und Landparzellierung in dieser Gemeinde zwischen 1991 bis 2010 mit Hilfe der Software Geografic Information System (GIS).
Die Studie enthält auch Daten über Urbanisierung der Landwirtschaft. Darüber hinaus wurde eine Datenbank über die Landnutzung in der Region Gjocaj erstellt.
Wesentliche Veränderungen der landwirtschaftlich genutzten Fläche traten auf. Die Zahl der Parzellen wurde um das Vierfache erhöht, was zu einer Veränderung der Landnutzung führte. Des Weiteren wurde die landwirtschaftliche Nutzfläche um etwa 5 % reduziert. Von der gesamten landwirtschaftlichen Fläche wurden 1,7 % nicht mehr genutzt und etwa 3,6 % der landwirtschaftlichen Fläche mit Immobilien bebaut. Gleichzeitig wurde eine Steigerung des Anbaus von arbeitsintensiven Pflanzen, wie z. B. Gemüse und Obst registriert. Dies war eine Reaktion der Landwirte auf die extreme Parzellierung der landwirtschaftlichen Fläche. Die Ergebnisse dieser Studie deuten auf die Notwendigkeit von Maßnahmen zur Landkonsolidierung und den Schutz von landwirtschaftlichen Flächen vor einer unkontrollierten Urbanisierung hin. Die vorliegenden Ergebnisse können als Grundlage für bessere Strategien, für den Schutz der landwirtschaftlichen Flächen verwendet werden.
Access options
Buy single article
Instant access to the full article PDF.
US$ 39.95
Tax calculation will be finalised during checkout.
Subscribe to journal
Immediate online access to all issues from 2019. Subscription will auto renew annually.
US$ 65.91
Tax calculation will be finalised during checkout.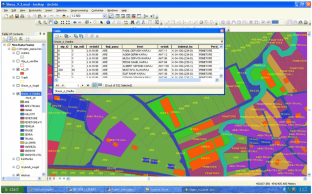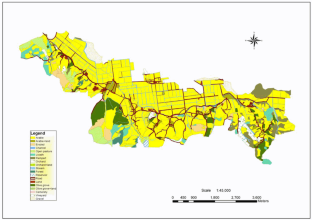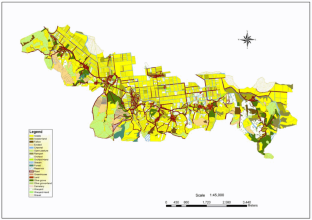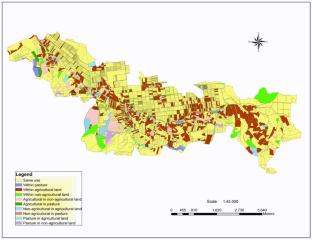 References
Aitken J (2003) Albania-Land Use Policy Project. Technical report: land suitability assessment of agricultural land for Albania, pp 5–6, Procedures for a soil and land survey of agriculture land 9–42

Bentley W (1987) Economic and ecological approaches to land fragmentation—in defence of a much-maligned phenomenon. Ann Rev Anthropol 16:31–67

Blarel B, Hazell P, Place F, Quiggin J (1992) The economics of farm fragmentation: evidence from Ghana and Rwanda. World Bank Econom Rev 6:233–254

Boliari N (2013) Land fragmentation in Bulgaria. Recons Meas Extent Rev Europ Stud 5(1):99–109

Bullard R (2007) Land consolidation and rural development. Papers in Land Management No. 10: Cambridge Chelmsford

Burton S (1988) Land consolidation in Cyprus: a vital policy for rural reconstruction. Land Use Policy 5(1):131–147

Deininger K, Savastano S, Carletto C (2012) Land fragmentation, cropland abandonment, and land market operation in Albania. The World Bank Development Research Group Agriculture and Rural Development Team Policy Research Working Paper 6032

Demetriou D, See L, Stillwell J (2012) A spatial multi-criteria model for the evaluation of land redistribution. Plans Int J Geo Inf 1:272–293

ESRI (2007) ArcGIS 9. Cos'è ArcGIS 9.2 ESRI Italia S.p.A.

FAO (1979) Land evaluation criteria for irrigation. FAO World Soil Resources Report n. 50, Rome, 219. By Food and Agriculture Organization of the United Nations, Rome, Italy

FAO (1985) Guidelines: land evaluation for irrigated agriculture. Soils Bulletin 55, By Food and Agriculture Organization of the United Nations, Rome, Italy

FAO (2003) The design of land consolidation pilot projects in Central and Eastern Europe. FAO Land Tenure Studies Nr 6

FAO (2014) Building a common vision for sustainable food and agriculture principles and approaches. By Food and Agriculture Organization of the United Nations, Rome, Italy

Ferri R (1989) Metodologie di studio delle foto aeree nelle ricerce archeologiche e paleoambientali relative alla Bassa Padana e al delta del Po. In: Ferri R, Calzolari M (eds) Ricerche archeologiche e paleoambientali nell'area padana: il contributo delle foto aeree. S.Felice sul Panaro (MO), Gruppo Studi Bassa Modenese, pp. 15-35

Gabriele P (2003) La frammentazione del paesaggio periurbano. Firenze University Press, Firenze

Hristov J (2009) Assessment of the impact of high fragmented land upon the productivity and profitability of the farms—the case of the Macedonian vegetable growers. SLU, Department of Economics Degree Thesis in Business Administration Uppsala

INSTAT. Statistics on Agriculture 2013 Publication of the Albanian Institute of Statistics (in Albanian). http://www.instat.gov.al/al/themes/agriculture,-forestry-and-fishery.aspx?tab=tabs-5

Jansen L (2003) Standard methodology for land use description and harmonization between data sets. Technical report of LUP2 project. pp 13–18, 42–50

Karouzis G (1977) Land ownership in Cyprus: past and present. Strabo, Nicosia

Karouzis G (1980) Report on aspects of land tenure in Cyprus. Ministry of Agriculture and Natural Resources of Cyprus, Nicosia

King R, Burton S (1982) Land fragmentation: notes on a fundamental rural spatial problem. Progr Hum Geogr 6(4):475–494

Lazur R (2005) Slovakia case study/land consolidation in Slovakia. FAO workshop, Soil Science and Conversation, Bratislava

Lushaj SH, Papa DH (1995) Study: land fragmentation and consolidation LTC/Albania. Madison: Land Tenure Center, University of Wisconsin-Madison

Miall AD (2006) The geology of fluvial deposits. Springer-Verlag, Berlin

Migani M, Salerno G (2008) Manuale ArcGIS – guida pratica all'utilizzo con esercizi svolti. Prima edizione, Palermo. Ed. Dario Flaccovio

Mogorovich P (2010) Sistemi Informativi Territoriali: appunti delle lezioni, vers. 3.126.(in Italian). http://www.di.unipi.it/~mogorov/SIT_Vers_3_216.pdf

Nagendra H, Munroe DK, Southworth J (2004) From pattern to process: landscape fragmentation and the analysis of land use/land cover change. Agric Ecosyst Environ 101(2):111–115

Nichols G (2009) Sedimentology and stratigraphy, 2 ed. Wiley- Blackwell Science, London, pp 129–150

Niroula GS, Thapa GB (2005) Impacts and causes of land fragmentation, and lesson learned from land consolidation in South Asia. Land Use Policy 22(4):358–372

Pulecka A, Kupidura P (2007) GIS supporting landscape issues in land consolidation works in Poland. Strategic integration of surveying services FIG Working Week 2007 Hong Kong SAR, China, 13–17 May 2007

Ricci Lucchi F (1980) Sedimentologia parte 3: Ambienti sedimentari e facies. Ed. CLUEB, Bologna

Rusu M (2002) Land fragmentation and land consolidation in Romania. In: Proceedings of the International Symposium on Land Fragmentation and Land Consolidation in Central Easter European Countries (CEEC): a gate towards sustainable rural development in the new millennium, Munich, February 25–28. http://www.fao.org/fileadmin/user_upload/Europe/documents/Events_2002/Land2002/romania_paper.pdf

Sabates-Wheeler R, Waite M (2003) Albania country brief: property rights and land markets. Land Tenure Centre. A USAID financed Study p. 8-9

Touriño J, Parapar J, Doallo R, Boullón M, Rivera FF, Bruguera JD, González XP, Crecente R, Álvarez C (2003) A GIS-embedded system to support land consolidation plans in Galicia. Int J Geogr Inform 17(4):377–396

Van Diepen CA, Van Keulen H, Wolw J, Berkhout JAA (1991) Land evaluation: from intuition to quantification. In: Stewart BA (ed) Advances in soil science. Springer, New York, pp 139–204

Van Dijk T (2003) Dealing with Central European land fragmentation. Eburon, Delft

Zou X, Li D (2008) A multidisciplinary GIS-based approach for the potential evaluation of land consolidation projects: a model and its application. 7th WSEAS Int. Conf. on Applied Computer & Applied Computational Science (ACACOS '08), Hangzhou, China, April 6–8, 2008
About this article
Cite this article
Doko, A., Veselaj, E., Kopali, A. et al. Analysis of Rural Landscape and Land Fragmentation Through GIS in the Gjocaj Commune, Albania. Gesunde Pflanzen 67, 131–139 (2015). https://doi.org/10.1007/s10343-015-0345-1
Received:

Accepted:

Published:

Issue Date:
Keywords
GIS, Geographic Information System

Land use

Agriculture land

Land urbanization
Schlüsselwörter
GIS

Landnutzung

Landwirtschaftliches Land

Landurbanisierung