Zusammenfassung
Der aus Australien stammende Blattsauger Ctenarytaina eucalypti ist nach seiner nahezu weltweiten Verschleppung sowohl in Amerika als auch in Europa in Eukalyptuspflanzungen zur Schnittgrüngewinnung ein sehr lästiger Schädling. Da sich Insektizide zur Bekämpfung nicht bewährt haben, wurde in Kalifornien eine biologische Alternative erwogen. Durch Untersuchungen des Zentrums für biologische Bekämpfung der Universität Berkely in der Heimatregion des Blattsaugers konnte mit Psyllaephagus pilosus ein monophager Parasitoid gefunden werden. Seine Freilassung nach einer kontrollierten Zucht ab 1993 führte zu einer sehr schnellen Etablierung in den kalifornischen Eukalyptusanlagen und zur Dezimierung des Schädlings bis zu seiner Bedeutungslosigkeit. In der Folge wurde P. pilosus auch in einigen westeuropäischen Ländern ausgebracht. Der Nützling breitete sich hier ebenfalls rasch über große Entfernungen aus. Parasitierungsraten bis annähernd 100% führten zu einer nachhaltigen Bekämpfung.
C. eucalypti wurde in den letzten Jahren schon einige Male nach Deutschland eingeschleppt. Der erste Nachweis für Sachsen erfolgte im Jahr 2000 im Botanischen Garten der Technischen Universität Dresden an Eucalyptus globulus. Die spontan eingetretene Parasitierung des Blattsaugers durch P. pilosus in den beiden Folgejahren bewirkte eine vollständige Tilgung des Befallsherdes.
Damit in Zukunft in ähnlichen Fällen ein gezielter Einsatz von faunenfremden natürlichen Gegenspielern gegen eingeschleppte Schädlinge ohne Gefährdung der einheimischen Ökosysteme erfolgen kann, ist eine entsprechende deutsche oder EU-Verordnung dringend erforderlich. Sie kann sich an den internationalen Vorgaben von FAO und EPPO orientieren.
Abstract
The Australian psyllid Ctenarytaina eucalypti has been accidentally introduced into many parts of the world. In America as well as in Europe it caused severe damage on Eucalyptus cut-foliage plantations. Insecticide treatments have proven to be expensive and not-sustainable. Therefore a biocontrol project was carried out in the Center for Biological Control at Berkely, California. The search for a monophagous parasitoid of the blue gum psyllid in the natural habitat in Australia and New Zealand was successful. After quarantine for elimination of hyperparasitoids the natural enemy Psyllaephagus pilosus has been released in Californian Eucalyptus plantations since 1993. It established itself rapidly, resulting in a decrease of the pest below the economic threshold. Following this impressive effect the parasitoid has also been released in some West European countries. The rapid spread over great territories was similar. The parasitization rates reached 100 percent, providing a sustainable control of the psyllid.
In the last years several accidental introductions of C. eucalypti into Germany occurred. The first record in Saxony was in 2000 in the botanical garden of the Dresden University of Technology on Eucalyptus globulus. However, the spontaneous attack of the blue gum psyllid by P. pilosus during the next two years eradicated the infestation.
To avoid a possible threat to natural ecosystems, the well-directed future use of exotic biological control agents against unintentionally introduced pests is in urgent need of a legal regulation at the EU or national level in Germany. The FAO and EPPO standards on this topic should be considered as a basis for this.
Access options
Buy single article
Instant access to the full article PDF.
US$ 39.95
Tax calculation will be finalised during checkout.
Subscribe to journal
Immediate online access to all issues from 2019. Subscription will auto renew annually.
US$ 65.91
Tax calculation will be finalised during checkout.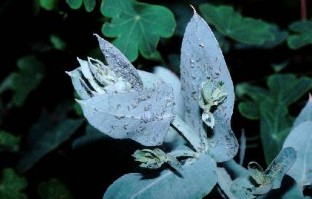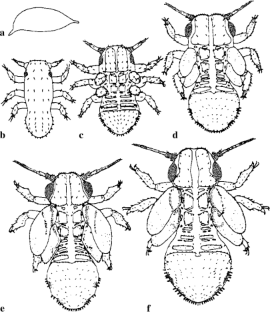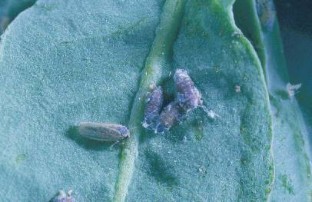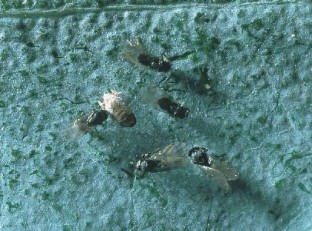 References
Alma A, Arzone A (1988) Reperti biologici su Ctenarytaina eucalypti (Maskell)(Homoptera,Psylloidea). Atti XV Congr naz ital Ent L 'Aquila: 505–512

Alyokhin A, Sewell G (2004) Changes in a Lady Beetle Community Following the Establishment of Three Alien Species. Biol Invas 6: 463–471

Azevedo F, Figo ML (1979) Ctenarytaina eucalypti MASK. (Homoptera, Psyllidae). Bol Serv Plagas 5: 51–46

Bathon H (1998) Neozoen an Gehölzen in Mitteleuropa. Ges Pfl 50: 20–25

Bathon H (2002) Harmonia axyridis, eine invasive Marienkäferart in Mitteleuropa. DGaaE Nachrichten 16: 109–110

Bathon H (2003) Invasive Nützlingsarten, ein Problem für den biologischen Pflanzenschutz. DGaaE Nachrichten 17: 8

Brennan EB, Weinbaum SA, Rosenheim JA, Karban R (2001) Heteroblasty in Eucalyptus globulus (Myricales: Myricaceae) Affects Ovipositional and Settling Preferences of Ctenarytaina eucalypti and C. spatulata (Homoptera: Psyllidae). Environ Entomol 30:1144–1149

Burckhardt D (1998) Ctenarytaina eucalypti (MASKELL) (Hemiptera, Psyllidae) neu für Mitteleuropa mit Bemerkungen zur Blattflohfauna von Eucalyptus. Mitt Ent Ges Basel 48: 59–76

Burckhardt D, Santana DLQ, Terra AL, de Andrade FM, Penteado SRC, Iede ET, Morey CS (1999) Psyllid pests (Hemiptera, Psylloidea) in South American eucalypt plantations. Mitt Schweiz Ent Ges 72:1–10

Cadahia D (1980) Proximidad de dos nuevos enemigos de los Eucalyptus en España. Bol Serv Plagas 6:165–192

Chauzat M-P, Purvis G, Dunne R (2001) A foreigner in Ireland. Biologist 48:133–135

Chauzat M-P, Purvis G, Dunne R (2002) Release and establishment of a biological control agent, Psyllaephagus pilosus for eucalyptus psyllid (Ctenarytaina eucalypti) in Ireland. Ann Appl Biol 141:293–304

Costanzi M, Frassetti F, Malausa JC (2003) Lotta biologica allo psillide Ctenarytaina eucalypti (Maskell) nelle coltivazioni di eucalipto della Riviera Ligure. Informatore Fitopatologico 53:52–56

Dahlsten DL (1992) Blue Gum Psyllid Biological Control. http://www.endowment.org/projects/1992/dahlsten.html

Dahlsten DL (1996) Blue Gum Psyllid Biological Control. http://www.cnr.berkely.edu/biocon/dahlsten/blug.web.htm

Dahlsten DL, Rowney DL, Copper WA, Tassan RL, Chaney WE, Robb KL, Tjosvold S, Bianchi M, Lane P (1998a) Parasitoid wasp controls blue gum psyllid. Calif Agricult. 52: 31–34

Dahlsten DL, Hansen EP, Zuparko RL, Lawson AB (1998b) Biological control of the blue gum psyllid proves economically beneficial. Calif Agricult 52:35–40

Dahlsten DL, Dreistadt SH, Garrison RW, Gill RJ (2003a) Eucalyptus red gum lerp psyllid. Univ Calif Agric Nat Res Publ 7460:1–4

Dahlsten DL, Rowney DL, Robb KL, Downer JA, Shaw DD, Kabashima JN (2003b) Biological Control of introduced psyllids on Eucalyptus. 1st International Symposium on Biological Control of Arthropods. USDA-Forest Service FHTET 03–05 June: 356–361

Dahlsten DL, Daane KM, Paine TD et al. (2005) Imported parasitic wasp helps control red gum lerp psyllid. Calif Agricult 59: 229–234

Dreistadt SH, Clark JK, Flint, ML (2004) Pests of Landscape Trees and Shrubs. An Integrated Pest Management Guide. Second Edition. University of California. Oakland, California

EPPO (1999) EPPO Standards. Safe use of biological control. PM 6/1(1) First import of exotic biological control agents for research under contained conditions. Bulletin OEPP/EPPO Bulletin 29:269–272

EPPO (2000) EPPO Standards. Safe use of biological control. PM 6/2(1) Import and release of exotic biological control agents. Bulletin OEPP/EPPO Bulletin 31:29–36

EPPO (2002a) EPPO Standards. Safe use of biological control. PM 6/3(2) List of biological control agents widely used in the EPPO region. Bulletin OEPP/EPPO Bulletin 32:447–461

EPPO (2002b) EPPO Reporting Service 2002, No. 7. Glyaspis brimblecombei: addition to the EPPO Alert List http://archives.eppo.org/EPPOReporting/2002/rs118

EPPO (2003) EPPO reporting service 2003, No. 3. Introduction of Phoracantha recurva in the Mediterranean region: addition to the EPPO Alert List http://archives.eppo.org/EPPOReporting/2003/Rse-0309.doc

EPPO (2005) EPPO reporting service 2005, No. 5. Ctenarytaina spatulata is a new psyllid pest of Eucalyptus: addition to the EPPO Alert List http://www.eppo.org/QUARANTINE/Alert_List/insects/ctenarytaina.htm

FAO (2005) International standards for phytosanitary measures. Guidelines for the export, shipment, import and release of biological control agents and other beneficial organisms. ICPM-7/Report Appendix X. Secretariat of the International Plant Protection Convention Food and Agriculture Organization of the United Nations, Rome

Götz W (1986) Eucalyptus-Arten im Test. LVA Schifferstadt mit über 40 Eucalyptus-Arten. Zierpflanzenbau 25:973–978

Hagley EAC (1985) Parasites recovered from the overwintering generation of the spotted tentiform leafminer, Phyllonorycter blancardella (Lepidoptera: Gracillariidae) in pest-management apple orchards in southern Ontario. Can Ent 117:371–374

Hawkins BA, Marino, PC (1997) The colonisation of native phytophagous insects in North America by exotic parasitoids. Oecologia 112:566–571

Hennemann, ML, Memmott, J (2001) Infiltration of a Hawaiian Community by Introduced Biological Control Agents. Science 293:1314–1316

Hodkinson ID (1994) Biocontrol of the eucalyptus psyllid in the UK. Antenna 18:205

Hodkinson ID (1999) Biocontrol of eucalyptus psyllid Ctenarytaina eucalypti by the Australian parasitoid Psyllaephagus pilosus: a rewiew of current programmes and their success. Biocontrol News and Information 20:129–134

Kollatz B (2001) Eukalyptus als Freilandschnitt. Tipps zu einer ungewöhnlichen Schnittgrün-Kultur. Gärtnerbörse 03/2001:26–28

Lorek M (2004) Der exotische Garten. Die Freilandkultur winterharter Exoten in Mitteleuropa. Band 1: Bananen, Palmen, Yucca und australische Pflanzen. Buddensiek, Stadthagen

Maier CT (2001) Exotic lepidopteran leafminers in North American apple orchards: rise to prominence, management, and future threats. Biol Invas 3:283–293

Malausa J-C, Girardet N (1997) Lutte biologique contre le psylle de l'eucalyptus. Acclimatation sur la Cote d'Azur d'un auxiliaire prometteur, Psyllaephagus pilosus. Phytoma 498:49–51

Malausa J-C (1998) Des insectes au secours des eucalyptus. Biofutur 176:34–37

Maync J, Harm U (1985) Eukalyptus für Schnitt und Container. Deutscher Gartenbau 51/52:2336–2339

Nogueira CDS (1971): Una praga dos Eucaliptos. Gazeta das Aldeias 2693:520–522

Noyes J (1988) Encyrtidae (Insecta: Hymenoptera). Fauna of New Zealand 13. British Museum (Natural History) London

Purvis G, Dunne R, Chauzat M-P (1998) Biological Control of Eucalyptus Psyllid. Farm & Food 8:24–25

Purvis G, Chauzat M-P, Dunne R (2001) Classical biological control of the eucalyptus psyllid in Ireland by the introduction and release of an Australian parasitoid natural enemy, Psyllaephagus pilosus. University College Dublin–Faculty of Agriculture Research Report 2000–2001:74–77

Purvis G, Chauzat M-P, Segonds-Pichon A, Dunne R (2002) Life history and phenology of the eucalyptus psyllid, Ctenarytaina eucalypti in Ireland. Ann Appl Biol 14:283–292

Ridgway NM, Mahr DL (1985) Natural enemies of the spotted tentiform leafminer, Phyllonorycter blancardella (Lepidoptera, Gracillariidae), in sprayed and unsprayed apple orchards in Wisconsin. Environm Entomol 14:459–463

Santana DLQ (2003):Parasitóide do psilídeo-de-concha, Psyllaephagus bliteus Hymenoptera:Encyrtidae) encontrado no Brasil. http://ww2.cnpf.embrapa.br/contador/parasit.pdf

Schnee H (2000) Die Amerikanische Fichtennadelminiermotte (Coleotechnites (Kearfott)) (Lepidoptera, Gelechiidae) in Sachsen: Verbreitung, Biologie, Parasitoide. Mitt Dtsch Ges allg angew Ent 12:523–526

Smith IM, McNamara DG, Scott PR, Halderness M (1997) Quarantine Pests of Europe. Second Edition. CAB International. Wallingford, New York

Stiling P (2004) Biological control not on target. Biol Invas 6:151–159

Wedemeyer T (2004) Persönliche Mitteilung, per Email

Wyss U (2004) Persönliche Mitteilung. Institut für Phytopathologie, Christian-Albrecht-Universität Kiel

Züchner U (2004) Briefliche Mitteilung. Landesanstalt für Landwirtschaft und Gartenbau Sachsen-Anhalt
Danksagung
Herrn Dr. D. Burckhardt, Naturhistorisches Museum Basel, danken wir für die bereitwillige Bestimmung ihm zugesandter C. eucalypti. Herr Prof. Dr. A. Alma erlaubte uns dankenswerterweise die Verwendung einer Abbildung aus einer seiner Arbeiten. Herrn Dr. J. Noyes vom Natural History Museum London gebührt unser Dank für die Bestätigung der Determination von Psyllaephagus pilosus. Der Leitung und den Mitarbeitern des Botanischen Gartens der TU Dresden sei für ihre Unterstützung gedankt.
About this article
Cite this article
Schnee, H., Voigt, D. & Kaufer, B. Die biologische Bekämpfung des Eukalyptusblattsaugers Ctenarytaina eucalypti (Maskell) (Hemiptera, Psyllidae) durch die Erzwespe Psyllaephagus pilosus Noyes (Hymenoptera, Encyrtidae) – eine Erfolgsgeschichte in Kalifornien und Westeuropa, aber auch in Sachsen. Gesunde Pflanzen 58, 99–106 (2006). https://doi.org/10.1007/s10343-006-0117-z
Received:

Accepted:

Published:

Issue Date:
Schlüsselwörter
Ctenarytaina eucalypti
Eucalyptus globulus

Klassische biologische Bekämpfung

Psyllaephagus pilosus

Eukalyptuspflanzungen zur Schnittgrüngewinnung

Kalifornien

Westeuropa

Sachsen
Keywords
Ctenarytaina eucalypti
Eucalyptus globulus

Classical biological control

Psyllaephagus pilosus
Ornamental Eucalyptus plantations

California

Western Europe

Saxony