Abstract
Aboveground dead wood has a range of important ecological functions, including carbon (C) storage. According to the Intergovernmental Panel on Climate Change guidelines for National Greenhouse Gas Inventories established on the basis of the United Nations Framework Convention on Climate Change and the Kyoto Protocol, Lithuania is encouraged to quantify C pools in forests, including C in living biomass, soil and dead wood. The aim of this study was to assess species-specific dead wood density (DWD) and carbon content (CC) per decay class for Scots pine (Pinus sylvestris L.), Norway spruce (Picea abies (L.) H. Karst.), silver birch or downy birch (Betula pendula Roth or Betula pubescens Ehrh.), European aspen (Populus tremula L.), grey alder (Alnus incana (L.) Moench), black alder (Alnus glutinosa (L.) Gaertn.), common oak (Quercus robur L.) and European ash (Fraxinus excelsior L.), as the main representative hemiboreal forest tree species. The study findings revealed that mean DWD significantly decreased, while mean CC slightly increased during the wood decomposition process, which led to carbon density (CD) reduction over five decay classes. The mean CC showed little variation among the eight tree species and ranged between 47 and 54%. The lower CDs in the dead wood of decay classes 1 and 2 were more associated with coniferous than deciduous species. The estimated CD significantly decreased in all species with increasing decay class. Dead wood at decay class 5 of Scots pine, silver or downy birch, European ash and common oak had the highest CD, followed by Norway spruce and grey alder, and the lowest CDs were obtained for European aspen and black alder.
Access options
Buy single article
Instant access to the full article PDF.
US$ 39.95
Tax calculation will be finalised during checkout.
Subscribe to journal
Immediate online access to all issues from 2019. Subscription will auto renew annually.
US$ 79
Tax calculation will be finalised during checkout.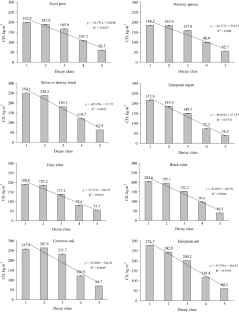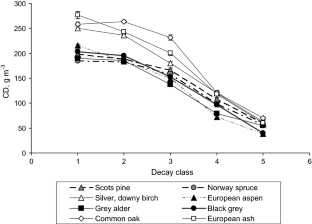 References
Bantle A, Borken W, Ellerbrock RH, Shulze ED, Weisser WW, Matzner E (2014) Quantity and quality of dissolved organic carbon released from coarse woody debris of different tree species in the early phase of decomposition. Forest Ecol Manag 329:287–294

Bütler R, Patty L, Le Bayon RC, Guenat C, Schlaepfer R (2007) Log decay of Picea abies in the Swiss Jura Mountains of central Europe. Forest Ecol Manag 242:791–799

Caruso A, Thor G (2007) Importance of different tree fractions for epiphytic lichen diversity on Picea abies and Populus tremula in mature managed boreonemoral Swedish forests. Scand J For Res 22:219–230

Caruso A, Rudolphi J, Thor G (2008) Lichen species diversity and substrate amounts in young planted boreal forests: a comparison between slash and stumps of Picea abies. Biological Conserv 141(1):47–55

Cha S, Chae H-M, Lee S-H, Shim J-K (2017) Branch wood decomposition of tree species in a deciduous temperate forest in Korea. Forests 8(5):176. https://doi.org/10.3390/f8050176

Cornwell WK, Cornelissen JHC, Allison SD, Bauhus J, Eggleton P, Preston CM, Scarff F, Weedon JT, Wirth C, Zanne AE (2009) Plant traits and wood fates across the globe: rotted, burned, or consumed? Glob Change Biol 15:2431–2449

EPA (Lithuanian Environmental Protection Agency) (2017) Lithuania's National Inventory Report 2017. Greenhouse Gas Emissions 1990–2015. Vilnius, Lithuania, 616

Gilbertson RL (1980) Wood-rotting fungi of North America. Mycologia 72:1–49

Gottschall F, Davids S, Newiger-Dous TE, Auge H, Cesarz S, Eisenhauer N (2019) Tree species identity determines wood decomposition via microclimatic effects. Ecol Evol 9:12113–12127

Harmon ME, Franklin JF, Swanson FJ, Sollins P, Gegory SW, Lattin JD, Anderson NH, Cline SP, Aumen NG, Sedell JR, Lienkaemper GW, Cromak K, Cummins KW (1986) Ecology of coarse woody debris in temperate ecosystems. Adv Ecol Res 15:133–302

Harmon ME, Woodall CW, Fasth B, Sexton J (2008) Woody detritus density and density reduction factors for tree species in the United States: a synthesis. General technical report/Forest Service, Northern Research Station, NRS-29, p 84

Harmon ME, Fasth B, Woodall ChW, Sexton J (2013) Carbon concentration of standing and downed woody detritus: effects of tree taxa, decay class, position, and tissue type. Forest Ecol Manag 291:259–267

Herrmann S, Kahl T, Bauhus J (2015) Decomposition dynamics of coarse woody debris of three important central European tree species. For Ecosyst 2(27):1–14

Holub SM, Spears JDH, Lajtha K (2001) A reanalysis of nutrient dynamics in coniferous coarse woody debris. Can J For Res 31:1894–1902

Hunter ML (1990) Wildlife, forests, and forestry: principles of managing forests for biological diversity. Prentice Hall, Englewood Cliffs NJ

IPCC (Intergovernmental Panel on Climate Change) (2003) Good practice guidance for land use, land-use change and forestry. www.ipcc-nggip.iges.or.jp/public/gpglulucf/gpglulucf_contents.htm. Accessed 14 June 2018

Janisch JE, Harmon ME (2002) Successional changes in live and dead wood carbon stores: implications for net ecosystem productivity. Tree Physiol 22:77–89

Kahl T, Baber K, Otto P, Wirth Ch, Bauhus J (2015) Drivers of CO2 emission rates from dead wood logs of 13 tree species in the initial decomposition phase. Forests 6:2484–2504

Köster K, Metslaid M, Engelhart J, Köster E (2015) Dead wood basic density, and the concentration of carbon and nitrogen for main tree species in managed hemiboreal forests. Forest Ecol Manag 354:35–42

Krankina ON, Harmon ME (1995) Dynamics of the dead wood carbon pool in north western Russian boreal forests. Water Air Soil Poll 82:227–238

Liepinš K, Rieksts-Riekstinš (2013) Stemwood density of juvenile silver birch trees (Betula pendula Roth) from plantations on former farmlands. Balt For 19(2):179–186

Lombardi F, Cherubini P, Lasserre B, Tognetti R, Marchetti M (2008) Tree rings used to assess time since death of deadwood of different decay classes in beech and silver fir forests in the central Apennines (Molise, Italy). Can J Forest Res 38(4):821–833

Mäkinen H, Hynynen J, Siitonen J, Sievänen R (2006) Predicting the decomposition of Scots pine, Norway spruce, and birch stems in Finland. Ecol Appl 16:1865–1879

ME/LHS (Lithuanian Hydrometeorological Service under the Ministry of Environment) (2013) Climate Atlas of Lithuania. Petro ofsetas, Vilnius

ME/SFS (Ministry of Environment, State Forest Service) (2017) In: Butkus A, Dumčienė V, Eigirdas M, Kuliešis A, Vižlenskas D (eds) Lithuanian statistical yearbook of forestry 2017. Lututė, Kaunas, Lithuania

Merganičová K, Merganič J (2010) Coarse woody debris carbon stocks in natural spruce forests of Babia hora. J Forest Sci 56(9):397–405

Metz MR, Frangioso KM, Meentemeyer RK, Rizzo DM (2011) Interacting disturbances: wildfire affected by stage of forest disease invasion. Ecol Appl 21:313–320

Morelli S, Paletto A, Tosi V (2007) Deadwood in forest stands: assessment of wood basic density in some tree species. Forest 4:395–406

Paletto A, Tosi V (2010) Deadwood density variation with decay class in seven tree species of the Italian Alps. Scand J Forest Res 25:164–173

Palviainen M, Finér L, Laiho R, Shorohova E, Kapitsa E, Vanha-Majamaa I (2010) Carbon and nitrogen release from decomposing Scots pine, Norway spruce and silver birch stumps. Forest Ecol Manag 259(3):390–398

Petrillo M, Cherubini P, Fravolini G, Marchetti M, Ascher-Jenull J, Schärer M, Synal H-A, Bertoldi D, Camin F, Larcher R, Egli M (2016) Time since death and decay rate constants of Norway spruce and European larch deadwood in subalpine forests determined using dendrochronology and radiocarbon dating. Biogeosciences 13:1537–1552

Preikša Z, Brazaitis G, Marozas V, Jaroszewicz B (2015) Dead wood quality influences species diversity of rare cryptogams in temperate broadleaved forests. iForest 9:276–285

Renvall P (1995) Community structure and dynamics of wood-rotting Basidiomycetes on decomposing conifer trunks in northern Finland. Karstenia 35:1–51

Ring E, Andersson E, Armolaitis K, Eklöf K, Finér L, Gil W, Glazko Z, Janek M, Lībiete Z, Lode E, Małek S, Piirainen S (2018) Good practices for forest buffers to improve surface water quality in the Baltic Sea region. ARBETSRAPPORT 995-2018. https://www.skogforsk.se/cd_20190114162822/contentassets/36401deb7a274e5aaa625b6bf8a18a43/arbetsrapport-995—2018.pdf

Rock J, Badeck FW, Harmon ME (2008) Estimating decomposition rate constants for European tree species from literature sources. Eur J For Res 127(4):301–313

Sandström F, Petersson H, Kruys N, Ståhl G (2007) Biomass conversion factors (density and carbon concentration) by decay classes for dead wood of Pinus sylvestris, Picea abies and Betula spp. in boreal forests of Sweden. For Ecol Manag 243(1):19–27

Schlegel BC, Donoso PJ (2008) Effects of forest type and stand structure on coarse woody debris in old-growth rainforests in the Valdivian Andes, south-central Chile. For Ecol Manag 255:1906–1914

Seedre M, Taylor AR, Chen HYH, Jõgiste K (2013) Deadwood density of five boreal tree species in relation to field-assigned decay class. For Sci 59(3):261–266

Smith JE, Heath LS, Hoover CM (2013) Carbon factors and models for forest carbon estimates for the 2005–2011 National Greenhouse Gas Inventories of the United States. Forest Ecol Manag 307:7–19

UNFCCC (1997) Kyoto protocol to the United Nations framework convention on climate change. Adopted at COP3 in Kyoto, Japan on 11 December 1997

Vaičys M, Karazija S, Kuliešis A, Rutkauskas A (2006) Miškų augavietės [Forest sites]. Lututė, Kaunas [in Lithuanian]

Weedon JT, Cornwell WK, Cornelissen JH, Zanne AE, Wirth C, Coomes DA (2009) Global metaanalysis of wood decomposition rates: a role for trait variation among tree species? Ecol Lett 12:45–56

Weggler K, Dobbertin M, Jüngling E, Kaufmann E, Thürig E (2012) Dead wood volume to dead wood carbon: the issue of conversion factors. Eur J For Res 131:1423–1438

Woodall CW, Monleon VJ (2010) Estimating the quadratic mean diameters of fine woody debris in forests of the United States. For Ecol Manag 260:1088–1093

Yatskov M, Harmon ME, Krankina O (2003) A chronosequence of wood decomposition in the boreal forests of Russia. Can J For Res 33:1211–1226
Acknowledgements
The study was supported by the Ministry of Environment of the Republic of Lithuania in the frame of 2009–2014 European Economic Area or Norwegian Financial Mechanisms and Co-financing. The paper partly presents the findings obtained through the long-term research programme "Sustainable Forestry and Global Changes" implemented by the Lithuanian Research Centre for Agriculture and Forestry. The authors also thank the reviewers for their comments that helped to improve this manuscript.
Additional information
Publisher's Note
Springer Nature remains neutral with regard to jurisdictional claims in published maps and institutional affiliations.
Communicated by Claus Bässle.
About this article
Cite this article
Stakėnas, V., Varnagirytė-Kabašinskienė, I., Sirgedaitė-Šėžienė, V. et al. Dead wood carbon density for the main tree species in the Lithuanian hemiboreal forest. Eur J Forest Res 139, 1045–1055 (2020). https://doi.org/10.1007/s10342-020-01306-3
Received:

Revised:

Accepted:

Published:

Issue Date:
Keywords
Dead wood density

Carbon content

Forest tree species

Species-specific estimates

Wood decay class