Abstract
In the recent decades, growing demand for wood products, combined with efforts to conserve natural forests, has supported a steady increase in the global extent of planted forests. In this paper, a two-phase sampling strategy for large-scale assessment of hybrid poplar plantations in Northern Italy was implemented. The first phase was performed by means of tessellation stratified sampling on high-resolution remotely sensed imagery, covering the survey area by a grid of regular polygons of equal size and randomly and independently selecting one point per quadrat. All the plantations spotted by at least one sample point were selected. In the second phase, we randomly chosen a subset of plantations by stratified sampling that were visited on the ground to collect qualitative and quantitative attributes. The resulting estimates were reliable, and the survey demonstrated relatively easy to be implemented and replicated. These considerations support the use of the proposed sampling strategy to frequently update information on fast-growing forest plantations within agricultural farms, like hybrid poplar crops. Moreover, the results of the case study here presented highlight the relevance of hybrid poplar plantations in Italy, in the context of sustainable development strategies under a green economy perspective.
Access options
Buy single article
Instant access to the full article PDF.
US$ 39.95
Tax calculation will be finalised during checkout.
Subscribe to journal
Immediate online access to all issues from 2019. Subscription will auto renew annually.
US$ 79
Tax calculation will be finalised during checkout.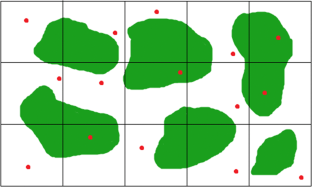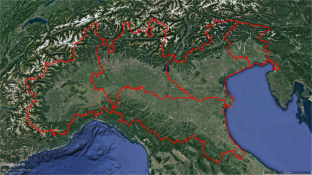 References
Alam MB, Shahi C, Pulkki R (2014) Economic impact of enhanced forest inventory information and merchandizing yards in the forest product industry supply chain. Socio Econ Plan Sci 48:189–197. https://doi.org/10.1016/j.seps.2014.06.002

Archaux F, Chevalier R, Berthelot A (2010) Towards practices favourable to plant diversity in hybrid poplar plantations. Forest Ecol Manag 259(12):2410–2417. https://doi.org/10.1016/j.foreco.2010.03.017

Baffetta F, Fattorini L, Corona P (2011) Estimation of small woodlot and tree row attributes in large scale forest inventories. Environ Ecol Stat 18:146–167. https://doi.org/10.1007/s10651-009-0125-0

Barabesi L, Franceschi S (2011) Sampling properties of spatial total estimators under tessellation stratified designs. Environmetrics 22:271–278. https://doi.org/10.1002/env.1046

Barabesi L, Franceschi S, Marcheselli M (2012) Properties of design-based estimation under stratified spatial sampling with application to canopy coverage estimation. Ann App Stat 4:210–228. https://doi.org/10.1214/11-AOAS509

Barontini M, Scarfone A, Spinelli R, Gallucci F, Santangelo E, Acampora A, Jirjis R, Civitarese V, Pari L (2014) Storage dynamics and fuel quality of poplar chips. Biomass Bioenerg 62:17–25. https://doi.org/10.1016/j.biombioe.2014.01.022

Bergante S, Facciotto G, Minotta G (2010) Identification of the main site factors and management intensity affecting the establishment of short-rotation-coppices (SRC) in Northern Italy through stepwise regression analysis. Cent Eur J Biol 5:522–530. https://doi.org/10.2478/s11535-010-0028-y

Bergante S, Zenone T, Facciotto G (2015). Short rotation forestry for energy production in italy: environmental aspects and new perspectives of use in biofuel industry. In: Bhardwaj AK, Zenone T, Chen J (eds) Sustainable Biofuels. An Ecological Assessment of the Future Energy. pp 137–153

Cardias Williams F, Thomas T (2006) Some key issues concerning current poplar production and future marketing in the United Kingdom. New Forest 31:343–359. https://doi.org/10.1007/s11056-005-8197-7

Casella E, Ceulemans R (2002) Spatial distribution of leaf morphological and physiological characteristics in relation to local radiation regime within the canopies of 3-year-old Populus clones in coppice culture. Tree Physiol 22:1277–1288. https://doi.org/10.1093/treephys/22.18.1277

Chiarabaglio PM, Coaloa D (2002) Valutazione qualitativa e quantitativa del pioppeto maturo in piedi. L'Informatore Agrario 41:25–27 In Italian

Corona P (2016) Consolidating new paradigms in large-scale monitoring and assessment of forest ecosystems. Environ Res 144:8–14. https://doi.org/10.1016/j.envres.2015.10.017

Corona P (2018) Communicating facts, findings and thinking to support evidence-based strategies and decisions. Ann Silv Res 42:1–2. https://doi.org/10.12899/asr-1617

Corona P, Marchetti M (2007) Outlining multi-purpose forest inventories to assess the ecosystem approach in forestry. Plant Biosyst 2:243–251. https://doi.org/10.1080/11263500701401836

Corona P, Barbati A, Tomao A, Bertani R, Valentini R, Marchetti M, Perugini L (2012) Land use inventory as framework for environmental accounting: an application in Italy. iForest 5(4):204–209. https://doi.org/10.3832/ifor0625-005

Dillen SY, Rood SB, Ceulemans R (2010). Growth and physiology. In: Jansson S, Bhalerao R, Groover A (eds) Genetics and Genomics of Populus (Plant Genetics and Genomics: Crops and Models), vol. 8. Springer, New York, USA, pp 39–63. https://doi.org/10.1007/978-1-4419-1541-2_3

EUROSTAT (2019). Renewable energy statistics. Statistics explained. 14 pp. https://ec.europa.eu/eurostat/statistics-explained/index.php/Renewable_energy_statistics. Accessed 12 February 2019

FAO (2015) Global Forest Resources Assessment 2015. Food and Agriculture Organization of United Nations, Rome

FAO/FRA (2000). Global forest resources assessment 2000. Main Report. FAO Forestry Paper 140, Rome, Italy

Fardusi MJ, Chianucci F, Barbati A (2017) Concept to practice of geospatial-information tools to assist forest management and planning under precision forestry framework: a review. Ann Silv Res 41(1):3–14. https://doi.org/10.12899/asr-1354

Fattorini L, Marcheselli M, Pisani C (2006) A three-phase sampling strategy for large-scale multiresource forest inventories. J Agric Biol Environ Stat 11:1–21. https://doi.org/10.1198/108571106X96871

Fattorini L, Marcheselli M, Pisani C, Pratelli L (2017) Design-based asymptotics for two-phase sampling strategies in environmental surveys. Biometrika 104:195–205. https://doi.org/10.1093/biomet/asw062

Groot A, Cortini F, Wulder MA (2015) Crown-fibre attribute relationships for enhanced forest inventory: progress and prospects. Forest Chron 91(3):266–279. https://doi.org/10.5558/tfc2015-048

Guidi W, Tozzini C, Bonari E (2009) Estimation of chemical traits in poplar short-rotation coppice at stand level. Biomass Bioenerg 33(12):1703–1709. https://doi.org/10.1016/j.biombioe.2009.09.004

Johansson T, Karačić A (2011) Increment and biomass in hybrid poplar and some practical implications. Biomass Bioenerg 35(5):1925–1934. https://doi.org/10.1016/j.biombioe.2011.01.040

Krzyżaniak M, Stolarski MJ, Warmiński N (2019) Life cycle assessment of poplar production: environmental impact of different soil enrichment methods. J Clean Prod 206:785–796. https://doi.org/10.1016/j.jclepro.2018.09.180

Lapietra G, Coaloa D, Chiarabaglio PM (1994) Rapporto annuale sulla pioppicoltura 1993. Cellulosa e Carta 45:2–8 In Italian

Marcelli A, Mattioli W, Puletti N, Chianucci F, Gianelle D, Grotti M, Chirici G, D'Amico G, Francini S, Travaglini D, Fattorini L, Corona P (2020). Large-scale two-phase estimation of wood production by poplar plantations exploiting Sentinel-2 data as auxiliary information. Silva Fenn 54(1) article id 10247. https://doi.org/10.14214/sf.10247

Pandey A, Srivastava RK (2010) Role of dendropower in wastewater treatment and sustaining economy. J Clean Prod 18(10–11):1113–1117. https://doi.org/10.1016/j.jclepro.2010.02.026

Pointailler JY, Ceulemans R, Guittet J, Mau F (1997) Linear and non-linear functions of volume index to estimate woody biomass in high density young poplar stands. Ann For Sci 54(4):335–345. https://doi.org/10.1051/forest:19970402

Spinelli R, Nati C, Magagnotti N (2008) Harvesting Short-Rotation Poplar plantations for biomass production. Croat J For Eng 29(2):129–139

Stolarski MJ, Krzyżaniak M, Szczukowski S, Tworkowski J, Załuski D, Bieniek A, Gołaszewski J (2015) Effect of increased soil fertility on the yield and energy value of short-rotation woody crops. Bioenerg Res 8(3):1136–1147. https://doi.org/10.1007/s12155-014-9567-9

Stolarski MJ, Olba-Zięty E, Rosenqvist H, Krzyżaniak M (2017) Economic efficiency of willow, poplar and black locust production using different soil amendments. Biomass Bioenerg 106:74–82. https://doi.org/10.1016/j.biombioe.2017.08.019

Tomppo E, Gschwantner T, Lawrence M, McRoberts RE (eds) (2010) National forest inventories: Pathways for common reporting. Springer, New York

Walle IV, Van Camp N, Van de Casteele L, Verheyen K, Lemeur R (2007) Short-rotation forestry of birch, maple, poplar and willow in Flanders (Belgium) I—biomass production after 4 years of tree growth. Biomass Bioenerg 31(5):267–275. https://doi.org/10.1016/j.biombioe.2007.01.019

Wulder MA, Bater CW, Coops NC, Hilker T, White JC (2008) The role of LiDAR in sustainable forest management. Forest Chron 84(6):807–826. https://doi.org/10.5558/tfc84807-6
Acknowledgements
The study has been financially supported by the project 'Sviluppo di un sistema di monitoraggio annuale del settore forestale e pioppicolo' (MONIPOPLAR), funded by Federlegnoarredo, and by the research project 'Sistema di monitoraggio multiscalare a supporto della pioppicoltura di precisione nella Regione Lombardia' (PRECISIONPOP) funded by Lombardy Region, Italy, Grant number: E86C18002690002.
Additional information
Publisher's Note
Springer Nature remains neutral with regard to jurisdictional claims in published maps and institutional affiliations.
Communicated by Arne Nothdurft.
About this article
Cite this article
Corona, P., Chianucci, F., Marcelli, A. et al. Probabilistic sampling and estimation for large-scale assessment of poplar plantations in Northern Italy. Eur J Forest Res 139, 981–988 (2020). https://doi.org/10.1007/s10342-020-01300-9
Received:

Revised:

Accepted:

Published:

Issue Date:
Keywords
Forest inventory

Two-phase sampling

Tessellation stratified sampling

Populus spp.

Hybrid poplar