Abstract
Understory cover may constraint tree regeneration, impair livestock grazing and increase wildfire hazard. While prescribed burning and thinning are potential options for managing understory, resprouting vigor of large shrubs and small trees negatively affects their cost–benefit ratio. Selection of the largest stem and cleaning the rest of the stools can be an alternative option, if the stem left competes with resprouts for belowground resources. Alternatively, resources stored in the reserved stem may promote the growth of resprouts. Although few studies documented the effects of stem selection on resprouting vigor, no information is available for understory species. This study assessed the effect of stem selection (SS) in comparison to cleaning (CC) on resprouting vigor of box-tree. Both options were randomly applied to individuals growing in the understory of black pine forest in four localities. The resprout number resprouts (Rn) and the maximum resprout length (Lmax) were modeled against treatment, stand canopy cover, and pre-treatment stool basal area. Light availability at the individual level was assessed in a subset (n = 38) growing in two localities. Rn and Lmax were lower in SS than in CC. SS apparently inhibited bud initiation and prompted the reserved stem to compete for belowground resources with new resprouts. Resprouting was negatively related to the stand canopy cover. This effect of light availability was corroborated when measured at the individual level. As a conclusion, the implementation of SS in sub-Mediterranean forests with understory dominated by box-tree is a better management alternative than CC for fuel and forest management purposes.
Access options
Buy single article
Instant access to the full article PDF.
US$ 39.95
Tax calculation will be finalised during checkout.
Subscribe to journal
Immediate online access to all issues from 2019. Subscription will auto renew annually.
US$ 79
Tax calculation will be finalised during checkout.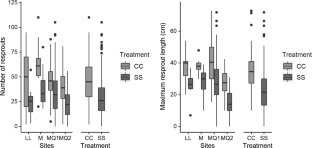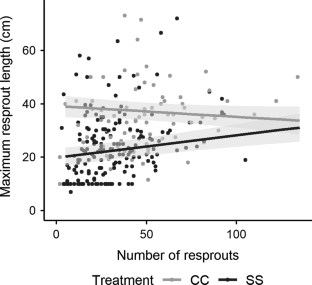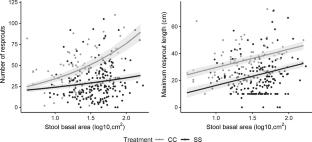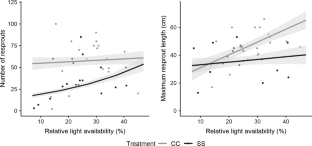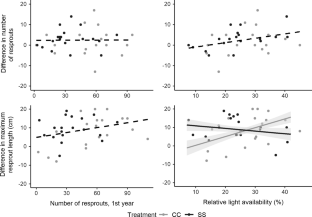 Availability of data and materials
Not applicable.
Code availability
Not applicable.
References
Antos JA (2009) Understory plants in temperate forests. In: Owens JN, Lunday HG (eds) Forests and forest plants. Encyclopedia of life support systems. Eolss Publishers Co Ltd, Oxford, pp 262–279

Bates D, Machler M, Bolker B, Walker S (2015) Fitting linear mixed-effects models using (lme4). J Stat Softw 67:1–48. https://doi.org/10.18637/jss.v067.i01

Bond WJ, Midgley JJ (2001) Ecology of sprouting in woody plants: the persistence niche. Trends Ecol Evol 16:45–51. https://doi.org/10.1016/S0169-5347(00)02033-4

Canadell J, López-Soria L (1998) Lignotuber reserves support regrowth following clipping of two Mediterranean shrubs. Funct Ecol 12:31–38. https://doi.org/10.1046/j.1365-2435.1998.00154.x

Cañellas I, Del Río M, Roig S, Montero G (2004) Growth response to thinning in Quercus pyrenaica Willd. Coppice stands in Spanish central mountain. Ann For Sci 61:243–250. https://doi.org/10.1051/forest:2004017

Cardil A, Vega-García C, Ascoli D et al (2019) How does drought impact burned area in Mediterranean vegetation communities? Sci Total Environ. https://doi.org/10.1016/j.scitotenv.2019.133603

Casals P, Rios AI (2018) Burning intensity and low light availability reduce resprouting ability and vigor of Buxus sempervirens L. after clearing. Sci Total Environ 627:403–416. https://doi.org/10.1016/j.scitotenv.2018.01.227

Casals P, Valor T, Rios AI, Shipley B (2018) Leaf and bark functional traits predict resprouting strategies of understory woody species after prescribed fires. For Ecol Manage 429:158–174. https://doi.org/10.1016/j.foreco.2018.07.002

Chapin FS, Schulze ED, Mooney HA (1990) The ecology and economics of storage in plants. Annu Rev Ecol Syst 21:423–447. https://doi.org/10.1146/annurev.es.21.110190.002231

Ciancio O, Corona P, Lamonaca A et al (2006) Conversion of clearcut beech coppices into high forests with continuous cover: a case study in central Italy. For Ecol Manage 224:235–240. https://doi.org/10.1016/j.foreco.2005.12.045

Clarke PJ, Lawes MJ, Midgley JJ et al (2013) Resprouting as a key functional trait: how buds, protection and resources drive persistence after fire. New Phytol 197:19–35. https://doi.org/10.1111/nph.12001

Cotillas M, Sabaté S, Gracia C, Espelta JM (2009) Growth response of mixed mediterranean oak coppices to rainfall reduction. Could selective thinning have any influence on it? For Ecol Manage 258:1677–1683. https://doi.org/10.1016/j.foreco.2009.07.033

Cruz A, Pérez B, Moreno JM (2003) Resprouting of the Mediterranean-type shrub Erica australis with modified lignotuber carbohydrate content. J Ecol 91:348–356. https://doi.org/10.1046/j.1365-2745.2003.00770.x

Di Domenico F, Lucchese F, Magri D (2012) Buxus in Europe: late Quaternary dynamics and modern vulnerability. Perspect Plant Ecol Evol Syst 14:354–362. https://doi.org/10.1016/j.ppees.2012.07.001

Duane A, Piqué M, Castellnou M, Brotons L (2015) Predictive modelling of fire occurrences from different fire spread patterns in Mediterranean landscapes. Int J Wildl Fire 24:407–418. https://doi.org/10.1071/WF14040

Espelta JM, Retana J, Habrouk A (2003) Resprouting patterns after fire and response to stool cleaning of two coexisting Mediterranean oaks with contrasting leaf habits on two different sites. For Ecol Manage 179:401–414. https://doi.org/10.1016/S0378-1127(02)00541-8

Fernández C, Vega JA, Fonturbel T (2013) Shrub resprouting response after fuel reduction treatments: comparison of prescribed burning, clearing and mastication. J Environ Manage 117:235–241. https://doi.org/10.1016/j.jenvman.2013.01.004

Horvath DP, Anderson JV, Chao WS, Foley ME (2003) Knowing when to grow: signals regulating bud dormancy. Trends Plant Sci 8:534–540. https://doi.org/10.1016/j.tplants.2003.09.013

Knox K, Clarke P (2011) Fire severity and nutrient availability do not constrain resprouting in forest shrubs. Plant Ecol 212:1967–1978. https://doi.org/10.1007/s11258-011-9956-5

Kozlowski TT (1992) Carbohydrate sources and sinks in woody plants. Bot Rev 58:107–222. https://doi.org/10.1007/BF02858600

Landuyt D, De Lombaerde E, Perring MP et al (2019) The functional role of temperate forest understorey vegetation in a changing world. Glob Chang Biol 25:3625–3641. https://doi.org/10.1111/gcb.14756

Lemmon PE (1957) A new instrument for measuring forest overstory density. J For 55:667–669

Lucas-Borja ME, Candel-Pérez D, García Morote FA et al (2016) Pinus nigra Arn. ssp. salzmannii seedling recruitment is affected by stand basal area, shrub cover and climate interactions. Ann For Sci 73:649–656. https://doi.org/10.1007/s13595-016-0550-9

Mallik AU (2003) Conifer regeneration problems in boreal and temperate forests with ericaceous understory: role of disturbance, seedbed limitation, and keytsone species change. Crit Rev Plant Sci 22:341–366. https://doi.org/10.1080/713610860

Martínez-Vilalta J, Sala A, Asensio D et al (2016) Dynamics of non-structural carbohydrates in terrestrial plants: a global synthesis. Ecol Monogr 86:495–516. https://doi.org/10.1002/ecm.1231

Messier C (1996) Managing light and understory vegetation in boreal and temperate broadleaf-conifer forests. Silviculture of temperate and boreal broadleaf-conifer mixtures. Land management handbook 36. BC Ministry of Forests, Victoria, pp 59–81

Messier C, Puttonen P (1995) Spatial and temporal variation in the light environment of developing Scots pine stands: the basis for a quick and efficient method of characterizing light. Can J For Res 25:343–354. https://doi.org/10.1139/x95-038

Nakagawa S, Schielzeth H (2013) A general and simple method for obtaining R2 from Generalized Linear Mixed-Effects models. Methods in Ecology and Evolution, New Jersey, pp 133–142

Ninyerola M, Pons X, Roure JM (2000) A methodological approach of climatological modelling of air temperature and precipitation through GIS techniques. Int J Climatol 20:1823–1841. https://doi.org/10.1002/1097-0088(20001130)20:14%3c1823:AID-JOC566%3e3.0.CO;2-B

Nzunda E, Griffiths M, Lawes M (2008) Sprouting by remobilization of above-ground resources ensures persistence after disturbance of coastal dune forest trees. Funct Ecol 22:577–582. https://doi.org/10.1111/j.1365-2435.2008.01405.x

Paula S, Ojeda F (2009) Belowground starch consumption after recurrent severe disturbance in three resprouter species of the genus Erica. Botany 87:253–259. https://doi.org/10.1139/B08-134

Paula S, Naulin PI, Arce C et al (2016) Lignotubers in Mediterranean basin plants. Plant Ecol 217:661–676. https://doi.org/10.1007/s11258-015-0538-9

Pelc BD, Montgomery RA, Reich PB (2011) Frequency and timing of stem removal influence Corylus americana resprout vigor in oak savanna. For Ecol Manage 261:136–142. https://doi.org/10.1016/j.foreco.2010.09.043

Piqué M, Domènech R (2018) Effectiveness of mechanical thinning and prescribed burning on fire behavior in Pinus nigra forests in NE Spain. Sci Total Environ 618:1539–1546. https://doi.org/10.1016/j.scitotenv.2017.09.316

Poorter L, Kitajima K, Mercado P et al (2010) Resprouting as a persistence strategy of tropical forest trees: relations with carbohydrate storage and shade tolerance. Ecology 91:2613–2627. https://doi.org/10.1890/09-0862.1

Quevedo L, Arnan X, Rodrigo A (2013) Selective thinning of Arbutus unedo coppices following fire: effects on growth at the individual and plot level. For Ecol Manage 292:56–63. https://doi.org/10.1016/j.foreco.2012.12.007

R Core Team (2019) R: A language and environment for statistical computing. R Foundation for Statistical Computing, Vienna

Rodríguez-Calcerrada J, Pérez-Ramos IM, Ourcival JM et al (2011) Is selective thinning an adequate practice for adapting Quercus ilex coppices to climate change? Ann For Sci 68:575–585. https://doi.org/10.1007/s13595-011-0050-x

Rousset O, Lepart J (2003) Neighbourhood effects on the risk of an unpalatable plant being grazed. Plant Ecol 165:197–206. https://doi.org/10.1023/A:1022259905649

Sakai A, Sakai S (1998) A test for the resource remobilization hypothesis: tree sprouting using carbohydrates from above-ground parts. Ann Bot 82:213–216. https://doi.org/10.1006/anbo.1998.0672

Schneider A, Godin C, Boudon F et al (2019) Light regulation of axillary bud outgrowth along plant axes: an overview of the roles of sugars and hormones. Front Plant Sci. https://doi.org/10.3389/fpls.2019.01296

Serrada R, Bravo A, Sánchez I, et al (1996) Conversion into high forest in coppices of Quercus ilex sp. ballota L. in central region of Iberian Peninsula. Ann dell'Instituto Sper per la Selvic 27

Shibata R, Kurokawa H, Shibata M et al (2016) Relationships between resprouting ability, species traits and resource allocation patterns in woody species in a temperate forest. Funct Ecol 30:1205–1215. https://doi.org/10.1111/1365-2435.12616

Taüll M, Casals P, Baiges T (2016) Tipologies de pastura de les principals formacions arbrades de Catalunya. Departament d'Agricultura, Ramaderia, Pesca i Alimentació. Centre de la Propietat Forestal. General. Catalunya. https://ruralcat.gencat.cat/documents/20181/126164/Tipologies-de-pastura.pdf/18b3b6ba-6c43-4e22-82c0-0cc264cdb90c. Accessed 1 Sep 2018

Vesk PA, Westoby M (2004) Funding the bud bank: a review of the costs of buds. Oikos 106:200–208. https://doi.org/10.1111/j.0030-1299.2004.13204.x

Zuur AF, Ieno EN, Walker NJ et al (2009) Mixed effects models and extensions in ecology with R. Springer, New York. https://doi.org/10.1007/978-0-387-87458-6
Acknowledgements
We thank Noemí Palero and Teresa Baiges (CPF) for taking care of silvicultural treatments in LL and M localities and providing stand characteristics. We are grateful to Ana I. Ríos for their help in the field.
Funding
Supported by Ministerio de Ciencia, Innovación y Universidades (RTI2018-098778-B-I00).
Ethics declarations
Conflicts of interest
Not applicable.
Additional information
Publisher's Note
Springer Nature remains neutral with regard to jurisdictional claims in published maps and institutional affiliations.
Communicated by Miren del Rio.
About this article
Cite this article
Monfort-Bague, I.P., Vega-García, C., Jürguens, J. et al. Stem selection reduces the resprouting vigor of box-tree (Buxus sempervirens L.) understory in sub-Mediterranean pine forest. Eur J Forest Res 139, 947–958 (2020). https://doi.org/10.1007/s10342-020-01297-1
Received:

Revised:

Accepted:

Published:

Issue Date:
Keywords
Biomass allocation patterns

Light availability

Resprout number

Stem selection

Stool cleaning

Understory management