Abstract
An importance of the edge effect and other environmental factors on bryophyte communities has been repeatedly evaluated in boreal forests whereas only rarely in forest remnants in traditionally inhabited landscape of central Europe. Adopting the design of a previous study dealing with vascular plants, we examined whether species richness and composition of bryophyte communities in 23 forest fragments (0.1–255 ha) in a representative upland agricultural landscape in central Bohemia coincides with the same environmental factors as vascular plants and if so, whether congruently or not. According to generalized additive models, bryophyte species richness and composition were significantly related to forest vegetation type, stand basal area and soil pH, analogous to vascular plants. Distribution of human-sensitive bryophyte species was further associated with slope aspect and an unlimited long-range edge effect, shown by increased occurrence of human-sensitive bryophytes along the entire distance gradient from the forest edge (0–477 m). Communities of bryophytes and vascular plants were highly congruent in species richness, species turnover and even in number of species with similar colonization ability. We conclude that requirements of human-sensitive bryophytes are fulfilled only in the core areas of large forest fragments. The small size of most current forest fragments and the range of the edge effect suggest that spatial patterns of bryophyte species composition within forest fragments have been substantially altered in the entire region of central Europe.
This is a preview of subscription content,
to check access.
Access this article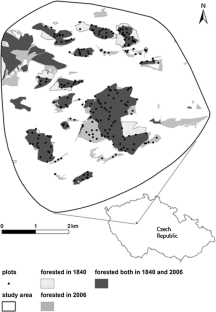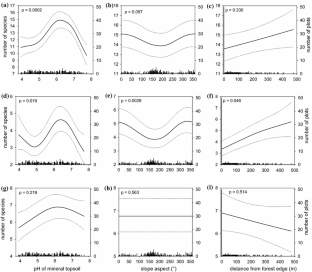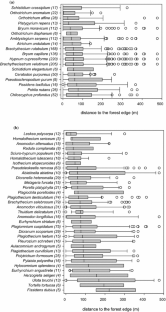 Similar content being viewed by others
References
Alignier A, Deconchat M (2011) Variability of forest edge effect on vegetation implies reconsideration of its assumed hypothetical pattern. Appl Veg Sci 14:67–74

Bartels SF, Chen HYH (2013) Interactions between overstorey and understorey vegetation along an overstorey compositional gradient. J Veg Sci 24:543–552

Bergamini A, Pauli D, Peintinger M, Schmid B (2001) Relationships between productivity, number of shoots and number of species in bryophytes and vascular plants. J Ecol 89:920–929

Cadenasso ML, Pickett STA (2001) Effect of edge structure on the flux of species into forest interiors. Conserv Biol 15:91–97

Cadenasso ML, Traynor MM, Pickett STA (1997) Functional location of forest edges: gradients of multiple physical factors. Can J For Res 27:774–782

Cleavitt NL (2002) Stress tolerance of rare and common moss species in relation to their occupied environments and asexual dispersal potential. J Ecol 90:785–795

Danihelka J, Chrtek J Jr, Kaplan Z (2012) Checklist of vascular plants of the Czech Republic. Preslia 84:647–811

De Cáceres M, Jansen F (2015) Relationship between species and groups of sites. R-package 'indicspecies', version 1.7.4

De Cáceres M, Legendre P (2009) Associations between species and groups of sites: indices and statistical inference. Ecology 90:3566–3574

De Frenne P, Baeten L, Graae BJ, Brunet J, Wulf M, Orczewska A, Kolb A, Jansen I, Jamoneau A, Jacquemyn H, Hermy M, Diekmann M, De Schrijver A, De Sanctis M, Decocq G, Cousins SAO, Verheyen K (2011) Interregional variation in the floristic recovery of post-agricultural forests. J Ecol 99:600–609

de Mendiburu F (2014) Statistical procedures for agricultural research. R-package 'agricolae', version 1.1-7

Dierßen K (2001) Distribution, ecological amplitude and phytosociological characterization of european bryophytes, 1st edn. Cramer in der Gebrüder Borntraeger Verlagsbuchhandlung, Berlin

Graae BJ, Sunde PB (2000) The impact of forest continuity and management on forest floor vegetation evaluated by species traits. Ecography 23:720–731

Halpern CB, Dovčiak M, Urgenson LS, Evans SA (2014) Substrates mediate responses of forest bryophytes to a gradient in overstory retention. Can J For Res 44:855–866

Harper KA, MacDonald SE, Burton PJ, Chen J, Brosofske KD, Saunders SC, Euskirchen ES, Roberts D, Jaiteh MS, Esseen PA (2005) Edge influence on forest structure and composition in fragmented landscapes. Conserv Biol 19:768–782

Harrell FE (2014) Hmisc. R-package, version 3.14-4

Harrison S, Bruna E (1999) Habitat fragmentation and large-scale conservation: What do we know for sure? Ecography 22:225–232

Hastie T, Tibshirani R (1990) Generalized additive models. Chapman and Hall, New York

Hermy M, Honnay O, Firbank L, Grashof-Bokdam C, Lawesson JE (1999) An ecological comparison between ancient and other forest plant species of Europe, and the implications for forest conservation. Biol Conserv 91:9–22

Hochberg Y (1988) A sharper Bonferroni procedure for multiple tests of significance. Biometrika 75:800–803

Hofmeister J, Hošek J, Brabec M, Hédl R, Modrý M (2013) Strong influence of long-distance edge effect on herb-layer vegetation in forest fragments in an agricultural landscape. Perspect Plant Ecol 1:293–303

Hutsemekers V, Dopagne C, Vanderpoorten A (2008) How far and how fast do bryophytes travel at the landscape scale? Divers Distrib 14:483–492

Hylander K (2005) Aspect modifies the magnitude of edge effects on bryophyte growth in boreal forests. J Appl Ecol 42:518–525

Ingerpuu N, Vellak K, Kukk T, Pärtel M (2001) Bryophyte and vascular plant species richness in boreo-nemoral moist forest and mires. Biodivers Conserv 10:2153–2166

Kučera J, Váňa J, Hradílek Z (2012) Bryophyte flora of the Czech Republic: updated checklist and Red List and a brief analysis. Preslia 84:813–850

Lindenmayer DB, Fischer J (2006) Habitat fragmentation and landscape change. An ecological and conservation synthesis, 1st edn. Island Press, Washington

Löbel S, Rydin H (2009) Dispersal and life-history strategies in epiphyte metacommunities: alternative solutions to survival in patchy dynamics landscapes. Oecologia 161:569–579

Löbel S, Rydin H (2010) Trade-offs and habitat constraints in the establishment of epiphytic bryophytes. Func Ecol 24:887–897

Löbel S, Snäll T, Rydin H (2006) Metapopulation processes in epiphytes inferred from patterns of regional distribution and local abundance in fragmented forest landscapes. J Ecol 94:856–868

Löbel S, Snäll T, Rydin H (2012) Epiphytic bryophytes near forest edges and on retention trees: reduced growth and reproduction especially in old-growth-forest indicator species. J Appl Ecol 49:1334–1343

Łuczaj L, Sadowska B (1997) Edge effect in different groups of organisms: vascular plant, bryophyte and fungi species richness across a forest-grassland border. Folia Geobot 32:343–353

Márialigeti S, Németh B, Tinya F, Ódor P (2009) The effects of stand structure on ground-floor bryophyte assemblages in temperate mixed forests. Biodivers Conserv 18:2223–2241

Mežaka A, Brūmelis G, Piterāns A (2012) Tree and stand-scale factors affecting richness and composition of epiphytic bryophytes and lichens in deciduous woodland key habitats. Biodivers Conserv 21:3221–3241

Miller NG, McDaniel SF (2004) Bryophyte dispersal inferred from colonization of an introduced substratum on Whiteface Mountain, New York. Am J Bot 91:1173–1182

Murcia C (1995) Edge effects in fragmented forests: implications for conservation. Trends Ecol Evol 10:58–62

Ódor P, Heilmann-Clausen J, Christensen M, Aude E, van Dort KW, Piltaver A, Siller I, Veerkamp MT, Walleyn R, Standovár T, van Hees AFM, Kosec J, Matocec N, Kraigher H, Grebenc T (2006) Diversity of dead wood inhabiting fungi and bryophytes in semi-natural beech forests in Europe. Biol Conserv 131:58–71

Oksanen J, Blanchet FG, Kindt R, Legendre P, Minchin PR, O'Hara RB, Simpson GL, Solymos P, Stevens MHH, Wagner H (2012) Vegan: community ecology package. R-package, version 2.0-5

Pärtel M, Helm A, Ingerpuu N, Reier Ü, Tuvi EL (2004) Conservation of Northern European plant diversity: the correspondence with soil pH. Biol Conserv 120:525–531

Pellissier V, Bergès L, Nadeltcheva T, Schmitt MC, Avon C, Cluzeau C, Dupouey JL (2013) Understorey plant species show long-range spatial patterns in forest patches according to distance-to-edge. J Veg Sci 24:9–24

Perhans K, Appelgren L, Jonsson F, Nordin U, Söderström B, Gustafsson L (2009) Retention patches as potential refugia for bryophytes and lichens in managed forest landscapes. Biol Conserv 142:1125–1133

Pharo EJ, Zartman CE (2007) Bryophytes in a changing landscape: the hierarchical effects of habitat fragmentation on ecological and evolutionary processes. Biol Conserv 135:315–325

R Development Core Team (2012) R: a language and environment for statistical computing. R foundation for statistical computing. Vienna, Austria. http://www.r-project.org/

Ries L, Fletcher RJ Jr, Battin J, Sisk TD (2004) Ecological responses to habitat edges: mechanisms, models, and variability explained. Ann Rev Ecol Evol Syst 35:491–522

Roberge JM, Bengtsson SBK, Wulff S, Snäll T (2011) Edge creation and tree dieback influence the patch-tracking metapopulation dynamics of a red-listed epiphytic bryophyte. J Appl Ecol 48:650–658

Snäll T, Ehrlén J, Rydin H (2005) Colonization–extinction dynamics of an epiphyte metapopulation in a dynamic landscape. Ecology 86:106–115

Stewart KJ, Mallik AU (2006) Bryophyte responses to microclimatic edge effects across riparian buffers. Ecol Appl 16:1474–1486

Vanderpoorten A, Engels P, Sotiaux A (2004) Trends in diversity and abundance of obligate epiphytic bryophytes in a highly managed landscape. Ecography 27:567–576

Verheyen K, Honnay O, Motzkin G, Hermy M, Foster DR (2003) Response of forest plant species to land-use change: a life-history trait-based approach. J Ecol 91:563–577

Vockenhuber EA, Scherber C, Langenbruch C, Meißner M, Seidel D, Tscharntke T (2011) Tree diversity and environmental context predict herb species richness and cover in Germany's largest connected deciduous forest. Perspect Plant Ecol 13:111–119

Westphal C, Härdtle W, von Oheimb G (2004) Forest history, continuity and dynamics naturalness. In: Honnay O, Verheyen K, Bossuyt B, Hermy M (eds) Forest biodiversity: lesson from history for conservation, IUFRO research series, vol 10. CAB International, Wallingford, pp 205–220

Wood SN (2006) Generalized additive models. An introduction with R. Chapman and Hall, Boca Raton
Acknowledgments
We would like to thank P. Myšina and J. Hošková for collecting soil samples and other field environmental data. We are grateful to E. Holá and J. Kučera for help with determination of some bryophytes, Z. Drhovská for rectification of cadastral maps, and to T. Svoboda, R. Filippi, and V. Treml for processing of synthetic maps and related datasets. This research was funded by the Ministry of Environment of the Czech Republic (Grant Projects VaV SM 6/69/05 and SP 2d3/139/07).
Electronic supplementary material
Below is the link to the electronic supplementary material.
About this article
Cite this article
Hofmeister, J., Hošek, J., Brabec, M. et al. Human-sensitive bryophytes retreat into the depth of forest fragments in central European landscape. Eur J Forest Res 135, 539–549 (2016). https://doi.org/10.1007/s10342-016-0953-z
Received:

Revised:

Accepted:

Published:

Issue Date:

DOI: https://doi.org/10.1007/s10342-016-0953-z
Keywords