Abstract
Recent research has shown that interactions between species with different functional traits can promote forest ecosystem processes. In the context of climate change, understanding whether species interactions in mixed-species ecosystems can improve the adaptation of these ecosystems to extreme climatic events is crucial to developing new management strategies. In this study, we investigated the impact of species interactions on the sap flux density of three Mediterranean tree species (Quercus faginea, Pinus nigra and Pinus sylvestris) during a summer drought. Measurements of foliar carbon isotopic composition (δ 13C) were also conducted on the same trees. The decline in transpiration during drought was the greatest for P. sylvestris and the least pronounced for Q. faginea. For P. nigra and Q. faginea, the decrease in transpiration as the drought progressed was lower when these species where interacting with another tree species, particularly with P. sylvestris. In contrast, the decrease for P. sylvestris was higher when this species was interacting with another species. Differing drought effects were consistent with the δ 13C values. We showed that the identity of the species present in the direct neighbourhood of a given tree can differentially influence water availability and water-use of these three co-existing Mediterranean tree species during a summer drought. Our findings suggest that species interactions play an important role in modulating the response of tree species to drought. Favouring tree species diversity in this region does not seem to be systematically beneficial in terms of soil water availability and water-use for all the interacting species.
This is a preview of subscription content, log in to check access.
Access options
Buy single article
Instant access to the full article PDF.
US$ 39.95
Price includes VAT for USA
Subscribe to journal
Immediate online access to all issues from 2019. Subscription will auto renew annually.
US$ 99
This is the net price. Taxes to be calculated in checkout.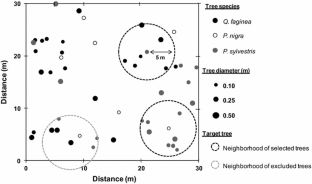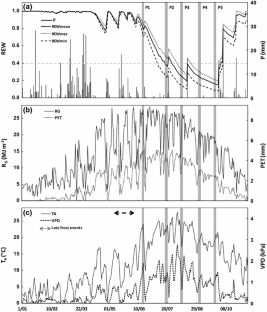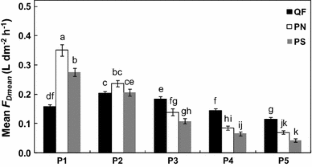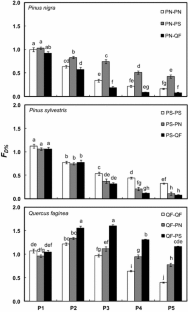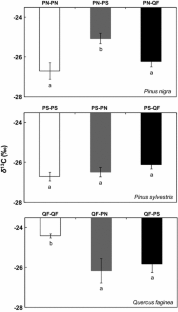 References
Allen CD, Macalady AK, Chenchouni H, Bachelet D, McDowell N, Vennetier M, Kitzberger T, Rigling A, Breshears DD, Hogg EH, Gonzalez P, Fensham R, Zhang Z, Castro J, Demidova N, Lim J-H, Allard G, Running SW, Semerci A, Cobb N (2010) A global overview of drought and heat-induced tree mortality reveals emerging climate change risks for forests. For Ecol Manag 259(4):660–684

Baeten L et al (2013) A novel comparative research platform designed to determine the functional significance of tree species diversity in European forests. Persp Plant Ecol Evol Syst 15(5):281–291

Bates D, Maechler M, Bolker B, Walker S (2013) lme4: linear mixed-effects models using eigen and S4. R package version 0.99999911-5. http://lme4.r-forge.r-project.org

Bréda N, Cochard H, Dreyer E, Granier A (1993) Field comparison of transpiration, stomatal conductance and vulnerability to cavitation of Quercus petraea and Quercus robur under water stress. Ann For Sci 50(6):571–582

Burgess SSO (2006) Measuring transpiration responses to summer precipitation in a Mediterranean climate: a simple screening tool for identifying plant water-use strategies. Physiol Planta 127(3):404–412

Carnicer J, Barbeta A, Sperlich D, Coll M, Penuelas J (2013) Contrasting trait syndromes in angiosperms and conifers are associated with different responses of tree growth to temperature on a large scale. Front Plant Sci 4:1–19

Carnicer J, Coll M, Pons X, Ninyerola M, Vayreda J, Peñuelas J (2014) Large-scale recruitment limitation in Mediterranean pines: the role of Quercus ilex and forest successional advance as key regional drivers. Glob Ecol Biogeog 23(3):371–384

Cermak J, Cienciala E, Kucera J, Hällgren J-E (1992) Radial velocity profiles of water flow in trunks of Norway spruce and oak and the response of spruce to severing. Tree Physiol 10(4):367–380

Choat B et al (2012) Global convergence in the vulnerability of forests to drought. Nature 491(7426):752–755

Clark DA, Clark DB (1992) Life history diversity of canopy and emergent trees in a neotropical rain forest. Ecol Monogr 62(3):315–344

Clearwater MJ, Meinzer FC, Andrade JL, Goldstein G, Holbrook M (1999) Potential errors in measurement of non-uniform sap flow using heat dissipation probes. Tree Physiol 19(6):681–687

Cochard HB, Bréda N, Granier A (1996) Whole tree hydraulic conductance and water loss regulation in Quercus during drought: evidence for stomatal control of embolism? Ann For Sci 53(2–3):197–206

Corcuera L, Camarero JJ, Gil-Pelegrin E (2004) Effects of a severe drought on growth and wood anatomical properties of Quercus faginea. IAWA 25(2):185–204

Forrester DI, Theiveyanathan S, Collopy JJ, Marcar NE (2010) Enhanced water use efficiency in a mixed Eucalyptus globulus and Acacia mearnsii plantation. For Ecol Manag 259(9):1761–1770

Gebauer T, Horna V, Leuschner C (2012) Canopy transpiration of pure and mixed forest stands with variable abundance of European beech. J Hydrol 442:2–14

Granier A (1987) Evaluation of transpiration in a Douglas-fir stand by means of sap flow measurements. Tree Physiol 3(4):309–320

Granier A, Bréda N, Biron P, Villette S (1999) A lumped water balance model to evaluate duration and intensity of drought constraints in forest stands. Ecol Model 116(2):269–283

Grossiord C, Granier A, Gessler A, Pollastrini M, Bonal D (2013) The influence of tree species mixture on ecosystem-level carbon accumulation and water use in a mixed boreal plantation. For Ecol Manag 298:82–92

Grossiord C, Granier A, Gessler A, Jucker T, Bonal D (2014a) Does drought influence the relationship between biodiversity and ecosystem functioning in boreal forests? Ecosystems 17(3):394–404

Grossiord C, Gessler A, Granier A, Pollastrini M, Bussotti F, Bonal D (2014b) Interspecific competition influences the response of oak transpiration to increasing drought stress in a mixed Mediterranean forest. For Ecol Manag 318:54–61

Hegyi F (1974) A simulation model for managing jack-pine stands. J. Fries (ed) Growth models for tree and stand simulation, Royal College of Forestry, Stockholm, pp 74–90

Herrero de Aza C, Turrión M, Pando V, Bravo F (2011) Carbon in heartwood, sapwood and bark along the stem profile in three Mediterranean Pinus species. Ann For Sci 68:1067–1076

Hothorn H, Bretz F, Westfall P (2008) Simultaneous inference in general parametric models. Biome J 50(3):346–363

IPCC (2013) Climate change 2013: the physical science basis. IPCC, Cambridge

Irvine J, Perks MP, Magnani F, Grace J (1998) The response of Pinus sylvestris to drought: stomatal control of transpiration and hydraulic conductance. Tree Physiol 18(6):393–402

Kalliokoski T, Nygren P, Sievänen R (2008) Coarse root architecture of three boreal tree species growing in mixed stands. Silva Fennica 42(2):189–210

Kelty MJ (2006) The role of species mixtures in plantation forestry. For Ecol Manag 233:195–204

Kramer P (1983) Drought tolerance and water use efficiency, water relations of plants. Academic, New York, pp 390–415

Kunert N, Schwendenmann L, Potvin C, Hölscher D (2012) Tree diversity enhances tree transpiration in a Panamanian forest plantation. J Appl Ecol 49(1):135–144

Loreau M, Naeem S, Inchausti P, Bengtsson J, Grime JP, Hector A, Hooper DU, Huston MA, Raffaelli D, Schmid B, Tilman D, Wardle DA (2001) Biodiversity and ecosystem functioning: current knowledge and future challenges. Science 294(5543):804–808

Montserrat-Martí G, Camarero J, Palacio S, Pérez-Rontomé C, Milla R, Albuixech J, Maestro M (2009) Summer-drought constrains the phenology and growth of two coexisting Mediterranean oaks with contrasting leaf habit: implications for their persistence and reproduction. Trees 23(4):787–799

Nadezhdina N, Cermak J, Ceulemans R (2002) Radial patterns of sap flow in woody stems of dominant and understory species: scaling errors associated with positioning of sensors. Tree Physiol 22(13):907–918

Peñuelas J, Filella I (2003) Deuterium labelling of roots provides evidence of deep water access and hydraulic lift by Pinus nigra in a Mediterranean forest of NE Spain. Environ Exp Bot 49(3):201–208

Poorter L, Lianes E, Moreno-de las Heras M, Zavala M (2012) Architecture of Iberian canopy tree species in relation to wood density, shade tolerance and climate. Plant Ecol 213(5):707–722

Poyatos R, Llorens P, Gallart F (2005) Transpiration of montane Pinus sylvestris L. and Quercus pubescens Willd, forest stands measured with sap flow sensors in NE Spain. Hydrol Earth Syst Sci Disc 2(3):1011–1046

Pretzsch H (2014) Canopy space filling and tree crown morphology in mixed-species stands compared with monocultures. Carl Olof Tamm review. For Ecol Manag 327:251–264

Pretzsch H, Bielak K, Block J, Bruchwald A, Dieler J, Ehrhart H-P, Kohnle U, Nagel J, Spellmann H, Zasada M, Zingg A (2013a) Productivity of mixed versus pure stands of oak (Quercus petraea (Matt.) Liebl. and Quercus robur L.) and European beech (Fagus sylvatica L.) along an ecological gradient. Eur J For Res 132(2):263–280

Pretzsch H, Schütze G, Uhl E (2013b) Resistance of European tree species to drought stress in mixed versus pure forests: evidence of stress release by inter-specific facilitation. Plant Biol 15(3):483–495

R Development Core Team (2011) R: a language and environment for statistical computing. The R foundation for statistical computing, Vienna, Austria

Rybnicek M, Vavrcik H, Hubeny R (2006) Determination of the number of sapwood annual rings in Oak in the region of southern Moravia. J For Sci 52(3):141–146

Saurer M, Siegwolf RT, Schweingruber FH (2004) Carbon isotope discrimination indicates improving water use efficiency of trees in northern Eurasia over the last 100 years. Glob Change Biol 10(12):2109–2120

Schenk HJ, Jackson RB (2002) Rooting depths, lateral root spreads and below-ground/above-ground allometries of plants in water-limited ecosystems. J Ecol 90(3):480–494

Schmid I, Kazda M (2001) Vertical and radial growth of coarse roots in pure and mixed stands of Fagus sylvatica and Picea abies. Can J For Res 31(3):539–546

Xu H, Li Y (2006) Water-use strategy of three central Asian desert shrubs and their responses to rain pulse events. Plant Soil 285(1–2):5–17

Zapater M, Hossann C, Bréda N, Bréchet C, Bonal D, Granier A (2011) Evidence of hydraulic lift in a young beech and oak mixed forest using 18O soil water labelling. Trees 25(5):885–894

Zapater M, Bréda N, Bonal D, Pardonnet S, Granier A (2013) Differential response to soil drought among co-occurring broad-leaved tree species growing in a 15- to 25-year-old mixed stand. Ann For Sci 70(1):31–39

Zhang Y, Chen HYH, Reich PB (2012) Forest productivity increases with evenness, species richness and trait variation: a global meta-analysis. J Ecol 100(3):742–749
Acknowledgments
We thank Miguel Fernández and David L. Quiroga for their technical assistance. We thank the technical Isotope Platform of INRA Nancy for the carbon isotope analyses. A.F. was supported by JAE-PREDOC from CSIC and co-funded by the European Union (Fondo Social Europeo). This work was conducted in the framework of the ARBRE Laboratory of Excellence project (ANR-12-LABXARBRE-01) supported by the French National Research Agency. The research leading to these results was conducted within the FunDiv EUROPE project and has received funding from the European Union Seventh Framework Programme (FP7/2007-2013) under Grant agreement No 265171.
Additional information
Communicated by Rainer Matyssek.
About this article
Cite this article
Grossiord, C., Forner, A., Gessler, A. et al. Influence of species interactions on transpiration of Mediterranean tree species during a summer drought. Eur J Forest Res 134, 365–376 (2015). https://doi.org/10.1007/s10342-014-0857-8
Received:

Revised:

Accepted:

Published:

Issue Date:
Keywords
Complementarity

Competition

Facilitation

Species interaction

Drought

Transpiration

δ 13C