Abstract
Currently, information about the effect of forest management on biodiversity of subtropical plantation forests in Asia is quite limited. In this study, we compared the spider community structures and guild compositions of subtropical Cryptomeria japonica plantation forests receiving different degree of thinning (0, 25 and 50 %) in central Taiwan. The ground spider diversities and environmental variables were sampled/measured once every 3 months for 1 year before thinning and 2 years after thinning. Results showed that before thinning spider compositions did not differ significantly among three plantation forest types. Two years after thinning, spider species and family compositions of three plantation forest types differed significantly. In all three plantation forest types, the spider composition differed from year to year, indicating existence of temporal variations in spider diversity. Ground hunters (increased 200–600 % in thinned forests), sheet web weavers (increased 50–300 % in thinned forests) and space web weavers (decreased 30–50 % in thinned forests) were the major contributors of the observed spider composition differences among plantation forests receiving different treatments. The stands receiving thinning treatments also had higher illumination, litter decomposition rate, temperature and understory vegetation density. Thinning treatments might have changed the structures of understory vegetation and canopy cover and consequently resulted in abundance and diversity changes of these guilds. Moreover, the heterogeneity in understory vegetation recovery rate and temporal variation of spider composition might further generate spider diversity variations in subtropical forests receiving different degree of thinning.
Access options
Buy single article
Instant access to the full article PDF.
USD 39.95
Price includes VAT (USA)
Tax calculation will be finalised during checkout.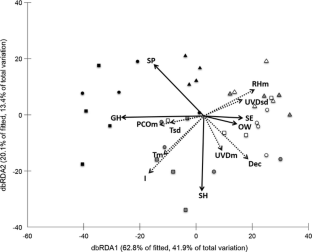 References
Anderson MJ, Gorley RN, Clarke KR (2008) PERMQNOVA+ for PRIMER: Guide to software and statistical methods. PRIMER-E, Plymouth

Bonte D, Vanhoutte PCL, Thournout IV, Maelfait JP (2003) The importance of habitat productivity, stability and heterogeneity for spider species richness in coastal grey dunes along the North Sea and its implications for conservation. Biodivers Conserv 13:2119–2134

Bultman TL, Uetz GW (1982) Abundance and community structure of forest floor spider following litter manipulation. Oecologia 55:34–41

Cardoso P, Silva I, de Oliverira NG, Serrano ARM (2004a) Higher taxa surrogates of spider (Araneae) diversity and their efficiency in conservation. Biol Conserv 117:453–459

Cardoso P, Silva I, de Oliverira NG, Serrano ARM (2004b) Indicator taxa of spider (Araneae) diversity and their efficiency in conservation. Biol Conserv 120:517–524

Cardoso P, Pekár S, Jocqué R, Coddington JA (2011) Global patterns of guild composition and functional diversity of spiders. PLoS One 6:e21710

Clarke KR, Warwick RM (2001) Change in marine communities: an approach to statistical analysis and interpretation, 2nd edn. Technical Report, PRIMER-E, Plymouth

Clough Y, Kruess A, Kleijn D, Tscharntke T (2005) Spider diversity in cereal fields: comparing factors at local, landscape and regional scales. J Biogeogr 32:2007–2014

DeBell DS, Thomas G, Whitesell CD (1997) Growth, development, and yield in pure and mixed stands of eucalyptus and albizia. For Sci 43:286–298

Fermon H, Waltert M, Larsen TB, Dall'Asta U, Mühlenberg M (2000) Effects of forest management on diversity and abundance of fruit-feeding nymphalid butterflies in south-eastern Côte d'Ivoire. J Insect Conserv 4:173–189

Finch OD (2005) Evaluation of mature conifer plantations as secondary habitat for epigeic forest arthropods (Coleoptera: Carabidae; Araneae). For Ecol Manage 204:21–34

Frazer GW, Canham CD, Lertzman KP (1999) Gap light analyzer (GLA), Version 2.0: imaging software to extract canopy structure and gap light transmission indices from true-colour fisheye photographs, users manual and program documentation. Simon Fraser University, Burnaby, British Columbia, and the Institute of Ecosystem Studies, New York

Fujimori T (2001) Ecological and silvicultural strategies for sustainable forest management. Elsevier Science, Tokyo

Gurdebeke S, Bakker DD, Vanlanduyt N, Maelfait JP (2003) Plans for a large regional forest in eastern Flanders (Belgium): assessment of spider diversity and community structure in the current forest remnants. Biodivers Conserv 12:1883–1900

Hatley CL, Macmahon JA (1980) Spider community organization: seasonal variation and the role of vegetation architecture. Environ Entomol 9:632–639

Hobbs RJ, Norton DA (1996) Towards a conceptual framework for restoration ecology. Restor Ecol 4:93–110

Holst T, Mayer H, Schindler D (2004) Microclimate within beech stands part II: thermal conditions. Eur J For Res 123:13–28

Homyack JA, Harrison DJ, Krohn WB (2005) Long-term effects of precommercial thinning on small mammals in northern Maine. For Ecol Manage 205:43–57

Huang PS, Tso IM, Lin HC, Lin LK, Lin CP (2011) Effects of thinning on spider diversity of an East Asian subtropical plantation forest. Zool Stud 50:705–717

Igarashi T, Kiyono Y (2008) The potential of hinoki (Chamaecyparis obtusa [Sieb. Et Zucc.]) endlicher plantation forests for the restoration of the original plant community in Japan. For Ecol Manage 255:183–192

Ito S, Nakagawa M, Buckley GP, Nogami K (2003) Species richness in sugi (Cryptomeria japonica D. Don) plantations in southeastern Kyushu, Japan: the effects of stand type and age on understory trees and shrubs. J For Res 8:49–57

Kerr G (1999) The use of silvicultural systems to enhance the biological diversity of plantation forests in Britain. Forestry 72:191–205

Krebs CJ (1989) Ecological methodology. Harper Collins Publishers, New York 620

Lövei GL, Magura T, Tóthmérész B, Ködöböcz V (2006) The influence of matrix and edges on species richness patterns of ground beetles (Coleoptera: Carabidae) in habitat islands. Glob Ecol Biogeogr 15:283–289

Maeto K, Sato S, Miyata H (2002) Species diversity of longhorn beetles in humid warm-temperate forests: the impact of forest management practices on old-growth forest species in southwestern Japan. Biodivers Conserv 11:1919–1937

Magura T, Horváth R, Tóthmérész B (2010) Effect of urbanization on ground-dwelling spiders in forest patches, in Hungary. Landsc Ecol 25:621–629

Maleque MA, Ishii HT, Maeto K, Taniguchi S (2007a) Line thinning enhances diversity of Coleoptera in overstocked Cryptomeria japonica plantations in central Japan. Arthropod Plant Interact 1:175–185

Maleque MA, Ishii HT, Maeto K, Taniguchi S (2007b) Line thinning fosters the abundance and diversity of understory Hymenoptera (Insecta) in Japanese cedar (Cryptomeria japonica D. Don) plantations. J For Res 12:14–23

Marañón T, Ajbilou R, Ojeda F, Arroyo J (1999) Biodiversity of woody species in oak woodlands of southern Spain and northern Morocco. For Ecol Manag 115:147–156

Marc P, Canard A (1997) Maintaining spider biodiversity in agroecosystems as a tool in pest control. Agric Ecosyst Environ 62:229–235

Marra JL, Edmonds RL (2005) Soil arthropod responses to different patch types in a mixed-conifer forest of the Sierra Nevada. For Sci 51:255–265

Montaña EDL, Rey-Benayas JM, Carrascal LM (2006) Response of bird communities to silvicultural thinning of Mediterranean maquis. J Appl Ecol 43:651–659

Muff P, Kropf C, Frick H, Nentwig W, Schmidt-Entling MH (2009) Co-existence of divergent communities at natural boundaries: spider (Arachnida: Araneae) diversity across an alpine timberline. Insect Conserv Divers 2:36–44

Murcia C (1995) Edge effects in fragmented forests: implications for conservation. Trends Ecol Evol 10:58–62

Niemelä J, Haila Y, Punttila P (1996) The importance of small-scale heterogeneity in boreal forests: variation in diversity in forest-floor invertebrates across the succession gradient. Ecography 19:352–368

Nyffeler M (2000) Ecological impact of spider predation: a critical assessment of Bristowe's and Turnbull's estimates. Bull Br Arachnol Soc 11:367–373

Oheimb GV, Westphal C, Tempel H, Härdtle W (2005) Structural pattern of a near-natural beech forest (Fagus sylvatica) (Serrahn, North–east Germany). For Ecol Manage 212:253–263

Ohsawa M (2004) Species richness of Cerambycidae in larch plantations and natural broad-leaved forests of the central mountainous region of Japan. For Ecol Manage 189:375–385

Ohsawa M (2005) Species richness and composition of Curculionidae (Coleoptera) in a conifer plantation, secondary forest, and old-growth forest in the central mountainous region of Japan. Ecol Res 20:632–645

Ohsawa M (2007) The role of isolated old oak trees in maintaining beetle diversity within larch plantations in the central mountainous region of Japan. For Ecol Manage 250:215–226

Ohsawa M, Nagaike T (2006) Influence of forest types and effects of forestry activities on species richness and composition of Chrysomelidae in the central mountainous region of Japan. Biodivers Conserv 15:1179–1191

Oxbrough AG, Gittings T, O'Halloran J, Giller PS, Smith GF (2005) Structural indicators of spider communities across the forest plantation cycle. For Ecol Manage 212:171–183

Pearce JL, Venier LA (2005) The use of ground beetles (Coleoptera: Carabidae) and spider (Araneae) as bioindicators of sustainable forest management: A review. Ecol Ind 6:780–793

Pearce JL, Venier LA, Eccles G, Pedlar J, McKenney D (2004) Influence of habitat and microhabitat on epigeal spider (Araneae) assemblages in four stand types. Biodivers Conserv 13:1305–1334

Pinkus-Rendón MA, León-Cortés JL, Ibarra-Núñez G (2006) Spider diversity in a tropical habitat gradient in Chiapas, Mexico. Divers Distrib 12:61–69

Schmidt MH, Roschewitz I, Thies C, Tscharntke T (2005) Differential effects of landscape and management on diversity and density of ground-dwelling farmland spiders. J Appl Ecol 42:281–287

Son Y, Lee YY, Jun YC, Kim ZS (2004) Light availability and understory vegetation 4 years after thinning in a Larix leptolepis plantation of central Korea. J For Res 9:133–139

Taiwan Forestry Bureau (1995) Third national census on forest resources and land utilization of Taiwan. Bureau of Forestry and Agriculture, Taiwan (in Chinese)

Taki H, Inoue T, Tanaka H, Makihara H, Sueyoshi M, Isono M, Okabe K (2010) Responses of community structure, diversity, and abundance of understory plants and insect assemblages to thinning in plantations. For Ecol Manage 259:607–613

Thomas SC, Halpern CB, Falk DA, Liguori DA, Austin KA (1999) Plant diversity in managed forests: understory responses to thinning and fertilization. Ecol Appl 9:864–879

Tsai ZI, Huang PS, Tso IM (2006) Habitat management by aboriginals promotes high spider diversity on an Asian tropical island. Ecography 29:84–94

Uetz GW (1975) Temporal and spatial variation in species diveristy of wandering spider (Araneae) in deciduous forest litter. Environ Entomol 4:719–724

Waltz AEM, Covington WW (2004) Ecological restoration treatments increase butterfly richness and abundance: mechanisms of response. Restor Ecol 12:85–96

Weng SH, Kuo SR, Guan BT, Chang TY, Hsu HW, Shen CW (2007) Microclimatic responses to different thinning intensities in a Japanese cedar plantations of northern Taiwan. For Ecol Manage 241:91–100

Whitehouse MEA, Shochat E, Shackak M, Lubin Y (2002) The influence of scale and patchiness on spider diversity in a semi-arid environment. Ecography 25:395–404

Wise DH (1993) Spiders in ecological webs. Cambridge University Press, Cambridge, p 328

Wise DH, Snyder WE, Tuntibunpakul P (1999) Spiders in decomposition food webs of agroecosystems: theory and evidence. J Arachnol 27:363–370

Yuan HW, Ding TS, Hsieh HI (2005) Short-term responses of animal communities to thinning in a Cyptomeria japonica (Taxodiaceae) plantation in Taiwan. Zool Stud 44:393–402

Zausen GL, Kolb TE, Bailey JD, Wagner MR (2005) Long-term impacts of stand management on ponderosa pine physiology and bark beetle abundance in northern Arizona: a replicated landscape study. For Ecol Manage 218:291–305

Ziesche TM, Roth M (2008) Influence of environmental parameters on the small-scale distribution of soil-dwelling spiders in forests: what makes the difference, tree species or microhabitat? For Ecol Manage 255:738–752
Acknowledgments
The work was supported by National Science Council, Taiwan grants (NSC 96-2628-B-029-001-MY3; NSC 100-2311-B-029-001-MY3) to I. M. T and Tunghai University Global Research & Education on Environment and Society (GREEnS) project grants to H. C. L. and I. M. T.
Additional information
Communicated by: Jörg Müller.
About this article
Cite this article
Huang, PS., Lin, HC., Lin, CP. et al. The effect of thinning on ground spider diversity and microenvironmental factors of a subtropical spruce plantation forest in East Asia. Eur J Forest Res 133, 919–930 (2014). https://doi.org/10.1007/s10342-014-0808-4
Received:

Revised:

Accepted:

Published:

Issue Date:
Keywords
Cryptomeria japonica

Forest management

Araneae

Taiwan

Thinning