Abstract
Limited scientific information is currently available regarding saproxylic fungal communities in the boreal forest of North America. We aimed to characterize the community development, richness and activity of saproxylic fungi on fresh wood in harvested and unmanaged boreal mixedwood stands of northwestern Québec (Canada). Fresh wood blocks (n = 480) of balsam fir (Abies balsamea (L.) Mill.) and trembling aspen (Populus tremuloides Michx.) were placed on the forest floor in a range of stand conditions (n = 24). Blocks were harvested every 6 months for up to 30 months and characterized for species composition and richness (PCR–DGGE, DNA sequencing), respiration, wood density and lignin and cellulose content. Colonization by a wide range of functional groups proceeded rapidly under different stand conditions. We detected a total of 35 different fungal operational taxonomic units, with the highest species richness at the wood block level being observed within the first 12 months. No differences in community composition were found between wood host species or among stand conditions. However, the variability in fungal communities among blocks (β diversity) was lower on trembling aspen wood compared with balsam fir and decreased over time on trembling aspen wood. Also, fungal activity (respiration and wood decomposition) increased on trembling aspen wood blocks and species richness decreased on balsam fir wood over time in partial-cut sites. The overlap in tree composition among stands, the high volume of logs and the recent management history of these stands may have contributed to the similarity of the saproxylic fungal community among stand types and disturbances.
Access options
Buy single article
Instant access to the full article PDF.
USD 39.95
Price excludes VAT (USA)
Tax calculation will be finalised during checkout.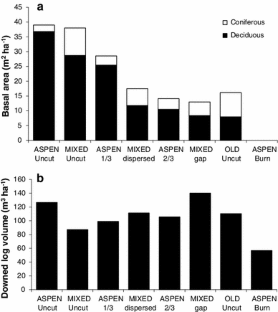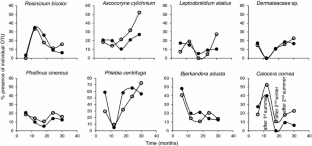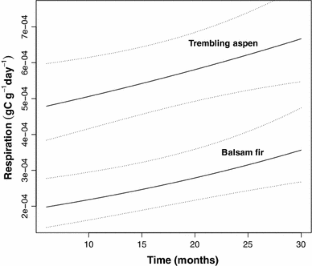 References
Allmér J, Vasiliauskas R, Ihrmark K, Stenlid J, Dahlberg A (2006) Wood-inhabiting fungal communities in woody debris of Norway spruce (Picea abies (L.) Karst.), as reflected by sporocarps, mycelial isolations and T-RFLP identification. FEMS Microbiol Ecol 55:57–67. doi:10.1111/j.1574-6941.2005.00010.x

Anderson MJ (2001) A new method for non-parametric multivariate analysis of variance. Austral Ecol 26:32–46. doi:10.1111/j.1442-9993.2001.01070.pp.x

Anderson MJ (2006) Distance-based tests for homogeneity of multivariate dispersions. Biometrics 62:245–253. doi:10.1111/j.1541-0420.2005.00440.x

Bader P, Jansson S, Jonsson BG (1995) Wood-inhabiting fungi and substratum decline in selectively logged boreal spruce forests. Biol Conserv 72:355–362. doi:10.1016/0006-3207(94)00029-P

Baldrian P (2008) Enzymes of saprotrophic basidiomycetes. British Mycol Soc Symp Ser 28:19–41

Barnes RJ, Dhanoa MS, Lister SJ (1989) Standard normal variate transformation and de-trending of near-infrared diffuse reflectance spectra. Appl Spectrosc 43:772–777. doi:10.1366/0003702894202201

Basham JT (1973) Heart rot of black spruce in Ontario. II. The mycoflora in defective and normal wood of living trees. Can J Bot 51:1379–1392. doi:10.1139/b73-173

Belleau A, Brais S, Paré D (2006) Soil nutrient dynamics after harvesting and slash treatments in boreal aspen stands. Soil Sci Soc Am J 70:1189–1199. doi:10.2136/sssaj2005.0186

Bergeron Y (2000) Species and stand dynamics in the mixed woods of Quebec's southern boreal forest. Ecology 81:1500–1516. doi:10.1505/ifor.8.4.395

Bergeron Y, Harvey B (1997) Basing silviculture on natural ecosystem dynamics: an approach applied to the southern boreal mixedwood forest of Quebec. For Ecol Manag 92:235–242. doi:10.1016/S0378-1127(96)03924-2

Bergeron Y, Leduc A, Harvey BD, Gauthier S (2002) Natural fire regime: a guide for sustainable management of the Canadian boreal forest. Silva Fenn 36:81–95

Boddy L (1999) Saprotrophic cord-forming fungi: meeting the challenge of heterogeneous environments. Mycologia 91:13–32. doi:10.2307/3761190

Boddy L (2000) Interspecific combative interactions between wood-decaying basidiomycetes. FEMS Microbiol Ecol 31:185–194. doi:10.1016/S0168-6496(99)00093-8

Boddy L, Heilmann-Clausen J (2008) Basidiomycete community development in temperate angiosperm wood. British Mycol Soc Symp Ser 28:211–237

Boddy L, Watkinson SC (1995) Wood decomposition, higher fungi, and their role in nutrient redistribution. Can J Bot 73:1377–1383. doi:10.1139/b95-400

Brais S, Harvey BD, Bergeron Y, Messier C, Greene D, Belleau A, Paré D (2004) Testing forest ecosystem management in boreal mixedwoods of northwestern Quebec: initial response of aspen stands to different levels of harvesting. Can J For Res 34:431–446. doi:10.1139/x03-144

Brais S, Work T, Robert É, Connor C, Strukelj M, Bose A, Celentano D, Harvey B (2013) Ecosystem responses to partial harvesting in eastern boreal mixedwood stands. Forests 4:364–385. doi:10.3390/f4020364

Brinkmann K, Blaschke L, Polle A (2002) Comparison of different methods for lignin determination as a basis for calibration of near-infrared reflectance spectroscopy and implications of lignoproteins. J Chem Ecol 28:2483–2501. doi:10.1023/A:1021484002582

Burnham KP, Anderson DR (2004) Multimodel inference: understanding AIC and BIC in model selection. Sociol Method Res 33:261–304. doi:10.1177/0049124104268644

Campbell MM, Sederoff RR (1996) Variation in lignin content and composition: mechanisms of control and implications for the genetic improvement of plants. Plant Physiol 110:3–13. doi:10.1104/pp.110.1.3

Cooke RC, Rayner ADM (1984) Ecology of saprotrophic fungi. Longmans, London

Edwards NT (1982) The use of soda-lime for measuring respiration rates in terrestrial systems. Pedobiologia 23:321–330

Foley WJ, McIlwee A, Lawler I, Aragones L, Woolnough AP, Berding N (1998) Ecological applications of near infrared reflectance spectroscopy—a tool for rapid, cost-effective prediction of the composition of plant and animal tissues and aspects of animal performance. Oecologia 116:293–305. doi:10.1007/s004420050591

Franklin JF, Spies TA, Pelt RV, Carey AB, Thornburgh DA, Berg DR, Lindenmayer DB, Harmon ME, Keeton WS, Shaw DC, Bible K, Chen J (2002) Disturbances and structural development of natural forest ecosystems with silvicultural implications, using Douglas-fir forests as an example. For Ecol Manag 155:399–423. doi:10.1016/s0378-1127(01)00575-8

Fukami T, Dickie IA, Wilkie JP, Paulus BC, Park D, Roberts A, Buchanan PK, Allen RB (2010) Assembly history dictates ecosystem functioning: evidence from wood decomposer communities. Ecol Lett 13:675–684. doi:10.1111/j.1461-0248.2010.01465.x

Fukasawa Y, Osono T, Takeda H (2009) Microfungus communities of Japanese beech logs at different stages of decay in a cool temperate deciduous forest. Can J For Res 39:1606–1614. doi:10.1139/X09-080

Ganjegunte GK, Condron LM, Clinton PW, Davis MR, Mahieu N (2004) Decomposition and nutrient release from radiata pine (Pinus radiata) coarse woody debris. For Ecol Manag 187:197–211. doi:10.1016/S0378-1127(03)00332-3

Gardes M, Bruns TD (1993) ITS primers with enhanced specificity for basidiomycetes—application to the identification of mycorrhizae and rusts. Mol Ecol 2:113–118. doi:10.1111/j.1365-294X.1993.tb00005.x

Gershon H, Shanks L (1980) Antifungal properties of n-alkanols, α, ω-n-alkanediols, and ω-chloro-α-alkanols. J Pharm Sci 69:381–384. doi:10.1002/jps.2600690404

Goering HK, Van Soest PJ (1970) Forage fibre analysis (apparatus, reagents and some applications). US Department of Agriculture Agricultural Handbook No 379. U.S. Department of Agriculture, Washington, DC

Griffin MA, Spakowicz DJ, Gianoulis TA, Strobel SA (2010) Volatile organic compound production by organisms in the genus Ascocoryne and a re-evaluation of myco-diesel production by NRRL 50072. Microbiology 156:3814–3829. doi:10.1099/mic.0.041327-0

Hagemann U, Moroni MT, Gleißner J, Makeschin F (2010) Disturbance history influences downed woody debris and soil respiration. For Ecol Manag 260:1762–1772. doi:10.1016/j.foreco.2010.08.018

Hammer Ø, Harper D, Ryan P (2001) PAST: paleontological statistics software package for education and data analysis. Palaeontol Electronica 4:1–9

Harvey B (1999) The lake duparquet research and teaching forest: building a foundation for ecosystem management. Forest Chron 75:389–393. doi:10.5558/tfc75389-3

Harvey BD, Brais S (2007) Partial cutting as an analogue to stem exclusion and dieback in trembling aspen (Populus tremuloides) dominated boreal mixedwoods: implications for deadwood dynamics. Can J For Res 37:1525–1533. doi:10.1139/X07-090

Harvey BD, Leduc A, Gauthier S, Bergeron Y (2002) Stand-landscape integration in natural disturbance-based management of the southern boreal forest. For Ecol Manag 155:369–385. doi:10.1016/S0378-1127(01)00573-4

Hedges JI, Mann DC (1979) The characterization of plant tissues by their lignin oxidation products. Geochim Cosmochim Acta 43:1803–1807. doi:10.1016/0016-7037(79)90028-0

Heilmann-Clausen J, Boddy L (2005) Inhibition and stimulation effects in communities of wood decay fungi: exudates from colonized wood influence growth by other species. Microb Ecol 49:399–406. doi:10.1007/s00248-004-0240-2

Heilmann-Clausen J, Christensen M (2003) Fungal diversity on decaying beech logs—implications for sustainable forestry. Biodivers Conserv 12:953–973. doi:10.1023/A:1022825809503

Hendry SJ, Boddy L, Lonsdale D (2002) Abiotic variables effect differential expression of latent infections in beech (Fagus sylvatica). New Phytol 155:449–460. doi:10.1046/j.1469-8137.2002.00473.x

Holmer L, Stenlid J (1996) Diffuse competition for heterogeneous substrate in soil among six species of wood-decomposing basidiomycetes. Oecologia 106:531–538. doi:10.1007/BF00329712

Hottola J, Ovaskainen O, Hanski I (2009) A unified measure of the number, volume and diversity of dead trees and the response of fungal communities. J Ecol 97:1320–1328. doi:10.1111/j.1365-2745.2009.01583.x

Hunter ML (1990) Wildlife, forests, and forestry: principles of managing forests for biological diversity. Prentice-Hall, Upper Saddle River. doi:10.1002/jwmg.209

Jasalavich CA, Ostrofsky A, Jellison J (2000) Detection and identification of decay fungi in spruce wood by restriction fragment length polymorphism analysis of amplified genes encoding rRNA. Appl Environ Microbiol 66:4725–4734. doi:10.1128/AEM.66.11.4725-4734.2000

Jönsson MT, Edman M, Jonsson BG (2008) Colonization and extinction patterns of wood-decaying fungi in a boreal old-growth Picea abies forest. J Ecol 96:1065–1075. doi:10.1111/j.1365-2745.2008.01411.x

Junninen K, Komonen A (2011) Conservation ecology of boreal polypores: a review. Biol Conserv 144:11–20. doi:10.1016/j.biocon.2010.07.010

Kebli H, Drouin P, Brais S, Kernaghan G (2011) Species composition of saproxylic fungal communities on decaying logs in the boreal forest. Microb Ecol 61:898–910. doi:10.1007/s00248-010-9790-7

Kebli H, Brais S, Kernaghan G, Drouin P (2012) Impact of harvesting intensity on wood-inhabiting fungi in boreal aspen forests of Eastern Canada. For Ecol Manag 279:45–54. doi:10.1016/j.foreco.2012.05.028

Keith H, Wong SC (2006) Measurement of soil CO2 efflux using soda lime absorption: both quantitative and reliable. Soil Biol Biochem 38:1121–1131. doi:10.1016/j.soilbio.2005.09.012

Kubartová A, Moukoumi J, Béguiristain T, Ranger J, Berthelin J (2007) Microbial diversity during cellulose decomposition in different forest stands: I. microbial communities and environmental conditions. Microb Ecol 54:393–405. doi:10.1007/s00248-007-9286-2

Küffer N, Senn-Irlet B (2005) Influence of forest management on the species richness and composition of wood-inhabiting basidiomycetes in Swiss forests. Biodivers Conserv 14:2419–2435. doi:10.1007/s10531-004-0151-z

Legendre P, Andersson MJ (1999) Distance-based redundancy analysis: testing multispecies responses in multifactorial ecological experiments. Ecol Monogr 69:1–24. doi:10.2307/2657192

Lindner DL, Burdsall HH Jr, Stanosz GR (2006) Species diversity of polyporoid and corticioid fungi in northern hardwood forests with differing management histories. Mycologia 98:195–217. doi:10.3852/mycologia.98.2.195

Lonsdale D, Pautasso M, Holdenrieder O (2008) Wood-decaying fungi in the forest: conservation needs and management options. Eur J For Res 127:1–22. doi:10.1007/s10342-007-0182-6

Mazerolle MJ (2006) Improving data analysis in herpetology: using Akaike's information criterion (AIC) to assess the strength of biological hypotheses. Amphibia Reptilia 27:169–180. doi:10.1163/156853806777239922

McArdle BH, Anderson MJ (2001) Fitting multivariate models to community data: a comment on distance-based redundancy analysis. Ecology 82:290–297. doi:10.1890/0012-9658(2001)082[0290:fmmtcd]2.0.co;2

Morath SU, Hung R, Bennett JW (2012) Fungal volatile organic compounds: a review with emphasis on their biotechnological potential. Fungal Biol Rev 26:73–83. doi:10.1016/j.fbr.2012.07.001

Morin H, Laprise D, Bergeron Y (1993) Chronology of spruce budworm outbreaks near Lake Duparquet, Abitibi region, Quebec. Can J For Res 23:1497–1506. doi:10.1139/x93-189

Müller J, Engel H, Blaschke M (2007) Assemblages of wood-inhabiting fungi related to silvicultural management intensity in beech forests in southern Germany. Eur J For Res 126:513–527. doi:10.1007/s10342-007-0173-7

Olsson J, Jonsson BG, Hjältén J, Ericson L (2011) Addition of coarse woody debris—the early fungal succession on Picea abies logs in managed forests and reserves. Biol Conserv 144:1100–1110. doi:10.1016/j.biocon.2010.12.029

Parfitt D, Dockrell D, Hunt J, Rogers HJ, Boddy L (2010) Do all trees carry the seeds of their own destruction? PCR reveals numerous wood decay fungi latently present in sapwood of a wide range of angiosperm trees. Fungal Ecol 3:338–346. doi:10.1016/j.funeco.2010.02.001

Penttilä R, Siitonen J, Kuusinen M (2004) Polypore diversity in managed and old-growth boreal Picea abies forests in southern Finland. Biol Conserv 117:271–283. doi:10.1016/j.biocon.2003.12.007

Prescott CE (1997) Effects of clearcutting and alternative silvicultural systems on rates of decomposition and nitrogen mineralization in a coastal montane coniferous forest. For Ecol Manag 95:253–260. doi:10.1016/S0378-1127(97)00027-3

Quack W, Scholl H, Budzikiewicz H (1980) Ascocorynin, a terphenylquinone from Ascocoryne sarcoides. Phytochemistry 21:2921–2923. doi:10.1016/0031-9422(80)85069-2

R Development Core Team (2010) R Development Core Team (2010). R: a language and environment for statistical computing, reference index version 2.10.1. R Foundation for Statistical Computing, Vienna, Austria. ISBN 3-900051-07-0, http://www.R-project.org/

Rajala T, Peltoniemi M, Pennanen T, Mäkipää R (2010) Relationship between wood-inhabiting fungi determined by molecular analysis (denaturing gradient gel electrophoresis) and quality of decaying logs. Can J For Res 40:2384–2397. doi:10.1139/X10-176

Rajala T, Peltoniemi M, Hantula J, Mäkipää R, Pennanen T (2011) RNA reveals a succession of active fungi during the decay of Norway spruce logs. Fungal Ecol 4:437–448. doi:10.1016/j.funeco.2011.05.005

Rajala T, Peltoniemi M, Pennanen T, Mäkipää R (2012) Fungal community dynamics in relation to substrate quality of decaying Norway spruce (Picea abies [L.] Karst.) logs in boreal forests. FEMS Microbiol Ecol 81:494–505. doi:10.1111/j.1574-6941.2012.01376.x

Rayner ADM, Boddy L (1988) Fungal decomposition of wood: its biology and ecology. Wiley, New-York

Roll-Hansen F, Roll-Hansen H (1979) Microflora of sound-looking wood in Picea abies stems. Eur J For Path 9:308–316. doi:10.1111/j.1439-0329.1979.tb00693.x

Saucier J-P, Bergeron J-F, Grondin P, Robitaille A (1998) Les régions écologiques du Québec méridional (3e version): un des éléments du système hiérarchique de classification écologique du territoire mis au point par le ministère des Ressources naturelles du Québec. l'Aubelle 124:1–12

Siitonen J (2001) Forest management, coarse woody debris and saproxylic organisms: fennoscandian boreal forests as an example. Ecol Bull 49:11–41

Siitonen J, Martikainen P, Punttila P, Rauh J (2000) Coarse woody debris and stand characteristics in mature managed and old-growth boreal mesic forests in southern Finland. For Ecol Manag 128:211–225. doi:10.1016/S0378-1127(99)00148-6

Sippola AL, Simila M, Mönkkönen M, Jokimäki J (2004) Diversity of polyporous fungi (Polyporaceae) in northern boreal forests: effects of forest site type and logging intensity. Scand J For Res 19:152–163. doi:10.1080/02827580410026294

Soil Classification Working Group (1998) The Canadian System of Soil Classification. Agriculture and Agri-Food Canada, 187 pp

Strukelj M, Brais S, Quideau SA, Oh S-W (2012) Chemical transformations of deadwood and foliar litter of mixed boreal species during decomposition. Can J For Res 42:772–788. doi:10.1139/x2012-027

Tlalka M, Bebber D, Darrah PR, Watkinson SC (2008) Mycelial networks: nutrient uptake, translocation and role in ecosystems. British Mycol Soc Symp Ser 28:43–62

Van Wagner CE (1982) Practical aspects of the line intersect method. Petawawa Natl For Inst, Chalk River

Vanderwel MC, Thorpe HC, Shuter JL, Caspersen JP, Thomas SC (2008) Contrasting downed woody debris dynamics in managed and unmanaged northern hardwood stands. Can J For Res 38:2850–2861. doi:10.1139/X08-130

Větrovský T, Voříšková J, Šnajdr J, Gabriel J, Baldrian P (2011) Ecology of coarse wood decomposition by the saprotrophic fungus Fomes fomentarius. Biodegradation 22:709–718. doi:10.1007/s10532-010-9390-8

Weedon JT, Cornwell WK, Cornelissen JH, Zanne AE, Wirth C, Coomes DA (2009) Global meta-analysis of wood decomposition rates: a role for trait variation among tree species? Ecol Lett 12:45–56. doi:10.1111/j.1461-0248.2008.01259.x

Wei X, Kimmins JP, Peel K, Steen O (1997) Mass and nutrients in woody debris in harvested and wildfire-killed lodgepole pine forests in the central interior of British Columbia. Can J For Res 27:148–155. doi:10.1139/x96-169

White TJ, Bruns TD, Lee SB, Taylor JW (1990) Amplification and direct sequencing of fungal ribosomal RNA genes for phylogenetics. In: Innis N (ed) PCR—protocols and applications—a laboratory manual. Academic Press, New York

Woods CM, Woodward S, Redfern DB (2005) In vitro interactions in artificial and wood-based media between fungi colonizing stumps of Sitka spruce. For Pathol 35:213–229. doi:10.1111/j.1439-0329.2005.00403.x
Acknowledgments
This work was supported by Fonds Québécois de Recherche sur la Nature et les Technologies (Grant 121414) and by the Natural Sciences and Engineering Research Council of Canada (Grant 217118-02). We are grateful to Dr Marc Mazerolle for statistical support, Dr David Paré for chemical analysis, Dr Carole Lafrenière for spectroscopy analysis and Josée Frenette for technical assistance.
Additional information
Communicated by J. Müller.
About this article
Cite this article
Kebli, H., Kernaghan, G., Drouin, P. et al. Development and activity of early saproxylic fungal communities in harvested and unmanaged boreal mixedwood stands. Eur J Forest Res 133, 905–918 (2014). https://doi.org/10.1007/s10342-014-0807-5
Received:

Revised:

Accepted:

Published:

Issue Date:

DOI: https://doi.org/10.1007/s10342-014-0807-5
Keywords