Abstract
In this work, we focus on the analysis of data for the ring width of two pine tree species: samples of six maritime pines (Pinus pinaster), grown in the north of Portugal, and one sample of Scots pine (Pinus sylvestris), grown in the south of Slovakia. A negative impact of solar activity (SA) was observed on the growth of these pine trees with particularly strong impact in the case of the maritime pines. The width of the annual rings was generally smaller in the years of maximum SA; furthermore, it was found that it is latewood width that is affected whereas earlywood width is not affected; as a corollary, the percentage of latewood also shows a significative negative correlation with SA.
Access options
Buy single article
Instant access to the full article PDF.
USD 39.95
Price excludes VAT (USA)
Tax calculation will be finalised during checkout.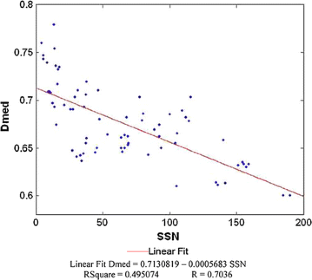 References
Agroconsultores and Coba (1991) Carta dos Solos, Carta do Uso Actual da Terra e Carta da Aptido da Terra do Nordeste de Portugal [Soil maps, current land use maps, and land aptitude maps of Northeast Portugal]. University of Trás-os-Montes and Alto Douro, Vila Real

Eddy J (1980) The historical record of solar activity. In: Proceedings of the ancient sun: fossil record in the earth, moon and meteorites. Pergamon Press, New York/Oxford, pp 119–134

Feng B, Han YB (2009) Possible effect of solar activity on variation of the tree-rings of a 500 a platycladus orientalis at the Mausoleum of Emperor Huang. Sci China Ser G Phys Mech Astron 52(4):631

Frölich C, Lean J (2004) Solar radiative output and its variability: evidence and mechanisms. Astron Astrophys Rev 12:273

Grinsted A, Moore JC, Jevrejeva S (2004) Application of the cross wavelet transform and wavelet coherence to geophysical time series. Nonlinear Process Geophys 11:561

He XG, Chen ZJ, Chen W, Shao XM, He H, Sun Y (2007) Solar activity, global surface air temperature anomaly and pacific decadal oscillation recorded in urban tree rings. Ann For Sci 64:743

LaMarche VC, Fritts HC (1972) Tree-rings and sunspot numbers. Tree Ring Bull 32:19

Louzada J (2000) Variação fenotípica e genética em características estruturais na madeira de Pinus pinaster Ait. UTAD, Série Didáctica, Ciências Aplicadas no 143 (Phenotypic and genetic variation in the structural features of Pinus pinaster wood) Vila Real, p 293

Mendes JC, Bettencourt ML (1980) O Clima de Portugal—Contribuição para o estudo do balanço climatológico de água no solo e classificação climática de Portugal Continental (The climate of Portugal—contribution to the study of climatological water balance in the soil and climatic classification of Portugal), Fasc. XXIV. Instituto Nacional de Meteorologia e Geofísica, p 287

Michalko J, Berta J, Magic D (1986) Geobotanická mapa ČSSR—Slovenská socialistická republika (geobotanical map of Czechoslovakia, Slovak Socialist Republic). Veda, Bratislava

Miklós L, Hrnčiarová T (eds) (2002) Atlas krajiny Slovenskej republiky (Landscape atlas of the Slovak Republic). Ministerstvo životného prostredia SR, Bratislava and Slovenská agentúra životného prostredia, Banská Bystrica

Miranda P, Valente M, Tomé A, Trigo M, Coelho F, Aguiar A, Azevedo E (2006) The Portuguese climate in the 20th and 21st centuries, in Santos and Miranda (eds), Gradiva, p 47

Ogurtsov MG, Kocharov GE, Lindholm M, Merilainen J, Eronen M, Nagovitsyn YuA (2002) Evidence of solar variation in tree-ring-based climate reconstructions. Solar Phys 205:403

Prestes A, Rigozo NR, Nordemann DJR, Wrasse CM, Souza Echer MP, Echer E, da Rosa MB, Rampelotto PH (2011) Sun–earth relationship inferred by tree growth rings in conifers from Severiano De Almeida, Southern Brazil. J Atmos Sol Terr Phys 73:1587–1593

Shumilov OI, Kasatkina EA, Mielikainen K, Timonen M, Kanatjev AG (2011) Palaeovolcanos, solar activity and pine tree-rings from the Kola Peninsula (northwestern Russia) over the last 560 years. Int J Environ Res 5(4):855–864

Surový P, Ribeiro NA, Pereira JS, Dorotovič I (2008) Influence of solar activity cycles on cork growth—a hypothesis. In: Proceedings of the 19th National solar physics meeting, Papradno 2008, Dorotovič I (ed), SÚH Hurbanovo (published on CD), p 67

Torrence C, Compo G (1998) A practical guide to wavelet analysis. Bull Am Meteorol Soc 79:61
Acknowledgments
This work was supported by grant number SFRH/BPD/44018/2008 from the Fundacão para a Ciência e Tecnologia, MCTES, Lisbon, Portugal (I.D.). The authors are grateful to the SIDC Team for providing the sunspot numbers. The authors would also like to acknowledge the technical assistance of V. Čalfa and Š. Mačanský (SCO Hurbanovo) in obtaining the samples from Pinus sylvestris. Wavelet and wavelet coherence were calculated with a modified computing algorithm of wavelet transform, the original of which was developed and provided by A. Grinsted and is available at URL: http://www.pol.ac.uk/home/research/waveletcoherence/download.html.
Additional information
Communicated by Aaron R Weiskittel.
About this article
Cite this article
Dorotovič, I., Louzada, J.L., Rodrigues, J.C. et al. Impact of solar activity on the growth of pine trees: case study. Eur J Forest Res 133, 639–648 (2014). https://doi.org/10.1007/s10342-014-0792-8
Received:

Revised:

Accepted:

Published:

Issue Date:

DOI: https://doi.org/10.1007/s10342-014-0792-8
Keywords
Dendrochronology

Growth rings

Wood density