Abstract
Some non-timber forestry products, such as mushrooms, have not typically been included in forest management plans, creating a scenario whereby timber production is the main objective and fungal resources are an afterthought. However, in certain forests, wild mushrooms reach a significant level of production. This paper researches a strategic forest management plan that would include the production of both timber and mushrooms as principal objectives while still adhering to constraints normally considered within forest management. A case study is provided featuring two main groups of edible wild mushrooms, where the two aforementioned objectives have been optimised individually. Lacking a satisfactory solution for the decision-maker, a model based on multi-criteria decision analysis (compromise programming) has been constructed to yield more attractive solutions. Information regarding mushrooms is based on the actual amount collected in the forest and not on potential production. Measured in monetary terms, mushroom production can be easily compared with timber production. Income associated with mushroom production is equal to approximately 20 % of that generated by timber throughout the planning horizon when final inventory and regulation constraints are imposed.
This is a preview of subscription content, log in to check access.
Access options
Buy single article
Instant access to the full article PDF.
US$ 39.95
Price includes VAT for USA
Subscribe to journal
Immediate online access to all issues from 2019. Subscription will auto renew annually.
US$ 99
This is the net price. Taxes to be calculated in checkout.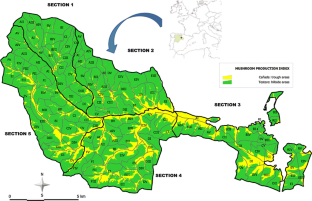 References
Alexander SJ, Pilz D, Webber NS, Brown E, Rockwell VA (2002) Mushrooms, trees and money: value estimates of commercial mushrooms and timber in the Pacific Northwest. Environ Manag 30:129–141. doi:10.1007/s00267-002-2610-1

Ballestero E, Romero C (1991) A theorem connecting utility function optimization and compromise programming. Oper Res Lett 10:421–427. doi:10.1016/0167-6377(91)90045-Q

Bonet JA, Pukkala T, Fischer CR, Palahí M, Martínez de Aragón J, Colinas C (2008) Empirical models for predicting the production of wild mushrooms in Scots Pine (Pinus sylvestris L.) forests in the Central Pyrenees. Ann For Sci 65:206. doi:10.1051/forest:2007089

Bonet JA, Palahí M, Colinas C, Pukkala T, Fischer CR, Miina J, Martínez de Aragón J (2010) Modelling the production and species richness of wild mushrooms in pine forests of Central Pyrenees in north-eastern Spain. Can J For Res 40:347–356

Bravo F, Diaz-Balteiro L (2004) Evaluation of new silvicultural alternatives for Scots pine stands in northern Spain. Ann For Sci 61:163–169. doi:10.1051/forest:2004008

Bravo F, Pando V, Ordónez C, Lizarralde I (2008) Modelling ingrowth in mediterranean pine forests: a case study from Scots pine (Pinus sylvestris L.) and mediterranean maritime pine (Pinus pinaster Ait.) stands in Spain. Invest Agr Sist Recur For 17:250–260

Caparrós A, Campos P, Montero G (2001) Applied multiple use forest accounting in the Guadarrama pinewoods (Spain). Invest Agr Sist Recur For 10:91–108

De Frutos P, Martínez-Peña F, Ortega-Martínez P, Esteban S (2009) Estimating the social benefits of recreational harvesting of edible wild mushrooms using travel cost methods. Invest Agr Sist Recur For 18:235–246

Del Rio M, Montero G (2001) Modelo de simulación de claras en masas de Pinus sylvestris L. Monografías INIA: Forestal nº 3, Madrid

Diaz-Balteiro L, Romero C (1998) Modeling timber harvest scheduling problems with multiple criteria: an application in Spain. For Sci 44:47–57

Diaz-Balteiro L, Romero C (2003) Forest management optimisation models when carbon captured is considered: a goal programming approach. For Ecol Manage 174:447–457. doi:10.1016/S0378-1127(02)00075-0

Diaz-Balteiro L, Romero C (2008) Making forestry decisions with multiple criteria: a review and an assessment. For Ecol Manage 255:3222–3241. doi:10.1016/j.foreco.2008.01.038

Diaz-Balteiro L, Álvarez A, Oria de Rueda JA (2003) Integración de la producción fúngica en la gestión forestal. Aplicación al monte "Urcido" (Zamora). Invest Agr Sist Recur For 12:5–19

Diaz-Balteiro L, González-Pachón J, Romero C (2009) Forest management with multiple criteria and multiple stakeholders: an application to two public forests in Spain. Scand J For Res 24:87–93. doi:10.1080/02827580802687440

Egli S (2011) Mycorrhizal mushroom diversity and productivity—an indicator of forest health? Ann For Sci 68:81–88. doi:10.1007/s13595-010-0009-3

Egli S, Ayer F, Peter M, Eilmann B, Rigling A (2010) Is forest mushroom productivity driven by tree growth? Results from a thinning experiment. Ann For Sci 67:509. doi:10.1051/forest/2010011

Everett Y (2001) Participatory research for adaptive ecosystem management: a case of non-timber forest products. J Sustain For 13:335–357

Johnson KN, Scheurman HL (1977) Techniques for prescribing optimal timber harvest and investment under different objectives—discussion and synthesis. For Sci (Monogr) 18:1–32

Kauserud H, Stige LC, Vik JO, Okland RH, Hoiland K, Stenseth NC (2008) Mushroom fruiting and climate change. P Natl Acad Sci USA 105:3811–3814. doi:10.1073/pnas.0709037105

Krcmar E, van Kooten GC, Vertinsky I (2005) Managing forest and marginal agricultural land for multiple tradeoffs: compromising on economic, carbon and structural diversity objectives. Ecol Model 185:451–468. doi:10.1016/j.ecolmodel.2004.12.014

Lucas JA, Barrio JM (1996) 8ª Revisión del Proyecto de Ordenación del monte 'Pinar Grande' nº 172 de Soria y su Tierra. Documento interno de la Consejería de Medio Ambiente y Ordenación del Territorio. Dirección General del Medio Natural. Junta de Castilla y León, Valladolid (Spain)

Luoma DL, Eberhart J, Molina R, Amaranthus MP (2004) Response of ectomycorrhizal fungus sporocarp production to varying levels and patterns of green-tree retention. For Ecol Manage 202:337–354. doi:10.1016/j.foreco.2004.07.041

Martínez de Aragón J, Bonet JA, Fischer CR, Colinas C (2007) Productivity of ectomycorrhizal and selected edible saprotrophic fungi in pine forest of the pre-Pyrenees Mountains, Spain: predictive equations for forest management of mycological resources. For Ecol Manag 252:239–256. doi:10.1016/j.foreco.2007.06.040

Martínez de Aragón J, Riera P, Giergiczny M, Colinas C (2011) Value of wild mushroom picking as an environmental service. For Pol Econom 13:419–424. doi:10.1016/j.forpol.2011.05.003

Martínez-Peña F (2003) Producción y aprovechamiento de Boletus edulis Bull.:Fr. en un bosque de Pinus sylvestris L. Consejería de Medio Ambiente. Junta de Castilla y León, Valladolid (Spain)

Martínez-Peña F, Gómez Conejo R, Ortega-Martínez P (2007) Micodata: Sistema de información geográfica sobre producción, aprovechamiento y ordenación del recurso micológico en Castilla y León. http://www.micodata.es

Martínez-Peña F, Ágreda T, Águeda B, Ortega-Martínez P, Fernández-Toirán LM (2011a) Edible sporocarp production by age class in a Scots pine stand in Northern Spain. Mycorrhiza 22:167–174. doi:10.1007/s00572-011-0389-8

Martínez-Peña F, Oria de Rueda JA, Ágreda T (2011b) Manual para la gestión del recurso micológico forestal en Castilla y León. SOMACYL- Junta de Castilla y León, Soria (Spain)

Martínez-Peña F, de-Miguel S, Pukkala T, Bonet JA, Ortega-Martínez P, Aldea J, Martínez de Aragón J (2012). Yield models for ectomycorrhizal mushrooms in Pinus sylvestris forests with special focus on Boletus edulis and Lactarius group deliciosus. For Ecol Manage 282:63–69. doi:10.1016/j.foreco.2012.06.034

Mattsson L, Li C (1993) The non-timber value of northern Swedish forests: an economic analysis. Scand J For Res 8:426–434

Montero G, Rojo A, Alía R (1992) Determinación del turno de Pinus sylvestris L. en el Sistema Central. Montes 29:42–47

Ortega-Martínez P, Martínez-Peña F (2008) A sampling method for estimating sporocarps production of wild edible mushrooms of social and economic interest. Invest Agr Sist Recur For 17:228–237

Ortega-Martínez P, Águeda B, Fernández-Toirán LM, Martínez-Peña F (2011) Tree age influences on the development of edible ectomycorrhizal fungi sporocarps in Pinus sylvestris stands. Mycorrhiza 21:65–70. doi:10.1007/s00572-010-0320-8

Palahí M, Pukkala T (2003) Optimising the management of Scots pine (Pinus sylvestris L.) stands in Spain based on individual-tree models. Ann For Sci 60:105–114

Palahí M, Pukkala T, Bonet JA, Colinas C, Fischer CR, Martínez de Aragón J (2009) Effect of the inclusion of mushroom values on the optimal management of even-aged pine stands of Catalonia. For Sci 55:503–511. doi:10.1051/forest:2003002

Peredo H, Oliva M, Huber A (1983) Environmental factors determining the distribution of Suillus luteus fructifications in Pinus radiata grazing-forest plantations. Plant Soil 71:367–370

Pilz D, Brodie FD, Alexander S, Molina R (1998) Relative value of chanterelles and timber as commercial forest products. Ambio Special Report 9:14–16

Pilz D, Molina R, Mayo J (2006) Effects of thinning young forest on chanterelle mushroom production. J For 104(1):9–14

Poff B, Tecle A, Neary DG, Geils B (2010) Compromise programming in forest management. J Arizona Nevada Acad Sci 42:44–60. doi:10.2181/036.042.0107

Rojo A, Montero G (1996) El pino silvestre en la Sierra de Guadarrama. Ministerio de Agricultura, Pesca y Alimentación, Madrid

Romero C, Rehman T (2003) Multiple criteria analysis for agricultural decisions. Elsevier, Amsterdam

Romero C, Tamiz M, Jones DF (1998) Goal programming, compromise programming and reference point method formulations: linkages and utility interpretations. J Oper Res Soc 49:986–991. doi:10.2307/3010172

Savoie JM, Largeteau ML (2010) Production of edible mushrooms in forest: trends in development of a mycosilviculture. Appl Microbiol Biotechnol 89:971–979. doi:10.1007/s00253-010-3022-4

Tecle A, Shrestha BP, Duckstein L (1998) A multiobjective decision support system for multiresource forest management. Group Decis Negot 7:23–40

Voces R, Diaz-Balteiro L, Alfranca O (2012) Demand for wild edible mushrooms. The case of Lactarius deliciosus in Barcelona (Spain). J Forest Econom 18:47–60. doi:10.1016/j.jfe.2011.06.003

Williams HP (1993) Model building in mathematical programming. Wiley, Chichester

Yu PL (1973) A class of solutions for group decision problems. Manage Sci 19:936–946. doi:10.1287/mnsc.19.8.936

Zeleny M (1974) A concept of compromise solutions and the method of the displaced ideal. Comput Oper Res 1:479–496. doi:10.1016/0305-0548(74)90064-1
Acknowledgments
This research has been carried out thanks to (amongst others) the Interreg IVB SUDOE SOE1/P2/E069 Micosylva project. Special thanks also to the staff of CIF Valonsadero involved in sample plot network maintenance and mushroom picking in Pinar Grande over the years. Comments made by Professor Carlos Romero from Technical University of Madrid have greatly improved the presentation and accuracy of the paper. Thanks are given to two referees for their valuable comments. The work of Luis Diaz-Balteiro was funded by the Autonomous Community of Madrid under projects Q100705066 and QM100705026 and by the Spanish Ministry of Education and Science under project AGL2011-25825. Thanks also go to Diana Badder and PRS for editing the English.
About this article
Cite this article
Aldea, J., Martínez-Peña, F. & Diaz-Balteiro, L. Integration of fungal production in forest management using a multi-criteria method. Eur J Forest Res 131, 1991–2003 (2012). https://doi.org/10.1007/s10342-012-0649-y
Received:

Revised:

Accepted:

Published:

Issue Date:
Keywords
Edible wild mushrooms

Compromise programming

Forest management

Strategic planning