Abstract
Wind damage in Japan is mainly caused by typhoons (i.e., tropical cyclones), which are characterized by intensive heavy rainfall and strong winds. In this study, we conducted tree-pulling experiments on two sites to find out whether rapidly supplied water on the soil would affect stability of root anchorage of hinoki (Chamaecyparis obtuse (Sieb. Et Zucc.) Endl.), as expected. For the experiments, we first supplied several quantities of water around the target trees, and then they were pulled down using a wire winch. On study site 1 (Kamiatago experimental forest), we applied general tree-pulling experiments (no water supply) in 2008 and six different irrigation treatments around the target trees in 2009. On study site 2 (Chiyoda experimental forest), we applied one irrigation treatment in 2009. As a result, five trees were uprooted and two were broken in 2008, and all nine trees were uprooted in 2009 on study site 1, regardless of irrigation treatment. On study site 2, two trees pulled down after 4 h of water supply were ruptured at the stem base, opposite to two trees pulled down immediately after supplying water. The water content below the root plate significantly affected root anchorage and more specifically, the maximum turning moment, stem angle at the maximum force, and stiffness index. Moreover, water inside the root plate increased root anchorage at the beginning of a tree failure process. However, it also reduced the root plate area of the hinge side. Conversely, high water content below the root plate decreased root anchorage.
Access options
Buy single article
Instant access to the full article PDF.
USD 39.95
Price includes VAT (USA)
Tax calculation will be finalised during checkout.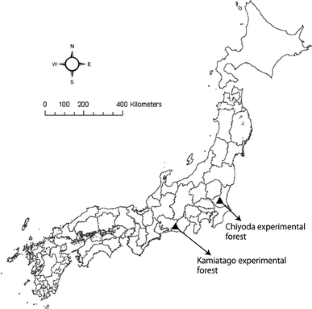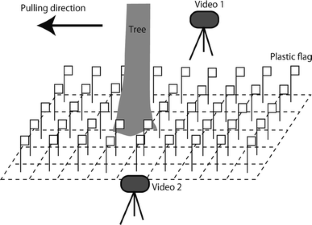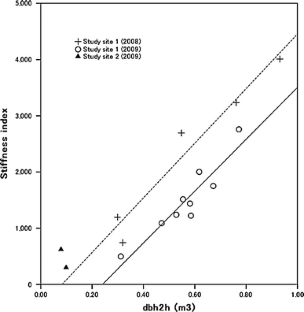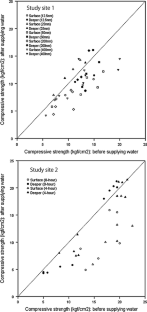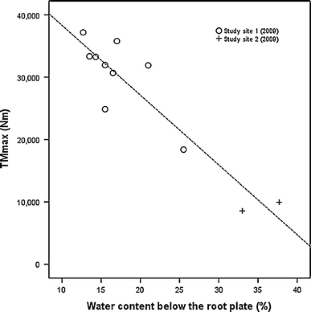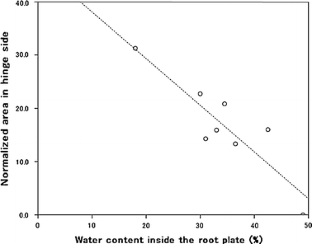 References
Achim A, Nicoll BC (2009) Modelling the anchorage of shallow-rooted trees. Forestry 82:273–284

Achim A, Ruel JC, Gardiner BA, Laflamme G, Meunier S (2005) Modelling the vulnerability of balsam fir forests to wind damage. For Ecol Manage 204(1):35–50

Ashman MR, Puri G (2002) Essential soil science—a clear and concise introduction to soil science. Blackwell Publishing, Malden

Coutts MP (1986) Components of tree stability in Sitka spruce on peaty gley soil. Forestry 59(2):173–197

Cucchi V, Meredieu C, Stokes A, Berthier S, Bert D, Najar M, Denis A, Lastennet R (2004) Root anchorage of inner and edge trees in stands of Maritime pine (Pinus pinaster Ait.) growing in different podzolic soil conditions. Trees 18(4):460–466

Gardiner B, Peltola H, Kellomaki S (2000) Comparison of two models for predicting the critical wind speeds required to damage coniferous trees. Ecol Model 129(1):1–23

Gardiner B, Byrne K, Hale S, Kamimura K, Mitchell SJ, Peltola H, Ruel JC (2008) A review of mechanistic modelling of wind damage risk to forests. Forestry 81(3):447–463

Kamimura K, Shiraishi N (2007) A review of strategies for wind damage assessment in Japanese forests. J For Res 12:162–176

Kamimura K, Gardiner BA, Shiraishi N (2007) Estimating long-term critical wind speed for wind damage by using mechanistic wind risk model, GALES (in Japanese with English summary). In: Yoshimoto A, Hiroshima T, Kondoh H (eds) FORMA TH, vol 6. Japan Society of Forest Planning Press, Utsunomiya, Japan, pp 19–28

Kamimura K, Gardiner B, Kato A, Hiroshima T, Shiraishi N (2008) Developing a decision support approach to reduce wind damage risk: a case study on sugi (Cryptomeria japonica (L.f.) D. Don) forests in Japan. Forestry 81(3):429–445

Kato A (2001) Study on the approach for estimating resistance of Japanese cedar to snow accretion damage and its application (in japanese with English summary). J Toyama Forestry for Prod Res Center 14:1–77

Koizumi A (1987) Studies on the estimation of the mechanical properties of standing trees by non-destructive bending test (In Japanese with English Summary). Res Bull Hokkaido Univ For 44(4):1329–1415

Kuboyama H, Zheng Y, Oka H (2003) Study about damage probabilities on major forest climatic risks according to age-classes (in Japanese with English summary). J Jpn For Soc 85(3):191–198

Meehl GA, Stocker TF (2007) Global climate projects, chapter 10. In: Solomon S, Qin D, Manning M, Marquis M, Averyt K, Tignor MMB, Miller HL Jr., Chen Z (eds) Climate change 2007: the physical science basis, IPCC forth assessment report. Cambridge University Press, Cambridge, pp 747–845

Montague KA, Day EP (1980) Belowground biomass of four plant communities of the Great Dismal Swamp, Virginia. Am Midl Nat 103(1):83–87

Morioka N, Kitagawa K (1987) Results of the pulling down test of small SUGI (Cryptomeria japonica) trees (in Japanese). Bull Nagoya Univ For 9:1–5

Nagakura J, Akama A, Mizoguchi T, Okabe H, Shigenaga H, Yamanaka T (2006) Effects of chronic nitrogen application on the growth and nutrient status of a Japanese cedar (Cryptomeria japonica) stand. J For Res 11:299–304

Nicoll BC, Achim A, Mochan S, Gardiner BA (2005) Does steep terrain influence tree stability? A field investigation. Can J For Res 35(10):2360–2367

Nicoll BC, Gardiner BA, Rayner B, Peace AJ (2006) Anchorage of coniferous trees in relation to species, soil type, and rooting depth. Can J For Res 36(7):1871–1883

Noda R (1993) The damages of forests in Fukuoka prefecture by Typhoon No.17, No.19 in 1991 (in Japanese). J For Environ 35(1):50–59

Nonoda T, Hayashi S, Kawabe H, Honda K, Koyabu K (1996) The mechanism of the tree-uprooting occured by pulling down a tree (in Japanese with English summary). J Jpn For Soc 78(4):390–397

Ogura Y (1994) Sciences of weather (in Japanese). Morikita Shuppan, Tokyo

Peltola H, Kellomaki S, Vaisanen H, Ikonen VP (1999) A mechanistic model for assessing the risk of wind and snow damage to single trees and stands of Scots pine, Norway spruce, and birch. Can J For Res 29(6):647–661

Peltola H, Kellomaki S, Hassinen A, Granander M (2000) Mechanical stability of Scots pine, Norway spruce and birch: an analysis of tree-pulling experiments in Finland. For Ecol Manage 135(1–3):143–153

Ray D, Nicoll BC (1998) The effect of soil water-table depth on root-plate development and stability of Sitka Spruce. Forestry 71(2):169–182

Rodgers M, Casey A, McMenamin C, Hendrick E (1995) An experimental investigation of the effects of dynamic loading on coniferous trees planted on wet mineral soils. In: Coutts P, Grace J (eds) Wind and Trees. Cambridge University Press, Cambridge, pp 204–219

Shichiri S (1987) On the analysis of wind-damage to forests by typhoon No. 12 in 1987 (in Japanese with English summary). Bull Nagasaki Agr For Exp Sta For Div 20:1–15

Suzuki S, Yoshitake T, Goto Y (2009) Values for forest damage caused by strong wind, heavy rain, snow, forest fire based on statistics compiled in Japan from fiscal year 1954 to 2003. Bull FFPRI 8(1):71–100

Tanaka B (2000) Heavy rainfall disaster in the Yahagi River watershed on September 12 (in Japanese), 2000. Yahagigawa Kenkyu 6:125–138
Acknowledgments
We are grateful to Taichi Kajikawa and Hayahito Yazawa, forestry technicians in the experimental forests of Shizuoka University, and Yuusuke Kawai and Yoshikazu Adachi in Shizuoka University, who gave tremendous support to us for the tree-pulling experiments. We also would like to thank to Drs. Takashi Yoshitake and Ushio Kurokawa, forestry researchers in Forestry and Forest Products Research Institute, who kindly helped us for conducting the experiments in Chiyoda forests. This study was funded by Japan Society for the Promotion of Science as a Grant-in-Aid for Scientific Research for "Disturbance and recovery of canopy associated with wind damage risk (Research Project Number: 20380088)".
Additional information
This article belongs to the special issue 'Wind Effects on Trees'.
Communicated by J. Bauhus.
About this article
Cite this article
Kamimura, K., Kitagawa, K., Saito, S. et al. Root anchorage of hinoki (Chamaecyparis obtuse (Sieb. Et Zucc.) Endl.) under the combined loading of wind and rapidly supplied water on soil: analyses based on tree-pulling experiments. Eur J Forest Res 131, 219–227 (2012). https://doi.org/10.1007/s10342-011-0508-2
Received:

Revised:

Accepted:

Published:

Issue Date:
Keywords
Tree-pulling experiments

Wind damage

Root anchorage

Water content in the soil