Abstract
The removal of conifers planted during the twentieth century on sites that had been woodland for many centuries, with the intention of restoring native broadleaved species, is an important aim of forestry policy in Great Britain. Current guidance generally advocates gradual removal of plantation trees using continuous cover silviculture and restocking by natural regeneration, but methods are largely untested. This study investigated natural regeneration of trees and shrubs at sites where western hemlock had been established either pure or in mixture with native broadleaved species. Western hemlock had been cleared from 70% of the sites. There were c. 10–300 stems ha−1 providing canopy cover of 10–90%; the predominant broadleaved canopy trees were ash, beech, birch and oak. The ground flora of all sites was species poor; bramble was the predominant vegetation type overall, but grasses, rushes and shrubs were relatively more abundant on open sites. A total of 15 native tree species were regenerating, birch was most common and at most sites there were few valuable broadleaved timber species. Although combined numbers of seedlings and saplings varied from 200 to 20,000 ha−1, large areas of most sites had few regenerating trees and <10% of their area was becoming restocked with timber species. Relationships between seedling numbers and site characteristics were complex and varied with species, but there was a consistent positive relationship between the presence of nearby parent trees and the frequency and abundance of seedlings. The results indicate that the current reliance on natural regeneration may be unwise especially for those broadleaved species such as oak and beech which are valued for their timber.
Access options
Buy single article
Instant access to the full article PDF.
USD 39.95
Price excludes VAT (USA)
Tax calculation will be finalised during checkout.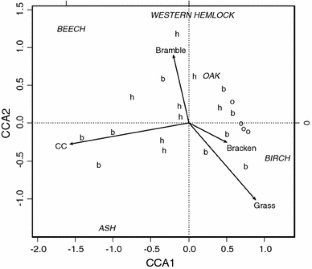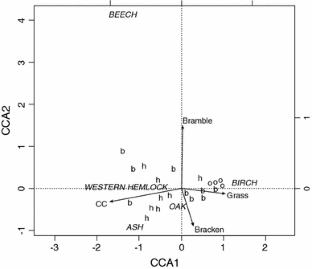 References
Ammer C, Mosandl R (2007) Which grow better under the canopy of Norway spruce—planted or sown seedlings of European beech? Forestry 80:385–395

Ammer C, Mosandl R, El Kateb H (2002) Direct seeding of beech (Fagus sylvatica L.) in Norway spruce (Picea abies (L.) Karst.) stands—effects of canopy density and fine root biomass on seed germination. For Ecol Manag 159:59–72

Brunet J, Falkengren-Grerup U, Tyler G (1996) Herb layer vegetation of south Swedish beech and oak forests—effects of management and soil acidity during one decade. For Ecol Manag 88:259–272

Coll L, Balandier P, Picon-Cochard C, Prévosto B, Curt T (2003) Competition for water between beech seedlings and surrounding vegetation in different light and vegetation composition conditions. Ann For Sci 60:593–600

Deconchat M, Balent G (2001) Effets des pertubations du sol et de la mise en lumière occasionnées par l'exploitation forestière sur la flore à une échelle fine. Ann For Sci 58:315–328

Dedrick S, Spiecker H, Orazio C, Tomé M, Martinez I (eds) (2007) Plantation or conversion—the debate. European Forest Research Institute Discussion Paper 13, European Forest Institute, Joensuu

Farmer RE (1997) Seed ecophysiology of temperate and boreal zone forest trees. St. Lucie Press, Delray Beach

Harmer R, Kiewitt A (2006) Restoration of lowland conifer PAWS. For Res Rep 2005–2006:24–29

Harmer R, Kiewitt A (2007) Restoration of PAWS—testing some of the advice. Q J For 101:213–218

Harmer R, Morgan G (2007) Development of Quercus robur advance regeneration following canopy reduction in an oak woodland. Forestry 80:137–149

Harmer R, Boswell R, Robertson M (2005a) Survival and growth of tree seedlings in relation to changes in the ground flora during natural regeneration of an oak shelterwood. Forestry 78:21–32

Harmer R, Thompson R, Humphrey J (2005b) Great Britain—conifers to broadleaves. In: Stanturf JA, Madsen P (eds) Restoration of boreal and temperate forests. CRC Press, Boca Raton, pp 319–338

Herault B, Thoen D, Honnay O (2004) Assessing the potential of natural woody species regeneration for the conversion of Norway spruce plantations on alluvial soils. Ann For Sci 61:711–719

Hill MO, Mountford JO, Roy DB, Bunce RGH (1999) Ellenberg's indicator values for British plants. ECOFACT volume 2, technical annex. ITE Monkswood, Huntingdon

Huth F, Wagner S (2006) Gap structure and establishment of silver birch regeneration (Betula pendula Roth.) in Norway spruce stands (Picea abies L. Karst.). For Ecol Manag 229:314–324

Johnson WC (1988) Estimating dispersibility of Acer, Fraxinus and Tilia in fragmented landscapes from patterns of seedling establishment. Landscape Ecol 1:175–187

Jonášová M, Van Hees A, Prach K (2006) Rehabilitation of monotonous exotic coniferous plantations: a case study of spontaneous establishment of different tree species. Ecol Eng 28:141–148

Jongman RHG, Ter Braak CJF, Van Tongeren OFR (eds) (1995) Data analysis in community and landscape ecology. CUP, Cambridge

Karlsson A (1996) Initial seedling emergence of hairy birch and silver birch on abandoned fields following different site preparation regimes. New For 11:93–123

Karlsson M (2002) Natural regeneration to increase the proportion of broadleaved trees in southern Sweden—effects of seed dispersal and silvicultural treatments. In: Brunner A (ed) Restocking of storm-felled forests: new approaches. Proceedings of an international workshop in Denmark, March 2001. Danish Centre for Forest, Landscape and Planning, Hørsholm, pp 27–38

Karlsson M, Nilsson U (2005) The effects of scarification and shelterwood treatments on naturally regenerated seedlings in southern Sweden. For Ecol Manag 205:183–197

Kennedy F (2002) The identification of soils for forest management. Forestry Commission, Edinburgh

Kerr G, Mason B, Boswell R, Pommerening A (2002) Monitoring the transformation of even-aged stands to continuous cover management. Forestry Commission Information Note 45, Forestry Commission, Edinburgh

Kirby KJ (1990) Changes in the ground flora of a broadleaved wood within a clearfell, group fells and a coppiced block. Forestry 63:241–249

Kolb TE, Bowersox TW, McCormick LH (1990) Influences of light intensity on weed-induced stresses of tree seedlings. Can J For Res 20:503–507

Legendre P, Legendre L (1998) Numerical ecology. Elsevier, Amsterdam

Lines R (1987) Choice of seed origins for the main forest species in Britain. Forestry Commission Bulletin 66. HMSO, London

Löf M, Welander NT (2004) Influence of herbaceous competitors on early growth in direct seeded Fagus sylvatica L. and Quercus robur L. Ann For Sci 61:781–788

Löf M, Gemmel P, Nilsson U, Welander NT (1998) The influence of site preparation on growth in Quercus robur L. seedlings in a southern Sweden clear-cut and shelterwood. For Ecol Manag 109:241–249

Lust N, Muys B, Nachtergale L (1998) Increase of biodiversity in homogeneous Scots pine stands by an ecologically diversified management. Biodivers Conserv 7:249–260

MacDonald J, Wood RF, Edwards MV, Aldous JR (1957) Exotic forest trees in Great Britain Forestry Commission Bulletin 30. HMSO, London

Madsen P, Löf M (2005) Reforestation in southern Scandinavia using direct seeding of oak (Quercus robur L.). Forestry 78:55–64

Mosandl R, Kleinert A (1998) Development of oaks (Quercus petraea (Matt.) Liebel.) emerged from bird-dispersed seeds under old-growth pine (Pinus silvestris L.). For Ecol Manag 106:35–44

Mountford EP, Savill PS, Bebber DP (2006) Patterns of regeneration and ground vegetation associated with canopy gaps in a managed beechwood in southern England. Forestry 79:389–408

Nilsson U, Gemmel P, Johansson U, Karlsson M, Welander T (2002) Natural regeneration of Norway Spruce, Scots pine and birch under Norway spruce shelterwoods of varying densities on a mesic-dry site in southern Sweden. For Ecol Manag 161:133–145

Oksanen J (2008) Vegan: R functions for vegetation ecologists. http://www.cc.oulu.fi/~jarioksa/softhelp/vegan.html. Last Accessed 23 Sep 2009

Payne RW (2007) The guide to GenStat release 10. VSN International, Hemel Hempstead

Perala DA, Alm AA (1990a) Reproductive ecology of birch: a review. For Ecol Manag 32:1–38

Perala DA, Alm AA (1990b) Regeneration silviculture of birch: a review. For Ecol Manag 32:39–77

Peterken GP (1996) Natural woodland. Cambridge University Press, Cambridge

Radford E (1998) The restoration of replanted ancient woodland. English Nature Research Report 269. English Nature, Peterborough

Rodwell JS (ed) (1991) British plant communities volume 1: woodlands and scrub. Cambridge University Press, Cambridge

Spiecker H, Hansen J, Klimo E, Skovsgaard JP, Sterba H, von Teuffel K (eds) (2004) Norway spruce conversion—options and consequences. European Forest Institute Research Report 18. Brill, Leiden

Stace C (1991) New flora of the British Isles. Cambridge University Press, Cambridge

Stanturf JA, Madsen P (eds) (2005) Restoration of boreal and temperate forests. CRC Press, Boca Raton

Tansley AG (1949) The British Islands and their vegetation, 2nd edn. Cambridge University Press, Cambridge

Thomas SC, Halpern CB, Falk DA, Liguori DA, Austin KA (1999) Plant diversity in managed forests: understorey responses to thinning and fertilization. Ecol Appl 9:864–879

Thompson R, Humphrey J, Harmer R, Ferris R (2003) Restoration of native woodland on ancient woodland sites. Forestry Commission, Edinburgh

UKWAS (2006) The UK woodland assurance standard, 2nd edn. UKWAS, Edinburgh

Von Lüpke B (2004) Steigerung von Stabilität und Diversität durch Waldumbau. Forst und Holz 59:518–523

Von Lüpke et al. (2004) Silvicultural strategies for conversion. In: Spiecker H, Hansen J, Klimo E, Skovsgaard JP, Sterba H, von Teuffel K (eds) Norway spruce conversion—options and consequences. European Forest Institute Research Report 18. Brill, Leiden, pp 121–164

Willoughby I, Jinks R, Gosling P, Kerr G (2004) Creating new broadleaved woodland by direct seeding. Forestry Commission, Edinburgh

Zerbe S (2002) Restoration of natural broad-leaved woodland in central Europe on sites with coniferous forest plantations. For Ecol Manag 167:27–42
Acknowledgments
This work could not have been carried-out without the assistance of Stan Abbott, Rob Pole, Nick Hazlitt and other staff of the Forestry Commission's south-east England Forest District.
Additional information
Communicated by A. Merino.
About this article
Cite this article
Harmer, R., Morgan, G. & Beauchamp, K. Restocking with broadleaved species during the conversion of Tsuga heterophylla plantations to native woodland using natural regeneration. Eur J Forest Res 130, 161–171 (2011). https://doi.org/10.1007/s10342-010-0418-8
Received:

Revised:

Accepted:

Published:

Issue Date:

DOI: https://doi.org/10.1007/s10342-010-0418-8
Keywords