Abstract
In contemporary forest management, also of commercial forests, threshold values are widely used for consideration of biodiversity conservation. Here, we present various aspects of dead-wood threshold values. We review published and unpublished dead-wood threshold data from European lowland beech–oak, mixed-montane, and boreo-alpine spruce–pine forests separately to provide managers of European forests with a baseline for management decisions for their specific forest type. Our review of dead-wood threshold data from European forests revealed 36 critical values with ranges of 10–80 m3 ha−1 for boreal and lowland forests and 10–150 m3 ha−1 for mixed-montane forests, with peak values at 20–30 m3 ha−1 for boreal coniferous forests, 30–40 m3 ha−1 for mixed-montane forests, and 30–50 m3 ha−1 for lowland oak–beech forests. We then expand the focus of dead-wood threshold analyses to community composition. We exemplify the two major statistical methods applied in ecological threshold analysis to stimulate forest researchers to analyze more of their own data with a focus on thresholds. Finally, we discuss further directions of dead-wood threshold analysis. We anticipate that further investigations of threshold values will provide a more comprehensive picture of critical ranges for dead wood, which is urgently needed for an ecological and sustainable forestry.
Access options
Buy single article
Instant access to the full article PDF.
USD 39.95
Price excludes VAT (USA)
Tax calculation will be finalised during checkout.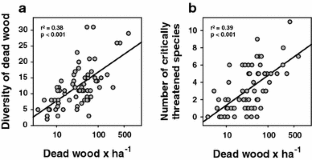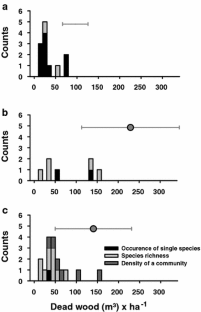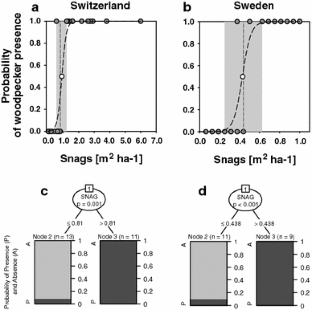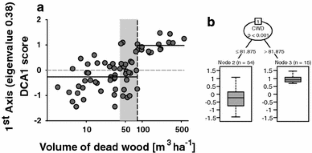 References
Albrecht L (1991) Die Bedeutung des toten Holzes im Wald. Forstw Cbl 110:106–113

Ammer U (1991) Konsequenzen aus den Ergebnissen der Totholzforschung für die forstliche Praxis. Eur J Forest Res 110:149–157

Andersen T, Carstensen J, Hernández-García E, Duarte CM (2008) Ecological thresholds and regime shifts: approaches to identification. Trends Ecol Evol 24:49–57

Angelstam P (2002) Reconciling land management with natural disturbance regimes in European boreal forests. In: Bissonette J, Storch I (eds) Landscape ecology and resource management: managing the match. Island Press, pp, pp 193–226

Angelstam P (2004) Habitat thresholds and effects of forest landscape change on the distribution and abundance of black grouse and capercaillie. Ecol Bull 51:173–188

Angelstam P, Bütler R, Lazdinis M, Mikusinski G, Roberge JM (2003) Habitat thresholds for focal species at multiple scales and forest biodiversity conservation–dead wood as an example. Ann Zool Fennici 40:473–482

Bader P, Jansson S, Jonsson BG (1995) Wood-inhabiting fungi and substratum decline in selectively logged boreal spruce forests. Biol Conserv 72:355–362

Basset Y, Missa O, Alonso A, Miller SE, Curletti G, De Meyer M, Eardley C, Lewis OT, Mansell MW, Novotny V, Wagner T (2008) Changes in arthropod assemblages along a wide gradient of disturbance in gabon. Conserv Biol 22:1552–1563

Bässler C, Müller J (2010) Importance of natural disturbance for recovery of the rare polypore Antrodiella citrinella Niemelä & Ryvarden. Fungal Biol 114:129–133

Bässler C, Müller J, Dziock F, Brandl R (2010) Microclimate and especially resource availability are more important than macroclimate for assemblages of wood-inhabiting fungi. J Ecol 98:822–832

Boecklen WJ (1986) Effects of habitat heterogeneity on the species-area relationships of forest birds. J Biogeogr 13:59–68

Brustel PH (2004) Coléoptères saproxyliques et valeur biologique des forêts francaises. Collect Dossiers For 13:1–297

Burnham KP, Anderson DR (2002) Model selection and multimodel inference. Springer, New York

Bussler H, Müller J, Dorka V (2005) European natural heritage: the saproxylic beetles in the proposed parcul National Defileul Jiului. Analele ICAS 18:55–71

Bütler R, Angelstam P, Ekelund P, Schlaepfer R (2004) Dead wood threshold values for the three-toed woodpecker presence in boreal and sub-Alpine forest. Biol Conserv 119:305–318

Christensen M, Hahn K, Mountford EP, Ódor P, Standóvar T, Rozenbergar D, Diaci J, Wijdeven S, Meyer P, Winter S, Vrska T (2005) Dead wood in European beech (Fagus sylvatica) forest reserves. Forest Ecol Manag 210:267–282

Davies ZG, Tyler C, Stewart GB, Pullin AS (2008) Are current management recommendations for conserving saproxylic invertebrates effective? Biodivers Conserv 17:209–234

DeMaynadier PG, Hunter ML (1995) The relationship between forest management and amphibian ecology: a review of the North American literature. Environ Rev 3:230–261

Dickson JG, Conner RN, Williamson JH (1983) Snag retention increases bird use of a clear-cut. J Wildl Manage 47:799–804

Dziock F (2006) Life-history data in bioindication procedures, using the example of hoverflies (Dipter, Syrphidae) in the Elbe floodplain. Int Rev Hydrobiol 91:341–363

Ekbom B, Schroeder LM, Larsson S (2006) Stand specific occurence of coarse woody debris in a managed boreal forest landscape in central Sweden. Forest Ecol Manag 221:2–12

Erdmann M, Wilke H (1997) Quantitative und qualitative Totholzerfassung in Buchenwirtschaftswäldern. Eur J Forest Res 116:16–28

Flade M, Möller G, Schumacher H, Winter S (2004) Naturschutzstandards für die Bewirtschaftung von Buchenwäldern im nordostdeutschen Tiefland. Der Dauerwald–Zeitschrift für naturgemässe Waldwirtschaft 29:15–28

Fowles AP, Alexander KNA, Key RS (1999) The saproxylic quality Index: evaluating wooded habitats for the conservation of dead-wood Coleoptera. Coleopterist 8:121–141

Frank G (2002) Brutzeitliche Einnischung des Weißrückenspechtes Dendrocopos leucotos im Vergleich zum Buntspecht Dendrocopos major in montanen Mischwäldern der nördlichen Kalkalpen. Vogelwelt 123:225–239

Ganey JL (1999) Snag density and composition of snag populations on two national forests in northern Arizona. Forest Ecol Manag 117:169–178

Goßner M (2004) Diversität und Struktur arborikoler Arthropodenzönosen fremdländischer und einheimischer Baumarten–Ein Beitrag zur Bewertung des Anbaus von Douglasie (Pseudotsuga menziesii (Mirb.) Franco) und Roteiche (Quercus rubra L.). Neobiota 5, 238

Goßner M (2006) Uralt und unbekannt. LWF aktuell 53:12–13

Grove S (2002a) The influence of forest management history on the integrity of the saproxylic beetle fauna in an Australian lowland tropical rainforest. Biol Conserv 104:149–171

Grove S (2002b) Tree basal area and dead wood as surrogate indicators of saproxylic insect faunal integrity: a case study from the Australian lowland tropics. Ecol Indic 1:171–188

Grove S (2002c) Saproxylic insect ecology and the sustainable management of forests. Ann Rev Ecol Syst 33:1–23

Grove S, Meggs J (2003) Coarse woody debris, biodiversity and management: a review with particular reference to Tasmanian wet eucalypt forests. Aust For 66:258–272

Guénette JS, Villard MA (2004) Do empirical thresholds truly reflect species tolerance to habitat alteration. Ecol Bull 51:163–171

Haase V, Topp W, Zach P (1998) Eichen-Totholz im Wirtschaftswald als Lebensraum für xylobionte Insekten. Zeitschr Ökol Naturschutz 7:137–153

Heilmann-Clausen J, Christensen M (2004) Does size matter? On the importance of various dead wood fractions for fungal diversity in Danish beech forests. Forest Ecol Manag 201:105–117

Heilmann-Clausen J, Christensen M (2005) Wood-inhabiting macrofungi in Danish beech-forests—conflicting diversity patterns and their implications in a conservation perspective. Biol Conserv 122:633–642

Hering D, Kail J, Eckert S, Gerhard M, Meyer EI, Mutz M, Reich M, Weiss I (2000) Coarse woody debris quantity and distribution in Central European streams. Int Rev Hydrobiol 85:5–23

Hilszczanski J, Gibb H, Hjältén J, Atlegrim O, Johansson T, Pettersson RB, Ball JP, Danell K (2005) Parasitoids (Hymenoptera, Ichneumonoidea) of Saproxylic beetles are affected by forest successional stage and dead wood characteristics in boreal spruce forest. Biol Conserv 126:456–464

Hothorn T, Zeileis A (2008) Generalized maximally selected statistics. Biometrics 64:1263–1269

Hothorn T, Hornik K, Zeileis A (2006) Unbiased recursive partitioning: a conditional inference framework. J Comput Graph Stat 15:651–674

Hövemeyer K, Schauermann J (2003) Succession of diptera on dead beech: a 10-year study. Pedobiologia 47:61–75

Huggett AJ (2005) The concept and utility of 'ecological thresholds' in biodiversity conservation. Biol Conserv 124:301–310

Jonsell M, Schröder M, Weslien J (2005) Saproxylic beetles and high stumps of spruce—fungal flora important for determining the species composition. Scand J For Res 20:54–63

Jönsson MT, Edman M, Jonsson BG (2008) Colonization and extinction patterns of wood-decaying fungi in a boreal old-growth Picea abies forest. J Ecol 96:1065–1075

Junninen K, Similä M, Kouki J, Kotiranta H (2006) Assemblages of wood-inhabiting fungi along the gradients of succession and naturalness in boreal pine-dominated forests in Fennoscandia. Ecography 29:75–83

Kappes H (2005) The influence of coarse woody debris on the gastropod community of a managed calcareous beech forest in western Europe. J Molluscan Stud 71:85–91

Kappes H, Jabin M, Kulfan J, Zach P, Topp W (2009) Spatial patterns of litter-dwelling taxa in relation to the amount of coarse woody debris in European temperate deciduous forests. Forest Ecol Manag 257:1255–1260

Kirby KJ, Reid CM, Thomas RC, Goldsmith FB (1998) Preliminary estimates of fallen dead wood and standing dead trees in managed and unmanaged forests in Britain. J Appl Ecol 35:148–155

Kratzer R (2008) Totholzschwellenwertanalyse für die Habitate des Dreizehenspechts (Picoides tridactylus alpinus) im Schwarzwald. Diploma, Fakultät für Forst- und Umweltwissenschaften. University Freiburg. Freiburg. 83pp

Lindenmayer DB, Luck G (2005) Synthesis: thresholds in conservation and management. Biol Conserv 124:351–354

Loser E, Bebié N, Niggli-Luder S, Bürkler F (2005) Wie naturnah ist ein Wald. Schweiz. Z Forstwes 156:13–21

MacArthur RH, Wilson EO (1967) The theory of island biogeography. Princeton University Press, Princeton

Martikainen P, Siitonen J, Kaila L, Punttila P, Rauh J (1999) Bark beetles (Coleoptera, Scolytidae) and associated beetle species in mature managed and old-growth boreal forests in southern Finland. Forest Ecol Manag 116:1–3

Martikainen P, Siitonen J, Punttila P, Kaila L, Rauh J (2000) Species richness of Coleoptera in mature managed and old-growth boreal forests in southern Finland. Biol Conserv 94:199–209

Martin K, Eadie JM (1999) Nest webs: a community-wide approach to the management and conservation of cavity-nesting forest birds. Forest Ecol Manag 115:243–257

May R (1973) Stability and complexity in model ecosystems. Princeton University Press, USA

Möller G (2005) Habitatstrukturen holzbewohnender Insekten und Pilze. LÖBF-Mitteilungen 3:30–35

Moning C, Müller J (2008) Environmental key factors and their thresholds for the avifauna of temperate montane forests. Forest Ecol Manag 256:1198–1208

Moning C, Bussler H, Müller J (2009) Ökologische Schlüsselwerte in Bergmischwäldern als Grundlage für eine nachhaltige Forstwirtschaft. Wissenschaftliche Reihe des Nationalpark Bayerischer Wald 19:1–102

Müller J (2004) Vögel als Inspektionsbeamte in Eichenwäldern. LWF Wissen 46:22–28

Müller J (2005) Waldstrukturen als Steuergröße für Artengemeinschaften in kollinen bis submontanen Buchenwäldern. Dissertation, Wissenschaftszentrum Weihenstephan für Ernährung, Landnutzung und Umwelt. Technische Universität. München, http//mediatum.ub.tum.de. 197pp

Müller J, Brandl R (2009) Assessing biodiversity by remote sensing and ground survey in montainous terrain: the potential of LiDAR to predict forest beetle assemblages. J Appl Ecol 46:897–905

Müller J, Bussler H (2008) Key factors and critical thresholds at stand scale for saproxylic beetles in a beech dominated forest, southern Germany. Rev Écol (Terre Vie) 63:73–82

Müller J, Goßner MM (2010) Three-dimensional partitioning of diversity informs state-wide strategies for the conservation of saproxylic beetles. Biol Conserv 143:625–633

Müller J, Hothorn T (2004) Maximally selected two-sample statistics as a new tool for the identification and assessment of habitat factors with an application to breeding-bird communities in oak forests. Eur J Forest Res 123:219–228

Müller J, Bußler H, Bense U, Brustel H, Flechtner G, Fowles A, Kahlen M, Möller G, Mühle H, Schmidl J, Zabransky P (2005a) Urwald relict species—Saproxylic beetles indicating structural qualities and habitat tradition. Waldökologie Online 2:106–113

Müller J, Strätz C, Hothorn T (2005b) Habitat factors for land snails in acid beech forests with a special focus on coarse woody debris. Eur J Forest Res 124:233–242

Müller J, Bußler H, Utschick H (2007a) Wie viel Totholz braucht der Wald? Ein wissenschaftsbasiertes Konzept gegen den Artenschwund der Totholzzönosen. NUL 39:165–170

Müller J, Engel H, Blaschke M (2007b) Assemblages of wood-inhabiting fungi related to silvicultural management intensity in beech forests in southern Germany. Eur J Forest Res 126:513–527

Müller J, Bussler H, Kneib T (2008) Saproxylic beetle assemblages related to silvicultural management intensity and stand structures in a beech forest in Southern Germany. Eur J Insect Conserv 12:107–124

Muradin R (2001) Ecological thresholds: a survey. Ecol Econ 38:7–24

Murthy SK (1998) Automatic construction of decision trees from data: a multi-disciplinary survey. Data Min Knowl Disc 2:345–389

Neft R (2006) Biotopbaum- und Totholzkonzept des Unternehmens Bayerische Staatsforsten (BaySF). LWF aktuell 55:28–29

Ódor P, Heilmann-Clausen J, Christensen M, Aude E, Dort v KW, Piltaver A, Siller I, Veerkamp MT, Standovár T, Hees v AFM, Kosec J, Matocec N, Kraigher H, Grebenc T (2006) Diversity of dead wood inhabiting fungi and bryophytes in semi-natural beech forests in Europe. Biol Conserv 131:58–71

Okland B, Bakke A, Hagvar S, Kvamme T (1996) What factors influence the diversity of saproxylic beetles? A multiscaled study from a spruce forest in southern Norway. Biodivers Conserv 5:75–100

Pechacek P, D'Oleire-Oltmanns W (2004) Habitat use of the three-toed woodpecker in central Europe during the breeding period. Biol Conserv 116:333–341

Penttilä R, Siitonen J, Kuusinen M (2004) Polypore diversity in managed and old-growth boreal Picea abies forests in southern Finland. Biol Conserv 117:271–283

Penttilä R, Lindgren M, Miettinen O, Rita H, Hanski I (2006) Consequences of forest fragmentation for polyporous fungi at two spatial scales. Oikos 114:225–240

Quinn GP, Keough MJ (2002) Experimental Design and Data Analysis for Biologists. Cambridge University Press, Cambridge

R Core Development Team (2008) R: a language and environment for statistical computing. Vienna, Austria: R Foundation for Statistical Computing 3-900051-07-0

Ranius T (2002) Influence of stand size and quality of tree hollows on saproxylic beetles in Sweden. Biol Conserv 103:85–91

Ranius T (2006) Measuring the dispersal of saproxylic insects: a key characteristic for their conservation. Popul Ecol 48:177–188

Ranius T, Fahrig L (2006) Targets for maintenance of dead wood for biodiversity conservation based on extinction thresholds. Scand J For Res 21:201–208

Reemer M (2005) Saproxylic hoverflies benefit by modern forest management (Diptera: Syrphidae). J Insect Conserv 9:49–59

Roberge J-M, Angelstam P, Villard MA (2008) Specialised woodpeckers and naturalness in hemiboreal forests—Deriving quantitative targets for conservation planning. Biol Conserv 141:997–1012

Roff DA (2006) Introduction to computer-intensive methods of data analysis in biology. Cambridge University Press, Cambridge

Schiegg K (2000) Are there saproxylic beetle species characteristic of high dead wood connectivity? Ecography 23:579–587

Schlaepfer R, Bütler R (2004) Critères et indicateurs de la gestion des ressources forestières: Prise en compte de la complexité et de l'approche écosystémique. Revue Forestière Française 56:431–444

Schmidt O (2006) Totes Holz voller Leben. LWF aktuell 53:1

Schulz U, Ammer U (1997) Aufgeklappte Wurzelteller und ihr Beitrag zur Insekten-Diversität des Waldes. Mitt Dtsch Ges Allg Angew Ent 11:677–682

Siitonen J (2001) Forest management, coarse woody debris and saproxylic organisms: Fennoscandian boreal forests as an example. Ecol Bull 49:11–41

Siitonen J, Saaristo L (2000) Habitat requirements and conservation of Pytho kolwensis, a beetle species of old-growth boreal forest. Biol Conserv 94:211–220

Siitonen J, Martikainen P, Punttila P, Rauh J (2000) Coarse woody debris and stand characteristics in mature managed and old-growth boreal mesic forests in southern Finland. Forest Ecol Manag 128:211–225

Similä M, Kouki J, Martikainen P (2003) Saproxylic beetles in managed and seminatural scots pine forests: quality of dead wood matters. Forest Ecol Manag 174:365–381

Speight MCD (1989) Saproxylic invertebrates and their conservation. Council Eur Nat Environ Ser 42:1–79

Stokland JN, Tomter SM, Söderberg U (2004) Development of dead wood indicators for biodiversity monitoring: experiences from Scandinavia. In: Marchetti M (ed) Proceedings of the monitoring and indicators of forest biodiversity in Europe—from ideas to operationality, Florence, 207–226pp

Sullivan TP, Sullivan DS (2001) Influence of variable retention harvest on forest ecosystems. II Diversity and population dynamics of small mammals. J Appl Ecol 38:1234–1252

ter Braak CJF, Smilauer P (1998) CANOCO reference manual and user's guide to Canoco for Windows: software for Canonical community ordination (version 4). Mirocomputer Power, Ithaca, New York

Tilman D, May RM, Lehman C, Nowak M (1994) Habitat destruction and the extinction debt. Nature 371:65–66

Tremblay JA, Ibarzabal C, Dussault C, Savard JP (2009) Habitat requirements of breeding black-backed woodpecker in unburned boreal forests. Avian Conserv Ecol 4(1):2, [online] ULR: http://www.ace-eco.org/vol4/iss1/art2

Ulikzka H, Angelstam P (2000) Assessing conservation values of forest stands based on specialised lichens and birds. Biol Conserv 95:343–351

Utschick H (1991) Beziehungen zwischen Totholzreichtum und Vogelwelt in Wirtschaftswäldern. Eur J Forest Res 110:135–148

Villard M-A (2009) Designing studies to develop conservation targets: a review of the challenges. In: Villard M-A, Jonsson BG (eds) Setting conservation targets for managed forest Landscapes. Cons Biol 16, 30–49

Vodka S, Konvicka M, Cizek L (2009) Habitat preferences of oak-feeding xylophagous beetles in a temperate woodland: implications for forest history and management. J Insect Conserv doi:10.1007/s10841-008-9202-1

Winter S, Flade M, Schumacher H, Kerstan E, Möller G (2005) The importance of near natural stand structures for the biocoenosis of lowland beech forests. For Snow Lansc Res 79:127–144
Acknowledgments
We thank Karen A. Brune for linguistic revision of the manuscript and Thibault Lachat, Christophe Bouget and an anonymous reviewer for helpful comments on an earlier version of the manuscript.
Additional information
Communicated by K. Puettmann.
Electronic supplementary material
Below is the link to the electronic supplementary material.
About this article
Cite this article
Müller, J., Bütler, R. A review of habitat thresholds for dead wood: a baseline for management recommendations in European forests. Eur J Forest Res 129, 981–992 (2010). https://doi.org/10.1007/s10342-010-0400-5
Received:

Revised:

Accepted:

Published:

Issue Date:

DOI: https://doi.org/10.1007/s10342-010-0400-5
Keywords