Abstract
It has been suggested that during the past several decades, the frequency and the intensity of wildfires have markedly increased in the Mediterranean basin. We came to assess this postulation in the forested region of Mount Carmel, Israel. This region is characterized by Quercus spp. and Pistacia spp. maquis and has been intensely afforested with Pinus spp. stands since the 1920s. We compiled a GIS-based database of the fires recorded in the region since 1983, in addition to archiving data beginning from the 1940s. The data were collected from land stewardship agencies' archives, fire departments and aerial photographs. Prior to the early 1980s, no systematic documentation of the fires was available, rather just sporadic qualitative documentation of the large forest fires that occurred. Between 1944 and 1982, only 6 large fires were documented, while after that 11 large fires occurred. Analysis indicated that the spatial distribution of the fires does not occur at random, and their locations are significantly closer to roadsides compared to an expected random distribution. The annual number of fires and the areas burned during the last two decades were not correlated with annual precipitation in any manner. Accordingly, we suggest that the increased number of large forest fires during the last decades is associated with the maturation and senescence of the planted forest coupled with increased human activities.
This is a preview of subscription content,
to check access.
Access this article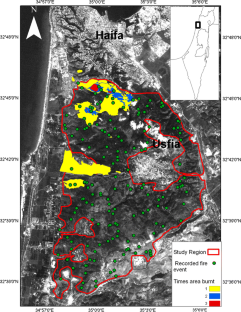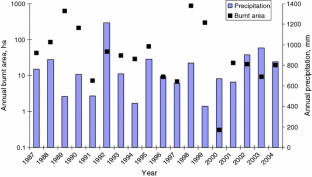 References
Anderlind L (1885) Der Einfluss der Gebirgswaldungen im nordlichen Palaestina auf die Vermehrung der wasserigen Niederschlage deselb, 2. Z Dtsch Palaestina-Vereins 8:101–116

Arianoutsou M, Ne'eman G (2000) Post-fire regeneration of natural Pinus halepensis forests in the east Mediterranean basin. In: Ne'eman G, Trabaud L (eds) Ecology biogeography and management of Pinus halepensis and P. brutia forest ecosystems in the Mediterranean basin. Backhuys, Leiden, pp 269–290

Cseresnyés I, Csontos P, Bózsing E (2006) Stand age influence on litter mass of Pinus nigra plantations on dolomite hills in Hungary. Can J Bot 84:363–370. doi:10.1139/B06-003

De Luis M, Garcia-Cano MF, Cortina J, Raventos J, Gonzales-Hidalgo JC, Sanchez JR (2001) Climate trends, disturbances and short-term vegetation dynamics in a Mediterranean shrubland. For Ecol Manage 147:25–37. doi:10.1016/S0378-1127(00)00438-2

Fox BJ, Fox MD (1986) Resilience of animal and plant communities to human disturbance. In: Dell B, Hopkins AJM, Lamont BB (eds) Resilience in Mediterranean-type ecosystems. Dr. W. Junk Publishers, pp 39–64

Gindel J (1944) Aleppo pine as a medium for tree ring analysis. Tree Ring Bull 11:6–8

Giovannini G, Vallejo R, Lucchesi S, Bautista S, Ciompi S, Llovet J (2001) Effects of land use and eventual fire on soil erodibility in dry Mediterranean conditions. For Ecol Manage 147:15–23. doi:10.1016/S0378-1127(00)00437-0

JRC-EFFIS (2006) Forest fires in Europe. Report No 7, Land Management and Natural Hazards Unit, p 79

Kadmon R, Harari-Kremer R (1999) Studying long-term vegetation dynamics using digital processing of historical aerial photographs. Remote Sens Environ 68:164–176. doi:10.1016/S0034-4257(98)00109-6

Keidar G (2001) Causes and factors in forest fires in Israel. Thesis submitted for MA degree, Department of Geography, University of Haifa, Haifa, Israel (In Hebrew with English abstract)

Lahav C, Farkash M (1986) Carmel: nature and landscape. The Israeli Society for the Protection of Nature (in Hebrew)

Lavi A, Perevolotsky A, Kigel J, Noy-Meir I (2005) Invasion of Pinus halepensis from plantations into adjacent natural habitats. Appl Veg Sci 8:85–92. doi:10.1658/1402-2001(2005)008[0085:IOPHFP]2.0.CO;2

Le Houérou HN (1974) Fire and vegetation in the Mediterranean basin. Annual Tall Timber Fire Ecology conference, vol 13, pp 237–277

Levin N, Saaroni H (1999) Fire weather in Israel: synoptic climatological analysis. GeoJournal 47:523–538. doi:10.1023/A:1007087217249

Liphschitz N, Biger G (2001) Past distribution of Aleppo pine (Pinus halepensis) in the mountains of Israel (Palestine). Holocene 11:427–436. doi:10.1191/095968301678302869

Mendel Z, Liphschitz N (1988) Unseasonable latewood and incrusted pits are the cause of drying in Pinus halepensis and P eldarica Infested with Matsucoccus josephi. J Exp Bot 39:951–959. doi:10.1093/jxb/39.7.951

Mendel Z, Assael F, Saphir N, Zehavi A, Kfisheh WAM (1994) Matsucoccus josephi and Pineus pini (Homoptera) on pine trees in parts of the near east. Phytoparasitica-bet dagan 22:9–18

Moreira F, Ferreira P, Rego FC, Bunting S (2001) Landscape changes and breeding bird assemblages in north-western Portugal: the role of fire. Landscape Ecol 16:175–187. doi:10.1023/A:1011169614489

Moriondo M, Good P, Durao R, Bindi M, Giannakopoulos C, Corte-Real J (2006) Potential impact of climate change on fire risk in the Mediterranean area. Clin Res 31:85–95. doi:10.3354/cr031085

Naveh Z, Carmel Y (2003) The evolution of the cultural Mediterranean landscape in Israel as affected by fire, grazing, and human activities. In: Wasser SP (ed) eEvolutionary theory and processes: modern horizons papers in honour of Eviatar Nevo. Kluwer Academic, Dordrecht, pp 337–409

Neeman G, Goubtz S, Nathan R (2004) Reproductive traits of Pinus halepensis in the light of fire: a critical review. Plant Ecol 171:69–79. doi:10.1023/B:VEGE.0000029380.04821.99

Pausas JP (2004) Changes in fire and climate in the eastern Iberian Peninsula (Mediterranean Basin). Clim Change 63:337–350. doi:10.1023/B:CLIM.0000018508.94901.9c

Pausas JG, Vallejo VR (1999) The role of fire in European Mediterranean Ecosystems. In: Chuvieco E (ed) Remote sensing of large wildfires in the European Mediterranean Basin. Springer, Berlin, pp 3–16

Pausas JP, Llovet J, Rodrigo A, Vallejo R (2008) Are wildfires a disaster in the Mediterranean basin: a review. Int J Wildland Fire 17(6):713–723. doi:10.1071/WF07151

Richardson DM (1998) Forestry trees as invasive aliens. Conserv Biol 12:18–26. doi:10.1046/j.1523-1739.1998.96392.x

Richardson DM, Higgins SI (1998) Pine invasions in the Southern Hemisphere. In: Richardson DM (ed) Ecology, biogeography of Pinus. Cambridge University Press, Cambridge, pp 450–474

Safriel UN (1997) The Carmel fire and its conservation repercussions. Int J Wildland Fire 7:277–284. doi:10.1071/WF9970277

Shoshany M, Goldshleger N (2002) Land use and population density changes in Israel, 1950 to 1990: analysis of regional and local trends. Land Use Policy 19:123–133. doi:10.1016/S0264-8377(02)00008-X

Taylor SW, Carroll AL (2004) Disturbance, forest age, and mountain pine beetle outbreak dynamics in BC: a historical perspective. In: Shore TL, Brooks JE, Stone JE (eds) Mountain pine beetle symposium: challenges and solutions. 30–31 October 2003, Kelowna, British Columbia, Canada. Natural Resources Canada, Canadian Forest Service, Pacific Forestry Centre, Information Report BC-X-399 Victoria, British Columbia, pp 41–51

Torn MS, Fried JS (1992) Predicting the impacts of global warming on wildland fire. Clim Change 21:257–274. doi:10.1007/BF00139726

Tristram HB (1865) The land of Israel: a journal of travel in Palestine. Society for Promotion of Christian Knowledge, London

Vázquez A, Pérez B, Fernández-González F, Moreno JM (2002) Recent fire regime characteristics and potential natural vegetation relationships in Spain. J Veg Sci 13:663–676. doi:10.1658/1100-9233(2002)013[0663:RFRCAP]2.0.CO;2

Velez R (2002) The causes of forest fires in the Mediterranean basin. Risk Management and Sustainable Forestry, 8th annual conference

Weitz J (1970) Forest and afforestation in Israel. Ramat Gan: Massada (in Hebrew)

Yesil A, Gurkan B, Saracoglu O, Zengin H (2005) Effect of the pest marchalina hellenica gennadius (homoptera, margarodidae) on the growth parameters of Pinus brutia ten. in Muğla region (Turkey). Pol J Ecol 53:451–458
Acknowledgments
We thank Ms. N. Tessler for assistance in constructing the GIS database. We would also like to thank the Jewish National Fund, and the Israeli Parks Nature Reserves Authority for providing us with relevant GIS databases. The authors are grateful to the useful and constructive comments suggested by two anonymous reviewers.
Additional information
Communicated by C. Ammer and M. Köhl.
About this article
Cite this article
Wittenberg, L., Malkinson, D. Spatio-temporal perspectives of forest fires regimes in a maturing Mediterranean mixed pine landscape. Eur J Forest Res 128, 297–304 (2009). https://doi.org/10.1007/s10342-009-0265-7
Received:

Revised:

Accepted:

Published:

Issue Date:

DOI: https://doi.org/10.1007/s10342-009-0265-7
Keywords