Abstract
Currently, massive dieback of Fraxinus excelsior is observed in countries of eastern, northern and central Europe, and the reasons for it are unclear. The aims of the present work were (a) to study fungal communities in declining F. excelsior crowns; (b) to clarify role of fungi in the decline. Shoots from symptomatic crowns were collected in four localities in central Sweden, and distributed into the following categories: (a) visually healthy; (b) initial necroses; (c) advanced necroses; (c) dead tops. The most frequently isolated fungi were Gibberella avenacea, Alternaria alternata, Epicoccum nigrum, Botryosphaeria stevensii, Valsa sp., Lewia sp., Aureobasidium pullulans and Phomopsis sp., and these taxa were consistently found in shoots of all four symptomatic categories. Forty-eight taxa of other fungi were isolated, and fungal diversity was not exhausted by the sampling effort. The same taxa of fungi were dominant in F. excelsior shoots of different symptomatic categories, and moderate to high similarity of fungal communities was observed in shoots despite the symptoms. Forty-four isolates from 24 fungal taxa were used for artificial inoculations of 277 1-year-old F. excelsior seedlings in bare root nursery. After 2 years, only four fungi caused symptomatic necroses of bark and cambium: A. alternata, E. nigrum, Chalara fraxinea and Phomopsis sp. The most pathogenic was C. fraxinea, inducing symptoms on 50% of inoculated trees, while three other fungi caused necroses on 3–17% of inoculated trees. Infection biology of C. fraxinea and environmental factors determining susceptibility of F. excelsior to decline deserve future investigations.
This is a preview of subscription content, log in to check access.
Access options
Buy single article
Instant access to the full article PDF.
US$ 39.95
Price includes VAT for USA
Subscribe to journal
Immediate online access to all issues from 2019. Subscription will auto renew annually.
US$ 99
This is the net price. Taxes to be calculated in checkout.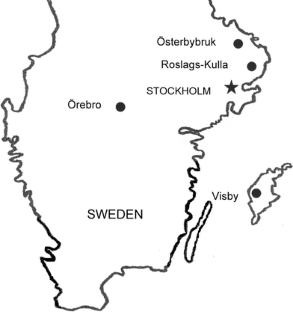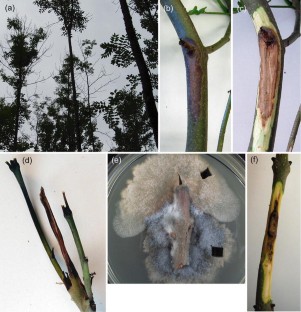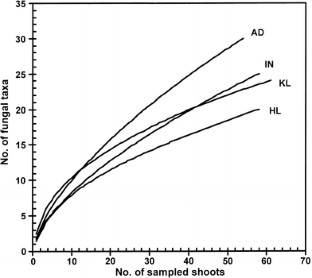 References
Altschul SF, Madden TL, Schäffer AA, Zhang J, Zhang Z, Miller W, Lipman DJ (1997) Gapped BLAST and PSI-BLAST: a new generation of protein database search programs. Nucleic Acids Res 25:3389–3402. doi:10.1093/nar/25.17.3389

Bakys R, Vasiliauskas R, Barklund P, Ihrmark K, Stenlid J (2006) Fungi in root systems and crowns of declining Fraxinus excelsior. In: Solheim H, Hietala AM (eds) Forest pathology research in the Nordic and Baltic countries 2005. Skogforsk, Ås, pp 71–72

Bakys R, Vasaitis R, Barklund P, Ihrmark K, Stenlid J (2008) Investigations concerning the role of Chalara fraxinea in declining Fraxinus excelsior. Plant Pathol. doi:10.1111/j.1365-3059.2008.01977.x

Barklund P (2005) Ash dieback takes over south and mid-Sweden. SkogsEko 3:11–13 (in Swedish)

Barklund P (2006) Unknown fungus causes dieback of ash shoots. SkogsEko 3:10–11 (in Swedish)

Barklund P (2007) Ash dieback. Faktablad om Växtskydd 198T (in Swedish)

Butin H, Kowalski T (1986) The natural pruning of branches and their biological conditions. III. The fungal flora of common maple, grey alder, silver beam, hornbeam and common ash. Eur J Forest Pathol 16:129–138. doi:10.1111/j.1439-0329.1986.tb01053.x

Cech T (2006) Eschenschäden in Österreich. Forstschutz Aktuell 37:18–20

Cech T, Hoyer-Tomiczek U (2007) Aktuelle Situation des Zurücksterbens der Esche in Österreich. Forstschutz Aktuell 40:8–10

Colwell RK, Coddington JA (1994) Estimating terrestrial biodiversity through extrapolation. Philos Trans R Soc Lond B Biol Sci 345:101–118. doi:10.1098/rstb.1994.0091

Griffith GS, Boddy L (1988) Fungal communities in attached ash (Fraxinus excelsior) twigs. Trans Br Mycol Soc 91:599–606

Griffith GS, Boddy L (1990) Fungal decomposition of attached angiosperm twigs. I. Decay community development in ash, beech and oak. New Phytol 116:407–415. doi:10.1111/j.1469-8137.1990.tb00526.x

Halmschlager E, Kirisits T (2008) First report of the ash dieback pathogen Chalara fraxinea on Fraxinus excelsior in Austria. Plant Pathol 57:1177

Heydeck P, Bemmann M, Kontzog H-G (2005) Triebsterben an Gemeiner Esche (Fraxinus excelsior) im nordostdeutschen Tiefland. Forst Holz 60:505–506

Ihaka R, Gentleman R (1996) R: a language for data analysis and graphics. J Comput Graph Statist 5:299–314. doi:10.2307/1390807

Juodvalkis A, Vasiliauskas A (2002) The extent and possible causes of dieback of ash stands in Lithuania. LZUU Mokslo Darbai. Biomedicinos Mokslai 56:17–22 (in Lithuanian)

Kåren O, Högberg N, Dahlberg A, Jonsson L, Nylund JE (1997) Inter- and intraspecific variation in the ITS region of rDNA of ectomycorrhizal fungi in Fennoscandia as detected by endonuclease analysis. New Phytol 136:313–325. doi:10.1046/j.1469-8137.1997.00742.x

Kirisits T, Halmschlager E (2008) Eschenpilz nachgewiesen. Forstzeitung 2:32–33

Kowalski T (2006) Chalara fraxinea sp. nov. associated with dieback of ash (Fraxinus excelsior). For Pathol 36:264–270. doi:10.1111/j.1439-0329.2006.00453.x (in Poland)

Kowalski T, Holdenrieder O (2008) Eine neue Pilzkrankheit an Esche in Europa. Schweiz Z Forstwes 159:45–50

Kowalski T, Kehr RD (1992) Endophytic fungal colonization of branch bases in several forest tree species. Sydowia 44:137–168

Kowalski T, Lukomska A (2005) Studies of Fraxinus excelsior L. dieback in stands of Wloszczowa Forest Unit. Acta Agrobot 59:429–440 (in Polish)

Lindahl BD, Ihrmark K, Boberg J, Trumbore SE, Högberg P, Stenlid J, Finlay RD (2006) Spatial separation of litter decomposition and mycorrhizal nitrogen uptake in a boreal forest. New Phytol 173:611–620. doi:10.1111/j.1469-8137.2006.01936.x

Luque J, Girbal J (1989) Dieback of cork oak (Quercus suber) in Catalonia (NE Spain) caused by Botryosphaeria stevensii. Eur J Forest Pathol 19:7–13. doi:10.1111/j.1439-0329.1989.tb00764.x

Lygis V, Vasiliauskas R, Larsson K, Stenlid J (2005) Wood-inhabiting fungi in stems of Fraxinus excelsior in declining ash stands of northern Lithuania, with particular reference to Armillaria cepistipes. Scand J For Res 20:337–346. doi:10.1080/02827580510036238

Lygis V, Vasiliauskas R, Stenlid J (2006) Pathological evaluation of declining Fraxinus excelsior stands of northern Lithuania, with particular reference to population of Armillaria cepistipes. In: Solheim H, Hietala AM (eds) Forest pathology research in the Nordic and Baltic countries 2005. Skogforsk, Ås, pp 73–76

Magguran AM (1998) Ecological diversity and its measurement. Princeton University Press, Princeton

Przybyl K (2002a) Causes of decline of ash trees and stands. Project Report. Central Board of State Forests, Warsaw (in Polish)

Przybyl K (2002b) Fungi associated with necrotic apical parts of Fraxinus excelsior shoots. For Pathol 32:387–394. doi:10.1046/j.1439-0329.2002.00301.x

Przybyl K (2002c) Mycobiota of thin roots showing decay of Fraxinus excelsior young trees. Dendrobiology 48:65–69

Przybyl K (2003) Effect of Pseudomonas spp. on inoculation of young plants of Fraxinus excelsior stem with Diplodia mutila. Dendrobiology 50:29–32

Pukacki PM, Przybyl K (2005) Frost injury as a possible inciting factor in bud and shoot necroses of Fraxinus excelsior L. J Phytopathol 153:512–516. doi:10.1111/j.1439-0434.2005.01010.x

Schumacher J, Wulf A, Leonhard S (2007) Erster Nachweis von Chalara fraxinea T.Kowalski sp. nov. in Deutschland—ein Verursacher neuartiger Schäden an Eschen. Nachrichtenbl Deut Pflanzenschutzd 59:121–123

Sinclair WA, Lyon HH (2005) Diseases of trees and shrubs, 2nd edn. Cornell University Press, Ithaca

Skovsgaard JP, Thomsen IM, Skovgaard IM, Martinussen T (2009) Associations between symptoms of dieback in even-aged stands of ash (Fraxinus excelsior L.). For Pathol (in press)

Skuodiene L, Grybauskas K, Palionis V, Maslinskas R (2003) The health condition of ash stands and possible reasons of their dieback. Miskininkyste 54:86–96 (in Lithuanian)

Slippers B, Fourie G, Crous PW, Coutinho TA, Wingfield BD, Carnegie AJ, Wingfield MJ (2004) Speciation and distribution of Botryosphaeria spp. on native and introduced Eucalyptus trees in Australia and South Africa. Stud Mycol 50:343–358

Stenlid J (1985) Population structure of Heterobasidion annosum as determined by somatic incompatibility, sexual incompatibility, and isoenzyme patterns. Can J Bot 63:2268–2273

Thomsen IM, Skovsgaard JP (2006) Ash dieback: climatic damage or fungal attack? Skoven 38:408–411 (in Danish)

Thomsen IM, Skovsgaard JP (2007) Attacks by honey fungus associated with crown dieback of ash. Skoven 39:518–520 (in Danish)

Thomsen IM, Skovsgaard JP, Leonhard B (2006) Ash trees with dry tops. Gront Miljo 24:18–19 (in Danish)

Thomsen IM, Skovsgaard JP, Barklund P, Vasaitis R (2007) Fungal disease is the cause of ash dieback. Skoven 39:234–236 (in Danish)

Vajna L (1986) Branch canker and dieback of sessile oak (Quercus petraea) in Hungary caused by Diplodia mutila. Eur J Forest Pathol 16:223–229

Vasiliauskas A, Juodvalkis A, Treigiene A (2002) Possible causes of a massive dieback of ash in forests of Lithuania. In: Storozhenko VG (ed) Proceedings of the fifth international conference on forest pathology and mycology. Russian Academy of Sciences, Moscow, pp 35–37 (in Russian)

Vasiliauskas R, Bakys R, Lygis V, Barklund P, Ihrmark K, Stenlid J (2006) Fungi associated with crown dieback of Fraxinus excelsior. In: Oszako T, Woodward S (eds) Possible limitation of dieback phenomena in broadleaved stands. Forest Research Institute, Warsaw, pp 45–53

White TJ, Bruns T, Lee S, Taylor J (1990) Amplification and direct sequencing of fungal ribosomal RNA genes for phylogenethics. In: Innis MA, Gelfand DH, Sninsky JJ, White TJ (eds) PCR protocols: a guide to methods and applications. Academic Press, San Diego, pp 315–322

Wulf A, Schumacher J (2005) Die Waldschutzsituation 2005 in der Bundesrepublik Deutschland. Forst Holz 60:503–505

Zaspel I, Nirenberg HI (2002) Zum Auftreten von Rindenschäden bei Robinia pseudoacacia L. Nachrichtenbl Deut Pflanzenschutzd 54:105–109
Acknowledgments
The study was financially supported by Stiftelsen Oscar och Lilli Lamms Minne, Carl Tryggers Stiftelse för Vetenskaplig Forskning and Swedish Research Council for Environment, Agricultural Sciences and Spatial Planning (FORMAS). We thank Prof. Tadeusz Kowalski for providing isolates of Chalara fraxinea for molecular identification. Technical assistance of Katarina Ihrmark, Vaidotas Lygis and Audrius Menkis is gratefully acknowledged. I.M. Thomsen was granted by the Danish Forest and Nature Agency.
Additional information
Communicated by R. Matyssek.
About this article
Cite this article
Bakys, R., Vasaitis, R., Barklund, P. et al. Occurrence and pathogenicity of fungi in necrotic and non-symptomatic shoots of declining common ash (Fraxinus excelsior) in Sweden. Eur J Forest Res 128, 51–60 (2009). https://doi.org/10.1007/s10342-008-0238-2
Received:

Revised:

Accepted:

Published:

Issue Date:
Keywords
Bark necrosis

Chalara fraxinea

Emerging diseases

Forestry

Fungal communities

Tree dieback