Zusammenfassung
Ziel der Untersuchungen war es, herauszufinden, ob glatte Berostung auf Früchten mit einem Glanz-(Luster-)Sensor nicht invasiv und zeitnah erkannt werden kann – unter dem Einfluss von Sorte, Schalenfarbe und Oberflächenkrümmung, d. h. Messposition auf der konkaven Frucht. Dazu wurden Birnen dreier Sorten aus dem LEH auf dreierlei Weise untersucht, zuerst visuell auf Berostungsart und -verteilung, mit dem 3D Farbmikroskop auf Rauigkeitstiefe und Oberflächenbeschaffenheit und mit einem Glanz- bzw. Lustersensor.
'Conference' Birnen aus Belgien wiesen die stärkste flächige glatte Berostung im bauchigen Bereich des Kelches und fleckige Berostung am Stielende auf, 'Alexander Lucas' aus Deutschland kleine flächige Berostung im Bauchbereich mit sonst glatter unberosteter Schale und 'Abate Fetel' aus Italien flächige glatte Berostung in den oberen cm nahe am Stielansatz der Frucht.
Untersuchungen mit einem 3D Farb-Mikroskop bei 200facher Vergrößerung zeigten eine 2,5 fach höhere Rauigkeitstiefe – als Maß der Unebenheit der Fruchtschale – bei den berosteten Schalenpartien der 'Conference' Birnen von ca. 50 µm im Vergleich zu den glatten, unberosteten Schalenarealen der 'Alexander Lucas' Birnen mit nur ca. 20 µm.
Schwach berostete Früchte der Birnensorte 'Alexander Lucas' erreichten signifikant höhere und solche von 'Abate Fetel' tendenziell höhere Luster-(Glanz-)werte mit geringerer Streuung der Messwerte als stark berostete Früchte der gleichen Sorte. Luster-(Glanz-)werte im schmalen Halsbereich lagen etwas höher als im bauchigen Bereich der Frucht; dunkle Schalenfarbe wies höhere Lusterwerte auf als helle.
Diese ersten Untersuchungen mit 180 Einzelmessungen deuten darauf hin, dass die Erkennung glatter Berostung mit diesem Sensorsystem auf einer Kombination von Farbe und Oberflächenbeschaffenheit bzw. Rauheit beruht. Weiterer Forschungsbedarf besteht.
Die Ergebnisse stehen im Einklang mit denen bei Pflaumen, bei denen ebenfalls eine raue, bereifte Oberfläche geringe, aber eine spiegelnde, glatte, polierte Fruchtoberfläche höhere Lusterwerte erzeugte.
Abstract
The objective of the present study was to investigate possibilities of non-destructive examination of russet on pome fruit using a luster sensor (Mukhtar et al. 2014) including varietal, colour and positional influences. Therefore, pears of three varieties from the local market in December, were investigated by three means, visual observation of the type and spread of russet, 3D colour microscope and sensor technology.
Visual oberservation showed that pears of cv. 'Conference' from Belgium exhibited the most severe russet, particularly in the spherical part of the fruit, but also with speckled russet at the elongated stalk end of the fruit. Pears of cv. 'Alexander Lucas' from Germany had the least russet localized at the calyx end of the fruit and those of cv: 'Abate Fetel' from Italy showed an intermediate level of russet at the calyx end.
Three-dimensional colour microscopy at x200 magnification.showed that russet, i. e. suberinisation of the fruit peel, on cv. 'Conference' caused a 2.5-fold increase in roughness of ca. 50 µm compared with ca. 20 µm on russet-devoid peel sections of cv: 'Alexander Lucas'.
Scarcely russeted peel of cv. 'Alexander Lucas' showed significantly larger luster levels and those of cv. 'Abate Fetel' the tendency of larger luster levels with a smaller variation than russet devoid fruit peel. Russet was more difficult to detect on the elongated part of the pear fruit next to the pedicel. These first results indicate that this sensor-based russet detection is based on a combination of peel roughness and colour; but require further investigations.
The results of larger luster levels on russeted pears are in line with those on plums (Mukhtar et al. 2014) where polishing during harvest and postharvest handling doubled luster levels compared with the undisturbed natural amorphous fruit surface.
Access options
Buy single article
Instant access to the full article PDF.
US$ 39.95
Tax calculation will be finalised during checkout.
Subscribe to journal
Immediate online access to all issues from 2019. Subscription will auto renew annually.
US$ 72.19
Tax calculation will be finalised during checkout.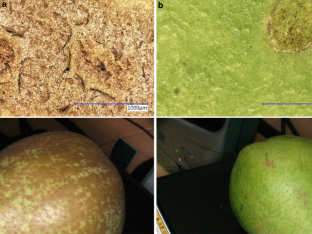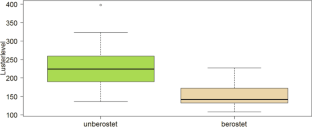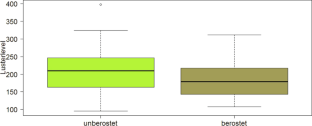 Literatur
Bacher W, Blanke M (1999) Einfluss von Ammoniumdepotdüngung bei Kohlrabi auf Benetzbarkeit und Lichtreflexion. Angew Bot 73:34–37

Bertschinger L, Höhn E, Holliger E, Stadler W, Widmer A et al (1999) Update zur Berostung von Kernobst. Schweiz Z Obst Weinbau 22:538–540

Blanke M (1999) Spektrale Erfassung von Schorf- und Druckstellen auf Äpfeln. 34. Tagungsband der Dt. Gesellschaft für Qualitätsforschung, Freising-Weihenstephan, 22.–23. März 1999. TU-München, München. ISBN 3980523039

Bundesanstalt für Landwirtschaft und Ernährung (BLE) (2013) Vermarktungsnormen für Birnen. http://www.ble.de/SharedDocs/Downloads/02_Kontrolle/01_Qualitaetskontrolle/02_VermarktungsnormenObstGemuese/EG_Vermarktungsnormen/Birnen. Zugegriffen: 28. Jan. 2015

Damerow L (1991) Remissionsverhalten von Äpfeln. Dissertation A der Humboldt Universität Berlin

Gill GF, Urquiza DA, Bofarull JA, Montenegro G, Zoffoli JP (1993) Russet development in the 'Beurre Bosc' pear. Proc Intl Pear Symp ISHS Acta Hortic 367:239–247

Jones KM, Bound SA, Summers CR, Oakford MJ (1991) Crop regulation and skin finish with Fuji apples. Compact Fruit Trees 31(2):1–5

Keyence (2015) Firmenprospekt CZ-H72 Glanzerkennungssensor

Khanal BP, Grimm E, Knoche M (2013) Russeting in apple and pear. AoB PLANTS 5. doi:10.1093/aobpla/pls048

Kirby AHM, Bennett M (1967) Susceptibility of apple and pear varieties to damage by certain organic fungicides. J Hortic Sci 42(2):117–132

Kunz S, Eitzen-Ritter M, Haug P (2007) Feuerbrandbekämpfung im ökologischen Obstbau. Öko Obstbau :1–7

Mukhtar A, Damerow L, Baker EA, Balmer M, Blanke M (2014) Nicht destruktive Bestimmung der Beduftung bzw. des Duftfilmes bei Pflaumen. Erwerbs Obstbau 56(3):85–88

Statistica (2015) http://de.statista.com/statistik/daten/studie/247425/umfrage/die-beliebtesten-obstsorten. Zugegriffen: 2. Apr 2015

Teviotdale BL, Viveros M, Grant GA (1997) Apple russetting influenced by more than copper sprays. Calif Agric (Berkeley) 51(1):10–11

Zschammer A (2009) Vielfalt der Birnensorten – aus Sicht des Bundessortenamtes. 27. Arbeitstagung Qualitätskontrolle Obst und Gemüse, Vortrag BLE, Bonn, 10. März 2009.
Danksagung
Wir danken Frau M. Förster für die Anfertigung der Zeichnung zum Messschema (Abb. 2b) und Lars Tiletscke, Fa. Keyence für die Bereitstellung des 3D Mikroskopes und die Messungen der Rauigkeitstiefe, H.J. Levin für die Hilfestellung bei den Richtlinien der Berostung in den Vermarktungsnormen für Birnen und Dr. David Cooke für die Durchsicht des englischen Abstract.
About this article
Cite this article
Klemm, M., Röttger, O., Damerow, L. et al. Nicht-destruktive Erkennung von Berostung bei Birnen. Erwerbs-Obstbau 59, 1–11 (2017). https://doi.org/10.1007/s10341-016-0299-1
Received:

Accepted:

Published:

Issue Date:
Schlüsselwörter
Birne (Pyrus communis L)

Berostung

Fruchtqualität

Fruchtfarbe

Fruchtschale

Gibberelline

Kernobst

Rauigkeitstiefe

Suberin

3D image
Keywords
Pear (Pyrus communis L)

Fruit quality

Fruit peel

Gibberellin

Pome fruit

Resource conservation

Russet

Suberin

Sustainability