Abstract
The purpose of this research was to appreciate the impact of the synthetic cytokinin, well known as thidiazuron (TDZ) on seedless berry quality of cv. 'Recel Uzümü'. Three concentration levels including 0, 5 and 10 mg/L were applied on the grapevines during different phenological stages of grapevine such as Time 1: beginning of berry stetting, Time 2: berries pepper corn size and Time 3: berries pea size. While TDZ application times had no impacts on cultivar characteristics, it was determined that the application doses of TDZ had major impacts on yield and quality components of cv. 'Recel Uzümü'.
Consequently, ascending TDZ doses increased berry and cluster size and led to decreases in total soluble solids content, total phenolic compound content, total anthocyanin content and p-value of grape juice regardless of TDZ application time. The most effective TDZ dose was 10 ppm for improving berry and cluster size in cv. 'Recel Uzümü'.
Zusammenfassung
Ziel dieser Untersuchung war es, den Einfluss des synthetischen Cytokinins, das unter dem Namen Thidiazuron (TDZ) bekannt ist, auf die Qualität der Beeren der kernlosen Sorte 'Recel Uzümü' zu messen. Die Weinreben wurden, zu verschiedenen phänologischen Stadien, mit 3 Konzentrationen (0, 5 und 10 mg/l) behandelt. Der erste Termin war zu Beginn der Beerenentwicklung, der zweite Termin bei Pfefferkorngröße der Beeren und der 3. Termin bei Erbsengröße der Beeren. Während die TDZ-Anwendungstermine keinen Einfluss auf die Pflanzen zeigten, hatten die TDZ-Konzentrationen großen Einfluss auf Ertrag und Qualitätsmerkmale der Sorte 'Recel Uzümü'.
Demzufolge verbesserten ansteigende TDZ-Konzentrationen die Beeren- und die Traubengröße und führten zum Absinken der löslichen Trockensubstanz, des Gesamt-Phenolgehaltes, des Gesamt-Anthocyangehaltes und des p-Wertes beim Traubensaft, unabhängig vom Zeitpunkt der TDZ-Anwendung. Die wirkungsvollste Dosierung von TDZ, um die Beeren- und Traubengröße der Sorte 'Recel Uzümü' zu verbessern, waren 10 mg/l.
Access options
Buy single article
Instant access to the full article PDF.
USD 39.95
Price includes VAT (USA)
Tax calculation will be finalised during checkout.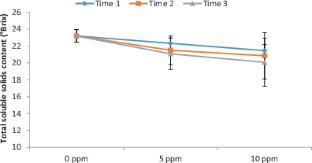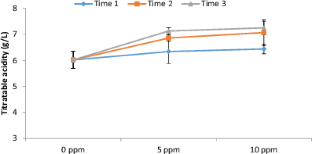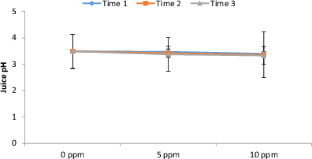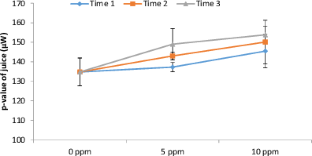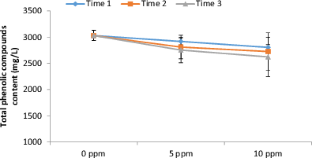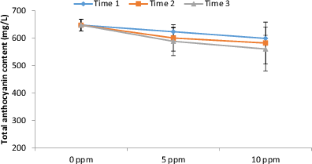 References
Abu-Zahra TR (2010) Berry size of thompson seedless as influenced by the application of gibberellic acid and cane girdling. Pak J Bot 42(3):1755–1760

Ames BN, Shigena MK, Hagen TM (1993) Oxidants, antioxidants and the degenerative diseases of aging. Proc Natl Acad Sci 90:7915–7922

Anonymous (2012) StatOIV extracts. International organization of vine and wine. http://www.oiv.int/public/medias/4524/oiv-vine-and-wine-outlook-2012-completfinal.pdf. Accessed 8. July 2016

Anonymous (2014) Crop production statistics. Turkish statistical institute. http://www.tuik.gov.tr. Accessed 19 Jan 2016

Boulton R (1980) The general relationship between potassium, sodium and pH in grape juice and wine. Am J Enol Vitic 31:182–186

Cengiz Ö, Yasasin AS, Ergonul O, Aydin S (2012) The effects of berry thinning and gibberellin on 'Recel Uzümü' table grapes. Pak J Agric Sci 49(2):105–112

Coombe BG (1995) Adoptation of a system for identifying grapevine growth stages. Aust J Grape Wine Res 1:100–110

Dimovska V, Ivanova V, Ilieva F, Sofijanova E (2011) Influence of bio regulator gibberellic acid on some technological characteristics of cluster and berry from some seedless grape varieties. J Agric Sci Technol B 1:1054–1058

Dokoozlian NK, Luvisi DA, Scrader PL, Moriyama MM (1995) Influence of trunk girdle timing and ethephon on the quality of Crimson Seedless table grapes. Calif Agric (Berkeley) 49:36–40

Gagne S, Cluzet S, Merillon JM, Geny L (2011) ABA initiates anthocyanin production in grape cell cultures. J Plant Growth Regul 30:1–10

Heilmann H (2000) Methodologische Konsequenzen aus Vergleichsuntersuchungen an ökologisch und konventionell erzeugten Äpfeln. 7. Internationale Tagung elektrochemischer Qualitätstest, Veitshöchheim, 2000.

Hoffmann M (1991) Elektrochemische Merkmale zur Differenzierung von Lebensmitteln. In: Ploeger M, Vogtmann H (eds) Lebensmittelqualität – Ganzheitliche Methoden und Konzepte – Alternative Konzepte, vol 66. Deukalion Verlag, Hamburg, pp 67–86

Iland P (1987) Interpretation of acidity parameters in grapes and wine. Aust Grape Grow Winemak 5:81–85

Kanellis AK, Roubelakis-Angelakis KA et al (1993) Grape. In: Seymour GB (ed) Biochemistry of Fruit Ripening. Chapman and Hall, Cambridge, pp 189–234

Kara Z, Ates F, Sabır A (2012) Some quality parameters investigated in 'Sultani Çekirdeksiz' (Vitis vinifera L.) clones during ripening period. Conference 47th Croatian and 7th International Symposium on Agriculture Section. vol. 8., pp 761–765

Kim WS, Chung SJ (2000) Effect of GA3, ethephon, girdling and wiring treatment on the berry enlargement and maturity of 'Himrod' grape. J Korean Soc Hortic Sci 41:75–77

Kok D (2011) Influences of pre and post verasion cluster thinning treatments on grape composition variables and monoterpene levels ofVitis viniferaL. cv. 'Sauvignon Blanc. J Food Agric Environ 9(1):22–26

Kok D, Bal E (2014) The response of monoterpene compounds of cv. 'Gewürztraminer' grape (Vitis vinifera L.) to various doses of prohexadione-calcium applied at different periods. Turkish J Nat Sci (special Issue) 1:1231–1235

Kok D, Bal E, Celik S (2013) Influences of various canopy management techniques on wine grape quality of V. vinifera L. cv. 'Kalecik Karası. Bulg J Agric Sci 19(6):1247–1252

Korkutal I, Bahar E, Gokhan O (2008) The characteristics of substances regulating growth and development of plants and the utilization of gibberellic acid (GA3) in viticulture. World J Agric Sci 4(3):321–325

Nampila R, Chen BS, Chen CC, Yang YS (2010) Effects of GA3 and CCPU on berry size of seedless grapes. Horticulture 35(3):53–64

Nickel LC (1985) New plant growth regulator increases grape size. Proc Plant Growth Regul Soc Am 12:1–7

Reynolds AG, Wardle DA, Zurowski C, Looney NE (1992) Phenylureas CPPU and thidiazuron affects yield components, fruit composition and storage potential of four seedless grape selections. J Am Soc Hortic Sci 1(117):85–89

Singleton VL, Timberlake CF, Kea L (1978) The phenolic cinnamates of white grapes and wine. J Sci Food Agric 29:403–410

Smith R (2008) Effects of CPPU, a synthetic cytokinin, on fruit set and yield. Sonoma Ctry Grape Day 7:2008

di Stefano R, Cravero MC (1991) Metodi per lo studio dei polifenolidell'uva. Riv Vitic Enol 2:37–45

Varoquaux F, Blanvillain R, Delseny M, Gallois P (2000) Less is better: new approaches for seedless fruit production. Trends Biotechnol 18:233–242

Winkler A, Cook J, Kliewer W, Lider L (1974) General viticulture. University of California Press, Berkeley, p 710

Zoffoli JP, Latorre BA, Naranjo P (2009) Preharvest applications of growth regulators and their effect on postharvest quality of table grapes during cold storage. Postharvest Biol Technol 51(2):183–192
About this article
Cite this article
Kok, D., Bal, E. Seedless Berry Growth and Bioactive Compounds of cv. 'Recel Uzümü' (V. Vinifera L.) as Affected by Application Doses and Times of Pre-Harvest Thidiazuron. Erwerbs-Obstbau 58, 253–258 (2016). https://doi.org/10.1007/s10341-016-0286-6
Received:

Accepted:

Published:

Issue Date:
Keywords
V. vinifera L.

Seedless Table Grape

Thidiazuron

Plant Growth Regulators

Berry Size

Cytokinin
Schlüsselwörter
V. vinifera L.

Kernlose Tafeltrauben

Thidiazuron

Pflanzenwachstumsregulatoren

Beerengröße

Cytokinin