Abstract
Cluster thinning (CT) and basal leaf removal (BLR) are common canopy management practices used in grape growing. In recent years, novel viticultural techniques have been evolved all around the world to decrease costs of yield management, causing improvement in grape quality. The purpose of this study was to evaluate the effects of CT and early and late period BLR treatments on yield and quality components of cv. 'Muscat Hamburg'. While BLR treatments were performing at pre-bloom (PB, early), berry set (BS), berries with pea size (PS), verasion (V), CT treatment was conducted at verasion period. Compared to Control, while the total phenolic compounds content, total anthocyanin content, free volatile terpenes content and potentially volatile terpenes content were made better by CT treatment and BLR treatments applied from berry set to verasion period gradually raised all these quality components.
As a result, BLR-PB treatment from BLR treatments, which was alternative to usual cluster thinning treatment in yield controlling grapevines was especially determined as powerful tool for improving quality characteristics of cv. 'Muscat Hamburg'.
Zusammenfassung
Die Ausdünnung des Traubenbehanges (CT) und das Entfernen der basalen Blätter (BLR) gehören zu den üblichen Laubwandarbeiten im Weinanbau. In den vergangenen Jahren haben sich weltweit neue Methoden etabliert, um Kosten im Erntemanagement zu senken und die Traubenqualität zu verbessern. Zweck dieser Studie war es, die Auswirkungen von CT- und frühen und späten BLR-Maßnahmen auf Ertrags- und Qualitätsparameter der Rebsorte 'Muscat Hamburg' zu untersuchen. Während die BLR-Maßnahmen vor der Blüte (PB, früh), zum Zeitpunkt des Beerenansatzes (BS), bei Beerenbehang in Erbsengröße (PS) und bei Reifebeginn (V) durchgeführt wurden, wurde die Ausdünnung des Traubenbehanges während der Verasion vorgenommen. Im Vergleich zu den anderen Varianten führten die Varianten CT und BLR-PB zu signifikant höherem Gesamtgehalt an phenolischen Verbindungen, Anthocyanen, freien flüchtigen Terpenen und potenziell flüchtigen Terpenen. Als Ergebnis lässt sich somit festhalten, dass sich von den BLR-Maßnahmen das frühe Entfernen der basalen Blätter als Alternative zur allgemein üblichen Ausdünnung des Traubenbehanges zur Ertragsregulierung in Reben als besonders wirksames Instrument herausgestellt hat, um die Qualitätskriterien bei der Rebsorte 'Muscat Hamburg' zu verbessern.
Access options
Buy single article
Instant access to the full article PDF.
USD 39.95
Price includes VAT (USA)
Tax calculation will be finalised during checkout.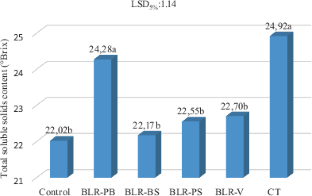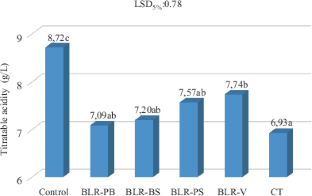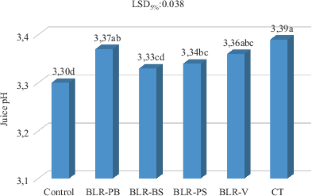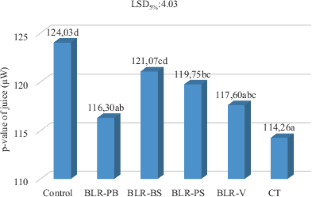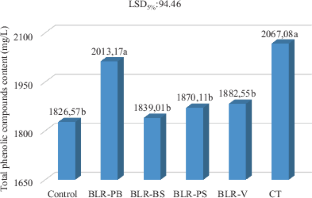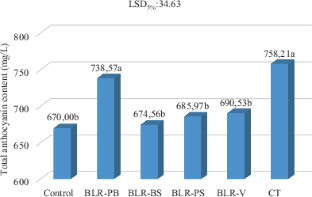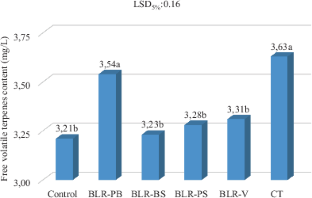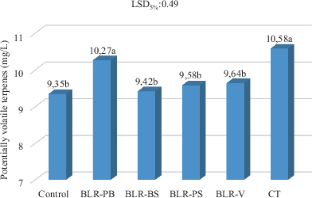 References
Bogicevic M, Maras V, Mugosa M, Kodzulovic V, Raicevic J, Sucu S, Failla O (2015) The effects of early leaf removal and cluster thinning treatments on berry growth and grape composition in cultivars Vranac and Cabernet Sauvignon. Chem Biol Technol Agric 2(13):1–8

Conde C, Silva P, Fontes N, Dias ACP, Tavares RM, Sousa MJ (2007) Biochemical changes throughout grape berry development and fruit and wine quality. Food 1:1–22

Diago MP, Ayestaran B, Guadalupe Z, Poni S, Tardaguila J (2012) Impact of pre-bloom and fruit-set basal leaf removal on the flavonol and anthocyanin composition of Tempranillo grapes. Am J Enol Vitic 63(3):367–376

Dimitriadis E, Williams PJ (1984) The development and use of a rapid analytical technique for estimation of free and potentially volatile monoterpene flavorants of grapes. Am J Enol Vitic 35:66–71

Di Stefano R, Cravero MC (1991) Metodi per lo studio dei polifenolidell'uva. Riv Vitic Enol 2:37–45

Dokoozlian NK, Kliewer WM (1996) Influences of light on grape berry growth and composition varies during fruit development. J Am Soc Hortic Sci 121(5):869–874

Downey MO, Dokoozlian NK, Krstic MP (2006) Cultural practice and environmental impacts on the flavonoid composition of grapes and wine: a review of recent research. Am J Enol Vitic 57:257–268

Hartmeier W, Reiss M (2010) Production of beer and wine: industrial applications. In: Hofrichter M (ed) The Mycota. Springer-Verlag, Berlin, Heidelberg. pp 59–77

Heilmann H (2000) Methodologische Konsequenzen aus Vergleichsuntersuchungen an Ökologisch und Konventionell Erzeugten Äpfeln. 7. Internationale Tagung Electrochemischer Qualitätstest. Veitshöchheim.

Hoffmann M (1991) Elektrochemische Merkmale zur Differenzierung von Lebensmitteln. In: Meier-Ploeger A, Vogtmann H (eds)  Lebensmittelqualität – Ganzheitliche Methoden und Konzepte – Alternative Konzepte. Deukalion, Germany, pp 67–86

Gurak PD, Cabral LMC, Rocha-Leao MHM (2010) Quality evaluation of grape juice concentrated by reverse osmosis. J Food Eng 96(3):421–426

Iland PG (1987) Predicting red wine color from grape analysis. Aust Grape Grow Winemak 285:29

Intrieri C, Filippetti I, Allegro G, Centinari M, Poni S (2008) Early defoliation (hand vs mechanical) for improved crop control and grape composition in Sangiovese (Vitis vinifera L.). Aust J Grape Wine Res 14:25–32

Jensen JS, Demiray S, Egebo M, Meyer AS (2008) Prediction of wine color attributes from the phenolic profiles of red grapes (Vitis vinifera L.). J Agric Food Chem 56:1105–1115

Kliewer WM, Smart RE (1989) Canopy manipulation for optimizing vine microclimate, crop yield and composition of grapes. In: Manipulation of Fruiting. Wright CJ (ed) Butterworth and Co, UK, pp 275–291

Kok D (2011) Influences of pre and post-verasion cluster thinning treatments on grape composition variables and monoterpene levels of Vitis vinifera L. cv. Sauvignon Blanc. J Food Agric Environ 9(1):22–26

Kok D, Bal E, Celik S (2013) Influences of various canopy management techniques on wine grape quality of V. vinifera L. cv. Kalecik Karası. Bulg J Agric Sci 19(6):1247–1252

Kok D, Bal E (2014) The response of monoterpene compounds of cv. Gewürztraminer grape (Vitis vinifera L.) to various doses of prohexadione-calcium applied at different periods. Turkish J Agric Nat Sci Special Issue 1:1231–1235

Kurtural SK, Wessner LF, Dervishian G (2013) Vegetative compensation response of a procumbent grapevine (Vitis vinifera cv. Syrah) cultivar under mechanical canopy management. HortScience 48(5):576–583

Matus M, Rodriguez J, Ocvirk M (2006) Raleo de racimos en Vitis vinifera cv. Malbec. Efecto sobre los components del rendimiento y la composicion polifenolica de las bayas. Rev Fac Cienc Agrar 38(1):105–112

Mateo JJ, Jimenez M (2000) Review on monoterpenes in grape juice wines. J Chromatogr 881:557–567

Moreno D, Vilanova M, Gamero E, Intrigliolo DS, Talaverano IM, Uriarte D, Valdes ME (2015) Effects of preflowering leaf removal on phenolic composition of Tempranillo in the semiarid terroir of western Spain. Am J Enol Vitic 66(2):204–211

Nelson KE (1985) Harvesting and handling California table grapes for market. Bulletin 1913. University of California Press, DANR Publications,, Oakland, California, USA, p 72

Palliotti A, Cartechini A (2000) Cluster thinning effects on yield and grape composition in different grapevine cultivars. Acta Hortic 512:111–120

Poni S, Casalini L, Bernizzoni F, Civardi S, Intrieri C (2006) Effects of early defoliation on shoot photosynthesis, yield components and grape composition. Am J Enol Vitic 57(4):397–407

Reynolds AG, Wardle DA (1989) Impact of various canopy manipulation techniques on growth, yield, fruit composition, and wine quality of Gewürztraminer. Am J Enol Vitic 40:121–129

Reynolds A, Price S, Wardle D, Watson B (1994) Fruit environment and crop level effects on Pinot Noir. I. Vine performance and fruit composition in the British Colombia. Am J Enol Vitic 45(4):452–459

Reynolds AG, Wardle DA, Naylor AP (1996) Impact of training system, vine spacing and basal leaf removal on Riesling. Vine performance, berry composition, canopy microclimate and vineyard labor requirements. Am J Enol Vitic 47(3):319–328

Ribereau-Gayon P, Glories Y, Maujean A, Dubourdieu D (2006) Varietal Aroma. In: Handbook of Enology, The Chemistry of Wine Stabilization and Treatments. John Wiley and Sons, Ltd, Chichester, U.K., pp 205–230

Ruffner HP, Koblet W, Reast D (1975) Gluconeogenese in reifenden Beeren von Vitis vinifera. Vitis 13:319–328

Singleton VL, Timberlake CF, Kea L (1978) The phenolic cinnamates of white grapes and wine. J Sci Food Agric 29:403–410

Smart RE, Robinson MD (1991) Sunlight into Wine. Handbook for Winegrape Canopy Management. Winetitles, Adelaide, Australia

Tardaguila J, Toda FM de, Poni S, Diago MP (2010) Impact of early removal on yield and fruit and wine composition of Vitis vinifera L. Graciano and Carignan. Am J Enol Vitic 61(3):372–381
About this article
Cite this article
Kok, D. Variation in Total Phenolic Compounds, Anthocyanin and Monoterpene Content of 'Muscat Hamburg' Table Grape Variety (V. vinifera L.) as Affected by Cluster Thinning and Early and Late Period Basal Leaf Removal Treatments. Erwerbs-Obstbau 58, 241–246 (2016). https://doi.org/10.1007/s10341-016-0283-9
Received:

Accepted:

Published:

Issue Date:
Keywords
V.Vinifera L.

Pre-bloom leaf removal

Cluster thinning

Phenolic compounds

Anthocyanins

Terpenes
Schlüsselwörter
V. Vinifera L.

Entblätterung vor der Blüte

Ausdünnung

Phenolische Verbindungen

Anthocyane

Terpene