Abstract
Autochthonous apple varieties are still keeping their importance in Montenegro and they are valuable resources as human food and an important part of rural landscape. The aim of this study was to study and preserve morphological diversity of 30 autochthonous apple varieties in Montenegro between 2008 and 2010. We found a great variation on blooming period and maturation time among varieties and classified them as very early, early, mid and late for blooming and early, middle, late and very late for maturation. Fruit weight varied in wide range from 40.76 g to 206.74 g and 'Krupnaja', 'Krstovača' and 'Babovača' produced biggest fruits (191.83–206.74 g). Soluble solid content (SSC) varied between 11.0 to 16.1 % among varieties and 'Borovača', 'Aleksandrija', 'Krstovača', 'Dapsićanka', 'Bosnika', 'Rebrača' and 'Babovača' had the highest SSC values imply that they can be commercially used in production of spirits, wine, concentrate and jam and also for drying. Based on 3-year average data for 25 properties, UPGMA (Unweighted Pair Group Method with Arithmetic Mean) dendrogram showed a high degree of variability among the studied varieties dividing them into 5 groups and 3 independent accessions.
Zusammenfassung
Einheimische Apfelsorten haben immer noch Bedeutung in Montenegro, sie sind wertvolle Ressourcen für die menschliche Ernährung und prägend für das ländliche Landschaftsbild. Das Ziel dieser Untersuchung in den Jahren 2008 bis 2010 war es, die morphologische Diversität von 30 autochthonen Apfelsorten in Montenegro zu untersuchen und damit einen Beitrag zur Bewahrung dieser Sorten zu leisten. Zwischen den Sorten wurde eine große Schwankung in der Blüte- und in der Reifezeit gefunden. Dadurch wurde eine Klassifizierung in "sehr früh", "früh", "mittel" und "spät" bei der Blütezeit und in "früh", "mittel", "spät" und "sehr spät" bei der Reifezeit vorgenommen. Die Einzelfruchtgewichte variierten sehr stark von 40,76 g bis zu 206,74 g, wobei 'Krupnaja', 'Krstovača' und 'Babovača' die größten Früchte hatten (191,83 g–206,74 g). Die lösliche Trockensubstanz (SSC) schwankte zwischen den Sorten von 11,0 % bis 16,1 %. 'Borovača', 'Aleksandrija', 'Krstovača', 'Dapsićanka', 'Bosnika', 'Rebrača' und 'Babovača' hatten den höchsten Gehalt an löslicher Trockensubstanz, was sie für eine kommerzielle Verwendung in der Herstellung von Schnaps, Wein, Konzentrat, Konfitüre und des Weiteren für Trockenfrüchte geeignet macht. Mit den in den drei Jahren gesammelten Mittelwerten von 25 Eigenschaften wurde ein UPGMA (Unweighted Pair Group Method with Arithmetic Mean) Dendrogramm erstellt, das zwischen den untersuchten Sorten eine hohe Variabilität zeigt und die Sorten in 5 Gruppen und 3 unabhängige Einheiten einteilen lässt.
Access options
Buy single article
Instant access to the full article PDF.
USD 39.95
Price includes VAT (USA)
Tax calculation will be finalised during checkout.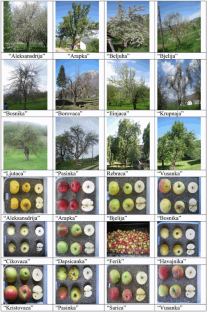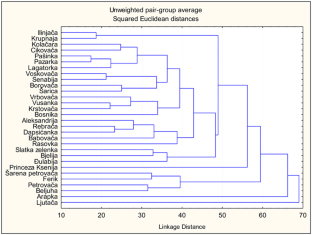 References
Asif AM, Raza H, Azam KM, Hussain M (2004) Effect of different periods of ambient storage on chemical composition of apple fruit. Int J Ag Biol 6(2):568–571

Bignami C, Vagnoni G, Magro P (2003) Field evaluation of old Italian apple cultivars for scab susceptibility. Acta Hortic 598:91–97

Bostan SZ (2009) Pomological traits of local apple and pear cultivars and types grown in Trabzon province (eastern Black sea region of Turkey). Acta Hortic 825:293–298

Ceferelli G, DÌ`Abrosca B, Fiorentino A, Izzo A, Mastellone C, Pacifico S, Piscopo V (2006) Free-radical-scavenging and antioxidant activities of secondary metabolites from reddened cv Annurca apple fruits. J Agric Food Chem 54:803–809

Celik A, Ercisli S, Turgut N (2007) Some physical, pomological and nutritional properties of kiwifruit cv. Hayward. Int J Food Sci Nutr 58(6):411–418

Ercisli S (2004) A short review of the fruit germplasm resources of Turkey. Genet Res Crop Evol 51:419–435

Ercisli S, Esitken A (2004) Fruit characteristics of native rose hip (Rosa spp.) selections from the Erzurum Province of Turkey. N Z J Crop Hortic Sci 32:51–53

Esitken A, Yildiz HE, Ercisli S, Donmez MF, Turan M, Gunes A (2010) Effects of plant growth promoting bacteria (PGPB) on yield, growth and nutrient contents of organically grown strawberry. Sci Hortic 124(1):62–66

Gasi F, Simon S, Pojskic N, Kurtovic M, Pejic I (2010) Genetic assessment of apple germplasm in Bosnia and Herzegovina using microsatellite and morphologic markers. Sci Hortic 126:164–171

Gharghani A, Zamani Z, Talaie A, Oraguzie NC, Fetahi R, Hajnajari H, Wiedow C, Gardiner SE (2009) Genetic identity and relationships of Iranian apple (Malus x domestica Borkh.) cultivars and landraces, wild Malus species and representative old apple cultivars based on simple sequence repeat (SSR) marker analysis. Genet Res Crop Evol 56:829–842

Iannaccone M, Palumbo D, Ventimiglia I, Patopcchi A, Spigno P, Capparelli R (2007) Use of molecular markers and flow cytometry to preserve ancient Annurca apple germplasm. Biotechnol Lett 29:279–284

Karimi HR, Zamani Z, Ebadi A, Fatahi MR (2009) Morphological diversity of Pistacia species in Iran. Genet Res Crop Evol 56:561–571

Lotito SB, Balz F (2004) Relevance of apple polyphenols as antioxidants in human plasma:constransting in vitro end in vivo effects. Free Radic Biol Med 36:201–211

Marić S, Bošković R, Lukić M (2007) The polymorphism of etr1 gene in autochthonous apple cultivars. Genetika 39(3):387–394

Milenković S, Bošković J (2010) Organic production of raspberry and apple. Proceedings of First International Conference of Healthy, Ecologic and Organic Food Production, Zlatibor, Serbia, 125–131

Milenković S, Lukić M (2008) Autochthonous and newly created apple varieties in organic production. Proceedings of Second Symposium 'Healthy-organic', Selenča, Serbia, 26–27. September, 43–47

Militaru M, Braniste N, Butac M (2009) Fruit quality of some autochthonous and foreign apple cultivars grown in Romania. Acta Hortic 825:547–552

Mišić P (2002) Special breeding of fruit trees. Institute for research in agriculture 'Serbia' and Partenon

Mratinić E, Fotirić-Akšić M (2011) Evaluation of phenotypic diversity of apple (Malus sp.) germplasm in south Serbia. Braz Arch Biol Technol 55(3):349–358

Mratinić E, Fotirić-Akšić M (2012) Phenotypic diversity of apple (Malus sp.) germplasm through the principle component analysis. Genetika 43(2):331–340

Ognjanov V (2005) Autochthonous apple varieties as donors for disease resistance. J Pomol 39(2):127–131

Ognjanov V, Vujanić-Varga D, Gašić K, Nađ B (2000) Disease resistance in apple, pear and peach germplasm originating from the Balkan peninsula. Acta Hortic 513:63–68

Ozrenk K, Gundogdu M, Kaya T, Kan T (2011) Pomological properties of local apple cultivars grown in Çatak and Tatvan districts. YYU J Agric Sci 21(1):57–63

Pieroni A, Giusti ME, Munz H, Lenzarini C, Turković G, Turković A (2003) Ethno botanical knowledge of the Istro-Romanians of Žejane in Croatia. Fitoterapia 74:710–719

Radivojevic DD, Milivojevic JM, Oparnica CDj, Vulic TB, Djordjevic BS, Ercisli S (2014) Impact of early cropping on vegetative development, productivity, and fruit quality of Gala and Braeburn apple trees. Turk J Agric For 38(6):773–780

Ruttanaprasert R, Banterng P, Jogloy S, Vorasoot N, Kesmala T, Kanwar RS, Holbrook CC, Patanothai A (2014) Genotypic variability for tuber yield, biomass, and drought tolerance in Jerusalem artichoke germplasm. Turk J Agric For 38:570–580

Šebek G (2011) Organic fruit production. Austrian Development Agency, Austria (LMUC project)

Šebek G (2013) Autochthonous cultivars of apple from the area of the upper Polimlje. Agric For 59(2):67–74

Šehić D, Šehić D, Bertić I (2005) National atlas of Montenegro. Monde neuf, Podgorica

Tomić L, Ninić P, Cvetković M (2011) The study of the properties of fruit of autochthonous apple varieties in the area of Western Bosnia. Proceedings of XVI Conference on biotechnology with international participation, Čačak, 16(18): 353–358

UPOV (International union for the production of new varietes of plants) (2005) Apple (Malus domestica Borkh.) Guidelines for the Conduct of Test for Distinctness, Uniformity and Stability. Int. Union Production New Varietes Plants, Geneva

Zovko M, Vego D, Zovko M (2010) Pomological properties of autochthkonous cultivars in the area Žepča. Glasnik Zastite Bilja 1:54–74
Acknowledgments
The data presented were collected during realization of regional projects 'Survey of autochthonous apple populations in the area South-East Europe' (2007–2008) and 'Characterization of apple local varies (Malus domestica Borkh) from South-East European Region' (2009–2010) financed by Swedish Sida.
About this article
Cite this article
Božović, D., Lazović, B., Ercisli, S. et al. Morphological Characterization of Autochthonous Apple Genetic Resources in Montenegro. Erwerbs-Obstbau 58, 93–102 (2016). https://doi.org/10.1007/s10341-015-0260-8
Received:

Accepted:

Published:

Issue Date:
Keywords
Apple

Autochthonous varieties

Variability and characteristics

Montenegro
Schlüsselwörter
Apfel

Autochthone Sorten

Variabilität und Eigenschaften

Montenegro