Zusammenfassung
Exotische Früchte aus fernen Ländern erlangen in Deutschland und Europa immer mehr an Bedeutung. Gerade in den Tropen und Subtropen ist die Vielfalt an Fruchtarten enorm groß. Das getrocknete Fruchtfleisch des Baobabs (Adansonia digitata L.) ist seit 2008 als neuartige Lebensmittelzutat für die Europäische Union zugelassen und mehr und mehr Produkte kommen auf den Markt.
In seiner Heimat Afrika ist der Baobab ein imposanter Baum der Savannen. Aufgrund seines ausgedehnten Wurzelsystems und der hohen Wasserspeicherkapazität im Stamm übersteht er Trockenzeiten und Dürreperioden. In Afrika ist der Baum Nahrungsgrundlage und Bestandteil für Kleidung und Medizin, er bietet den Menschen Schutz und ist Kultstätte, liefert Viehfutter und Material für Gebrauchsgegenstände aller Art.
Im Rahmen einer Studie konnten für Europa insgesamt schon mehr als 300 Produkte des Baobabs bzw. mit Baobab-Zutaten identifiziert werden. In Deutschland sind als Lebensmittel sowohl naturbelassenes Baobab-Fruchtpulver als auch Verarbeitungsprodukte wie Getränke, Brotaufstriche, Müsliriegel, Konfekte und Schokoladen mit Baobab-Fruchtfleisch erhältlich. Darüber hinaus ist eine Vielzahl von pharmazeutischen und kosmetischen Produkten mit Extrakten des Baobabs in unseren Geschäften verfügbar. Das Produktspektrum reicht von After Shave und Parfum über Shampoo und Duschgel bis hin zu Beinlotion und Fußspray.
Baobab-Setzlinge und -Samen werden in Deutschland für die Anzucht und Kultivierung als Zimmerpflanze verkauft. Der Senegal produziert kommerziell Baobab-Bonsais für den europäischen Markt.
In Afrika werden die Früchte fast ausschließlich von wildwachsenden Bäumen geerntet. Jedoch könnte der erwerbsmäßige Anbau des Baobabs eine wichtige Einkommensquelle für die ländliche Bevölkerung darstellen. Dafür sind die weitere Erforschung und Domestizierung dieser Wildobstart sowie der ausdrückliche Schutz der natürlichen Bestände als wichtige genetische Ressource zwingend notwendig.
Abstract
In Germany and Europe exotic fruits from distant places are becoming more and more important. In the tropics and subtropics an enormous variety of edible fruits exists. In 2008 the dry fruit pulp of the baobab (Adansonia digitata L.) was approved as novel food for the EU and thus entered the formal food market. Hence, an increasing number of products became available in Europe.
The baobab is an impressive tree in the savannas of Africa. Due to its dense and wide spreading root system and its enormous water storing capacity in the stem, the tree can grow under very dry environmental conditions. In many regions of Africa it is a multipurpose indigenous fruit tree species which offers shelter and provides food, fodder and medicine as well as raw material for many purposes.
However, even in Europe a wide range of products is now available as shown in the present study, which identified more than 300 baobab products or products with baobab as an ingredient. In Germany, not only the natural baobab pulp but also ready-made foodstuffs such as soft drinks, sandwich spreads, cereal bars, sweets and chocolates are available. Furthermore, a diverse range of pharmaceutical and cosmetic products with extracts from the baobab is available in the market. The products range from after shave and perfume to shampoo and shower gel to leg lotion and foot spray.
In Germany baobab saplings and seeds are offered for planting and cultivation as an indoor pot plant. Commercially marketed baobab bonsai seedlings for the European market are produced in Senegal.
In Africa the baobab fruits are mainly harvested from wild stands. However, the commercial production of baobab fruits in orchards could be an important future opportunity for income generation to many local households. More research on baobab, including the domestication of this wild fruit tree species, and the conservation of its natural stands as important genetic resource are prerequisites for sustainably increased fruit production.
Access options
Buy single article
Instant access to the full article PDF.
US$ 39.95
Tax calculation will be finalised during checkout.
Subscribe to journal
Immediate online access to all issues from 2019. Subscription will auto renew annually.
US$ 72.19
Tax calculation will be finalised during checkout.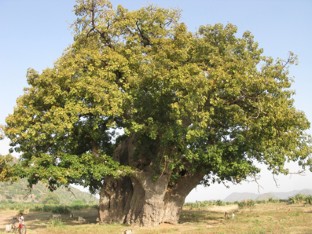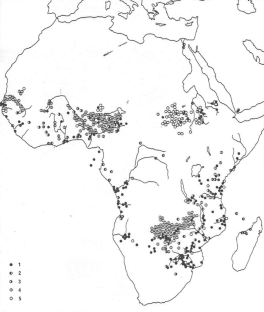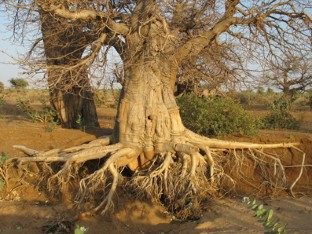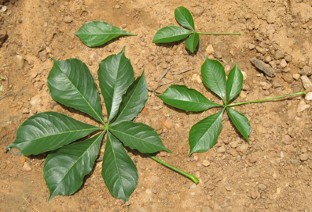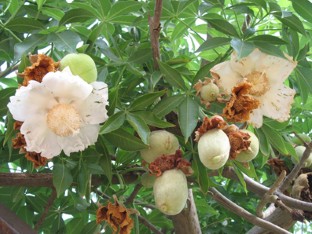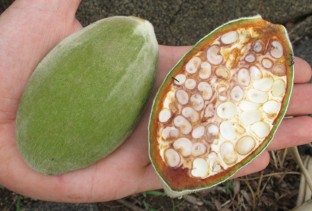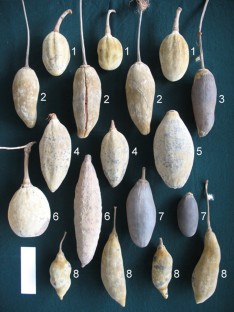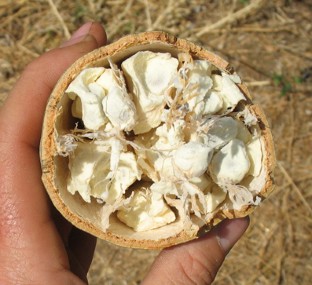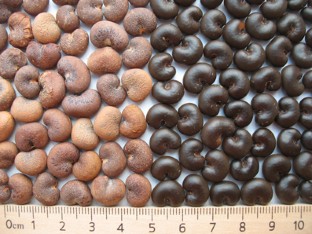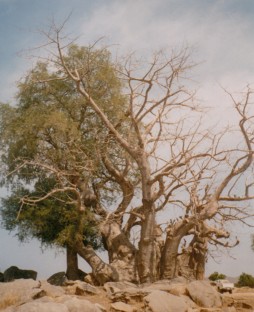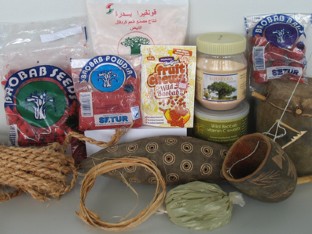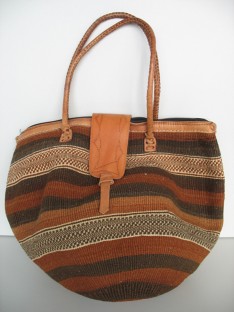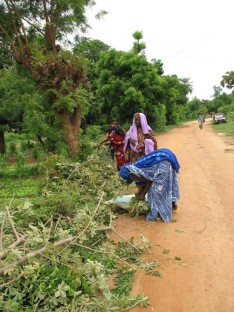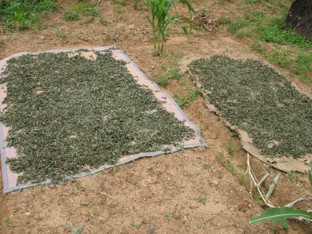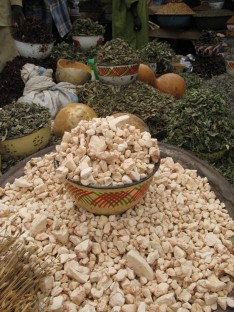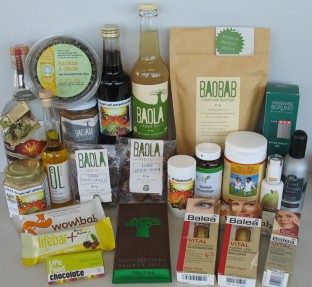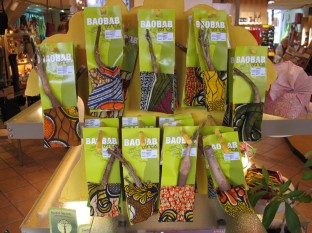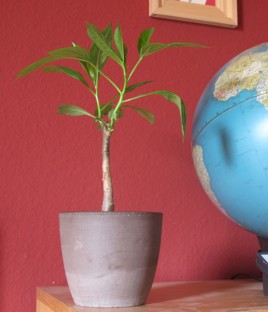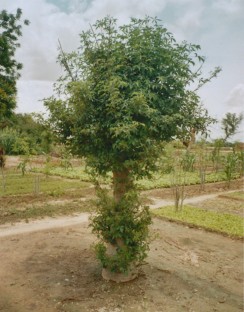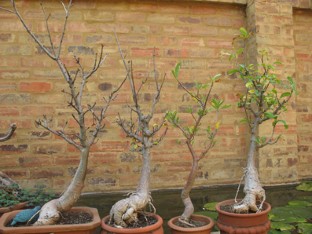 Literatur
Addy EO, Eteshola E (1984) Nutritive value of mixture of tigernut tubers (Cyperus esculentus L.) and baobab seeds (Adansonia digitata L.). J Sci Food Agric 35:437–440

Alverson WS, Whitlock BA, Nyffeler R, Bayer C, Baum DA (1999) Phylogeny of the core Malvales: evidence from ndhF sequence data. Am J Bot 86:1474–1486

Assogbadjo AE, Chadare FJ, Kakaï RG, Fandohan B, Baidu-Forson JJ (2012) Variation in biochemical composition of baobab (Adansonia digitata) pulp, leaves and seeds in relation to soil types and tree provenances. Agr Ecosyst Environ 157:94–99

Assogbadjo AE, Glèlè Kakaï R, Chadare FJ, Thomson L, Kyndt T, Sinsin B, van Damme P (2008) Folk classification, perception and preferences of baobab products in West Africa: consequences for species conservation and improvement. Econ Bot 62:74–84

Assogbadjo AE, Loo J (2011) Adansonia digitata, African baobab. Conservation and sustainable use of genetic resources of priority food tree species in sub-Saharan Africa. Bioversity International, Italy

Bennett B (2006) Natural products: the new engine for African trade growth. Technical report. Regional trade facilitation programme/Natural Resources Institute, UK

Bernholt B, Kehlenbeck K, Gebauer J, Buerkert A (2009) Plant species richness and diversity in urban and peri-urban gardens of Niamey, Niger. Agroforest Syst 77:159–179

Bosch CH, Sié K, Asafa BA (2004) Adansonia digitata L. In: Grubben GJH, Denton OA (eds) PROTA, Netherlands. http://www.prota4u.org/downloads/Adansonia+digitata/Adansonia+digitata.pdf. Zugegriffen: 17. Aug. 2013

Buchmann C, Prehsler S, Hartl A, Vogl CR (2010) The importance of baobab (Adansonia digitata L.) in rural West African subsistence–suggestion of a cautionary approach to international market export of baobab fruits. Ecol Food Nutr 49:145–172

Buwalda AO, Otsyina R, Filson G, Machado VS (1997) Indigenous miombo fruit trees – health and wealth for Sukuma people. Agroforestry Today 9:23–25

Chia AM, Iortsuun DN, Carthage BA (2008) Studies on the seedlings growth of Adansonia digitata AL. SWJ 3:21–24

Carr WR (1955) Ascorbic acid content of baobab fruit. Nature 176:1237

Cruywagen EM, de Beer ZW, Roux J, Wingfield MJ (2010) Three new Graphium species from baobab trees in South Africa and Madagascar. Persoonia 25:61–71

Cuni Sanchez A (2011) The baobab tree in Malawi. Fruits 66:405–416

Cuni Sanchez A, De Smedt S, Haq N, Samson R (2011) Comparative study on baobab fruit morphological variation between western and southeastern Africa: opportunities for domestication. Genet Resour Crop Evol 58:1143–1156

DAFF (2012) Baobab. Department of Agriculture, Forestry and Fisheries, South Africa

Danthu P, Roussel J, Gaye A El Mazzoudi EH (1995) Baobab (Adansonia digitata L.) seed pretreatments for germination improvement. SST 23:469–475

De Caluwé E, Halamová K, Van Damme P (2010) Adansonia digitata L. – A review of traditional uses, phytochemistry and pharmacology. Afrika Focus 23:11–51

De Smedt S, Alaerts K, Kouyaté AM, Van Damme P, Potters G, Samson R (2011) Phenotypic variation of baobab (Adansonia digitata L.) fruit traits in Mali. Agroforest Syst 82:87–97

Dhillion SS, Gustad G (2004) Local management practices influence the viability of the baobab (Adansonia digitata Linn.) in different land use types, Cinzana, Mali. Agric Ecosyst Environ 101:85–103

Edkins MT, Kruger LM, Harris K, Midgley JJ (2007) Baobabs and elephants in the Kruger National Park: nowhere to hide. Afr J Ecol 46:119–129

El Amin HM (1990) Trees and shrubs of the Sudan. Ithaca Press, UK

Ellinger W (2006) Der Markt für Obst. Agrarw 55:69–78

Erasmus J (2009) Baobab export coup for farmers. Brand South Africa media service, http://www.mediaclubsouthafrica.com/africa/1334-baobab-170909. Zugegriffen: 02. Aug. 2013

Esenowo GJ (1991) Studies on germination of Adansonia digitata seeds. JAS 117:81–84

Europäische Kommission (2008) Commission decision: authorising the placing on the market of Baobab dried fruit pulp as a novel food ingredient under Regulation (EC) No 258/97 of the European Parliament and of the Council. Official J EU, L 183(38):1–2

FAO (1988) Adansonia digitata. FAO Food and Nutrition Paper 42:63–67

Fenner M (1980) Some measurements on the water relations of baobab trees. Biotropica 12:205–209

Gebauer J (2005) Plant species diversity of home gardens in El Obeid, Central Sudan. J Agric Rural Dev Trop Subtrop 106:97–103

Gebauer J, Bernholt H, Hammer K (2013) Grewia flavescens: a potential horticultural crop? Genet Resour Crop Evol 60:1915–1919

Gebauer J, Ebert G (2002) Tropische Wildobstarten. Ein Potenzial für die Zukunft?! Humboldt-Spektrum, Zeitschrift für Forschung und Wissenschaft der Humboldt-Universität 2–3:96–100

Gebauer J, Ebert G (2003) Die Tamarinde (Tamarindus indica L.): Botanik, Anbau und Verwendung einer interessanten Obstart der Tropen und Subtropen [The tamarind (Tamarindus indica L.): botany, cutivation and use of an interesting fruit species of the tropics and subtropics]. Erwerbs-Obstbau 45:181–185

Gebauer J, El-Siddig K, Ebert G (2002) Baobab (Adansonia digitata L.): a review on a multipurpose tree with promising future in the Sudan. Eur J Hort Sci 67:155–160

Gebauer J, El-Siddig K, El-Tahir BA, Salih AA, Ebert G, Hammer K (2007) Exploiting the potential of indigenous fruit trees: Grewia tenax in Sudan. Genet Resour Crop Evol 54:1701–1708

Gebauer J, Osman OA (2004) Obstbau im Sudan–unter Berücksichtigung von Wildobst [Fruit production in Sudan, including wild fruits]. Erwerbs-Obstbau 46:110–116

Gebauer J, Luedeling E (2013) A note on baobab (Adansonia digitata L.) in Kordofan, Sudan. Genet Resour Crop Evol 60:1587–1596

Goenster S, Wiehle M, Kehlenbeck K, Jamnadass R, Gebauer J, Buerkert A (2011) Indigenous fruit trees in homegardens of the Nuba Mountains, Central Sudan: tree diversity and potential for improving nutrition and income of rural communities. Acta Hort 911:355–364

Gruenwald J, Galizia M (2005) Market brief in the European Union for selected natural ingredients derived from native species. Adansoia digitata L., Baobab United Nations Conference on Trade and Development, United Nations, Schweiz

Haq N (2002) Fruits for the future: baobab. Factsheet of the International Centre for Underutilized Crops 4:1–2

ICRAF (2013) Agroforestree Database: Adansonia digitata. http://www.worldagroforestry.org/treedb2/speciesprofile.php?Spid=143. Zugegriffen: 08. Aug. 2013

Jama BA, Mohamed AM, Mulatya J, Njui AN (2008) Comparing the ''big five'': a framework for the sustainable management of indigenous fruit trees in the drylands of east and central Africa. Ecol Indic 8:170–179

Jensen JS, Bayala J, Sanou H, Korbo A, Ræbild A, Kambou S, Tougiani A, Bouda H-N, Larsen SA, Parkouda C (2011) A research approach supporting domestication of baobab (Adansonia digitata L.) in West Africa. New Forest 41:317–335

Kaboré D, Sawadogo-Lingani H, Diawara B, Compaoré CS, Dicko MH, Jakobsen M (2011) A review of baobab (Adansonia digitata) products: effect of processing techniques, medicinal properties and uses. Afr J Food Sci 5:833–844

Leakey RRB (2003) The domestication of indigenous trees as the basis of sustainable land use in Africa. In: Conserving biodiversity in arid regions: best practice in developing nations. Lemons J, Victor R, Schaffer D (eds), Kluwer Academic Publishers, UK

Lieberei R, Reisdorff C (2012) Nutzpflanzen. Georg Thieme Verlag, Deutschland

Mshigenro KE, Paull RE (2008) Adansonia digitata, baobab. In: The encyclopedia of fruits & nuts. Janick J, Paull R E (eds), Cambridge University Press, USA

Muchiri MN, Chikamai BN (2003) Testing techniques to assess fruit yield: the case of baobab (Adansonia digitata) from the drylands of Kenya. In: Wong J, Ndeckere-Ziangba F, Pouakouyou D (eds), Summary of six case study reports as a contribution to development of practical techniques to assess non-wood forest product resources. ftp://ftp.fao.org/docrep/fao/010/y9375b/y9375b00.pdf. Zugegriffen: 13. Aug. 2013

Munthali CRY, Chirwa PW, Akinnifesi FK (2012) Phenotypic variation in fruit and seed morphology of Adansonia digitata L. (baobab) in five selected wild populations in Malawi. Agroforest Syst 85:279–290

Nordeide MB, Hatløy A, Følling M, Lied E, Oshaug A (1996) Nutrient composition and nutritional importance of green leaves and wild food resources in an agricultural district, Koutiala, in Southern Mali. Int J Food Sci Nutr 47:455–468

Nour AA, Magboul BI, Kheri NH (1980) Chemical composition of baobab fruit (Adansonia digitata L.). Trop Sci 22:383–388

Nowak B und Schulz B (2009) Taschenlexikon tropischer Nutzpflanzen und ihrer Früchte. BLV Verlagsgesellschaft, Deutschland

NRC (2006) Lost Crops of Africa of the National Research Council. Volume II: Vegetables. The National Academies Press, USA

NRC (2008) Lost Crops of Africa of the National Research Council. Volume III: Fruits. The National Academies Press, USA

Obizoba IC, Anyika JU (1994) Nutritive value of baobab milk (gubdi) and mixtures of baobab (Adansonia digitata L.) and hungry rice, acha (Digitaria exilis) flours. Plant Foods Hum Nutr 46:157–165

Okafor JC (1980) Trees for food and fodder in the savanna areas of Nigeria. For Tree Livelihood 1:131–141

Oltersdorf U (2003) Entwicklungstendenzen bei Nahrungsmittenachfrage und ihre Folgen. Bericht der Bundesforschungsanstalt für Ernährung BFE-R-03-1

Osman MA (2004) Chemical and nutrient analysis of baobab (Adansonia digitata) fruit and seed protein solubility. Plant Foods Hum Nutr 59:29–33

Palgrave KC (1993) Trees of Southern Africa. Struik Publisher, South Africa

Parkouda C, Sanou H, Tougiani A, Korbo A, Nielsen DS, Tano-Debrah K, Ræbild A, Diawara B, Jensen JS (2012) Variability of Baobab (Adansonia digitata L.) fruits' physical characteristics and nutrient content in the West African Sahel. Agroforest Syst 85:455–463

Patrut A, von Reden KF, Lowy DA, Alberts AH, Pohlman JW, Wittmann R, Gerlach D, Xu L, Mitchell CS (2007) Radiocarbon dating of a very large African baobab. Tree Physiol 27:1569–1574

Patrut A, von Reden KF, Mayne DH, Lowy DA, Patrut RT (2013) AMS radiocarbon investigation of the African baobab: searching for the oldest tree. Nucl Instr Meth B 294:622–626

Patrut A, von Reden KF, Van Pelt R, Mayne DH, Lowy DA, Margineanu D (2011) Age determination of large live trees with inner cavities: radiocarbon dating of Platland tree, a giant African baobab. Ann Forest Sci 68:993–1003

Pettigrew FRSJD, Bell KL, Bhagwandin A, Grinan E, Jillani N, Meyer J, Wabuyele E, Vickers CE (2012) Morphology, ploidy and molecular phylogenetics reveal a new diploid species from Africa in the baobab genus Adansonia (Malvaceae: Bombacoideae). Taxon 61:1240–1250

Pommée C, Strohmaier B (2013) Wie isst man das? Berliner Zeitung 12. April 2013

Rashford J (1994) Africa's baobab tree: why monkey names? J Ethnobiol 14:173–183

Razanameharizaka J, Grouzis M, Ravelomanana D, Danthu P (2006) Seed storage behaviour and seed germination in African and Malagasy baobabs (Adansonia species). Seed Sci Res 16:83–88

Ræbild A, Larsen AS, Jensen JS, Ouedraogo M, De Groote S, Van Damme P, Bayala J, Diallo BO, Sanou H, Kalinganire A, Kjaer ED (2011) Advances in domestication of indigenous fruit trees in the West African Sahel. New Forest 41:297–315

Rehm S, Espig G (1991) The cultivated plants of the tropics and subtropics: cultivation, economic value, utilization. Verlag Josef Margraf, Germany

Rocheleau D, Weber W, Field-Juma A (1988) Agroforestry in Dryland. English Press, UK

Sacande M, Rønne C, Sanon M, Jøker D (2006) Adansonia digitata L. Forest and Lanscape Denmark, Seed Leaflet 109:1–2, http://curis.ku.dk/portal-life/files/20497189/adansonia_109.pdf. Zugegriffen: 17. Aug. 2013

Sahni KC (1968) Important trees of the Northern Sudan. Khartoum University Press, Sudan

Saied AS, Gebauer J, Hammer K, Buerkert A (2008) Ziziphus spina-christi (L.) Willd.: a multipurpose fruit tree. Genet Resour Crop Evol 55:929–937

Schumann K, Wittig R, Thiombiano A, Becker U, Hahn K (2010) Impact of land-use type and bark- and leaf-harvesting on population structure and fruit production of the baobab tree (Adansonia digitata L.) in a semi-arid savanna, West Africa. For Ecol Manag 260:2035–2044

Schütt P, Wolf H (2004) Adansonia digitata. In: Schütt P, Weisgerber H, Schuck HJ, Lang U, Stimm B, Roloff A (Hrsg) Bäume der Tropen. Nicol Verlagsgesellschaft, Deutschland

Sidibé M, Scheuring JF, Koné M, Hofman P, Frigg M (1998b) More on baobab's homegrown vitamin C: some trees have more than others – consistently. Agroforestry Today 10:10

Sidibé M, Scheuring JF, Koné M, Schierle E J, Frigg M (1998a) A (and C) for Africa: the baobab tree as a source of vitamins. Agroforestry Today 10:7–9

Sidibé M, Scheuring JF, Tembely D, Sidibe MM, Hofman P, Frigg M (1996) Baobab – homegrown vitamin C for Africa. Agroforestry Today 8:13–15

Sidibé M, Williams JT (2002) Baobab Adansonia digitata. International Centre for Under-utilised Crops, UK

Simbo DJ, De Smedt S, Van den Bilcke N, De Meulenaer B, Van Camp J, Uytterhoeven V, Tack F, Samson R (2013) Opportunities for domesticating the African baobab (Adansonia digitata L.): multi-trait fruit selection. Agroforest Syst 87:493–505

Stadlmayr B, Charrondière UR, Eisenwagen S, Jamnadass R, Kehlenbeck K (2013) Nutrient composition of selected indigenous fruits from sub-Saharan Africa. J Sci Food Agric 93:2627–2636

Swanepoel CM (1993) Baobab damage in Mana Pools National Park, Zimbabwe. Afr J Ecol 31:220–225

Szolnoki TW (1985) Food and fruit trees of the Gambia. Stiftung Walderhaltung in Afrika, Deutschland

Triebel A (2013a) Baobab Pulver – Bio & Fair – Das gesunde Fruchtpulver. http://baobab.org/shop/baobab-pulver-fruchtpulver-biofair/. Zugegriffen: 18. Aug. 2013

Triebel A (2013b) Baobab Öl – Für Haut & Haare. http://baobab.org/shop/baobab-ol-haut-haare/. Zugegriffen: 17. Juli 2013

Venter F, Venter J-A (1996) Marking the most of indigenous trees. Briza Publications, Singapore

Venter SM, Witkowski ETF (2011) Baobab (Adansonia digitata L.) fruit production in communal and conservation land-use types in Southern Africa. Forest Ecol Manag 261:630–639.

Venter SM, Witkowski ETF (2013a) Fruits of our labour: contribution of commercial baobab (Adansonia digitata L.) fruit harvesting to the livelihoods of marginalized people in northern Venda, South Africa. Agrofor Syst 187:159–172

Venter SM, Witkowski ETF (2013b) Where are the young baobabs? Factors affecting regeneration of Adansonia digitata L. in a communally managed region of southern Africa. J Arid Environ 92:1–13

Von Breitenbach F (1985) Aantekeninge oor die groeitempo van aangeplante kremetartbome (Adansonia digitata) en opmerkinge ten opsigte van lewenstyd, groeifases en genetiese variasie van die spesie. J Dendrol 5:1–21

Von Humboldt A (1807) Ansichten der Natur. In: Meyer-Abich A (1999) Ansichten der Natur. Philipp Reclam Jun., Deutschland

Von Maydell H-J (1990) Trees and shrubs of the sahel: their characteristics and uses. GTZ, Verlag Josef Margraf, Deutschland.

Wickens GE (1982) The baobab – Africa's upside-down tree. Kew Bull 37:173–209

Wickens GE, Lowe P (2008) The baobabs: pachycauls of Africa, Madagascar and Australia. Springer, UK

Wilson KT (1988) Vital statistics of the baobab (Adansonia digitata). Afr J Ecol 26:197–206

Wyk B, Gerick N (2000) People's plants: a guide to useful plants of Southern Africa. Tien Wha Press, Singapore

Yazzie D, Vanderjagt DJ, Pastuzyn A, Okolo A, Glew RH (1994) The amino acid and mineral content of baobab (Adansonia digitata L.) leaves. J Food Compos Anal 7:189–193
Danksagung
Dank gilt der Studienstiftung des deutschen Volkes und der Alexander von Humboldt-Stiftung für die langjährige finanzielle und ideelle Unterstützung des Erstautors und die dadurch ermöglichten vielfältigen Afrikaforschungsreisen.
Die Autoren danken dem Förderverein der Hochschule Rhein-Waal für die finanzielle Unterstützung des studentischen Projekts im Studiengang Bio Science and Health (B. Sc.) der Fakultät Life Sciences an der Hochschule Rhein-Waal mit dem Titel "Produkte des Baobabs –Innovative Lebensmittel für Kleve, Deutschland und Europa?!"
Für die Bereitstellung von Informationsmaterialien danken wir der Baobab Social Business gGmbH, CONTIGO Göttingen und Martina Gebhardt Naturkosmetik.
Vielen Dank auch an Axel Hinnemann für die Bereitstellung des Fotos der Abb. 18.
Allen Baobab-Sympathisanten sei herzlich gedankt für das Zusammentragen von vielen interessanten Informationen, die leider nicht alle in diesen Artikel einfließen konnten.
About this article
Cite this article
Gebauer, J., Assem, A., Busch, E. et al. Der Baobab (Adansonia digitata L.): Wildobst aus Afrika für Deutschland und Europa?!. Erwerbs-Obstbau 56, 9–24 (2014). https://doi.org/10.1007/s10341-013-0197-8
Received:

Accepted:

Published:

Issue Date:
Schlüsselwörter
Adansonia digitata

Affenbrotbaum

Baobab

Brotaufstrich

Erfrischungsgetränk

Exotisches Obst

Genetische Ressource

Körperpflege

Konfekt

Kosmetik

Neuartiges Lebensmittel

Müsliriegel

Schokolade

Wildobstgehölz
Keywords
Adansonia digitata

Baobab

Body Care

Cereal Bar

Chocolate

Cosmetics

Exotic Fruits

Genetic Resources

Monkey Bread Tree

Novel Food

Sandwich Spread

Soft Drinks

Sweets

Wild Fruit Tree