Abstract
Reducing the damage caused by feral cats (Felis catus) to wildlife, livestock and human health is a key objective for many land managers and human health agencies globally. The lack of safe and efficacious lethal control tools in many regions, however, makes the control of feral cats and their impacts challenging. We performed a baiting trial in central Queensland to measure the efficacy and safety of Eradicat®, a feral cat bait currently approved for use only in the state of Western Australia, as a potential tool for the broadscale control of feral cats in eastern Australian environments. We used camera traps, cat-borne GPS collars and chemical residue analysis to monitor mortality and changes in feral cat populations following baiting. We also used camera traps and bird count surveys to monitor the response of key at-risk non-target species, specifically wild dogs (Canis familiaris), common brush-tailed possums (Trichosurus vulpecula) and 10 bird species at risk of consuming baits. Feral cat abundance reduced significantly (29–40%) following baiting, with reductions observed across 83% of the site. There were no significant changes in wild dog, possum or potentially bait-consuming bird populations following baiting. Our findings suggest that Eradicat® could potentially be a safe and efficacious tool for the landscape control of feral cats at some sites in eastern Australia. Future research is required to test the safety and efficacy of Eradicat® at other sites in eastern Australia, as suites of non-target species will vary among sites in different environments.
Access options
Buy single article
Instant access to the full article PDF.
USD 39.95
Price includes VAT (USA)
Tax calculation will be finalised during checkout.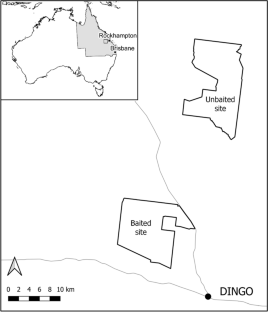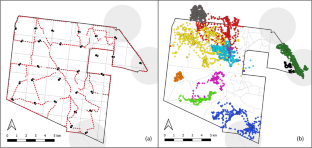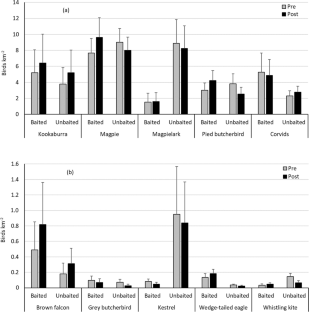 Availability of data and material
The data used in this manuscript are available from the authors on request.
References
Algar D, Burrows N (2004) Feral cat control research: western shield review-February 2003. Conserv Sci West Aust 5:131–163

Algar D, Angus GJ, Williams MR, Mellican AE (2007) Influence of bait type, weather and prey abundance on bait uptake by feral cats (Felis catus) on Peron Peninsula Western Australia. Conserv Sci West Aust 6:109–149

Algar D, Hamilton N, Onus M, Hilmer S, Comer S, Tiller C, Bell L, Pinder J, Adams E, Butler S (2012) Field trial to compare baiting efficacy of Eradicat® and Curiosity® baits. Department of Environment and Conservation, Western Australia.

Algar D, Onus M, Hamilton N (2013) Feral cat control as part of Rangelands restoration at Lorna Glen (Matuwa) Western Australia: the first seven years. Conserv Sci West Aust 8:367–381

Allen LR (2009) Best practice baiting: dispersal and seasonal movement of wild dogs (Canis lupus familiaris). In: Technical highlights: Invasive plant and animal research 2008-09. Queensland Department of Employment, Economic Development and Innovation, Brisbane, Queensland, pp 61-62

Allen BL, Engeman RM, Allen LR (2011) Wild dogma: an examination of recent" evidence" for dingo regulation of invasive mesopredator release in Australia. Current Zool 57:568–583

Bengsen A (2015) What do we have in the toolbox? Review of cat control methods. Paper presented at the National Feral Cat Management Workshop, University of Canberra, Australia, 21–22 April

Braysher M (1993) Managing vertebrate pests: principles and strategies. Australian Government Publishing Service, Canberra

Burnett AJ, Shortt SG, Isaac-Renton J, King A, Werker D, Bowie WR (1998) Multiple cases of acquired toxoplasmosis retinitis presenting in an outbreak. Ophthalmology 105:1032–1037. https://doi.org/10.1016/S0161-6420(98)96004-3

Burns R, Williams ES, O'Toole D, Dubey JP (2003) Toxoplasma gondii infections in captive black-footed ferrets (Mustela nigripes), 1992–1998: clinical signs, serology, pathology, and prevention. J Wildl Dis 39:787–797. https://doi.org/10.7589/0090-3558-39.4.787

Burrows ND, Algar D, Robinson AD, Sinagra J, Ward B, Liddelow G (2003) Controlling introduced predators in the Gibson Desert of Western Australia. J Arid Environ 55:691–713. https://doi.org/10.1016/S0140-1963(02)00317-8

Canfield PJ, Hartley WJ, Dubey JP (1990) Lesions of toxoplasmosis in Australian marsupials. J Comp Pathol 103:159–166. https://doi.org/10.1016/S0021-9975(08)80172-7

Caughley G (1977) Analysis of vertebrate populations. Wiley, New York

Christensen PES, Ward BG, Sims C (2013) Predicting bait uptake by feral cats, Felis catus, in semi-arid environments. Ecol Manag Restor 14:47–53. https://doi.org/10.1111/emr.12025

Comer S, Speldewinde P, Tiller C, Clausen L, Pinder J, Cowen S, Algar D (2018) Evaluating the efficacy of a landscape scale feral cat control program using camera traps and occupancy models. Sci Rep 8:5335. https://doi.org/10.1038/s41598-018-23495-z

Cursino MS, Harriott L, Allen BL, Gentle M, Leung LK-P (2017) Do female dingo–dog hybrids breed like dingoes or dogs? Aust J Zool 65:112–119. https://doi.org/10.1071/ZO17005

Department of Environment and Resource Management (2011) Taunton National Park (Scientific) Management Plan. Planning Services Unit, Department of Environment and Resource Management, Brisbane, Queensland

Doherty TS, Algar D (2015) Response of feral cats to a track-based baiting programme using Eradicat® baits. Ecol Manag Restor 16:124–130. https://doi.org/10.1111/emr.12158

Dubey J, Calero-Bernal R, Rosenthal B, Speer C, Fayer R (2015) Sarcocystosis of animals and humans. 2nd edn. CRC Press, Boca Raton, Florida, USA

Dubey JP (2009) Toxoplasmosis in sheep—The last 20 years. Vet Parasitol 163:1–14. https://doi.org/10.1016/j.vetpar.2009.02.026

Dubey JP (2010) Toxoplasmosis of animals and humans. CRC Press, Boca Raton, Florida, USA

Fancourt BA (2016) Avoiding the subject: the implications of avoidance behaviour for detecting predators. Behav Ecol Sociobiol 70:1535–1546. https://doi.org/10.1007/s00265-016-2162-7

Fancourt BA, Jackson RB (2014) Regional seroprevalence of Toxoplasma gondii antibodies in feral and stray cats (Felis catus) from Tasmania Australian. J Zool 62:272–283. https://doi.org/10.1071/ZO14015

Fancourt BA, Cremasco P, Wilson C, Gentle MN (2019) Do introduced apex predators suppress introduced mesopredators? A Multiscale spatiotemporal study of dingoes and feral cats in Australia suggests not. J Appl Ecol 56:2584–2595. https://doi.org/10.1111/1365-2664.13514

Fancourt BA et al (2021a) Measuring, evaluating and improving the effectiveness of invasive predator control programs: feral cat baiting as a case study. J Environ Manag 280:111691. https://doi.org/10.1016/j.jenvman.2020.111691

Fancourt BA, Zirbel C, Cremasco P, Elsworth P, Harry G, Gentle MN (2021b) Field assessment of the risk of feral cat baits to non-target species in Eastern Australia. Integr Environ Assess Manag. https://doi.org/10.1002/ieam.4445

Fisher DO, Blomberg SP, Hoyle SD (2001) Mechanisms of drought-induced population decline in an endangered wallaby. Biol Cons 102:107–115. https://doi.org/10.1016/S0006-3207(00)00200-7

Fiske I, Chandler R (2011) Unmarked: an R package for fitting hierarchical models of wildlife occurrence and abundance. J Statist Softw 43:1–23

Fleming PJS et al (2014) Management of wild canids in Australia: free-ranging dogs and red foxes. In: Glen AS, Dickman CR (eds) Carnivores of Australia: past, present and future. CSIRO Publishing, Collingwood, pp 105–149

Gentle M, Speed J, Pople A (2014) Impacts on nontarget avian species from aerial meat baiting for feral pigs. Ecol Manag Restor 15:222–230. https://doi.org/10.1111/emr.12132

Global invasive Species database (2021) Felis catus. http://www.iucngisd.org/gisd/species.php?sc=24. Accessed 17 January 2021

Habibi GR et al (2012) Detection and identification of Toxoplasma gondii type one infection in sheep aborted fetuses in Qazvin Province of Iran. Iran J Parasitol 7:64–72

Hardman B, Moro D, Calver M (2016) Direct evidence implicates feral cat predation as the primary cause of failure of a mammal reintroduction programme. Ecol Manag Restor 17:152–158. https://doi.org/10.1111/emr.12210

Hayward MW, Marlow N (2014) Will dingoes really conserve wildlife and can our methods tell? J Appl Ecol 51:835–838. https://doi.org/10.1111/1365-2664.12250

Hone J (1999) On rate of increase (r): patterns of variation in Australian mammals and the implications for wildlife management. J Appl Ecol 36:709–718. https://doi.org/10.1046/j.1365-2664.1999.00439.x

Hone J, Duncan RP, Forsyth DM (2010) Estimates of maximum annual population growth rates (rm) of mammals and their application in wildlife management. J Appl Ecol 47:507–514. https://doi.org/10.1111/j.1365-2664.2010.01812.x

King DR, Twigg LE, Gardner JL (1989) Tolerance to sodium monofluoroacetate in dasyurids from Western Australia Australian. Wildl Res 16:131–140. https://doi.org/10.1071/WR9890131

Krebs CJ (1996) Population cycles revisited. J Mammal 77:8–24. https://doi.org/10.2307/1382705

Legge S et al (2017) Enumerating a continental-scale threat: How many feral cats are in Australia? Biol Cons 206:293–303. https://doi.org/10.1016/j.biocon.2016.11.032

Legge S, Taggart PL, Dickman CR, Read JL, Woinarski JCZ (2020) Cat-dependent diseases cost Australia AU$6 billion per year through impacts on human health and livestock production. Wildl Res 47:731–746. https://doi.org/10.1071/WR20089

Linden DW, Fuller AK, Royle JA, Hare MP (2017) Examining the occupancy–density relationship for a low-density carnivore. J Appl Ecol 54:2043–2052. https://doi.org/10.1111/1365-2664.12883

Lohr CA, Algar D (2020) Managing feral cats through an adaptive framework in an arid landscape. Sci Total Environ 720:137631. https://doi.org/10.1016/j.scitotenv.2020.137631

MacKenzie DI, Nichols JD, Lachman GB, Droege S, Royle AJ, Langtimm CA (2002) Estimating site occupancy rates when detection probabilities are less than one. Ecology 83:2248–2255. https://doi.org/10.1890/0012-9658(2002)083[2248:ESORWD]2.0.CO;2

Mahon PS, Banks PB, Dickman CR (1998) Population indices for wild carnivores: a critical study in sand-dune habitat, south-western Queensland. Wildl Res 25:11–22. https://doi.org/10.1071/WR97007

McDonald P, Stewart A, Tyne J (2017) Experimental feral cat control using the Eradicat® bait in the MacDonnell Ranges. Northern Territory Government, Alice Springs

McIlroy JC (1981) The sensitivity of Australian animals to 1080 poison I intraspecific variation and factors affecting acute toxicity Australian. Wildl Res 8:369–383. https://doi.org/10.1071/WR9810369

McIlroy JC (1986) The sensitivity of Australian animals to 1080 poison IX. Comparisons between the major groups of animals, and the potential danger non-target species face from 1080-poisoning campaigns Australian. Wildl Res 13:39–48. https://doi.org/10.1071/WR9860039

Medina FM, Bonnaud E, Vidal E, Nogales M (2014) Underlying impacts of invasive cats on islands: not only a question of predation. Biodivers Conserv 23:327–342. https://doi.org/10.1007/s10531-013-0603-4

Medina FM et al (2011) A global review of the impacts of invasive cats on island endangered vertebrates. Glob Change Biol 17:3503–3510. https://doi.org/10.1111/j.1365-2486.2011.02464.x

Moseby KE, Hill BM (2011) The use of poison baits to control feral cats and red foxes in arid South Australia I aerial baiting trials. Wildl Res 38:338–349. https://doi.org/10.1071/WR10235

Moseby KE, Read JL, Galbraith B, Munro N, Newport J, Hill BM (2011) The use of poison baits to control feral cats and red foxes in arid South Australia II bait type, placement, lures non-target uptake. Wildl Res 38:350–358. https://doi.org/10.1071/WR10236

Norris JM et al (2007) Prevalence of feline immunodeficiency virus infection in domesticated and feral cats in eastern Australia. J Feline Med Surg 9:300–308. https://doi.org/10.1016/j.jfms.2007.01.007

O'Donoghue PJ, Ford GE (1986) The prevalence and intensity of Sarcocystis spp infections in sheep. Aust Vet J 63:273–278. https://doi.org/10.1111/j.1751-0813.1986.tb08065.x

Oliver AJ, King DR (1983) The influence of ambient temperatures on the susceptibility of mice, guinea-pigs and possums to compound 1080 Australian. Wildl Res 10:297–301. https://doi.org/10.1071/WR9830297

Palmas P et al (2020) Rapid recolonisation of feral cats following intensive culling in a semi-isolated context. NeoBiota 63:177. https://doi.org/10.3897/neobiota.63.58005

Palmer R, Anderson H, Richards B (2020) Predator control baiting and monitoring program, Yarraloola and Red Hill, Pilbara region, Western Australia. 2019 Annual report - Year 5. Department of Biodiversity, Conservation and Attractions, Perth

R Core Team (2020) R: A language and environment for statistical computing. R Foundation for Statistical Computing, Vienna, Austria.

Rowley I (1971) Movements and longevity of ravens in south-eastern Australia CSIRO. Wildl Res 16:49–72. https://doi.org/10.1071/CWR9710049

Rowley I (1973) The comparative ecology of Australian corvids. II social organ BEHAV CSIRO. Wildl Res 18:25–65. https://doi.org/10.1071/CWR9730025

Royle JA, Nichols JD (2003) Estimating abundance from repeated presence-absence data or point counts. Ecology 84:777–790. https://doi.org/10.1890/0012-9658(2003)084[0777:EAFRPA]2.0.CO;2

Short J (2016) Predation by feral cats key to the failure of a long-term reintroduction of the western barred bandicoot (Perameles bougainville). Wildl Res 43:38–50. https://doi.org/10.1071/WR15070

Short J, Turner B, Risbey DA, Carnamah R (1997) Control of feral cats for nature conservation. II Popul Reduct Poisoning. Wildl Res 24:703–714. https://doi.org/10.1071/WR96071

Sinclair ARE, Pech RP, Dickman CR, Hik D, Mahon P, Newsome AE (1998) Predicting effects of predation on conservation of endangered prey. Conserv Biol 12:564–575. https://doi.org/10.1111/j.1523-1739.1998.97030.x

Sinclair R, Bird P (1984) The reaction of Sminthopsis crassicaudta to meat baits containing 1080: implications for assessing risk to non-target species.Wildl Res 11:501–507. https://doi.org/10.1071/WR9840501

Thomas L et al (2010) Distance software: design and analysis of distance sampling surveys for estimating population size. J Appl Ecol 47:5–14. https://doi.org/10.1111/j.1365-2664.2009.01737.x

Twigg LE, King DR (1991) The impact of fluoroacetate-bearing vegetation on native Australian fauna: a review. Oikos 61:412–430. https://doi.org/10.2307/3545249

Underwood A (1991) Beyond BACI: Experimental designs for detecting human environmental impacts on temporal variations in natural populations. Mar Freshw Res 42:569–587. https://doi.org/10.1071/MF9910569

Underwood A (1992) Beyond BACI: the detection of environmental impacts on populations in the real, but variable, world. J Exp Marine Biol Ecol 161:145–178

Woinarski JCZ, Burbidge AA, Harrison PL (2015) Ongoing unraveling of a continental fauna: Decline and extinction of Australian mammals since European settlement. Proc Natl Acad Sci 112:4531–4540. https://doi.org/10.1073/pnas.1417301112

Wong S-Y, Remington JS (1994) Toxoplasmosis in Pregnancy. Clin Infect Dis 18:853–861
Acknowledgements
We thank Doug Olive, Peter McKenzie and Queensland Parks and Wildlife Service for allowing access to their properties to conduct this trial, and Peter Mowatt, BreeAnna Wykes, Paul Lawless-Pyne, Barry Nolan, John Augusteyn, Carlin Burns, Peter Cremasco and volunteers from the SSAA Conservation Branch for assistance with field work. We also thank Malcolm Kennedy, Tony Pople and two anonymous referees for providing comments on an earlier draft of the manuscript. This baiting trial was conducted with approval from the Australian Pesticides and Veterinary Medicines Authority under APVMA Research Permit PER81817.
Funding
This study was funded by the Queensland Government Feral Pest Initiative.
Ethics declarations
Conflicts of interest
The authors declare no conflict of interest.
Ethics approval
This study was approved by the Queensland Department of Agriculture and Fisheries Community Access Animal Ethics Committee (Permit CA 2016/02/946).
Additional information
Publisher's Note
Springer Nature remains neutral with regard to jurisdictional claims in published maps and institutional affiliations.
The original article is revised: the correct version of Table 2 is provided.
Communicated by Christian Imholt.
Supplementary Information
Below is the link to the electronic supplementary material.
About this article
Cite this article
Fancourt, B.A., Harry, G., Speed, J. et al. Efficacy and safety of Eradicat® feral cat baits in eastern Australia: population impacts of baiting programmes on feral cats and non-target mammals and birds. J Pest Sci (2021). https://doi.org/10.1007/s10340-021-01433-9
Received:

Revised:

Accepted:

Published:
Keywords
BACI

Bait

Control

Non-target impacts

Efficacy

Feral cat

Felis catus