Abstract
Introduced in France more than a decade ago from China, the invasive Asian hornet Vespa velutina preys on honey bee Apis mellifera foragers at hive entrances and is a major concern for Western European beekeepers and governmental policies. Asian hornet predation is suspected to weaken honey bee colonies before the winter season. In this study, we assessed the risk of winter colony losses related to hornet-induced disturbances by combining field observations and model system simulations. We provide empirical evidence in bee foragers' homing failures and bee foraging paralysis behaviour of the colony related to the predator–prey relationships between the hornet and the honey bees nearby colonies' entrances. Our model-based assessment confirms concerns of beekeepers and governmental policies that these hornet-induced disturbances affect honey bee colony dynamics and winter survival. Simulations reveal that the foraging paralysis behavioural response of honey bee colonies is an important mechanism underlying winter colony collapse. We provide recommendations of beekeeping management to mitigate potential detrimental effects from hornets to ensure bee colony survival, such as the control of the hornet-induced foraging paralysis of Western European honey bee colonies that may be viewed as an unadapted behavioural response to the invasive predator.
This is a preview of subscription content, log in to check access.
Access options
Buy single article
Instant access to the full article PDF.
US$ 39.95
Price includes VAT for USA
Subscribe to journal
Immediate online access to all issues from 2019. Subscription will auto renew annually.
US$ 99
This is the net price. Taxes to be calculated in checkout.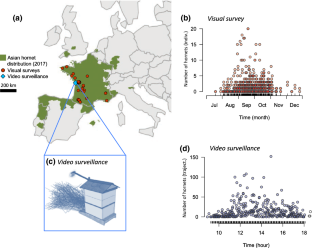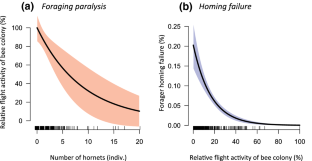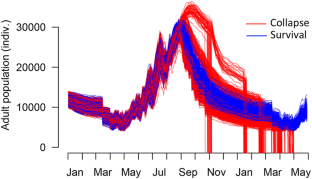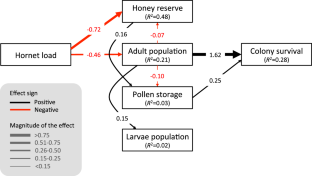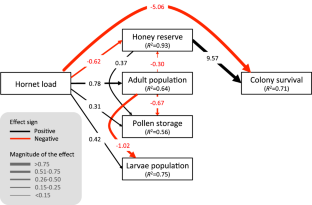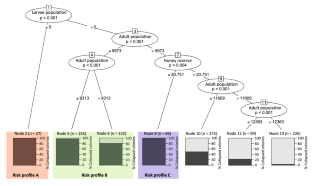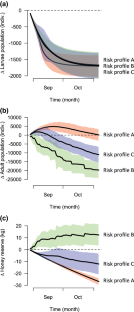 References
Abrol DP (2006) Defensive behaviour of Apis cerana F. against predatory wasps. J Api Sci 50:39–46

Arca M, Papachristoforou A, Mougel F, Rortais A, Monceau K, Bonnard O, Arnold G (2014) Defensive behaviour of Apis mellifera against Vespa velutina in France: testing whether European honeybees can develop an effective collective defence against a new predator. Behav Process 106:122–129

Arca M, Mougel F, Guillemaud T, Dupas S, Rome Q, Perrard A, Silvain JF (2015) Reconstructing the invasion and the demographic history of the yellow-legged hornet, Vespa velutina, in Europe. Biol Invasions 17:2357–2371

Barbet-Massin M, Rome Q, Muller F, Perrard A, Villemant C, Jiguet F (2013) Climate change increases the risk of invasion by the Yellow-legged hornet. Biol Conserv 157:4–10

Barbet-Massin M, Rome Q, Villemant C, Courchamp F (2018) Can species distribution models really predict the expansion of invasive species? PLoS ONE 13:e0193085

Becher MA, Grimm V, Thorbek P, Horn J, Kennedy PJ, Osborne JL (2014) BEEHAVE: a systems model of honeybee colony dynamics and foraging to explore multifactorial causes of colony failure. J Appl Ecol 51:470–482

Beggs JR, Brockerhoff EG, Corley JC, Kenis M, Masciocchi M, Muller F, Villemant C (2011) Ecological effects and management of invasive alien Vespidae. Biocontrol 56:505–526

Chiron G, Gomez-Krämer P, Ménard M (2013) Detecting and tracking honeybees in 3D at the beehive entrance using stereo vision. EURASIP Journal on Image and Video Processing 1:59

Chiron G, Gomez-Krämer P, Ménard M (2015) Modélisation comportementale selon différentes échelles temporelles pour des trajectoires issues de scènes encombrées. Revue des Sciences et Technologies de l'Information-Série RIA: Revue d'Intelligence Artificielle 29:173–203

Couto A, Monceau K, Bonnard O, Thiéry D, Sandoz JC (2014) Olfactory attraction of the hornet Vespa velutina to honeybee colony odors and pheromones. PLoS ONE 9:e115943

European Commission (2016) Commission Implementing Regulation (EU) 2016/1141 of 13 July 2016 adopting a list of invasive alien species of Union concern pursuant to Regulation (EU) No 1143/2014 of the European Parliament and of the Council

European Parliament, Council of the European Union (2014) Regulation (EU) No 1143/2014 of the European Parliament and of the Council of 22 October 2014 on the prevention and management of the introduction and spread of invasive alien species

Fournier A, Barbet-Massin M, Rome Q, Courchamp F (2017) Predicting species distribution combining multi-scale drivers. Glob Ecol Conserv 12:215–226

Goldarazena A, Heredia IP, Romon P, Iturrondobeitia JC, Gonzalez M, Lopez S (2015) Spread of the yellow-legged hornet Vespa velutina nigrithorax du Buysson (Hymenoptera: Vespidae) across Northern Spain. EPPO Bull 45:133–138

Goulson D, Nicholls E, Botías C, Rotheray EL (2015) Bee declines driven by combined stress from parasites, pesticides, and lack of flowers. Science 347:1255957

Haxaire J, Bouguet JP, Tamisier JP (2006) Vespa velutina Lepeletier, 1836, une redoutable nouveauté pour la faune de France (Hym., Vespidae). Bull Soc Entomol Fr 111:194

Henry M, Becher MA, Osborne JL, Kennedy PJ, Aupinel P, Bretagnolle V, Requier F (2017) Predictive systems models can help elucidate bee declines driven by multiple combined stressors. Apidologie 48:328–339

Hothorn T, Hornik K, Zeileis A (2006) Unbiased recursive partitioning: a conditional inference framework. J Comput Graph Stat 15:651–674

Keeling MJ, Franklin DN, Datta S, Brown MA, Budge GE (2017) Predicting the spread of the Asian hornet (Vespa velutina) following its incursion into Great Britain. Sci Rep 7:6240

Ken T, Hepburn HR, Radloff SE, Yusheng Y, Yiqiu L, Danyin Z, Neumann P (2005) Heat-balling wasps by honeybees. Naturwissenschaften 92:492–495

Kennedy PJ, Ford SM, Poidatz J, Thiéry D, Osborne JL (2018) Searching for nests of the invasive Asian hornet (Vespa velutina) using radio-telemetry. Commun Biol 1:1–8

Lefcheck JS (2016) PiecewiseSEM Piecewise structural equation modelling in for ecology, evolution, and systematics. Methods Ecol Evol 7:573–579

McMahon DP, Natsopoulou ME, Doublet V, Fürst M, Weging S, Brown MJF, Paxton RJ (2016) Elevated virulence of an emerging viral genotype as a driver of honeybee loss. Proc R Soc Biol Sci Ser B 283:20160811

Milanesio D, Saccani M, Maggiora R, Laurino D, Porporato M (2016) Design of an harmonic radar for the tracking of the Asian yellow-legged hornet. Ecol Evol 6:2170–2178

Ministère de l'Agriculture, de l'Agroalimentaire et de la Forêt (2012) Arrêté du 26 décembre 2012 relatif au classement dans la liste des dangers sanitaires du frelon asiatique

Ministère de l'Écologie, du Développement Durable et de l'Énergie (2013) Arrêté du 22 janvier 2013 interdisant sur le territoire national l'introduction de spécimens du frelon à pattes jaunes Vespa velutina

Monceau K, Arca M, Leprêtre L, Mougel F, Bonnard O, Silvain JF, Thiéry D (2013) Native prey and invasive predator patterns of foraging activity: the case of the yellow-legged hornet predation at European Honeybee hives. PLoS ONE 8:e66492

Monceau K, Bonnard O, Thiéry D (2014) Vespa velutina: a new invasive predator of honeybees in Europe. J Pest Sci 87:1–16

Monceau K, Arca M, Leprêtre L, Bonnard O, Arnold G, Thiéry D (2018) How Apis mellifera behaves with its invasive hornet predator Vespa velutina? J Insect Behav 31:1–11

Neumann P, Carreck NL (2010) Honey bee colony losses. J Apicult Res 49:1–6

Ono M, Igarashi T, Ohno E, Sasaki M (1995) Unusual thermal defence by a honeybee against mass attack by hornets. Nature 377:334–336

Papachristoforou A, Rortais A, Zafeiridou G, Theophilidis G, Garnery L, Thrasyvoulou A, Arnold G (2007) Smothered to death: hornets asphyxiated by honeybees. Curr Biol 17:795–796

Potts SG, Biesmeijer JC, Kremen C, Neumann P, Schweiger O, Kunin WE (2010) Global pollinator declines: trends, impacts and drivers. Trends Ecol Evol 25:345–353

R Development Core Team (2018) R: a language and environment for statistical computing. R Foundation for Statistical Computing, Vienna

Requier F, Chiron G, Ménard M (2016) Décrypter le vol des abeilles en 3D. Biofutur 380:48–53

Requier F, Odoux JF, Henry M, Bretagnolle V (2017) The carry-over effects of pollen shortage decrease the survival of honeybee colonies in farmlands. J Appl Ecol 54:1161–1170

Robinet C, Suppo C, Darrouzet E (2017) Rapid spread of the invasive yellow-legged hornet in France: the role of human-mediated dispersal and the effects of control measures. J Appl Ecol 54:205–215

Robinet C, Darrouzet E, Suppo C (2018) Spread modelling: a suitable tool to explore the role of human-mediated dispersal in the range expansion of the yellow-legged hornet in Europe. Int J Pest Manag. https://doi.org/10.1080/09670874.2018.1484529

Rome Q, Villemant C (2016) Invasive species: bee-hawking hornet already in line of fire. Nature 534:37–38

Rome Q, Villemant C (2018) Le Frelon asiatique Vespa velutina. In: INPN-MNHN. http://frelonasiatique.mnhn.fr/home. Last Accessed on March 2018

Rome Q, Perrard A, Muller F, Villemant C (2011) Monitoring and control modalities of a honeybee predator, the yellow-legged hornet Vespa velutina nigrithorax (Hymenoptera: Vespidae). Aliens Invasive Species 31:7–15

Rome Q, Muller FJ, Touret-Alby A, Darrouzet E, Perrard A, Villemant C (2015) Caste differentiation and seasonal changes in Vespa velutina (Hym.: Vespidae) colonies in its introduced range. J Appl Entomol 139:771–782

Rumkee JCO, Becher MA, Thorbek P, Kennedy PJ, Osborne JL (2015) Predicting honeybee colony failure: using the BEEHAVE model to simulate colony responses to pesticides. Environ Sci Technol 49:12879–12887

Shipley B (2009) Confirmatory path analysis in a generalized multilevel context. Ecology 90:363–368

Stillman RA, Wood KA, Goss-Custard JD (2016) Deriving simple predictions from complex models to support environmental decision-making. Ecol Model 326:134–141

Tan K, Radloff SE, Li JJ, Hepburn HR, Yang MX, Zhang LJ, Neumann P (2007) Bee-hawking by the wasp, Vespa velutina, on the honeybees Apis cerana and A. mellifera. Naturwissenschaften 94:469–472

Turchi L, Derijard B (2018) Options for the biological and physical control of Vespa velutina nigrithorax (Hym.: Vespidae) in Europe: a review. J Appl Entomol 142:553–562

Villemant C, Barbet-Massin M, Perrard A, Muller F, Gargominy O, Jiguet F, Rome Q (2011) Predicting the invasion risk by the alien bee-hawking Yellow-legged hornet Vespa velutina nigrithorax across Europe and other continents with niche models. Biol Conserv 144:2142–2150

Villemant C, Muller F, Rome Q, Perrard A, Barbet-Massin M, Jiguet F (2014) Estimating the potential range expansion and environmental impact of the invasive bee-hawking hornet, Vespa velutina nigrithorax. In: In Silico Bees, CRC Press. James Devillers, Boca Raton, FL, USA, pp 269–287

Winston ML (1994) The biology of the honeybee. Harvard University Press, Cambridge
Acknowledgements
Special thanks go to J.F. Odoux, P. Aupinel, C. Toullet, J. Andrivot and M. Dufour for help in the fieldwork, and M. Becher and F. Brun for constructive comments on simulations. We also thank the beekeepers who offered access to their apiaries, especially S. Mignot-Gasparoux, A. Lavignotte, M.J.C. Berlioz, A. Richard, O. Coulon, Y. Ducourt, S. Berthomé, B. Devaure, H. Marques de Brito, Association entre l'herbe et le vent, P. Nikiel, P. Fert, O. Bessonnet, J.F. Serra, M. Deux, L. Gouverneur, L. Jezequel, Y. Le Dantec, and Mon village espace de biodiversité. We are grateful to Jed Long and Urska Demsar for critical reading of English used in the text, as well as three anonymous reviewers for constructive comments on the manuscript.
Funding
This study was supported by grants from the European Community Program (797/2004) for French beekeeping (RISQAPI project) and the program of University cooperation between France and Argentina about Art & Innovation (INNOVART project).
Ethics declarations
Conflict of interest
All authors declare that there is no conflict of interest.
Human and animals rights
All applicable international, national and/or institutional guidelines for the care and use of animals were followed.
Additional information
Communicated by M. Traugott.
Electronic supplementary material
Below is the link to the electronic supplementary material.
About this article
Cite this article
Requier, F., Rome, Q., Chiron, G. et al. Predation of the invasive Asian hornet affects foraging activity and survival probability of honey bees in Western Europe. J Pest Sci 92, 567–578 (2019). https://doi.org/10.1007/s10340-018-1063-0
Received:

Revised:

Accepted:

Published:

Issue Date:
Keywords
Alien species

Biological invasion

Honey bee colony collapse

Mechanistic modelling

Predator–prey relationship

Yellow-legged hornet