Abstract
Insects provide critical ecosystem services to humanity, including biological control of pests. Particularly for invasive pests, biological control constitutes an environmentally sound and cost-effective management option. Following its 2008 invasion of Southeast Asia, biological control was implemented against the cassava mealybug Phenacoccus manihoti (Hemiptera: Pseudococcidae) through the introduction and subsequent release of the host-specific parasitoid Anagyrus lopezi (Hymenoptera: Encyrtidae) in Thailand. In this study, we quantify yield benefits of mealybug biological control in Thailand's cassava crop by using two different types of manipulative field trials: i.e., 'physical exclusion' cage trials and field-level 'chemical exclusion' assays. In cage trials with two popular cassava varieties, root yield and total dry matter (or 'biological yield') were a respective 4.0–4.2 times and 3.5–3.9 times higher in the presence of biological control. Extrapolating results from cage trials, biological control thus ensured an approximate yield gain of 5.3–10.0 T/ha for either variety. Under chemical exclusion trials, P. manihoti populations attained levels of 3266 ± 1021 cumulative mealybug-days (CMD) over a 10-month time period, and no longer impact yields. Moreover, under effective P. manihoti control, both root yield and biological yield increased with season-long CMD measures, and pest management interventions-including insecticide sprays-led to notable reductions in yield. This study is the first to show how biological control effectively downgrades the globally invasive P. manihoti to non-economic status and restores yields in Thailand's cassava crop. Our work emphasizes the economic value of biological control, reveals how current P. manihoti populations do not necessarily cause yield penalties, and underlines the central importance of nature-based approaches in intensifying global agricultural production.
Access options
Buy single article
Instant access to the full article PDF.
USD 39.95
Price excludes VAT (USA)
Tax calculation will be finalised during checkout.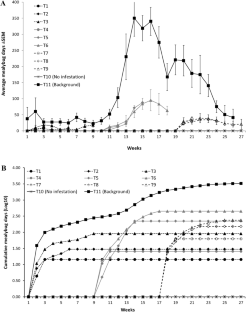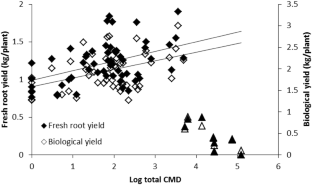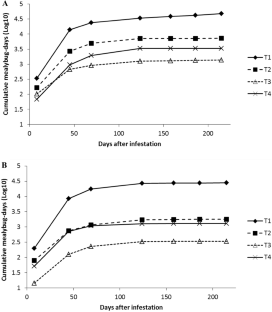 References
Andrews KL, Bentley JW, Cave RD (1992) Enhancing biological control's contributions to integrated pest management through appropriate levels of farmer participation. Fla Entomol 75:429–439

Bale JS, van Lenteren JC, Bigler F (2008) Biological control and sustainable food production. Philos Trans R Soc Lond B 363:761–776

Bebber DP, Ramotowski MAT, Gurr SJ (2013) Crop pests and pathogens move polewards in a warming world. Nat Clim Change 3:985–988

Bommarco R, Kleijn D, Potts SG (2013) Ecological intensification: harnessing ecosystem services for food security. Trends Ecol Evol 28:230–238

Bradshaw CJA, Leroy B, Bellard C, Roiz D, Albert C, Fournier A, Barbet-Massin M, Salles JM, Simard F, Courchamp F (2016) Massive yet grossly underestimated global costs of invasive insects. Nat Commun 7:12986

Cock JH (1978) A physiological basis of yield loss in cassava due to pests. In: Brekelbaum T, Bellotti A, Lozano JC (eds) Proc. cassava protection workshop. CIAT, Cali, Colombia, pp. 9–16

Cock JH (1984) Cassava. In: Goldsworthy PR, Fisher NM (eds) The physiology of tropical field crops. Wiley, New York, pp 529–549

Cock JH (2012) Cassava growth and development. In: Howeler RH (ed) The cassava handbook: a reference manual. International Center for Tropical Agriculture CIAT, Cali, pp 39–61

Cock MJW, Murphy ST, Kairo MTK, Thompson E, Murphy RJ, Francis AW (2016) Trends in the classical biological control of insect pests by insects: an update of the BIOCAT database. Biocontrol 61:349–363

Connor DJ, Cock JH, Parra GE (1981) Response of cassava to water shortage. I. Growth and yield. Field Crops Res 4:181–200

Constanza R, d'Arge R, de Groot R, Farber S, Grasso M, Hannon B, Limburg K, Naeem S, O'Neill RV, Raskin RG, Sutton P, van den Belt M (1997) The value of the world's ecosystem services and natural capital. Nature 387:253–260

Costamagna AC, Landis DA, DiFonzo CD (2007) Suppression of soybean aphid by generalist predators results in a trophic cascade in soybeans. Ecol Appl 17:441–451

Cullen R, Warner KD, Jonsson M, Wratten SD (2008) Economics and adoption of conservation biological control. Biol Control 45:272–280

Daily GC, Polasky S, Goldstein J, Kareiva PM, Mooney HA, Pejchar L, Ricketts TH, Salzman J, Shallenberger R (2009) Ecosystem services in decision making: time to deliver. Front Ecol Environ 7:21–28

DeBach P, Huffaker CB (1971) Experimental techniques for evaluation of the effectiveness of natural enemies. In: Huffaker CB (ed) Biological control. Springer, Boston, pp 113–140

DeClercq P, Mason PG, Babendreier D (2011) Benefits and risks of exotic biological control agents. Biocontrol 56:681–698

Delaquis E, de Haan S, Wyckhuys KAG (2017) On-farm diversity offsets environmental pressures in tropical agro-ecosystems: a synthetic review for cassava-based systems. Agric Ecosyst Environ 251:226–235

Fermont AM, Van Asten PJ, Tittonell P, Van Wijk MT, Giller KE (2009) Closing the cassava yield gap: an analysis from smallholder farms in East Africa. Field Crops Res 112:24–36

Gardiner MM, Landis DA, Gratton C, DiFonzo CD, O'Neal M, Chacon JM et al (2009) Landscape diversity enhances biological control of an introduced crop pest in the north-central USA. Ecol Appl 19:143–154

Goulson D (2013) An overview of the environmental risks posed by neonicotinoid insecticides. J Appl Ecol 50:977–987

Graziosi I, Wyckhuys KAG (2017) Integrated management of arthropod pests of cassava: the case of Southeast Asia. In: Hershey C (ed) Achieving sustainable cultivation of cassava, vol II. Burleigh Dodds, Cambridge, p 300

Graziosi I, Minato N, Alvarez E, Ngo DT, Hoat TX, Aye TM, Pardo JM, Wongtiem P, Wyckhuys KAG (2016) Emerging pests and diseases of South-east Asian cassava: a comprehensive evaluation of geographic priorities, management options and research needs. Pest Manag Sci 72:1071–1089

Gutierez AP, Neuenschwander P, Schulthess F, Herren HR, Baumgartner JU, Wermelinger B, Lohr B, Ellis CK (1988) Analysis of biological control of cassava pests in Africa. II. Cassava mealybug Phenacoccus manihoti. J Appl Ecol 25:921–940

Gutierez AP, Caltagirone LE, Meikle W (1999) Evaluation of results. Economics of biological control. In: Bellows TS, Fisher TW (eds) Handbook of biological control. Academic Press, San Diego, pp 243–252

Hajek AE, Hurley BP, Kenis M, Garnas JR, Bush SJ, Wingfield MJ, van Lenteren JC, Cock MJW (2016) Exotic biological control agents: a solution or contribution to arthropod invasions. Biol Invasions 18:953–969

Hallmann CA, Song M, Jongejans E, Siepel H, Hofland N, Schwan H, Stenmans W, Muller A, Sumser H, Horren T, Goulson D, de Kroon H (2017) More than 75% decline over 27 years in total flying insect biomass in protected area. PLoS ONE 12(10):e0185809

Hawkes CV, Sullivan JJ (2001) The impact of herbivory on plants in different resource conditions: a meta-analysis. Ecology 82:2045–2058

Hovick SM, Carson WP (2015) Tailoring biocontrol to maximize top-down effects: on the importance of underlying site fertility. Ecol Appl 25:125–139

Hough-Goldstein J, Schiff M, Lake E, Butterworth B (2008) Impact of the biological control agents Rhinoncomimus latipes (Coleoptera: Curculionidae) on mile-a-minute weed, Persicaria perfoliata, in field cages. Biol Control 46, 417–423

Howeler R (2014) Sustainable soil and crop management of cassava in Asia. International Center for Tropical Agriculture, CIAT, Cali, p 280

Karlström A, Calle F, Salazar S, Morante N, Dufour D, Ceballos H (2016) Biological implications in cassava for the production of amylose-free starch: impact on root yield and related traits. Front Plant Sci 7:604

Karp DS, Mendenhall CD, Sandi RF, Chaumont N, Ehrlich PR, Hadly EA, Daily GC (2013) Forest bolsters bird abundance, pest control and coffee yield. Ecol Lett 16:1339–1347

LaCanne CE, Lundgren JG (2018) Regenerative agriculture: merging farming and natural resource conservation profitably. PeerJ 6:e4428

Landau S, Everitt BS (2004) A handbook of statistical analyses using SPSS. Chapman and Hall/CRC, Boca Raton

Landis DA, Gardiner M, van der Werf W, Swinton SM (2008) Increasing corn for biofuel production reduces biocontrol services in agricultural landscapes. Proc Natl Acad Sci USA 105:20552–20557

Le TTN, Graziosi I, Cira TM, Gates MW, Wyckhuys KAG (2018) Landscape context does not constrain biological control of Phenacoccus manihoti in intensified cassava systems of southern Vietnam. Biol Control 121:129–139

Losey J, Vaughan M (2006) The economic value of ecological services provided by insects. Bioscience 56:311–323

Lundgren JG, Fausti SW (2015) Trading biodiversity for pest problems. Sci Adv 1:e1500558

Madhaiyan M, Poonguzhali S, Hari K, Saravanan VS, Sa T (2006) Influence of pesticides on the growth rate and plant-growth promoting traits of Gluconacetobacter diazotrophicus. Pestic Biochem Phys 84:143–154

Martínez-Blay V, Pérez-Rodríguez J, Tena A, Soto A (2018) Density and phenology of the invasive mealybug Delottococcus aberiae on citrus: implications for integrated pest management. J Pest Sci 91:625–637

Melo FPL, Arroyo-Rodriguez V, Fahrig L, Martinez-Ramos M, Tabarelli M (2013) On the hope for biodiversity-friendly tropical landscapes. Trends Ecol Evol 28:462–468

Messing RH, Wright MG (2006) Biological control of invasive species: Solution or pollution? Front Ecol Environ 4:132–140

Muniappan R, Sheppard BM, Watson GW, Carner GR, Rauf A, Sartiami D et al (2009) New records of invasive insects (Hemiptera: Sternorrhyncha) in Southeast Asia and West Africa. J Agric Urban Entomol 26:167–174

Naranjo SE, Ellsworth PC, Frisvold GB (2015) Economic value of biological control in integrated pest management of managed plant systems. Annu Rev Entomol 60:1–25

Neuenschwander P, Schulthess F, Madojemu E (1986) Experimental evaluation of the efficiency of Epidinocarsis lopezi, a parasitoid introduced into Africa against the cassava mealybug Phenacoccus manihoti. Entomol Exp Appl 42:133–138

Neuenschwander P, Hammond WNO, Guttierez AP, Cudjoe AR, Adjakloe R, Baumgartner JU, Regev U (1989) Impact assessment of the biological control of the cassava mealybug, Phenacoccus manihoti Matile Ferrero (Hemiptera: Pseudococcidae) by the introduced parasitoid Epidinocarsis lopezi (De Santis) (Hymenoptera: Encyrtidae). Bull Entomol Res 79:579–594

Norgaard RB (1988) The biological control of cassava mealybug in Africa. Am J Agric Econ 70:366–371

Oerke EC (2006) Crop losses to pests. J Agric Sci 144:31–43

Oliver TH, Isaac NJ, August TA, Woodcock BA, Roy DB, Bullock JM (2015) Declining resilience of ecosystem functions under biodiversity loss. Nat Commun 6:10122

Paini DR, Sheppard AW, Cook DC, De Barro PJ, Worner SP, Thomas MB (2016) Global threat to agriculture from invasive species. Proc Natl Acad Sci USA 113:7575–7579

Qureshi JA, Stansly PA (2009) Exclusion techniques reveal significant biotic mortality suffered by Asian citrus psyllid Diaphorina citri (Hemiptera: Psyllidae) populations in Florida citrus. Biol Control 50:129–136

Ragsdale DW, McCornack BP, Venette RC, Potter BD, MacRae IV, Hodgson EW et al (2007) Economic threshold for soybean aphid (Hemiptera: Aphididae). J Econ Entomol 100:1258–1267

Sartiami D, Watson GW, Roff MNM, Hanifah MY, Idris AB (2015) First record of cassava mealybug, Phenacoccus manihoti (Hemiptera: Pseudococcidae), in Malaysia. Zootaxa 3957:235–238

Schreinemachers P, Afari-Sefa V, Heng CH, Dung PTM, Praneetvatakul S, Srinivasan R (2015) Safe and sustainable crop protection in Southeast Asia: status, challenges and policy options. Environ Sci Policy 54:357–366

Schulthess F, Baumgartner JU, Delucchi V, Gutierez AP (1991) The influence of the cassava mealybug Phenacoccus manihoti Mat.-Ferr. (Homoptera, Pseudococcidae) on yield formation of cassava, Manihot esculenta Crantz. J Appl Entomol 111:155–165

Seastedt TR (2014) Biological control of invasive plant species: a reassessment for the Anthropocene. New Phytol 205:490–502

Snyder WE, Wise DH (2001) Contrasting trophic cascades generated by a community of generalist predators. Ecology 82:1571–1583

Suckling DM, Sforza RFH (2014) What magnitude are observed non-target impacts from weed biocontrol? PLoS ONE 9:e84847

Tamburini G, Lami F, Marini L (2017) Pollination benefits are maximized at intermediate nutrient levels. Proc R Soc Lond B 284:20170729

Tittonell P, Giller KE (2013) When yield gaps are poverty traps: the paradigm of ecological intensification in African smallholder agriculture. Field Crops Res 143:76–90

Van Driesche R, Hoddle M, Center T (2008) Control of pests and weeds by natural enemies. Blackwell Publishing Limited, Malden, p 484

Van Driesche RG, Carruthers RI, Center T, Hoddle MS, Hough-Goldstein J, Morin L et al (2010) Classical biological control for the protection of natural ecosystems. Biol Control 54:S2–S33

van Lenteren JC (1980) Evaluation of control capabilities of natural enemies: Does art have to become science? Neth J Zool 30:369–381

van Lenteren JC, Bale J, Bigler F, Hokkanen HMT, Loomans AJM (2006) Assessing risks of releasing exotic biological control agents of arthropod pests. Annu Rev Entomol 51:609–634

Warner KD, Daane KM, Getz CM, Maurano SP, Calderon S, Powers KA (2011) The decline of public interest agricultural science and the dubious future of crop biological control in California. Agric Human Values 28:483–496

Wilde G, Roozeboom K, Claassen M, Sloderbeck P, Witt M, Janssen K, Harvey T, Kofoid K, Brooks L, Shufran R (1999) Does the systemic insecticide imidacloprid (Gaucho) have a direct effect on yield of grain sorghum? J Prod Agric 12:382–389

Wilson EO (2017) Biodiversity research requires more boots on the ground. Nat Ecol Evol 1:1590–1591

Winotai A, Goergen G, Tamo M, Neuenschwander P (2010) Cassava mealybug has reached Asia. Biocontrol News Inf 31:10N–11N

Woodcock BA, Bullock JM, Shore RF, Heard MS, Pereira MG, Redhead J, Ridding L et al (2017) Country-specific effects of neonicotinoid pesticides on honey bees and wild bees. Science 356:1393–1395

Wyckhuys KAG, Rauf A, Ketelaar J (2015) Parasitoids introduced into Indonesia: part of a region-wide campaign to tackle emerging cassava pests and diseases. Biocontrol News Inf 35:29N–38N

Wyckhuys KAG, Burra DD, Tran DH, Graziosi I, Walter AJ, Nguyen TG, Trong HN, Le BV, Le TNN, Fonte SJ (2017a) Soil fertility regulates invasive herbivore performance and top-down control in tropical agro-ecosystems of Southeast Asia. Agric Ecosyst Environ 249:38–49

Wyckhuys KAG, Graziosi I, Burra DD, Walter AJ (2017b) Phytoplasma infection of a tropical root crop triggers bottom-up cascades by favoring generalist over specialist herbivores. PLoS ONE 12(8):e0182766

Wyckhuys KAG, Orankanok W, Rauf A, Ketelaar JW, Georgen G, Neuenschwander P (2018) Biological control: cornerstone of AW-IPM programs for the cassava mealybug in Southeast Asia. Area-wide Pest Management of Insect Pests, UN-FAO/IAEA, Vienna (in press)

Yaninek Y, Gutierrez AP, Herren HR (1990) Dynamics of Mononychellus tanajoa (Acari: Tetranychidae) in Africa: effects on dry matter production and allocation in cassava. Environ Entom 19, 1767–1772

Zeddies J, Schaab RP, Neuenschwander P, Herren HR (2001) Economics of biological control of cassava mealybug in Africa. Agric Econ 24:209–219
Acknowledgements
This manuscript is the result of fully collaborative research, with trials jointly conceptualized, defined and executed by Thai counterparts and CIAT personnel. We would like to thank Dr. Sutkhet Nakasathien at Kasetsart University, and Dr. Prapit Wongtiem and senior administrators at the Thai Department of Agriculture for facilitating this work and encouraging graduate students and junior research staff. We are also grateful to Dr. James Cock for revising an earlier draft of the manuscript. This initiative was conducted as part of an EC-funded, IFAD-managed, CIAT-executed programme (CIAT-EGC-60-1000004285), while additional funding was also provided through the CGIAR-wide Research Program on Roots, Tubers and Banana (CRP-RTB).
Funding
This study was conducted as part of an EC-funded, IFAD-managed, CIAT-executed programme (CIAT-EGC-60-1000004285), while additional funding was provided through the CGIAR-wide Research Program on Roots, Tubers and Banana (CRP-RTB).
Ethics declarations
Conflict of interest
All authors declare that there are no conflicts of interest.
Ethical approval
This article does not contain any studies with human participants or animals performed by any of the authors.
Additional information
Communicated by M. Jonsson.
About this article
Cite this article
Thancharoen, A., Lankaew, S., Moonjuntha, P. et al. Effective biological control of an invasive mealybug pest enhances root yield in cassava. J Pest Sci 91, 1199–1211 (2018). https://doi.org/10.1007/s10340-018-1012-y
Received:

Revised:

Accepted:

Published:

Issue Date:

DOI: https://doi.org/10.1007/s10340-018-1012-y
Keywords
Biological control

Biodiversity

Sustainable intensification

Food security

Ecosystem services

Natural enemies