Abstract
The transmission of microbial pathogens by insect vectors can be affected by the insect's microbial symbionts, which may compete in colonizing organs, express antagonistic factors or activate host immune response. Acetic acid bacteria of the genus Asaia are symbionts of the leafhopper Scaphoideus titanus, which transmits Flavescence dorée phytoplasma. These bacteria could be used as control agents against the disease. Here, we experimentally investigated the interaction between different strains of Asaia and phytoplasma transmission in the laboratory by using the model leafhopper Euscelidius variegatus and the plant host Vicia faba. We found that uncultivable and low concentrations of Asaia phylotypes were associated with E. variegatus. When we supplied different Asaia strains isolated from other insects and exhibiting different phenotypes to E. variegatus orally, the bacteria stably colonized the leafhopper, reached relatively higher densities and could then be isolated from the host. We conducted transmission trials of Flavescence dorée phytoplasma with individuals colonized with three exogenous Asaia strains. When the phytoplasma became established in the bodies of E. variegatus, leafhoppers were able to transmit it to broad beans, with transmission rates ranging from 33 to 76% in different experiments. However, leafhoppers that were colonized by one of the Asaia strains producing an air–liquid interface biofilm exhibited significantly reduced phytoplasma acquisition, with infection rates at 5–28%, whereas they were 25–77% in control insects. Although the mechanisms regulating this interference remain to be elucidated, our results provide evidence of the potential use of Asaia as a biocontrol agent.
This is a preview of subscription content, log in to check access.
Access options
Buy single article
Instant access to the full article PDF.
US$ 39.95
Price includes VAT for USA
Subscribe to journal
Immediate online access to all issues from 2019. Subscription will auto renew annually.
US$ 99
This is the net price. Taxes to be calculated in checkout.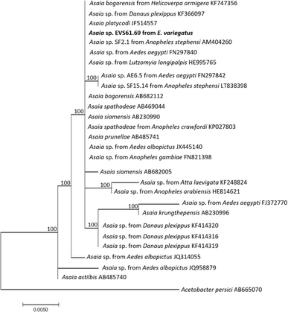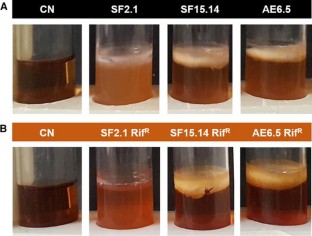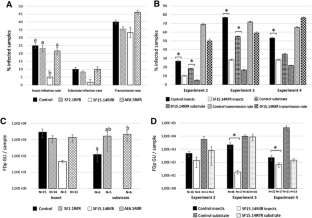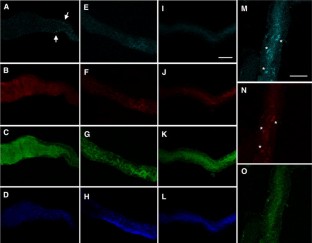 References
Alto BW, Lounibos LP, Higgs S, Juliano SA (2005) Larval competition differentially affects arbovirus infection in Aedes mosquitoes. Ecology 86:3279–3288

Ammar E-D, Ramos JE, Hall DG, Dawson WO, Shatters RG Jr (2016) Acquisition, replication and inoculation of Candidatus Liberibacter asiaticus following various acquisition periods on Huanglongbing-infected citrus by nymphs and adults of the asian citrus psyllid. PLoS ONE 11(7):e0159594

Armitano J, Méjean V, Jourlin-Castelli C (2014) Gram-negative bacteria can also form pellicles. Environ Microbiol Rep 6(6):534–544

Bressan A, Clair D, Sémétey O, Boudon-Padieu E (2005) Effect of two strains of Flavescence dorée phytoplasma on the survival and fecundity of the experimental leafhopper vector Euscelidius variegatus Kirschbaum. J Invertebr Pathol 89(2):144–149

Buchon N, Broderick NA, Lemaitre B (2013) Gut homeostasis in a microbial world: insights from Drosophila melanogaster. Nat Rev Microbiol 11:615–626

Capone A, Ricci I, Damiani C, Mosca M, Rossi P, Scuppa P, Crotti E, Epis S, Angeletti M, Valzano M, Sacchi L, Bandi C, Daffonchio D, Mandrioli M, Favia G (2013) Interactions between Asaia, Plasmodium and Anopheles: new insights into mosquito symbiosis and implications in Malaria Symbiotic Control. Parasite Vector 6:182

Chouaia B, Rossi P, Montagna M, Ricci I, Crotti E, Damiani C, Epis S, Faye I, Sagnon N, Alma A, Favia G, Daffonchio D, Bandi C (2010) Molecular evidence for multiple infections as revealed by typing of Asaia bacterial symbionts of four mosquito species. Appl Environ Microbiol 76:7444–7450

Chouaia B, Rossi P, Epis S, Mosca M, Ricci I, Damiani C, Ulissi U, Crotti E, Daffonchio D, Bandi C, Favia G (2012) Delayed larval development in Anopheles mosquitoes deprived of Asaia bacterial symbionts. BMC Microbiol 12(Suppl 1):S2

Chuche J, Thiéry D (2014) Biology and ecology of the Flavescence dorée vector Scaphoideus titanus: a review. Agron Sustain Dev 34:381–403

Crotti E, Damiani C, Pajoro M, Gonella E, Rizzi A, Ricci I, Negri I, Scuppa P, Rossi P, Ballarini P, Raddadi N, Marzorati M, Sacchi L, Clementi E, Genchi M, Mandrioli M, Bandi C, Favia G, Alma A, Daffonchio D (2009) Asaia, a versatile acetic acid bacterial symbiont, capable of cross-colonizing insects of phylogenetically distant genera and orders. Environ Microbiol 11:3252–3264

Crotti E, Rizzi A, Chouaia B, Ricci I, Favia G, Alma A, Sacchi L, Bourtzis K, Mandrioli M, Cherif A, Bandi C, Daffonchio D (2010) Acetic Acid Bacteria, newly emerging symbionts of insects. Appl Environ Microbiol 76(21):6963–6970

Davis RE, Dally EL (2001) Revised subgroup classification of group 16SrV phytoplasmas and placement of flavescence dorée-associated phytoplasmas in two distinct subgroups. Plant Dis 85:790–797

Fagen JR, Giongo A, Brown CT, Davis-Richardson AG, Gano KA, Triplett EW (2012) Characterization of the relative abundance of the citrus pathogen Ca. Liberibacter asiaticus in the microbiome of its insect vector, Diaphorina citri, using high throughput 16S rRNA sequencing. Open Microbiol J 6:29–33

Favia G, Ricci I, Damiani C, Raddadi N, Crotti E, Marzorati M, Rizzi A, Urso R, Brusetti L, Borin S, Mora D, Scuppa P, Pasqualini L, Clementi E, Genchi M, Corona S, Negri I, Grandi G, Alma A, Kramer L, Esposito F, Bandi C, Sacchi L, Daffonchio D (2007) Bacteria of the genus Asaia stably associate with Anopheles stephensi, an Asian malarial mosquito vector. Proc Natl Acad Sci USA 104:9047–9051

Fuchs BM, Wallner G, Beisker W, Schwippl I, Ludwig W, Amann R (1998) Flow cytometric analysis of the in situ accessibility of Escherichia coli 16S rRNA for fluorescently labeled oligonucleotide probes. Appl Environ Microbiol 42:4973–4982

Galetto L, Bosco D, Marzachì C (2005) Universal and group-specific real-time PCR diagnosis of flavescence doree (16Sr-V), bois noir (16Sr-XII) and apple proliferation (16Sr-X) phytoplasmas from field-collected plant hosts and insect vectors. Ann Appl Biol 147(2):191–201

Galetto L, Nardi M, Saracco P, Bressan A, Marzachì C, Bosco D (2009) Host plant determines the phytoplasma transmission competence of Empoasca decipiens (Hemiptera: Cicadellidae) variation in vector competency depends on chrysanthemum yellows phytoplasma distribution within Euscelidius variegatus. Entomol Exp Appl 131:200–207

Galetto L, Marzachì C, Demichelis S, Bosco D (2011) Host plant determines the phytoplasma transmission competence of Empoasca decipiens (Hemiptera: Cicadellidae). J Econ Entomol 104(2):360–366

Gonella E, Negri I, Marzorati M, Mandrioli M, Sacchi L, Pajoro M, Crotti E, Rizzi A, Clementi E, Tedeschi R, Bandi C, Alma A, Daffonchio D (2011) Bacterial endosymbiont localization in Hyalesthes obsoletus, the insect vector of Bois Noir in Vitis vinifera. Appl Environ Microbiol 77(4):1423–1435

Gonella E, Crotti E, Rizzi A, Mandrioli M, Favia G, Daffonchio D, Alma A (2012) Horizontal transmission of the symbiotic bacterium Asaia sp. in the leafhopper Scaphoideus titanus Ball (Hemiptera: Cicadellidae). BMC Microbiol 12(Suppl 1):S4

Haghshenas B, Nami Y, Abdullah N, Radiah D, Rosli R, Barzegari A, Yari Khosroushahi A (2015) Potentially probiotic acetic acid bacteria isolation and identification from traditional dairies microbiota. Int J Food Sci Tech 50:1056–1064

Hall-Mendelin S, McLean BJ, Bielefeldt-Ohmann H, Hobson-Peters J, Hall RA, van den Hurk AF (2016) The insect-specific Palm Creek virus modulates West Nile virus infection in and transmission by Australian mosquitoes. Parasite Vector 9:414

Hughes GL, Dodson BL, Johnson RM, Murdock CC, Tsujimoto H, Suzuki Y, Patt AA, Cui L, Nossa CW, Barry RM, Sakamoto JM, Hornett EA, Rasgon JL (2014) Native microbiome impedes vertical transmission of Wolbachia in Anopheles mosquitoes. Proc Natl Acad Sci USA 111(34):12498–12503

Iasur-Kruh L, Weintraub PG, Mozes-Daube N, Robinson WE, Perlman SJ, Zchori-Fein E (2013) Novel Rickettsiella bacterium in the leafhopper Orosius albicinctus (Hemiptera: Cicadellidae). Appl Environ Microbiol 79(14):4246–4252

Ishii Y, Matsuura Y, Kakizawa S, Nikoh N, Fukatsu T (2013) Diversity of bacterial endosymbionts associated with Macrosteles leafhoppers vectoring phytopathogenic phytoplasmas. Appl Environ Microbiol 79(16):5013–5022

Killiny N, Castroviejo M, Saillard C (2005) Spiroplasma citri spiralin acts in vitro as a lectin binding to glycoproteins from its insect vector Circulifer haematoceps. Phytopathol 95(5):541–548

Kramer LD, Ciota AT (2015) Dissecting vectorial capacity for mosquito-borne viruses. Curr Opin Virol 15:112–118

Krugner R, Sisterson MS, Lin H (2012) Effects of gender, origin, and age on transmission of Xylella fastidiosa to grapevines by Homalodisca vitripennis (Hemiptera: Cicadellidae). Ann Entomol Soc Am 105(2):280–286

Kumagai A, Mizuno M, Kato N, Nozaki K, Togawa E, Yamanaka S, Okuda K, Saxena IM, Amano Y (2011) Ultrafine cellulose fibers produced by Asaia bogorensis, an acetic acid bacterium. Biomacromol 12(7):2815–2821

Lane DJ (1991) 16S/23S rRNA sequencing. In: Stackebrandt E, Goodfellow M (eds) Nucleic acid techniques in bacterial systematics. Wiley, New York, pp 115–175

Lessio F, Picciau L, Gonella E, Mandrioli M, Tota F, Alma A (2016) The mosaic leafhopper Orientus ishidae: host plants, spatial distribution, infectivity, and transmission of 16SrV phytoplasmas to vines. Bull Insectol 69(2):277–289

Li W, Yajima T, Saito K, Nishimura H, Fushimi T, Ohshima Y, Tsukamoto Y, Yoshikai Y (2004) Immunostimulating properties of intragastrically administered Acetobacter-derived soluble branched (1,4)-beta-d-glucans decrease murine susceptibility to Listeria monocytogenes. Infect Immun 72(12):7005–7011

Lo W-S, Chen L-L, Chung W-C, Gasparich GE, Kuo C-H (2013) Comparative genome analysis of Spiroplasma melliferum IPMB4A, a honeybee-associated bacterium. BMC Genom 14:22

Maejima K, Oshima K, Namba S (2014) Exploring the phytoplasmas, plant pathogenic bacteria. J Gen Plant Pathol 80:210–221

Malta J, Martins GF, Weng J-L, Fernandes KM, Munford ML, Ramalho-Ortigão M (2016) Effects of specific antisera targeting peritrophic matrix-associated proteins in the sand fly vector Phlebotomus papatasi. Acta Trop 159:161–169

Mandrioli M, Monti M, Tedeschi R (2015) Presence and conservation of the immunoglobulin superfamily in insects: current perspective and future challenges. Invertebr Surviv J 12:188–194

Mapelli F, Marasco R, Rolli E, Barbato M, Cherif H, Guesmi A, Ouzari I, Daffonchio D, Borin S (2013) Potential for plant growth promotion of rhizobacteria associated with Salicornia growing in Tunisian hypersaline soils. Biomed Res Int 248078

Marcone C, Ragozzino A, Schneider B, Lauer U, Smart CD, Seemüller E (1996) Genetic characterization and classification of two phytoplasmas associated with spartium witches'-broom disease. Plant Dis 80:365–371

Martini M, Botti S, Marcone C, Marzachì C, Casati P, Bianco PA, Benedetti R, Bertaccini A (2002) Genetic variability among flavescence dorée phytoplasmas from different origins in Italy and France. Mol Cell Probe 16:197–208

Marzachì C, Bosco D (2005) Relative quantification of chrysanthemum yellows (16Sr I) phytoplasma in its plant and insect host using real-time polymerase chain reaction. Mol Biotechnol 30:117–127

Marzachì C, Palermo S, Boarino A, Veratti F, D'Aquilio M, Loria A, Boccardo G (2001) Optimisation of one step PCR assay for the diagnosis of flavescence dorée-related phytoplasmas in field-grown grapevines and vector populations. Vitis 40:213–217

Marzorati M, Alma A, Sacchi L, Pajoro M, Palermo S, Brusetti L, Raddadi N, Balloi A, Tedeschi R, Clementi E, Corona S, Quaglino F, Bianco PA, Beninati T, Bandi C, Daffonchio D (2006) A novel bacteroidetes symbiont is localized in Scaphoideus titanus, the insect vector of Flavescence Dorée in Vitis vinifera. Appl Environ Microbiol 72(2):1467–1475

Mueller UG, Sachs JL (2015) Engineering microbiomes to improve plant and animal health. Trends Microbiol 23(10):606–617

Perilla-Henao LM, Casteel CL (2016) Vector-borne bacterial plant pathogens: interactions with hemipteran insects and plants. Front Plant Sci 7:1163

Powell JR, Tabachnick WJ (2014) Genetic shifting: a novel approach for controlling vector-borne diseases. Trends Parasitol 30(6):282–288

Powell CM, Hail D, Potocnjak J, Hanson JD, Halbert SH, Bextine BR (2015) Bacterial community composition of three candidate insect vectors of palm phytoplasma (Texas Phoenix Palm Decline and Lethal Yellowing). Curr Microbiol 70:240

Rashidi M, Galetto L, Bosco D, Bulgarelli A, Vallino M, Veratti F, Marzachì C (2015) Role of the major antigenic membrane protein in phytoplasma transmission by two insect vector species. BMC Microbiol 15:193

Rossi P, Ricci I, Cappelli A, Damiani C, Ulissi U, Mancini MV, Valzano M, Capone A, Epis S, Crotti E, Chouaia B, Scuppa P, Joshi D, Xi Z, Mandrioli M, Sacchi L, O'Neill SL, Favia G (2015) Mutual exclusion of Asaia and Wolbachia in the reproductive organs of mosquito vectors. Parasit Vectors 8:278

Salar P, Charenton C, Foissac X, Malembic-Maher S (2013) Multiplication kinetics of Flavescence dorée phytoplasma in broad bean. Effect of phytoplasma strain and temperature. Eur J Plant Pathol 135:371–381

Sant'Anna MR, Diaz-Albiter H, Aguiar-Martins K, Al Salem WS, Cavalcante RR, Dillon VM, Bates PA, Genta FA, Dillon RJ (2014) Colonisation resistance in the sand fly gut: Leishmania protects Lutzomyia longipalpis from bacterial infection. Parasit Vectors 7:329

Sambrook J, Fritsch EF, Maniatis T (1989) Molecular cloning: a laboratory manual, 2nd edn. Cold Spring Harbor Laboratory Press, Cold Spring Harbor, NY

Schneider B, Seemüller E (1994) Presence of two sets of ribosomal genes in phytopathogenic mollicutes. Appl Environ Microbiol 60:3409–3412

Shapiro LLM, Murdock CC, Jacobs GR, Thomas RJ, Thomas MB (2016) Larval food quantity affects the capacity of adult mosquitoes to transmit human malaria. Proc R Soc B 283:20160298

Tabachnick WJ (2015) Diaphorina citri (Hemiptera: Liviidae) vector competence for the citrus greening pathogen 'Candidatus Liberibacter asiaticus'. J Econ Entomol 108(3):839–848

Tedeschi R, Monti M, Gonella E, Melchiori G, Alma A, Mandrioli M (2017) Molecular and cellular analysis of immunity in the phytoplasma vector Euscelidius variegatus: exploiting immunity to improve biological control strategies. Invertebr Surviv J 14:63–72

Trivedi P, Trivedi C, Grinyer J, Anderson IC, Singh BK (2016) Harnessing host-vector microbiome for sustainable plant disease management of phloem-limited bacteria. Front Plant Sci 7:1423

Vacchini V, Gonella E, Crotti E, Prosdocimi EM, Mazzetto F, Chouaia B, Callegari M, Mapelli F, Mandrioli M, Alma A, Daffonchio D (2017) Bacterial diversity shift determined by different diets in the gut of the spotted wing fly Drosophila suzukii is primarily reflected on acetic acid bacteria. Environ Microbiol Rep 9(2):91–103

Wangkeeree J, Miller TA, Hanboonsong Y (2011) Predominant bacteria symbionts in the leafhopper Matsumuratettix hiroglyphicus—the vector of sugarcane white leaf phytoplasma. Bull Insectol 64:S215–S216

Wangkeeree J, Miller TA, Hanboonsong Y (2012) Candidates for symbiotic control of sugarcane white leaf disease. Appl Environ Microbiol 78(19):6804–6811

Weiss B, Aksoy S (2011) Microbiome influences on insect host vector competence. Trends Parasitol 27(11):514–522

Westbrook CJ, Reiskind MH, Pesko KN, Greene KE, Lounibos LP (2010) Larval environmental temperature and the susceptibility of Aedes albopictus Skuse (Diptera: Culicidae) to chikungunya virus. Vector-Borne Zoonot 10:241–247

Yamada Y, Katsura K, Kawasaki H, Widyastuti Y, Saono S, Seki T, Uchimura T, Komagata K (2000) Asaia bogorensis gen. nov., sp. nov., an unusual acetic acid bacterium in the alpha-Proteobacteria. Int J Syst Evol Microbiol 50(2):823–829
Acknowledgements
The authors are grateful to Federico Lessio and Luca Picciau for their essential help in insect rearing and laboratory activities. This work was supported by the 'INTEFLAVI' (Un approccio integrato alla lotta contro la flavescenza dorata della vite) project. D.D. thanks King Abdullah University of Science and Technology for support through baseline research funds. The authors thank Prof. Guido Favia for providing A. stephensi samples. Funding was provided by Fondazione Cassa di Risparmio di Cuneo.
Ethics declarations
Conflict of interest
All authors declare that they have no conflict of interest.
Ethical standard
All applicable international, national and/or institutional guidelines for the care and use of animals were followed.
Additional information
Communicated by M. Traugott.
Electronic supplementary material
Below is the link to the electronic supplementary material.
About this article
Cite this article
Gonella, E., Crotti, E., Mandrioli, M. et al. Asaia symbionts interfere with infection by Flavescence dorée phytoplasma in leafhoppers. J Pest Sci 91, 1033–1046 (2018). https://doi.org/10.1007/s10340-018-0973-1
Received:

Revised:

Accepted:

Published:

Issue Date:
Keywords
Flavescence dorée

Acetic acid bacteria

Vector competence

Symbiotic control