Abstract
Varroa destructor is one of the major contributors to the significant losses of Western honey bee colonies worldwide. The synthetic pyrethroids tau-fluvalinate and flumethrin were very popular among beekeepers to control levels of parasitism until reports of therapeutic failures increased during the early 1990s. Three different mutations at position 925 of the V. destructor voltage-gated sodium channel have been associated with the resistance to these compounds. Resistant mites collected in the UK and in the Czech Republic showed only a substitution of leucine to valine (L925V), while those collected in the USA carried alternative mutations to isoleucine (L925I) or methionine (L925M). Here, we have used high-throughput genotyping assays to investigate the distribution of resistance mutations across Europe. Our data show that the mutation L925V is present in most of the European countries tested, albeit with an uneven distribution. We also show new evidence for the significant correlation of the mutation with resistance and conclude that it is likely that resistant mites have a reduced fitness. The implications for integrated management of the parasite are discussed.
This is a preview of subscription content, log in to check access.
Access options
Buy single article
Instant access to the full article PDF.
US$ 39.95
Price includes VAT for USA
Subscribe to journal
Immediate online access to all issues from 2019. Subscription will auto renew annually.
US$ 99
This is the net price. Taxes to be calculated in checkout.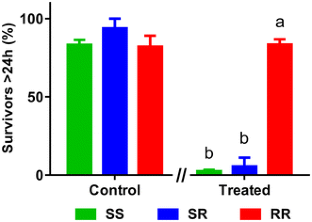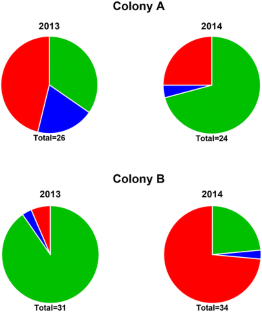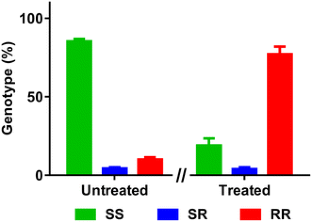 References
Bak B, Wilde J, Siuda M (2012) Characteristics of north-eastern population of Varroa destructor resistant to synthetic pyrethroids. Med Weter 68:603–606

Baxter JR, Ellis MD, Wilson WT (2000) Field evaluation of Apistan and five candidate compounds for parasitic mite control in honey bees. Am Bee J 140:898–900

Chen YP, Siede R (2007) Honey bee viruses. Adv Virus Res 70:33–80. https://doi.org/10.1016/S0065-3527(07)70002-7

COLOSS (2016) Losses of honey bee colonies over the 2015/16 winter. http://www.coloss.org/core-projects/data-honey-bee-colony-losses-winter-2015-16.pdf. Accessed 20 Mar 2018

Davies TGE, Field LM, Usherwood PNR, Williamson MS (2007) DDT, pyrethrins, pyrethroids and insect sodium channels. IUBMB Life 59:151–162. https://doi.org/10.1080/15216540701352042

Dong K, Du Y, Rinkevich F, Nomura Y, Xu P, Wang L, Silver K, Zhorov BS (2014) Molecular biology of insect sodium channels and pyrethroid resistance. Insect Biochem Mol Biol 50C:1–17. https://doi.org/10.1016/j.ibmb.2014.03.012

Elzen PJ, Eischen FA, Baxter JB, Pettis J, Elzen GW, Wilson WT (1998) Fluvalinate resistance in Varroa jacobsoni from several geographic locations. Am Bee J 138:674–676

Elzen PJ, Baxter JR, Spivak M, Wilson WT (2000) Control of Varroa jacobsoni Oud. resistant to fluvalinate and amitraz using coumaphos. Apidologie 31:437–441. https://doi.org/10.1051/apido:2000134

González-Cabrera J, Davies TGE, Field LM, Kennedy PJ, Williamson MS (2013) An amino acid substitution (L925V) associated with resistance to pyrethroids in Varroa destructor. PLoS ONE 8:e82941. https://doi.org/10.1371/journal.pone.0082941

González-Cabrera J, Rodríguez-Vargas S, Davies TG, Field LM, Schmehl D, Ellis JD, Krieger K, Williamson MS (2016) Novel Mutations in the voltage-gated sodium channel of pyrethroid-resistant Varroa destructor populations from the Southeastern USA. PLoS ONE 11:e0155332. https://doi.org/10.1371/journal.pone.0155332

Gracia-Salinas MJ, Ferrer-Dufol M, Latorre-Castro E, Monero-Manera C, Castillo-Hernández JA, Lucientes-Curd J, Peribanez-López MA (2006) Detection of fluvalinate resistance in Varroa destructor in Spanish apiaries. J Apic Res 45:101–105

Hou C, Chejanovsky N (2014) Acute paralysis viruses of the honey bee. Virol Sin 29:324–326. https://doi.org/10.1007/s12250-014-3511-1

Hubert J, Nesvorna M, Kamler M, Kopecky J, Tyl J, Titera D, Stara J (2014) Point mutations in the sodium channel gene conferring tau-fluvalinate resistance in Varroa destructor. Pest Manag Sci 70:889–894. https://doi.org/10.1002/ps.3679

IPBES (2016) Summary for policymakers of the assessment report of the Intergovernmental Science-Policy Platform on Biodiversity and Ecosystem Services on pollinators, pollination and food production. In: Potts SG, Imperatriz-Fonseca VL, Ngo HT, Biesmeijer JC, Breeze TD, Dicks LV, Garibaldi LA, Hill R, Settele J, Vanbergen AJ, Aizen MA, Cunningham SA, Eardley C, Freitas BM, Gallai N, Kevan PG, Kovács-Hostyánszki A, Kwapong PK, Li J, Li X, Martins DJ, Nates-Parra G, Pettis JS, Rader R, Viana BF (eds) Secretariat of the intergovernmental science-policy platform on biodiversity and ecosystem services. IPBES, Bonn

Kim W, Lee M, Han S, Park K, Choi J, Kim J, Choi Y, Jeong G, Koh Y (2009) A geographical polymorphism in a Voltage-Gated Sodium Channel gene in the mite, Varroa destructor, from Korea. Korean J Apic 24:159–165

Kliot A, Ghanim M (2012) Fitness costs associated with insecticide resistance. Pest Manag Sci 68:1431–1437. https://doi.org/10.1002/ps.3395

Milani N (1995) The resistance of Varroa-Jacobsoni Oud to pyrethroids—a laboratory assay. Apidologie 26:415–429

Milani N, Della Vedova G (2002) Decline in the proportion of mites resistant to fluvalinate in a population of Varroa destructor not treated with pyrethroids. Apidologie 33:417–422. https://doi.org/10.1051/apido:2002028

Morgan JAT, Corley SW, Jackson LA, Lew-Tabor AE, Moolhuijzen PM, Jonsson NN (2009) Identification of a mutation in the para-sodium channel gene of the cattle tick Rhipicephalus (Boophilus) microplus associated with resistance to synthetic pyrethroid acaricides. Int J Parasitol 39:775–779. https://doi.org/10.1016/j.ijpara.2008.12.006

Mozes-Koch R, Slabezki Y, Efrat H, Kalev H, Kamer Y, Yakobson BA, Dag A (2000) First detection in Israel of fluvalinate resistance in the varroa mite using bioassay and biochemical methods. Exp Appl Acarol 24:35–43. https://doi.org/10.1023/A:1006379114942

O'Reilly AO, Khambay BPS, Williamson MS, Field LM, Wallace BA, Davies TGE (2006) Modelling insecticide-binding sites in the voltage-gated sodium channel. Biochem J 396:255–263. https://doi.org/10.1042/Bj20051925

O'Reilly AO, Williamson MS, González-Cabrera J, Turberg A, Field LM, Wallace BA, Davies TG (2014) Predictive 3D modelling of the interactions of pyrethroids with the voltage-gated sodium channels of ticks and mites. Pest Manag Sci 70:369–377. https://doi.org/10.1002/ps.3561

Rosenkranz P, Aumeier P, Ziegelmann B (2010) Biology and control of Varroa destructor. J Invertebr Pathol 103:S96–S119. https://doi.org/10.1016/j.jip.2009.07.016

Sammataro D, Untalan P, Guerrero F, Finley J (2005) The resistance of varroa mites (Acari: Varroidae) to acaricides and the presence of esterase. Int J Acarol 31:67–74

Seitz N, Traynor KS, Steinhauer N, Rennich K, Wilson ME, Ellis JD, Rose R, Tarpy DR, Sagili RR, Caron DM, Delaplane KS, Rangel J, Lee K, Baylis K, Wilkes JT, Skinner JA, Pettis JS, vanEngelsdorp D (2016) A national survey of managed honey bee 2014–2015 annual colony losses in the USA. J Apic Res 54:292–304. https://doi.org/10.1080/00218839.2016.1153294

Soderlund DM (2012) Molecular mechanisms of pyrethroid insecticide neurotoxicity: recent advances. Arch Toxicol 86:165–181. https://doi.org/10.1007/s00204-011-0726-x

Solignac M, Vautrin D, Pizzo A, Navajas M, Le Conte Y, Cornuet JM (2003) Characterization of microsatellite markers for the apicultural pest Varroa destructor (Acari: Varroidae) and its relatives. Mol Ecol Notes 3:556–559. https://doi.org/10.1046/j.1471-8286.2003.00510.x

Solignac M, Cornuet JM, Vautrin D, Le Conte Y, Anderson D, Evans J, Cros-Arteil S, Navajas M (2005) The invasive Korea and Japan types of Varroa destructor, ectoparasitic mites of the Western honeybee (Apis mellifera), are two partly isolated clones. Proc R Soc B Biol Sci 272:411–419. https://doi.org/10.1098/rspb.2004.2853

Thompson HM, Brown MA, Ball RF, Bew MH (2002) First report of Varroa destructor resistance to pyrethroids in the UK. Apidologie 33:357–366. https://doi.org/10.1051/apido:2002027

Troczka B, Zimmer CT, Elias J, Schorn C, Bass C, Davies TG, Field LM, Williamson MS, Slater R, Nauen R (2012) Resistance to diamide insecticides in diamondback moth, Plutella xylostella (Lepidoptera: Plutellidae) is associated with a mutation in the membrane-spanning domain of the ryanodine receptor. Insect Biochem Mol Biol 42:873–880. https://doi.org/10.1016/j.ibmb.2012.09.001

Voudouris C, Kati AN, Sadikoglou E, Williamson M, Skouras PJ, Dimotsiou O, Georgiou S, Fenton B, Skavdis G, Margaritopoulos JT (2016) Insecticide resistance status of Myzus persicae in Greece: long-term surveys and new diagnostics for resistance mechanisms. Pest Manag Sci 72:671–683. https://doi.org/10.1002/ps.4036

Wang RW, Liu ZQ, Dong K, Elzen PJ, Pettis J, Huang ZY (2002) Association of novel mutations in a sodium channel gene with fluvalinate resistance in the mite, Varroa destructor. J Apic Res 41:17–25

Wilfert L, Long G, Leggett HC, Schmid-Hempel P, Butlin R, Martin SJM, Boots M (2016) Deformed wing virus is a recent global epidemic in honeybees driven by Varroa mites. Science 351:594–597. https://doi.org/10.1126/science.aac9976

Yang X, Cox-Foster D (2007) Effects of parasitization by Varroa destructor on survivorship and physiological traits of Apis mellifera in correlation with viral incidence and microbial challenge. Parasitology 134:405–412. https://doi.org/10.1017/S0031182006000710
Acknowledgements
The authors thank the beekeepers and beekeepers associations that provided many of the samples used in this study. Spanish samples were provided by Dr. Aranzazu Meana, Miguel Llorens (Universidad Complutense de Madrid), Mariano Higes (Centro Apícola Marchamalo) and Fernando Calatayud (Asociación de Defensa Sanitaria, ApiADS, Montroi), Austrian samples were provided by Rudolf Moosbeckhofer (Austrian Agency for Health & Food Safety).
Funding
Joel González-Cabrera was supported by the Spanish Ministry of Economy and Competitiveness, Ramón y Cajal Program (RYC-2013-13834). The work at the Universitat de València was funded by a grant from the Spanish Ministry of Economy and Competitiveness (CGL2015‐65025‐R, MINECO/FEDER, UE) and by Bayer Animal Health GmbH, Leverkusen, Germany. Rothamsted Research receives grant-aided support from the Biotechnology and Biological Sciences Research Council of the United Kingdom.
Ethics declarations
Conflict of interest
Klemens Krieger, Helen Bumann and Gertraut Altreuther are employees of Bayer Animal Health GmbH, Leverkusen, Germany, and received support in the form of salary. Annemarie Hertel, Gillian Hertlein and Ralf Nauen are employees of Bayer AG, Crop Science Division, R&D, Pest Control, Monheim, Germany, and received support in the form of salary. Joel González-Cabrera is not an employee of Bayer, but part of the work performed at the Universitat de València was supported by a grant from Bayer Animal Health GmbH. There are no more competing interests to declare.
Additional information
Communicated by C. Cutler.
Electronic supplementary material
Below is the link to the electronic supplementary material.
Representation of example pyrograms of sequenced European mite samples homozygous for L925 (C/C), heterozygous for L925V (C/G) and homozygous for L925V (G/G) (TIFF 3549 kb)
About this article
Cite this article
González-Cabrera, J., Bumann, H., Rodríguez-Vargas, S. et al. A single mutation is driving resistance to pyrethroids in European populations of the parasitic mite, Varroa destructor. J Pest Sci 91, 1137–1144 (2018). https://doi.org/10.1007/s10340-018-0968-y
Received:

Revised:

Accepted:

Published:

Issue Date:
Keywords
Varroa mite

Real-time PCR

Pyrosequencing

Acaricides

Target-site resistance

Voltage-gated sodium channel

Pyrethroids