Abstract
Spotted wing Drosophila, Drosophila suzukii (Matsumura) (Diptera: Drosophilidae), has caused significant economic losses to small fruit and berry growers throughout the USA and Europe since its invasion. This pest can lay many eggs over its lifetime within ripening and ripe berries, causing yield loss and the risk of fruit contamination. Zero tolerance for this pest has led to increased use of broad-spectrum insecticides to control it, which are costly and pose many other sustainability and pest management concerns. There is an urgent need to evaluate management strategies that can decrease reliance on chemical controls and mitigate economic losses. Over two growing seasons, we compared harvest schedules for their effect on infestation by D. suzukii, revealing that fruit harvested every 1 or 2 days had significantly fewer D. suzukii larvae than a 3-day harvest schedule. Furthermore, we found that yield per unit effort was highest on a 2-day schedule. Sanitation of the crop is another important component of a successful integrated pest management program, and we found that bagging infested waste berries killed 99% of larvae after 32 h, with higher fruit temperatures in clear bags than white or black bags. In combination, these methods can reduce the effects of this invasive pest on raspberry production. This study will provide guidance to growers on culturally based IPM tactics to decrease reliance on chemical management.
Access options
Buy single article
Instant access to the full article PDF.
US$ 39.95
Tax calculation will be finalised during checkout.
Subscribe to journal
Immediate online access to all issues from 2019. Subscription will auto renew annually.
US$ 79
Tax calculation will be finalised during checkout.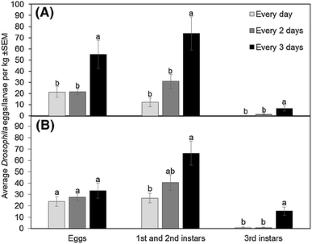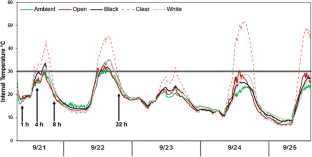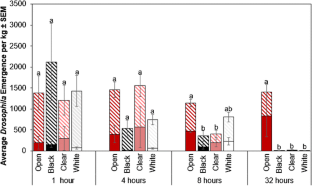 References
Aly MF, Kraus DA, Burrack HJ (2016) Effects of postharvest cold storage on the development and survival of immature Drosophila suzukii (Diptera: Drosophilidae) in artificial diet and fruit. J Econ Entomol. doi:10.1093/jee/tow289

Asplen M, Anfora G, Biondi A, Choi D, Chu D, Daane K, Gibert P, Guiterrez A, Hoelmer K, Hutchison W, Isaacs R, Jiang Z, Karpati Z, Kimura M, Pascual M, Phillips C, Plantamp C, Ponti L, Vetek G, Vogt H, Walton V, Yu Y, Zappala L, Desneux N (2015) Invasion biology of spotted wing Drosophila (Drosophila suzukii): a global perspective and future priorities. J Pest Sci 88:469–494

Beers EH, Horton DR, Miliczky E (2016) Pesticides used against Cydia pomonella disrupt biological control of secondary pests of apple. Biol Control 102:35–43

Bellamy DE, Sisterson MS, Walse SS (2013) Quantifying host potentials: indexing postharvest fresh fruits for spotted wing drosophila, Drosophila suzukii. PLoS One 8(4):e61227

Biondi A, Mommaerts V, Smagghe G, Viñuela E, Zappalà L, Desneux N (2012) The non-target impact of spinosyns on beneficial arthropods. Pest Manag Sci 68:1523–1536

Bolda M, Goodhue R, Zalom FG (2010) Spotted wing drosophila: potential economic impact of a newly established pest. Agric Resour Econ Update, Univ Calif, Giannini Found 13:5–8

Bolda M, Tourte L, Klonsky K and De Moura RL (2012) Sample costs to produce fresh market raspberries: central coast region. [Online]. University of California Cooperative Extension http://coststudies.ucdavis.edu/files/2012/RaspberryCC2012.pdf

Borgemeister C, Adda C, Sétamou M, Hell K, Djomamou B, Markham RH, Cardwell KF (1998) Timing of harvest in maize: effects on post harvest losses due to insects and fungi in central Benin, with particular reference to Prostephanus truncatus (Horn)(Coleoptera: Bostrichidae). Agric Ecosyst Environ 69:233–242

Bruck DJ, Bolda M, Tanigoshi L, Klick J, Kleiber J, DeFrancesco J, Gerdeman B, Spitler H (2011) Laboratory and field comparisons of insecticides to reduce infestation of Drosophila suzukii in berry crops. Pest Manag Sci 67:1375–1385

Chabert S, Allemand R, Poyet M, Eslin P, Gibert P (2012) Ability of European parasitoids (Hymenoptera) to control a new invasive Asiatic pest, Drosophila suzukii. Biol Control 63:40–47

Cini A, Ioriatti C, Anfora G (2012) A review of the invasion of Drosophila suzukii in Europe and a draft research agenda for integrated pest management. Bull Insectol 65:149–160

Connell JH, Labavitch JM, Sibbett GS, Reil WO, Barnett WH, Heintz C (1989) Early harvest of almonds to circumvent late infestation by naval orangeworm. J Am Soc Hort Sci 114:595–599

Daane KM, Wang XG, Biondi A, Miller B, Miller JC, Riedl H, Shearer PW, Guerrieri E, Giorgini M, Buffington M, Van Achterberg K (2016) First exploration of parasitoids of Drosophila suzukii. J Pest Sci 89:823–835

De Ros G, Conci S, Pantezzi T, Savini G (2015) The economic impact of invasive pest Drosophila suzukii on berry production in the Province of Trento, Italy. J Berry Res 5:89–96

Desneux N, Decourtye A, Delpuech JM (2007) The sublethal effects of pesticides on beneficial arthropods. Annu Rev Entomol 52:81–106

Diepenbrock LM, Rosensteel DO, Hardin JA, Sial AA, Burrack HJ (2016) Season-long programs for control of Drosophila suzukii in southeastern U.S. blueberries. Crop Prot 81:76–84

Farnsworth D, Hamby K, Bolda M, Goodhue R, Williams J, Zalom F (2016) Economic analysis of revenue losses and control costs associated with the spotted wing drosophila (Drosophila suzukii (Matsumura)) in the California raspberry industry. Pest Manag Sci. doi:10.1002/ps.4497

Goodhue RE, Bolda M, Farnsworth D, Williams JC, Zalom FG (2011) Spotted wing drosophila infestation of California strawberries and raspberries: economic analysis of potential revenue losses and control costs. Pest Manag Sci 67:1396–1402

Hamby KA, Bellamy DE, Chiu JC, Lee JC, Walton VM, Wiman NG, York RM, Biondi A (2016) Biotic and abiotic factors impacting development, behavior, phenology, and reproductive biology of Drosophila suzukii. J Pest Sci 89:605–619

Hawkins JA, Wilson BH, Mondart CL, Nelson BD, Farlow RA, Schilling PE (1979) Leafhoppers and planthoppers in coastal bermudagrass: Effect on yield and quality and control by harvest frequency. J Econ Entomol 72:101–104

Haye T, Girod P, Cuthbertson AG, Wang XG, Daane KM, Hoelmer KA, Baroffio C, Zhang JP, Desneux N (2016) Current SWD IPM tactics and their practical implementation in fruit crops across different regions around the world. J Pest Sci. doi:10.1007/s10340-016-0737-8

Kinjo H, Kunimi Y, Nakai M (2014) Effects of temperature on the reproduction and development of Drosophila suzukii (Diptera: Drosophilidae). Appl Entomol Zool 49:297–304

Klick J, Yang WQ, Walton VM, Dalton DT, Hagler JR, Dreves AJ, Lee JC, Bruck DJ (2016) Distribution and activity of Drosophila suzukii in cultivated raspberry and surrounding vegetation. J Appl Entomol 140:37–46

Leach H, Van Timmeren S, Isaacs R (2016) Exclusion netting delays and reduces Drosophila suzukii (Diptera: Drosophilidae) infestation in raspberries. J Econ Entomol. doi:10.1093/jee/tow157

Lee JC, Bruck DJ, Curry H, Edwards D, Haviland DR, Van Steenwyk RA, Yorgey BM (2011a) The susceptibility of small fruits and cherries to the spotted-wing drosophila, Drosophila suzukii. Pest Manag Sci 67:1358–1367

Lee JC, Bruck DJ, Dreves AJ, Ioriatti C, Vogt H, Baufeld P (2011b) In focus: spotted wing drosophila, Drosophila suzukii, across perspectives. Pest Manag Sci 67:1349–1351

Lee JC, Dreves AJ, Cave AM, Kawai S, Isaacs R, Miller JC, Van Timmeren S, Bruck DJ (2015) Infestation of wild and ornamental noncrop fruits by Drosophila suzukii (Diptera: Drosophilidae). Ann Entomol Soc Am. doi:10.1093/aesa/sau014

Mazzetto F, Marchetti E, Amiresmaeili N, Sacco D, Francati S, Jucker C, Dindo ML, Lupi D, Tavella L (2016) Drosophila parasitoids in northern Italy and their potential to attack the exotic pest Drosophila suzukii. J Pest Sci 89:837–850

Miller JS, Cummings TF, Mikitzel LJ, Johnson DA (2002) Influence of timing of harvest in relation to haulm killing and planting date on potato tuber rot caused by Phytophthora infestans. Plant Dis 86:264–268

Mitsui H, Takahashi KH, Kimura MT (2006) Spatial distributions and clutch sizes of Drosophila species ovipositing on cherry fruits of different stages. Popul Ecol 48:233–237

Moegenburg SM, Levey DJ (2003) Do frugivores respond to fruit harvest? An experimental study of short-term responses. Ecology 84:2600–2612

Ramsay AM (1983) Mechanical harvesting of raspberries—a review with particular reference to engineering development in Scotland. J Agric Eng Res 28:183–206

Tochen S, Dalton DT, Wiman NG, Hamm C, Shearer PW, Walton VM (2014) Temperature-related development and population parameters for Drosophila suzukii (Diptera: Drosophilidae) on cherry and blueberry. Environ Entomol 43:501–510

Van Timmeren S, Isaacs R (2013) Control of spotted wing drosophila, Drosophila suzukii, by specific insecticides and by conventional and organic crop protection programs. Crop Prot 54:126–133

Van Timmeren S, Isaacs R (2014) Drosophila suzukii in Michigan vineyards, and the first report of Zaprionus indianus from this region. J Appl Entomol 138:519–527

Walsh DB, Bolda MP, Goodhue RE, Dreves AJ, Lee J, Bruck DJ, Walton VM, O'Neal SD, Zalom FG (2011) Drosophila suzukii (Diptera: Drosophilidae): invasive pest of ripening soft fruit expanding its geographic range and damage potential. J Integr Pest Manag 2:G1–G7

Weydert C, Mandrin J-F (2013) Le ravageur émergent Drosophila suzukii: situation en France et connaissances acquises en verger (2ème partie). Infos CTIFL 292:32–40

Wiman NG, Dalton DT, Anfora G, Biondi A, Chiu JC, Daane KM, Gerdeman B, Gottardello A, Hamby KA, Isaacs R, Grassi A (2016) Drosophila suzukii population response to environment and management strategies. J Pest Sci 89:653–665

Woltz JM, Donahue KM, Bruck DJ, Lee JC (2015) Efficacy of commercially available predators, nematodes and fungal entomopathogens for augmentative control of Drosophila suzukii. J Appl Entomol 139:759–770

Yang L, Elbakidze L, Marsh T, McIntosh C (2016) Primary and secondary pest management in agriculture: balancing pesticides and natural enemies in potato production. Agric Econ 47:609–619
Acknowledgements
We thank Abigail Cohen, Emilie Cole, John Jentzen, Jaclyn Stone, and Taylor Zachar for technical assistance on this project. This research was supported by the TunnelBerries project funded by the National Institute of Food and Agriculture, US Department of Agriculture, under The Specialty Crops Research Initiative program (agreement 2014-51181-22380). Additional funding was provided by the North Central Region Sustainable Agriculture Research and Education program (Award 2014-38640-22156). Any opinions, findings, conclusions, or recommendations expressed in this publication are those of the authors and do not necessarily reflect the view of the US Department of Agriculture.
Ethics declarations
Conflict of interest
The authors declare that they have no conflict of interest.
Additional information
Communicated by A. Biondi.
About this article
Cite this article
Leach, H., Moses, J., Hanson, E. et al. Rapid harvest schedules and fruit removal as non-chemical approaches for managing spotted wing Drosophila. J Pest Sci 91, 219–226 (2018). https://doi.org/10.1007/s10340-017-0873-9
Received:

Revised:

Accepted:

Published:

Issue Date:
Keywords
Rubus idaeus

Cultural control

Integrated pest management

Harvest frequency

Sanitation