Abstract
The avoidance of infested squares of Gossypium hirsutum as oviposition substrate by females of Anthonomus grandis was studied following two approaches. First, the preference for oviposition in infested versus non-infested squares was studied in laboratory. Second, the distribution of ovipositions by A. grandis in nature was analyzed in cotton plots from Argentina. In addition, the consequences of multiple ovipositions were assessed in terms of emergence rate, adult weight and sex ratio. In the laboratory, the number of ovipositions was significantly higher in non-infested than in infested squares. Likewise, females were found to reject infested squares more frequently than non-infested squares. In the field, oviposition pattern fitted a uniform distribution for squares collected from the ground, while the distribution in squares sampled from the plant fitted random and uniform distributions. This suggests that oviposition decisions could be dynamic and change with the infestation conditions. Multiple ovipositions resulted in the elimination of competing larvae between L1 and L2 instars. The weight of the individual that develops to the adult stage was negatively affected by the level of larval competition, and the sex ratio deviated toward females. Our results suggest that females of A. grandis tend to avoid already infested squares. This behavior would allow reducing the levels of intraspecific competition, which we also found can seriously affect the development of their progeny. A deeper knowledge of the oviposition behavior of A. grandis could contribute to developing control methods against this important cotton pest.
Access options
Buy single article
Instant access to the full article PDF.
US$ 39.95
Tax calculation will be finalised during checkout.
Subscribe to journal
Immediate online access to all issues from 2019. Subscription will auto renew annually.
US$ 79
Tax calculation will be finalised during checkout.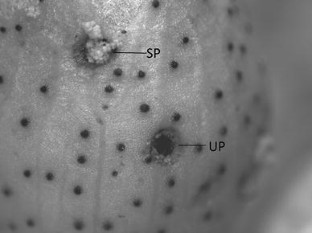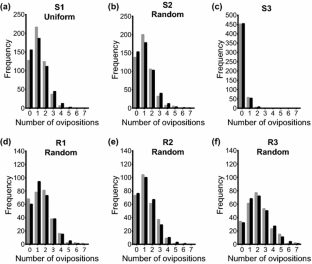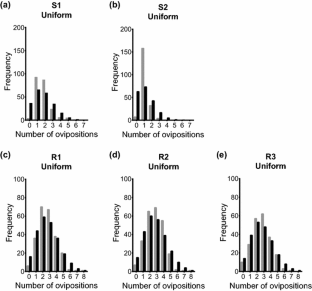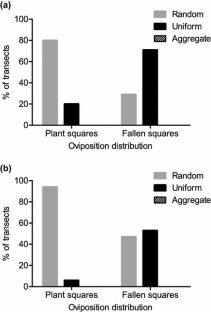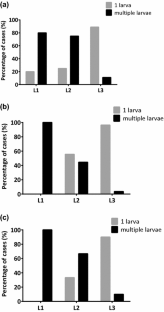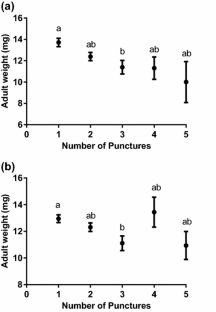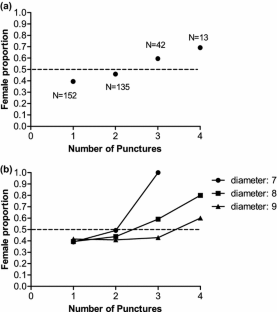 References
Addesso KM, McAuslane HJ, Stansly PA, Schuster DJ (2007) Host-marking by female pepper weevils, Anthonomus eugenii. Entomol Exp Appl 125:269–276

Coakley JM, Maxwell FG, Jenkins JN (1969) Influence of feeding oviposition, and egg and larval development of the boll weevil on abscission of cotton squares. J Econ Entomol 62:244–245

Cosenzo E, Ramirez C, Steger E (2001) Situación del Programa Nacional de Prevención y Erradicación del Picudo del Algodonero (PNPEPA) y su proyección regional. In: Proceedings of the cotton in the southern cone—project on integrated pest management of the cotton boll weevil in Argentina, Brazil and Paraguay CFC/ICAC/04, PART 1, pp 178–20

Credland PF, Dick KM, Wright AW (1986) Relationship between larval density, adult size and egg production in the cowpea seed beetle, Callosobruchus maculatus. Ecol Entomol 11:41–50

Darrouzet E, Imbert E, Chevrier C (2003) Selfsuperparasitism consequences for offspring sex ratio in the solitary ectoparasitoid Eupelmus vuilleti. Entomol Exp Appl 109:167–171

Devescovi F (2015). Estudios sobre el superparasitismo de larvas de la mosca del Mediterráneo Ceratitis capitata (Diptera: Tephritidae) por el parasitoide Diachasmimorpha longicaudata (Hymenoptera: Braconidae). Facultad de Ciencias Exactas y Naturales. Universidad de Buenos Aires. URL http://digital.bl.fcen.uba.ar/Download/Tesis/Tesis_5725_Devescovi.pdf

Esquivel JF (2007) Evaluation of punctures types as indicators of boll weevil (Coleoptera: Curculionidae) oviposition in cotton squares. Environ Entomol 36(1):183–186

Everett TR, Earle NW (1964) Boll weevil oviposition responses in cotton squares and various other substrates. J Econ Entomol 57(5):651–656

Everett TR, Ray JO (1962) The utility of sealed punctures for studying fecundity and egg laying by the boll weevil. J Econ Entomol 55(5):634–636

Ferguson AW, Williams IH (1991) Deposition and longevity of oviposition-deterring pheromone in the cabbage seed weevil. Physiol Entomol 16:27–33

Godfray HCJ (1994) Parasitoids behavioural and evolutionary ecology, 1st edn. Princeton, New Jersey

Greenberg SM, Sappington TW, Spurgeon DW, Sétamou M (2003) Boll weevil (Coleoptera: Curculionidae) feeding and reproduction as function of cotton square availability. Environ Entomol 32(3):698–704

Greenberg SM, Spurgeon DW, Sappington TW, Sétamou M (2005) Size-dependent feeding and reproduction by boll weevil (Coleoptera: Curculionidae). J Econ Entomol 98(3):749–756

Hunter WD, Pierce WD (1912) The Mexican boll weevil: a summary of the investigations of this insect up to December 31, 1911. U.S. Senate Doc, Washington, p 305

Jenkins JN, Parrott WL, Jones JW (1975) Boll weevil oviposition behavior: Multiple punctured squares. Environ Entomol 4(6):861–867

Jones RW, Peruyero DB (2002) Reproductive ecology of two species of the Anthonomus grandis species group (Coleoptera: Curculionidae) on Hampea (Malvaceae: Gossypieae) host plants in Southern Mexico. Environ Entomol 31(4):693–701

Jones RW, Fryxell PA, Baro DM (1997) Phylogenetic analysis of the genus Hampea (Malvales: Malvaceae: Gossypieae). Anales Inst Biol Univ Nac Autón México, Ser Bot 68(1):21–42

Lanteri AA, Confalonieri VA, Scataglini MA (2003) El picudo del algodonero en la Argentina: principales resultados e implicancias de los estudios moleculares. Rev Soc Entomol Arg 62(3–4):1–15

Liu S, Zhao B, Bonjour E (2011) Host marking and host discrimination in phytophagous insects. In: Liu T, Kang L (eds) Recent advances in entomological research. Springer, Dordrecht, pp 73–85

McGovern WL, Villavaso EJ, Mitchell EB, Wagner TL (1987) Boll weevil (Coleoptera: Curculionidae) ovipositional behavior: discrimination against damaged squares. Environ Entomol 16:951–955

McKibben GH, McGovern WL, Dickerson WA (1982) Boll weevil (Coleoptera: Curculionidae) oviposition behavior: a simulation analysis. J Econ Entomol 75:928–931

Ministerio de Agroindustrias (2016) Revista para el sector algodonero No 3. http://www.agroindustria.gob.ar/sitio/areas/algodon/informes/_archivo//160000_2016/160300_Marzo/000001_Revista%20para%20el%20Sector%20Algodonero%20N%C2%BA%203%20-%202016.pdf

Mitchell R (1975) Evolution of oviposition tactics in bean weevil, Callosobruchus maculatus (F.). Ecology 56:696–702

Nufio CR, Papaj DR (2001) Host marking behavior in phytophagous insects and parasitoids. Entomol Exp Appl 99:273–293

Nufio CR, Papaj DR (2004) Host-marking behaviour as a quantitative signal of competition in the walnut fly Rhagoletis juglandis. Ecol Entomol 29:336–344

Nussenbaum AL (2014) Aislamientos de Beauveria bassiana y Metarhizium anisopliae virulentos para el control del picudo del algodonero, Anthonomus grandis (Coleoptera: Curculionidae). Facultad de Ciencias Exactas y Naturales. Universidad de Buenos Aires. URL: http://digital.bl.fcen.uba.ar/Download/Tesis/Tesis_5511_Nussenbaum.pdf

Nussenbaum AL, Lecuona RE (2016) Parámetros biológicos y poblacionales del picudo del algodonero (Anthonomus grandis) criado en condiciones controladas sobre dieta artificial. Ciencia y Tecnología de los Cultivos Industriales 8:77–83.

Parrot WML, Jenkins JN, Buford WT (1970) Instars and duration of stadia of boll weevil larvae. Ann Entomol Soc Am 63(5):1265–1267

Prokopy RJ (1981) Epideictic pheromones that influence spacing patterns of phytophagous insects. In: Nordlund DA, Jones RL, Lewis WJ (eds) Semiochemicals: their role in pest control. Wiley Press, New York, pp 181–213

Reardon BJ, Spurgeon DW (2002) Critical weights of boll weevil (Coleoptera: Curculionidae) larvae in relation to square desiccation and natural mortality. Environ Entomol 31(6):972–976

Roitberg BD, Prokopy RJ (1987) Insects that mark host plants. Bioscience 37(6):400–406

Sappington TW, Spurgeon DW (2000) Preferred technique for adult sex determination of the boll weevil (Coleoptera: Curculionidae). Ann Entomol Soc Am 93(3):610–615

Showler AT (2005) Relationships of different cotton square sizes to boll weevil (Coleoptera: Curculionidae) feeding and oviposition in field conditions. J Econ Entomol 98(5):1572–1579

Showler AT (2007) Subtropical boll weevil ecology. Am Entomol 53(4):240–249

Showler AT (2008) Relationships of abscised cotton fruit to boll weevil (Coleoptera: Curculionidae) feeding, oviposition, and development. J Econ Entomol 101(1):68–73

Showler AT, Cantú RV (2005) Intervals between boll weevil (Coleoptera: Curculionidae) oviposition and square abscission, and development to adulthood in Lower Rio Grande Valley, Texas, field conditions. Southwest Entomol 30:161–164

Stadler T, Buteler M (2007) Migration and dispersal of Anthonomus grandis (Coleoptera: Curculionidae) in South America. Rev Soc Entomol Argent 66:205–217

Stansly PA, Cate JR (1984) Discrimination by ovipositing boll weevils (Coleoptera: Curculionidae) against previously infested Hampea (Malvaceae) flower buds. Environ Entomol 13:1361–1365

van Baaren J, Landry BL, Boivin G (1999) Sex allocation and larval competition in a superparasitizing solitary egg parasitoid: competing strategies for an optimal sex ratio. Funct Ecol 13:66–71

Zar JH (1996) Biostatistical analysis, 3rd edn. Upper Saddle River, New Jersey
Acknowledgements
The authors thank staff personnel of the Estación Experimental Roque Saenz Peña and Estación Experimental Reconquista, Instituto Nacional de Tecnología Agropecuaria, for their collaboration in the field collections. We thank all staff members of Laboratorio de Genética de Insectos de Importancia Económica, IGEAF, INTA, for technical assistance and for help in experiments.
Additional information
Communicated by D.C. Weber.
About this article
Cite this article
Nussenbaum, A.L., Devescovi, F., Fogar, M.N. et al. Discrimination of infested cotton squares by females of Anthonomus grandis . J Pest Sci 91, 107–119 (2018). https://doi.org/10.1007/s10340-017-0865-9
Received:

Revised:

Accepted:

Published:

Issue Date:
Keywords
Boll weevil

Oviposition behavior

Intraspecific competition

Discrimination