Abstract
Organic farming systems are significantly challenged by the invasive Halyomorpha halys (Stål) and native stink bug species that injure vegetable crops. This two-year study evaluated a polyculture trap crop composed of sunflower and sorghum for organic pepper production at 11 sites in 8 mid-Atlantic and Southeastern states. Stink bug densities in the trap crop and peppers were recorded weekly (mid-June through September), and stink bug fruit injury was compared for trap crop-protected and unprotected control peppers. The trap crop was highly attractive, harboring 5–50× more stink bugs per m2 than the peppers and providing an 8-week attraction period coinciding with peak stink bug activity. Despite this attractiveness, the trap crop was not effective at diverting adult stink bugs away from the pepper crop during the early fruiting period at most sites. However, the average density of stink bug nymphs in pepper plots surrounded by trap crops was 4× lower than controls 5 weeks after planting for pooled sites. Trap crop-protected peppers also had significantly less injury compared to control peppers pooled across sites and years. However, the resulting reduction in pepper damage was insufficient to be economically viable. Overall, results provide evidence that a polyculture trap crop was most effective during the latter weeks of the pepper crop cycle. Future research should address spatial arrangement of the trap crop or integration of complimentary management tactics within the trap crop earlier in the growing season to target the initial colonizing adult stink bugs.
This is a preview of subscription content, log in to check access.
Access options
Buy single article
Instant access to the full article PDF.
US$ 39.95
Price includes VAT for USA
Subscribe to journal
Immediate online access to all issues from 2019. Subscription will auto renew annually.
US$ 99
This is the net price. Taxes to be calculated in checkout.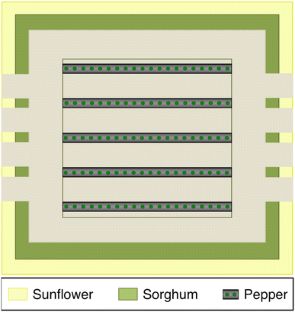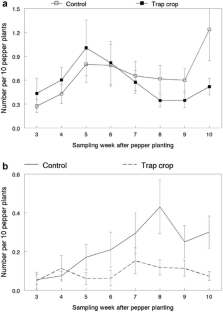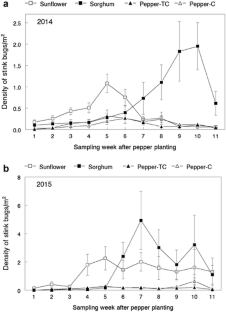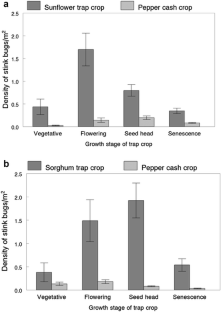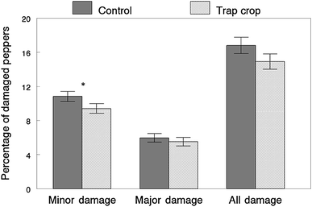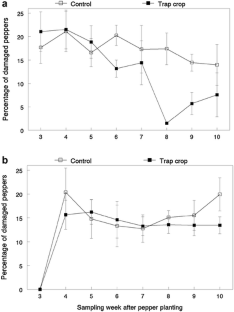 References
Blaauw BR, Jones VP, Nielsen AL (2016) Utilizing immunomarking techniques to track Halyomorpha halys (Hemiptera: Pentatomidae) movement and distribution within a peach orchard. PeerJ 4:e1997. doi:10.7717/peerj.1997

Blaauw BR, Morrison WR, Mathews CR, Leskey TC, Nielsen AL (2017) Measuring host plant selection and retention of Halyomorpha halys (Hemiptera: Pentatomidae) by a trap crop. Entomologia Experimentalis et Applicata. Accepted 23 Dec 2016

Dobson R, Rogers M, Moore J, Bessin R (2016) Exclusion of the brown marmorated stink bug from peppers using barrier screens. HortTechnology 26:191–198

Haye T, Gariepy T, Hoelmer K, Rossi JP, Streito JC, Tassus X, Desneux N (2015) Range expansion of the invasive brown marmorated stinkbug, Halyomorpha halys: an increasing threat to field, fruit and vegetable crops worldwide. J Pest Sci 88:665–673

Hokkanen HMT (1991) Trap cropping in pest management. Annu Rev Entomol 36:119–138

Holden MH, Ellner SP, Lee D-H, Nyrop JP, Sanderson JP (2012) Designing an effective trap cropping strategy: the effects of attraction, retention and plant spatial distribution. J Appl Ecol 49:715–722

Kuhar T, Morrison R, Leskey T, Aigner J, Dively G, Zobel E, Brust J, Whalen J, Cissel B, Walgenbach J, Rice K, Fleischer S, Rondon S (2016) Integrated pest management for brown marmorated stink bug in vegetables. http://www.stopbmsb.org/stopBMSB/assets/File/BMSB-in-Vegetables-English.pdf. Accessed 22 Apr 2016

Lee D-H, Short BD, Bergh SJ, Leskey TC (2013) Review of the biology, ecology, and management of Halyomorpha halys (Hemiptera: Pentatomidae) in China, Japan and the Republic of Korea. Environ Entomol 42(4):627–641

Lee D-H, Short BD, Nielsen AL, Leskey TC (2014) Impact of organic insecticides on the survivorship and mobility of Halyomorpha halys (Stål) (Hemiptera: Pentatomidae) in the laboratory. Fla Entomol 97(2):414–421

Leskey TC, Hamilton GC, Nielsen AL, Polk DF, Rodriguez-Sanoa C, Bergh CJ, Herbert DA, Kuhar TP, Pfeiffer DG, Dively GP, Hooks CRR, Raupp MJ, Shrewsbury PM, Krawczyk G, Shearer PW, Whalen J, Koplinka-Loehr C, Myers E, Inkley D, Hoelmer KA, Lee D-H, Wright SE (2012) Pest status of the brown marmorated stink bug, Halyomorpha halys in the USA. Outlooks Pest Manag 23:218–226

McPherson JE, McPherson RM (2000) Stink bugs of economic importance in America North of Mexico. CRC Press LLC, Boca Raton

Mizell RF, Riddle TC, Blount AS (2008) Trap cropping system to suppress stink bugs in the Southern coastal plain. Proc Fla State Hort Soc 121:377–382

Nielsen AL, Hamilton GC (2009) Life history of the invasive species Halyomorpha halys (Hemiptera: Pentatomidae) in Northeastern United States. Ann Entomol Soc Am 102:608–616

Nielsen AL, Dively GP, Pote JM, Zinati G, Mathews C (2016) Identifying a potential trap crop for a novel insect pest, Halyomorpha halys (Hemiptera: Pentatomidae), in organic farms. Environ Entomol 45:472–478

SAS Institute Inc (2013) The SAS system, Release 9.4. SAS Institute, Cary, NC

Shelton AM, Badenes-Perez FR (2006) Concepts and applications of trap cropping in pest management. Annu Rev Entomol 51:285–308

Soergel DC, Ostiguy N, Fleischer SJ, Troyer RR, Rajotte EG, Krawczyk G (2015) Sunflower as a potential trap crop of Halyomorpha halys (Hemiptera: Pentatomidae) in pepper fields. Environ Entomol 44(6):1581–1589

Talamas EJ, Herlihy MV, Dieckhoff C, Hoelmer KA, Buffington M, Bon MC, Weber DC (2015) Trissolcus japonicus (Ashmead) (Hymenoptera, Scelionidae) emerges in North America. J Hymenopt Res 43:119–128

Tillman PG, Northfield TD, Mizell RF, Riddle TC (2009) Spatiotemporal patterns and dispersal of stink bugs (Heteroptera: Pentatomidae) in peanut-cotton farmscapes. Environ Entomol 38:1038–1052

United States Department of Agriculture National Organic Standards (2016) ELECTRONIC CODE OF FEDERAL REGULATIONS Title 7, Subtitle B, Chapter I, Subchapter M, §205.206. http://www.ecfr.gov/cgi-bin/text-idx?c=ecfr&sid=3f34f4c22f9aa8e6d9864cc2683cea02&tpl=/ecfrbrowse/Title07/7cfr205_main_02.tpl. Accessed 22 Apr 2016

Venugopal PD, Coffey PL, Dively GP, Lamp WO (2014) Adjacent habitat influence on stink bug (Hemiptera: Pentatomidae) densities and the associated injury at field corn and soybean edges. PLoS ONE 9:e109917

Voshell R (2015) Interactions of brown marmorated stink bug, Colletotrichum acutatum and trap crops in organic tomato production. M.S. Thesis, West Virginia University

Wallner AM, Hamilton GC, Nielsen AL, Hahn N, Green EJ, Rodriguez-Saona CR (2014) Landscape factors facilitating the invasive dynamics and distribution of the brown marmorated stink bug, Halyomorpha halys (Hemiptera: Pentatomidae), after arrival in the United States. PLoS ONE 9(5):e95691

Zehnder G, Gurr GM, Kühne S, Wade SR, Wratten SD, Wyss E (2007) Arthropod pest management in organic crops. Annu Rev Entomol 52:57–80

Zobel ES, Hooks CRR, Dively GP (2016) Seasonal abundance, host suitability, and feeding injury of the brown marmorated stink bug, Halyomorpha halys (Heteroptera: Pentatomidae), in selected vegetables. J Econ Entomol. doi:10.1093/jee/tow055
Acknowledgments
We thank the farmers who generously provided their land and field support to make this research possible and numerous student interns and volunteers in the Mathews, Dively, Nielsen and Wszelaki labs. This project was funded by United States Department of Agriculture National Institute of Food and Agriculture Grant #2012-51300-20097.
Ethics declarations
Conflict of interest
CM, BB, GD, JK, JM, TT, DP, EO, JW, CW, GZ and AN declare that they have no conflict of interest.
Ethical approval
This article does not contain any studies with human participants or animals performed by any of the authors.
Additional information
Special Issue: The brown marmorated stink bug Halyomorpha halys an emerging pest of global concern.
Communicated by T. Haye.
About this article
Cite this article
Mathews, C.R., Blaauw, B., Dively, G. et al. Evaluating a polyculture trap crop for organic management of Halyomorpha halys and native stink bugs in peppers. J Pest Sci 90, 1245–1255 (2017). https://doi.org/10.1007/s10340-017-0838-z
Received:

Revised:

Accepted:

Published:

Issue Date:
Keywords
Stink bug

Hemiptera: Pentatomidae

Organic management

Habitat manipulation

Sunflower

Sorghum

Pepper injury