Abstract
Stilbenes are constitutively accumulated in grape canes at a high concentration of about 10 g kg−1 DW. Some of these compounds have antimicrobial activity and are involved in grapevine defence in leaves and fruits, acting as phytoalexins. In this work, we studied their insecticidal effects against Spodoptera littoralis larvae by using an extract from grapevine canes containing 27% (w/w) of total stilbenes and the major ones isolated from this extract (E-piceatannol, E-resveratrol, isohopeaphenol, E-ε-viniferin and E-vitisin B). The stilbenes isolated from the grapevine extract did not show any significant antifeedant effect or acute toxicity, but they did cause chronic mortality to the larvae population of an important polyphagous pest, S. littoralis. The tetramer, E-vitisin B, appeared to be the most effective compound with LC50 and LC90 values of 134 and 298 µg cm−2, respectively. Significant synergic relationships were found between some stilbenes, resulting in a significant increase in the insecticidal efficacy of the mixture of these substances. Taken together, these results suggest that grapevine canes are a good source of active substances for the development of botanical insecticides.
Access options
Buy single article
Instant access to the full article PDF.
US$ 39.95
Tax calculation will be finalised during checkout.
Subscribe to journal
Immediate online access to all issues from 2019. Subscription will auto renew annually.
US$ 79
Tax calculation will be finalised during checkout.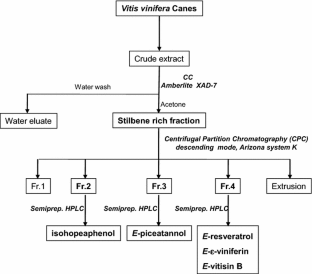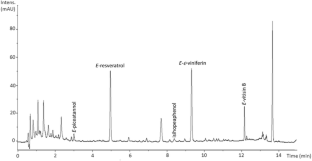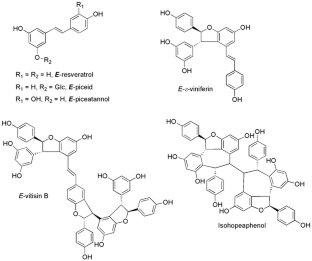 References
Abbott WS (1925) A method of computing the effectiveness of an insecticide. J Econ Entomol 18:265–267

Adrian M, Jeandet P, Douillet-Breuil AC, Tesson L, Bessis R (2000) Stilbene content of mature Vitis vinifera berries in response to UV-C elicitation. J Agric Food Chem 48:6103–6105

Bass C, Denholm I, Williamson MS, Nauen R (2015) The global status of insect resistance to neonicotinoid insecticides. Pestic Biochem Physiol 121:78–87

Berthod A, Ruiz-Angel MJ, Carda-Broch S (2003) Elution–extrusion countercurrent chromatography. Use of the liquid nature of the stationary phase to extend the hydrophobicity window. Anal Chem 75:5886–5894

Berthod A, Hassoun M, Ruiz-Angel MJ (2005) Alkane effect in the Arizona liquid systems used in countercurrent chromatography. Anal Bioanal Chem 383:327–340

Britton RG, Kovoor C, Brown K (2015) Direct molecular targets of resveratrol: identifying key interactions to unlock complex mechanisms. Ann N Y Acad Sci 1348:124–133

Croteau R, Kutchan TM, Lewis NG (2000) Natural products (secondary metabolites). In: Buchanan BB, Gruissem W, Jones RL (eds) Biochemistry and molecular biology of plants. American Society of Plant Physiologists, Rockville, MD, pp 1250–1318

Dinan L, Savchenko T, Whiting P, Sarker SD (1999) Plant natural products as insect steroid receptor agonists and antagonists. Pestic Sci 55:331–335

Finney DJ (1971) Probit analysis. Cambridge University Press, London

FranceAgrimer (2012) L'observatoire national des ressources en biomasse—Evaluation des ressources disponibles en France—Les Etudes de FranceAgrimer, Edition October 2012

Gammon DW (1980) Pyrethroid resistance in a strain of Spodoptera littoralis is correlated with decreased sensitivity of the CNS in vitro. Pestic Biochem Physiol 13:53–62

Gomez KA, Gomez AA (1984) Statistical procedures for agricultural research, 2nd edn. Wiley, NewYork

Guerrero A, Malo EA, Coll J, Quero C (2014) Semiochemical and natural product-based approaches to control Spodoptera spp. (Lepidoptera: Noctuidae). J Pest Sci 87:231–247

Guerrero RF, Biais B, Richard T, Puertas B, Waffo-Téguo P, Mérillon JM, Cantos-Villar E (2016) Grapevine cane's waste is a source of bioactive stilbenes. Ind Crops Prod 94:884–892

Harmatha J, Dinan L (2003) Biological activities of lignans and stilbenoids associated with plant–insect chemical interactions. Phytochem Rev 2:321–330

Hosny MM, Topper CP, Moawad GM, El-Saadany GB (1986) Economic damage thresholds of Spodoptera littoralis (Boisd.) (Lepidoptera: Noctuidae) on cotton in Egypt. Crop Prot 5:100–104

Houillé B, Besseau S, Courdavault V, Oudin A, Glévarec G, Delanoue G, Guérin L, Simkin AJ, Papon N, Clastre M, Giglioli-Guivarch N, Lanoue A (2015) Biosynthetic origin of resveratrol accumulation in grape canes during postharvested storage. J Agric Food Chem 63:1631–1638

Huang S, Han ZJ (2007) Mechanisms for multiple resistances in field populations of common cutworm, Spodoptera litura (Fabricius) in China. Pestic Biochem Physiol 87:14–22

Isman MB (2015) A renaissance for botanical insecticides? Pest Manag Sci 71:1587–1590

Lambert C, Bisson J, Waffo Téguo P, Papastamoulis Y, Richard T, Corio-Costet MF, Mérillon JM, Cluzet S (2012) Phenolics and their antifungal role in grapevine wood decay: focus on the Botryosphaeriaceae family. J Agric Food Chem 60:11859–11868

Lambert C, Richard T, Renouf E, Bisson J, Waffo Téguo P, Bordenave L, Ollat N, Mérillon JM, Cluzet S (2013) Comparative analyses of stilbenoids in canes of major Vitis vinifera L. cultivars. J Agric Food Chem 61:11392–11399

Lv XQ, Feng G, Liu YQ, Nan X, Yang L (2014) CA-4, a natural cis-stilbene compound with potential insecticidal activity. Med Chem Res 23:3347–3352

Papastamoulis Y, Richard T, Nassra M, Badoc A, Krisa S, Harakat D, Monti JP, Mérillon JM, Waffo-Téguo P (2014) Viniphenol A, a complex resveratrol hexamer from Vitis vinifera stalks: structural elucidation and protective effects against amyloid-β-induced toxicity in PC12 cells. J Nat Prod 77:213–217

Pavela R (2011) Antifeedant and larvicidal effects of some phenolic components of essential oils last lines of introduction against Spodoptera littoralis (Boisd.). J Essent Oil Bear Plants 14:266–273

Pavela R (2014a) Insecticidal properties of Pimpinella anisum essential oils against the Culex quinquefasciatus and the non-target organism Daphnia magna. J Asia Pac Entomol 17:287–293

Pavela R (2014b) Acute, synergistic and antagonistic effects of some aromatic compounds on the Spodoptera littoralis Boisd. (Lep., Noctuidae) larvae. Ind Crops Prod 60:247–258

Pavela R (2015a) Essential oils for the development of eco-friendly mosquito larvicides: a review. Ind Crops Prod 76:174–187

Pavela R (2015b) Acute toxicity and synergistic and antagonistic effects of the aromatic compounds of some essential oils against Culex quinquefasciatus Say larvae. Parasitol Res 114:3835–3853

Pavela R (2016) History, presence and perspective of using plant extracts as commercial botanical insecticides and farm products for protection against insects—a review. Plant Prot Sci 52:229–241

Pavela R, Benelli G (2016) Essential oils as ecofriendly biopesticides? Challenges and constraints. Trends Plant Sci 21:1000–1007

Pavela R, Vrchotova N, Sera B (2008) Growth inhibitory effect of extracts from Reynoutria sp. plants against Spodoptera littoralis larvae. Agrociencia 42:573–584

Pavela R, Zabka M, Vrchotova N, Triska J, Kazda J (2013a) Selective effects of the extract from Angelica archangelica L. against Harmonia axyridis (Pallas)—an important predator of aphids. Ind Crops Prod 51:87–92

Pavela R, Zabka M, Kalinkin V, Kotenev E, Gerus A, Shchenikova A, Chermenskaya T (2013b) Systemic applications of Azadirachtin in the control of Corythucha ciliata (Say, 1832) (Hemiptera, Tingidae), a pest of Platanus sp. Plant Prot Sci 49:27–33

Pavela R, Zabka M, Tylova T, Kresinova Z (2014) Insecticidal activity of compounds from Ailanthus altissima against Spodoptera littoralis larvae. Pak J Agric Sci 51:101–112

Pavela R, Žabka M, Bednář J, Tříska J, Vrchotová N (2016) New knowledge for yield, composition and insecticidal activity of essential oils obtained from the aerial parts or seeds of fennel (Foeniculum vulgare Mill.). Ind Crops Prod 83:275–282

Pawlus AD, Waffo Téguo P, Shaver J, Mérillon JM (2012) Stilbenoid chemistry from wine and the genus Vitis, a review. J Int Sci Vigne Vin 45:57–111

Pentzold S, Zagrobelny M, Bjarnholt N, Kroymann J, Vogel H, Olsen CE, Moller BL, Bak S (2015) Metabolism, excretion and avoidance of cyanogenic glucosides in insects with different feeding specializations. Insect Biochem Mol Biol 66:119–128

Pezet R, Gindro K, Viret O, Richter H (2004) Effects of resveratrol, viniferins and pterostilbene on Plasmopara viticola zoospore mobility and disease development. Vitis 43:145–148

Pezet R, Perret C, Jean-Denis JB, Tabacchi R, Gindro K, Viret O (2003) δ-viniferin, a resveratrol dehydromer: one of the major stilbenes synthesized by stressed grapevine leaves. J Agric Food Chem 51:5488–5492

Pratyusha S, Usha Rani P (2013) Induction of phenolic acids and metals in Arachis hypogea L. plants due to feeding of three Lepidopteran pests. Arthropod Plant Interact 7:517–525

Rivière C, Pawlus AD, Mérillon JM (2012) Natural stilbenoids: distribution in the plant kingdom and chemotaxonomic interest in Vitaceae. Nat Prod Rep 29:1317–1333

Sadek MM, Hansson BS, Anderson P (2010) Does risk of egg parasitism affect choice of oviposition sites by a moth? A field and laboratory study. Basic Appl Ecol 11:135–143

Schnee S, Queiroz EF, Voinesco F, Marcourt L, Dubuis PH, Wolfender JL, Gindro K (2013) Vitis vinifera canes, a new source of antifungal compounds against Plasmopara viticola, Erysiphe necator, and Botrytis cinerea. J Agric Food Chem 61:5459–5467

Schroder J (1999) The chalcone/stilbene synthase-type family of condensing enzymes. In: Barton DHR, Nakanishi K, Meth-Con O (eds) Comprehensive natural products chemistry, polyketides and other secondary metabolites including fatty acids and their derivatives. Elsevier, Amsterdam, pp 749–772

Shen T, Xie C-F, Wang X-N, Lou H-X (2013) Stilbenoids. In: Ramawat KG, Mérillon JM (eds) Natural products. Springer-Verlag, Berlin, pp 1901–1949

Tak J-H, Jovel E, Isman MB (2016) Contact, fumigant, and cytotoxic activities of thyme and lemongrass essential oils against larvae and an ovarian cell line of the cabbage looper, Trichoplusia ni. J Pest Sci 89:183–193

Tong S-M, Feng M-G (2016) A mixture of putative sodium salts of camptothecin and bambootar is a novel botanical insecticide against rice planthoppers and stem borers. J Pest Sci 89:1003–1011

Torres P, Avila JG, de Vivar AR, Garcia AM, Marin JC, Aranda E, Cespedes CL (2003) Antioxidant and insect growth regulatory activities of stilbenes and extracts from Yucca periculosa. Phytochem 64:463–473
Acknowledgements
The authors would like to thank the Technology Agency of the Czech Republic for their financial support of the botanical pesticide and basic substance research. Financial support for this work was provided by the Technology Agency of the CR (Project No. TA04020103).
Funding
The authors also wish to thank the Conseil Regional d'Aquitaine for their financial support in this research. The work was supported by the French National Research Agency (ANR LabCom program, Stilbene Innovation project, ANR-14-LAB5-0005-01), the Bordeaux Metabolome Facility and MetaboHUB (ANR-11-INBS-0010 project).
Ethics declarations
Conflict of interest
The authors declare no competing interests.
Ethical approval
This article does not contain any studies with human participants or animals performed by any of the authors.
Additional information
Communicated by M.B. Isman.
About this article
Cite this article
Pavela, R., Waffo-Teguo, P., Biais, B. et al. Vitis vinifera canes, a source of stilbenoids against Spodoptera littoralis larvae. J Pest Sci 90, 961–970 (2017). https://doi.org/10.1007/s10340-017-0836-1
Received:

Revised:

Accepted:

Published:

Issue Date:
Keywords
Natural insecticides

Spodoptera littoralis

Cane extract

Stilbenes

E-ε-viniferin, vitisin B

Isohopeaphenol

Vitis vinifera L.