Abstract
Drosophila suzukii (Matsumura) is a devastating pest of soft-skinned fruits including blackberries and raspberries. Management of this pest is focused on preventing infestation in crops, but non-crop hosts may play an important role in enabling D. suzukiito persist in the absence of cultivated hosts. Drosophila suzukii may also infest fruits of both crop and non-crop hosts concurrently. Our goals were to determine whether (1) D. suzukiiprefers to oviposit in cultivated blackberry, Rubus L. subgenus rubus Watson, or American pokeweed, Phytolacca americana, a non-crop host commonly found along field edges, (2) D. suzukii prefers to oviposit into the same host from which it emerged, and (3) performance differs between D. suzukii progeny that develop in blackberries or pokeweed berries. Although the pest was able to infest both hosts at the same rate, we found that D. suzukii females emerging from pokeweed preferred to oviposit into blackberries, while females emerging from blackberry had no preference. Progeny that developed in blackberries were more fit than progeny that developed in pokeweed berries based on several measures. In field locations, cultivated blackberries and pokeweed berries only overlapped in availability for a short period of time, and infestation rates were variable between blackberries and pokeweed berries collected during that period. Nonetheless, these results suggest that non-crop hosts may facilitate the invasion of D. suzukii and perpetuate infestation of cultivated hosts under certain circumstances.
This is a preview of subscription content, log in to check access.
Access options
Buy single article
Instant access to the full article PDF.
US$ 39.95
Price includes VAT for USA
Subscribe to journal
Immediate online access to all issues from 2019. Subscription will auto renew annually.
US$ 99
This is the net price. Taxes to be calculated in checkout.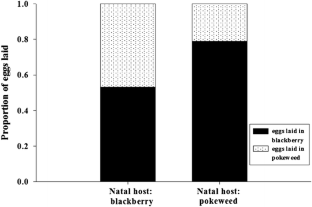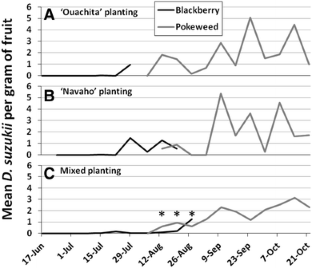 References
Armbruster P, Hutchinson RA (2002) Pupal mass and wing length as indicators of fecundity in Aedesalbopictus and Aedesgeniculatus (Diptera: Culicidae). J Med Entomol 39:699–704. doi:10.1603/0022-2585-39.4.699

Asplen M, Anfora G, Biondi A, Choi DS, Chu D, Daane K, Gibert P, Gutierrez A, Hoelmer K, Hutchison W, Isaacs R, Jiang ZL, Kárpáti Z, Kimura M, Pascual M, Philips C, Plantamp C, Ponti L, Vétek G, Vogt H, Walton V, Yu Y, Zappalà L, Desneux N (2015) Invasion biology of spotted wing Drosophila (Drosophila suzukii): a global perspective and future priorities. J Pest Sci 88:469–494. doi:10.1007/s10340-015-0681-z

Atallah J, Teixeira L, Salazar R, Zaragosa G, Kopp A (2014) The making of a pest: the evolution of a fruit-penetrating ovipositor in Drosophila suzukii and related species. Proc R Soc B. doi:10.1098/rspb.2013.2840

Bellamy DE, Sisterson MS, Walse SS (2013) Quantifying host potentials: indexing postharvest fresh fruits for spotted wing drosophila, Drosophila suzukii. PLoS One 8(4):e61227. doi:10.1371/journal.pone.0061227

Bolda M, Goodhue R, Zalom FG (2010) Spotted wing drosophila: potential economic impact of a newly established pest. Agric Resour Econ Update Univ Calif Giannini Found 13:5–8

Brown PM, Thomas CE, Lombaert E, Jeffries DL, Estoup A, Handley LJL (2011) The global spread of Harmonia axyridis (Coleoptera: Coccinellidae): distribution, dispersal and routes of invasion. Biocontrol 56:623–641. doi:10.1007/s10526-011-9379-1

Bulleri F, Bruno JF, Benedetti-Cecchi L (2008) Beyond competition: incorporating positive interactions between species to predict ecosystem invisibility. PLoS Biol 6(6):e162. doi:10.1371/journal.pbio.0060162

Burrack HJ, Fernandez GE, Spivey T, Kraus DA (2013) Variation in selection and utilization of host crops in the field and laboratory by Drosophila suzukiiMatsumara (Diptera: Drosophilidae), an invasive frugivore. Pest Manag Sci 69:1173–1180. doi:10.1002/ps.3489

Calabria G, Ma´ca J, Bachli G, Serra L, Pascual M (2012) First records of the potential pest species Drosophila suzukii(Diptera: Drosophilidae) in Europe. J Appl Entomol 136:139–147. doi:10.1111/j.1439-0418.2010.01583.x

Cini A, Ioratti C, Anfora G (2012) A review of the invasion of Drosophila suzukii in Europe and a draft research agenda for integrated pest management. Bull Insectol 65:149–160

Cini A, Anfora G, Escudero-Colomar LA, Grassi A, Santosuosso U, Seljak G, Papini A (2014) Tracking the invasion of the alien fruitpest Drosophila suzukii in Europe. J Pest Sci 87:559–566. doi:10.1007/s10340-014-0617-z

Clark JR, Moore JN (2005) 'Ouachita' thornless blackberry. HortScience 40:258–260

Clark JR, Perkins-Veazie P (2011) 'APF-45' primocane-fruiting blackberry. HortScience 46:670–673

Cohen H, Yuval B (2000) Perimeter trapping to reduce Mediterranean fruit fly (Diptera: Tephritidae) damage on different host species in Israel. J Econ Entomol 93:721–725. doi:10.1603/0022-0493-93.3.721

Deprá M, Poppe JL, Schmitz HJ, De Toni DC, Valente VL (2014) The first records of the invasive pest Drosophila suzukiiin the South American continent. J Pest Sci 87:379–383. doi:10.1007/s10340-014-0591-5

Gordon RD (1985) The Coccinellidae (Coleoptera) of America north of Mexico. J NY Entomol Soc 93:1–912

Hardin JA, Kraus DA, Burrack HJ (2015) Diet quality mitigates intraspecific larval competition in Drosophila suzukii. Entomol Exp Appl 156:59–65. doi:10.1111/eea.12311

Hauser M (2011) A historic account of the invasion of Drosophila suzukii (Matsumura) (Diptera: Drosophilidae) in the continental United States, with remarks on their identification. Pest Manag Sci 67:1352–1357. doi:10.1002/ps.2265

Haye T, Gariepy T, Hoelmer K, Rossi JP, Streito JC, Tassus X, Desneux N (2015) Range expansion of the invasive brown marmorated stink bug, Halyomorphahalys: an increasing threat to field, fruit and vegetable crops worldwide. J Pest Sci 88:665–673. doi:10.1007/s10340-015-0670-2

Hoffman A (1985) Interspecific variation in the response of Drosophila to chemicals and fruit odours in a wind tunnel. Aust J Zool 33:451–460. doi:10.1071/ZO9850451

Hoffman AA, O'Donnell S (1992) Heritable variation in the attraction of Drosophila melanogaster to fruit in the field. J Biol Linn Soc 47:147–159. doi:10.1111/j.1095-8312.1992.tb00661.x

Keesey IW, Knaden M, Hansson BS (2015) Olfactory specialization in Drosophila suzukii supports an ecological shift in host preference from rotten to fresh fruit. J Chem Ecol 41:121–128. doi:10.1007/s10886-015-0544-3

King JR, Tschinkel WR (2006) Experimental evidence that the introduced fire ant, Solenopsisinvicta, does not competitively suppress co-occurring ants in a disturbed habitat. J Anim Ecol 75:1370–1378. doi:10.1111/j.1365-2656.2006.01161.x

King JR, Tschinkel WR (2008) Experimental evidence that human impacts drive fire ant invasions and ecological change. Proc Natl Acad Sci USA 105:20339–20343. doi:10.1073/pnas.0809423105

Kinjo H, Kunimi Y, Ban T, Nakai M (2013) Oviposition efficacy of Drosophila suzukii on different cultivars of blueberry. J Econ Entomol 106:1767–1771. doi:10.1603/EC12505

Lee JC, Bruck DJ, Curry H, Edwards DL, Haviland DR, Van Steenwyk R, Yorgey B (2011a) The susceptibility of small fruits and cherries to the spotted wing drosophila, Drosophila suzukii. Pest Manag Sci 67:1358–1367. doi:10.1002/ps.2225

Lee JC, Bruck DJ, Dreves AJ, Ioriatti C, Vogt H, Baufeld P (2011b) In focus: spotted wing drosophila, Drosophila suzukii, across perspectives. Pest Manag Sci 67:1349–1351. doi:10.1002/ps.2271

Lee JC, Dreves AJ, Cave AM, Kawai S, Isaacs R, Miller JC, van Timmeren S, Bruck DJ (2015) Infestation of wild and ornamental noncrop fruits by Drosophila suzukii (Diptera: Drosophilidae). Ann Entomol Soc Am. doi:10.1093/aesa/sau014

Liu D, Trumble JT (2007) Comparative fitness of invasive and native populations of the potato psyllid (Bactericeracockerelli). Entomol Exp Appl 123:35–42. doi:10.1111/j.1570-7458.2007.00521.x

Mitsui H, Takahashi KH, Kimura MT (2006) Spatial distributions and clutch sizes of Drosophila species ovipositing on cherry fruits of different stages. Popul Ecol 48:233–237. doi:10.1007/s10144-006-0260-5

Moore J, Clark J (1989) 'Navajo' erect thornless blackberry. HortScience 24:863–865

Orrock JL, Levey DJ, Danielson BJ, Damschen EI (2006) Seed predation, not seed dispersal, explains the landscape-level abundance of an early-successional plant. J Ecol 94:838–845. doi:10.1111/j.1365-2745.2006.01125.x

Papaj DR, Prokopy RJ (1989) Ecological and evolutionary aspects of learning in phytophagous insects. Annu Rev Entomol 34:315–350. doi:10.1146/annurev.en.34.010189.001531

Pelton E, Gratton C, Isaacs R, van Timmeren S, Blanton A, Guédot C (2016) Earlier activity of Drosophila suzukii in high woodland landscapes but relative abundance is unaffected. J Pest Sci. doi:10.1007/s10340-016-0733-z

Pimentel D, Lach L, Zuniga R, Morrison D (2000) Environmental and economic costs of nonindigenous species in the United States. BioScience 50:53–65

Pimentel D, Zuniga R, Morrison D (2005) Update on the environmental and economic costs associated with alien invasive species in the United States. Ecol Econ 52:273–288. doi:10.1016/j.ecolecon.2004.07.013

Poyet M, Eslin P, He´raude M, Le Roux V, Pre´vost G, Gibert G, Gibert P (2014) Invasive host for invasive pest: when the Asiatic cherry fly (Drosophila suzukii) meets the American black cherry (Prunusserotina) in Europe. Agric For Entomol 16:251–259. doi:10.1111/afe.12052

Poyet M, Le Roux V, Gibert P, Meirland A, Prevost G, Eslin P, Chabrerie O (2015) The wide potential trophicniche of the Asiatic fruit fly Drosophila suzukii: the key of its invasive success in temperate Europe? PLoS ONE 10(11):e0142785. doi:10.1371/journal.pone.0142785

Prokopy RJ (2003) Two decades of bottom-up, ecologically based pest management in a small commercial apple orchard in Massachusetts. Agric Ecosyst Environ 94:299–309. doi:10.1016/S0167-8809(02)00036-1

Prokopy RJ, Miller NW, Piñero JC, Barry JD, Tran LC, Oride L, Vargas RI (2003) Effectiveness of GF-120 fruit fly bait spray applied to border area plants for control of melon flies (Diptera: Tephritidae). J Econ Entomol 96:1485–1495. doi:10.1093/jee/96.5.1485

Pyšek P, Richardson DM (2010) Invasive species, environmental change and management and health. Annu Rev Environ Resour 35:25–55. doi:10.1146/annurev-environ-033009-095548

Revadi S, Lebreton S, Witzgall P, Anfora G, Dekker T, Becher PG (2015a) Sexual behavior of Drosophila suzukii. Insects 6:183–196. doi:10.3390/insects6010183

Revadi S, Vitagliano S, Rossi Stacconi MV, Ramasamy S, Mansourian S, Carlin S, Vrhovsek U, Becher PG, Mazzoni V, Rota-Stabelli O, Angeli S, Dekker T, Anfora G (2015b) Olfactory responses of Drosophila suzukii females to host plant volatiles. Physiol Entomol 40:54–64. doi:10.1111/phen.12088

Steinwascher K (1982) Relationship between pupal mass and adult survivorship and fecundity for Aedesaegypti. Environ Entomol 11:150–153. doi:10.1093/ee/11.1.150

Stewart TJ, Wang XG, Molinar A, Daane KM (2014) Factors limiting peach as a potential host for Drosophila suzukii (Diptera: Drosophilidae). J Econ Entomol 107:1771–1779. doi:10.1603/EC14197

Tochen S, Dalton DT, Wiman N, Hamm C, Shearer P, Walton V (2014) Temperature-related development and population parameters for Drosophila suzukii (Diptera:Drosophilidae) on cherry and blueberry. Environ Ecol 43:501–510. doi:10.1603/EN13200

Van Timmeren S, Isaacs R (2013) Control of spotted wing drosophila, Drosophila suzukii, by specific insecticides and by conventional and organic crop protection programs. Crop Prot 54:126–133. doi:10.1016/j.cropro.2013.08.003

Van Timmeren S, Isaacs R (2014) Drosophila suzukii in Michigan vineyards, and the first report of Zaprionusindianus from this region. J Appl Entomol 138:519–527. doi:10.1111/jen.12113

Vilela CR, Mori L (2014) The invasive spotted-wing Drosophila (Diptera: Drosophilidae) has been found in the city of São Paulo (Brazil). Rev Bras Entomol 58:371–375. doi:10.1590/S0085-56262014000400004

Walsh DB, Bolda MP, Goodhue RE, Dreves AJ, Lee J, Bruck DJ, Walton VM, O'Neal SD, Zalom FG (2011) Drosophila suzukii (Diptera: Drosophilidae): invasive pest of ripening soft fruit expanding its geographic range and damage potential. J IntegrPest Manag 2:G1–G7. doi:10.1603/IPM10010

Wilcove DS, Rothstein D, Dubow J, Phillips A, Losos E (1998) Quantifying threats to imperiled species in the United States. Bioscience 48:607–615. doi:10.2307/1313420

Wu S, Tai H, Li Z, Wang X, Tang S, Sun W, Xiao C (2007) Field evaluation of different trapping methods of cherry fruit fly. J Yunnan Agric Univ 22:365–368

Yu D, Zalon F, Hamby K (2013) Host status and fruit odor response of Drosophila suzukii (Diptera: Drosophilidae) to figs and mulberries. J Econ Entomol 106:1932–1937. doi:10.1603/EC12480
Acknowledgments
We thank our cooperating growers for asking the questions which led to the conception of this study and permitting use of their farms. We thank Connor Thomas, Aurora Toennisson, Tiffany Moore, and Linda Della Rosa for assistance with fruit dissections and larval counts. We appreciate the commentary and discussion from the Burrack lab group which assisted in the interpretation of our results, and we would like to thank the three anonymous reviewers who provided helpful feedback on an earlier version of this manuscript.
Author contributions
LMD and KASB conceived and designed research. LMD and KASB conducted experiments and analyzed data. HJB supplied laboratory materials and support staff. LMD and KASB wrote the manuscript with advice from HJB. All authors read and approved the manuscript.
Funding
This research was conducted with support from the North Carolina Agricultural Foundation (to KASB and HJB), a USDA Southern Regional Integrated Pest Management Grant (2013-34103), and a USDA APHIS cooperative agreement (15-8130-0194-CA to HJB).
Ethics declarations
Conflict of interest
The authors declare that they have no conflict of interest.
Additional information
Lauren M. Diepenbrock and Katharine A. Swoboda-Bhattarai have contributed equally for this work.
Special Issue: Spotted Wing Drosophila
Communicated by A. Biondi.
About this article
Cite this article
Diepenbrock, L.M., Swoboda-Bhattarai, K.A. & Burrack, H.J. Ovipositional preference, fidelity, and fitness of Drosophila suzukii in a co-occurring crop and non-crop host system. J Pest Sci 89, 761–769 (2016). https://doi.org/10.1007/s10340-016-0764-5
Received:

Revised:

Accepted:

Published:

Issue Date:
Keywords
Spotted wing drosophila

Host preference

Fitness

Invasive species