Abstract
Drosophila suzukii (Matsumura) (Diptera: Drosophilidae) is an invasive pest of soft-skinned fruit causing significant damage on a variety of fruit crops in North America, Europe, and Asia. In North America, fall-bearing fruit, such as primocane raspberries, ripen when D. suzukii populations peak and thus are vulnerable to high levels of infestation. In recent years, growers in northern climates have increased raspberry production under protected culture (high tunnels), resulting in season extension, increased yield, and improved fruit quality. High tunnels may be used as a pest management tool by physically excluding insect pests. This study investigated whether D. suzukii can be excluded from fall-bearing raspberries cultivated under tunnels covered with plastic or fine mesh netting, and whether this production technique can improve fruit marketability and serve as an alternative to insecticide application. We found that berries in plastic-covered tunnels had low season-long levels of infestation by D. suzukii (mean = 2 %), compared to netted tunnels (35 %), insecticide-treated open plots (60 %) and untreated open plots (81 %). Our microclimate data show that temperature and humidity levels inside the plastic-covered tunnels were often outside the previously published optimal temperature range for development, mating, and/or oviposition for D. suzukii, and may have therefore limited overall population growth. We conclude that exclusion and modification of microclimate may be effective and complementary pest management strategies for fall-fruiting raspberry and serve as an alternative to insecticide applications, particularly for small-acreage and organic production systems.
This is a preview of subscription content, log in to check access.
Access options
Buy single article
Instant access to the full article PDF.
US$ 39.95
Price includes VAT for USA
Subscribe to journal
Immediate online access to all issues from 2019. Subscription will auto renew annually.
US$ 99
This is the net price. Taxes to be calculated in checkout.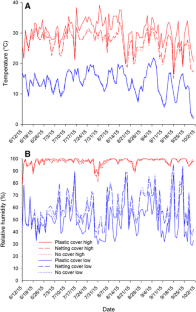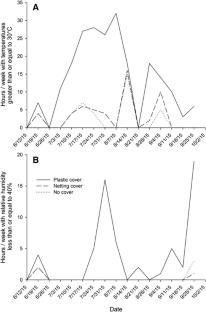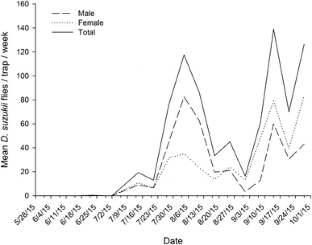 References
Asplen MK, Anfora G, Biondi A, Choi D-S, Chu D, Daane KM, Gibert P, Gutierrez AP, Hoelmer KM, Hutchison WD, Isaacs R, Jiang Z-L, Kárpáti Z, Kimura MT, Pascual M, Philips CP, Plantamp C, Ponti L, Vétek G, Vogt H, Walton VM, Yu Y, Zappalà L, Desneux N (2015) Invasion biology of spotted wing Drosophila (Drosophila suzukii): a global perspective and future priorities. J Pest Sci. doi:10.1007/s10340-015-0681-z

Bruck D, Bolda M, Tanigoshi L, Klick J, Kleiber J, DeFrancesco J, Gerdeman B, Spitler H (2011) Laboratory and field comparisons of insecticides to reduce infestation of Drosophila suzukii in berry crops. Pest Manag Sci 67:1375–1385

Cini A, Ioriatti C, Anfora G (2012) A review of Drosophila suzukii in Europe and a draft research agenda for integrated pest management. Bull Insectol 65:149–160

Cormier D, Veilleux J, Firlej A (2015) Exclusion net to control spotted wing Drosophila in blueberry fields. IOBC-WPRS Bull 109:181–184

Cowles RS, Rodriguez-Saona C, Holdcraft R, Loeb GM, Elsensohn JE, Hesler SP (2015) Sucrose improves insecticide activity against Drosophila suzukii (Diptera: Drosophilidae). J Econ Entomol 108:640–653. doi:10.1093/jee/tou100

Demchak K (2009) Small fruit production in high tunnels. HortTechnology 19:44–49

Diepenbrock LM, Rosensteel DO, Hardin JA, Sial AA, Burrack HJ (2016) Season-long programs for control of Drosophila suzukii in southeastern U.S. blueberries. Crop Prot 81:76–84

Hanson E, Von Weihe M, Schilder AC, Chanon AM, Scheerens JC (2011) High tunnel and open field production of floricane-and primocane-fruiting raspberry cultivars. HortTechnology 21:412–418

Hanson EJ, Gluck BI, Schilder A (2013) High tunnels for organic raspberry production in the Midwestern U.S. Acta Hort 1001:73–78

Kawase S, Uchino K, Yasuda M, Motoori S (2008) Netting control of cherry Drosophila Drosophila suzukii injurious to blueberry. Bull Chiba Prefect Agric Res Cent 7:9–15

Kinjo H, Kunimi Y, Nakai M (2014) Effects of temperature on the reproduction and development of Drosophila suzukii (Diptera: Drosophilidae). Appl Entomol Zool 49:297–304

Lee JC, Bruck DJ, Curry H, Edwards D, Haviland DR, Van Steenwyk RA, Yorgey BM (2011) The susceptibility of small fruits and cherries to the spotted-wing drosophila, Drosophila suzukii. Pest Manag Sci 67:1358–1367

Ogden AB, van Iersel MW (2009) Southern highbush blueberry production in high tunnels: temperatures, development, yield, and fruit quality during the establishment years. HortScience 44:1850–1856

Perkins-Veazie P, Nonnecke G (1992) Physiological changes during ripening of raspberry fruit. HortScience 27:331–333

SAS Institute (2014) Base SAS 9.4 Procedures Guide: statistical procedures. SAS Institute Inc, Cary

Tochen S, Dalton DT, Wiman N, Hamm C, Shearer PW, Walton VM (2014) Temperature-related development and population parameters for Drosophila suzukii (Diptera: Drosophilidae) on cherry and blueberry. Environ Entomol 43:501–510

Tochen S, Woltz JM, Dalton DT, Lee JC, Wilman NG, Walton VM (2015) Humidity affects populations of Drosophila suzukii (Diptera: Drosophilidae) in blueberry. J Appl Entomol. doi:10.1111/jen.12247

Tuohimetsä S, Hietaranta T, Uosukainen M, Kukkonen S, Karhu S (2014) Fruit development in artificially self-and cross-pollinated strawberries (Fragaria x ananassa) and raspberries (Rubus idaeus). Acta Agriculturae Scandinavica 64:408–415

Van Timmeren S, Isaacs R (2013) Control of spotted wing drosophila, Drosophila suzukii, by specific insecticides and by conventional and organic crop protection programs. Crop Prot 54:126–133

Wien HC (2009) Microenvironmental variations within the high tunnel. HortScience 44:235–238

Xiao L, Chandler CK, Price JF, Duval JR, Mertely JC, Legard DE (2001) Comparison of epidemics of botrytis fruit rot and powdery mildew of strawberry in large plastic tunnel and field production systems. Plant Dis 85:901–909

Yao S, Rosen CJ (2011) Primocane-fruiting raspberry production in high tunnels in a cold region of the upper Midwestern United States. HortTechnology 21:429–434
Acknowledgments
We thank Suzanne Wold-Burkness, Theresa Cira, Connor Mikre, Ignasi Riera Vila, and Anita Gorder for field and technical assistance.
Funding
This work was supported through funding from USDA NIFA Regional Integrated Pest Management Competitive Grants Program—North Central Region award number 2013-34103-21338, the University of Minnesota Rapid Agricultural Response Fund, and the Minnesota Agricultural Experiment Station.
Ethics declarations
Conflict of Interest
The authors declare that they have no conflict of interest.
Ethical approval
This article does not contain any studies with human participants or animals performed by any of the authors.
Additional information
Special Issue: Spotted Wing Drosophila Dr. Mary Rogers.
Communicated by A. Biondi.
About this article
Cite this article
Rogers, M.A., Burkness, E.C. & Hutchison, W.D. Evaluation of high tunnels for management of Drosophila suzukii in fall-bearing red raspberries: Potential for reducing insecticide use. J Pest Sci 89, 815–821 (2016). https://doi.org/10.1007/s10340-016-0731-1
Received:

Revised:

Accepted:

Published:

Issue Date:
Keywords
Spotted wing drosophila

Asian vinegar fly

Rubus idaeus

Invasive species

High tunnel