Abstract
Hormesis, a biphasic phenomenon characterized by low-dose stimulation and high-dose inhibition following exposure to stress, has been reported in many different insects exposed to low doses of pesticide. Using green peach aphid, Myzus persicae (Sulzer) (Hemiptera: Aphididae), and the insecticide imidacloprid as a model, we tested whether or not there were changes in expression of genes involved in insecticide detoxification and general stress when aphids were exposed over multiple generations in a greenhouse setting to imidacloprid concentrations that induced hormetic responses. We also wanted to know whether exposure to insecticide concentrations that induce reproductive hormesis impacted the insect's ability to cope with a subsequent stressor. The instantaneous rate of increase and total reproductive output of aphids developing on potato plants treated with 0.25 µg imidacloprid L−1 was significantly greater than that on control plants. Treatments of 0.25 and 2.5 µg imidacloprid L−1 significantly increased or decreased expression of genes for E4-esterase, cytochrome P450-CYP6CY3, and Hsp60 in aphids, with variation within and across generations. Third-generation aphids from plants treated with 0.25 µg imidacloprid L−1 survived longer than control aphids when subsequently subjected to food/water stress, but not when subsequently exposed to a LC20 of another insecticide. Our results indicate insecticide-induced reproduction hormesis in M. persicae is accompanied by intermittent changes in expression of detoxification and stress-coping genes, and that it can prime the insect to cope with subsequent stress.
Access options
Buy single article
Instant access to the full article PDF.
USD 39.95
Price excludes VAT (USA)
Tax calculation will be finalised during checkout.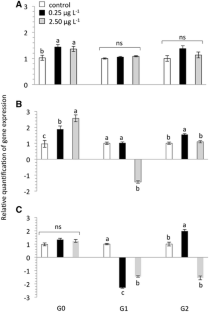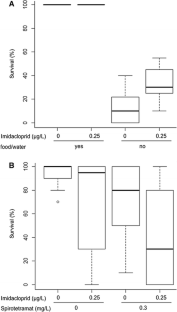 References
Ayyanath M-M, Cutler GC, Scott-Dupree CD, Sibley PK (2013) Transgenerational shifts in reproduction hormesis in green peach aphid exposed to low concentrations of imidacloprid. PLoS ONE 8:e74532

Ayyanath M-M, Cutler GC, Scott-Dupree CD, Prithiviraj B, Kandasamy S, Prithiviraj K (2014) Gene expression during imidacloprid-induced hormesis in green peach aphid. Dose-Response 12:480–497

Ayyanath M-M, Scott-Dupree CD, Cutler GC (2015) Effects of low doses of precocene on reproduction and gene expression in green peach aphid. Chemosphere 128:245–251

Baek JH, Clark JM, Lee SH (2010) Cross-strain comparison of cypermethrin-induced cytochrome P450 transcription under different induction conditions in diamondback moth. Pestic Biochem Physiol 96:43–50

Bai H, Kang P, Tatar M (2012) Drosophila insulin-like peptide-6 (dilp6) expression from fat body extends lifespan and represses secretion of Drosophila insulin-like peptide-2 from the brain. Aging Cell 11:978–985

Bass C, Field LM (2011) Gene amplification and insecticide resistance. Pest Manag Sci 67:886–890

Bass C, Puinean AM, Zimmer CT, Denholm I, Field LM, Foster SP, Gutbrod O, Nauen R, Slater R, Williamson MS (2014) The evolution of insecticide resistance in the peach potato aphid, Myzus persicae. Insect Biochem Mol Biol 51:41–51

Calabrese EJ (2005) Paradigm lost, paradigm found: the re-emergence of hormesis as a fundamental dose response model in the toxicological sciences. Environ Pollut 138:379–411

Calabrese EJ, Blain R (2005) The occurence of hormetic dose responses in the toxicological literature, the hormesis database: an overview. Toxicol Appl Pharm 202:289–301

Castaneda LE, Figueroa CC, Nespolo RF (2010) Do insect pests perform better on highly defended plants? Costs and benefits of induced detoxification defences in the aphid Sitobion avenae. J Evol Biol 23:2474–2483

Chelliah S, Heinrichs EA (1980) Factors affecting insecticide-induced resurgence of the brown planthopper, Nilaparvata lugens, on rice. Environ Entomol 9:773–777

Costantini D (2014) Does hormesis foster organism resistance to extreme events? Front Ecol Environ 12:209–210

Costantini D, Metcalfe NB, Monaghan P (2010) Ecological processes in a hormetic framework. Ecol Lett 13:1435–1447

Costantini D, Monaghan P, Metcalfe NB (2012) Early life experience primes resistance to oxidative stress. J Exp Biol 215:2820–2826

Cutler GC (2013) Insects, insecticides and hormesis: evidence and considerations for study. Dose-Response 11:154–177

Cutler GC, Ramanaidu K, Astatkie T, Isman MB (2009) Green peach aphid, Myzus persicae (Hemiptera: Aphididae), reproduction during exposure to sublethal concentrations of imidacloprid and azadirachtin. Pest Manag Sci 65:205–209

Galbadage T, Hartman PS (2008) Repeated temperature fluctuation extends the life span of Caenorhabditis elegans in a daf-16-dependent fashion. Mech Ageing Dev 129:507–514

Gressel J (2011) Low pesticide rates may hasten the evolution of resistance by increasing mutation frequencies. Pest Manag Sci 67:253–257

Guedes RNC, Cutler GC (2014) Insecticide-induced hormesis and arthropod pest management. Pest Manag Sci 70:690–697

Guedes NMP, Tolledo J, Correa AS, Guedes RNC (2010) Insecticide-induced hormesis in an insecticide-resistant strain of the maize weevil, Sitophilus zeamais. J Appl Entomol 134:142–148

Hua J, Jones DK, Relyea RA (2014) Induced tolerance from a sublethal insecticide leads to cross-tolerance to other insecticides. Environ Sci Technol 48:4078–4085

Jager T, Barsi A, Ducrot V (2013) Hormesis on life-history traits: is there such thing as a free lunch? Ecotoxicology 22:263–270

Le Bourg E, Malod K, Massou I (2012) The NF-kappa B-like factor DIF could explain some positive effects of a mild stress on longevity, behavioral aging, and resistance to strong stresses in Drosophila melanogaster. Biogerontology 13:445–455

Lopez-Martinez G, Hahn DA (2014) Early life hormetic treatments decrease irradiation-induced oxidative damage, increase longevity, and enhance sexual performance during old age in the caribbean fruit fly. PLoS One 9:e88128

Lowery DT, Sears MK (1986) Stimulation of reproduction of the green peach aphid (Homoptera: Aphididae) by azinphosmethyl applied to potato. J Econ Entomol 79:1530–1533

Morse JG, Zareh N (1991) Pesticide-induced hormoligosis of citrus thrips (Thysanoptera: Thripidae) fecundity. J Econ Entomol 84:1169–1174

Mukherjee SN, Rawal SK, Ghumare SS, Sharma RN (1993) Hormetic concentrations of azadirachtin and isoesterase profiles in Tribolium castaneum (Herbst) (Coleoptera, Tenebrionidae). Experientia 49:557–560

Olson ER, Dively GP, Nelson JO (2004) Bioassay determination of the distribution of imidacloprid in potato plants: implications to resistance development. J Econ Entomol 97:614–620

Pfaffl MW (2001) A new mathematical model for relative quantification in real-time RT-PCR. Nucleic Acids Res 29:e45

Philippou D, Field L, Moores G (2010) Metabolic enzyme(s) confer imidacloprid resistance in a clone of Myzus persicae (Sulzer) (Hemiptera: Aphididae) from Greece. Pest Manag Sci 66:390–395

Poupardin R, Reynaud S, Strode C, Ranson H, Vontas J, David J-P (2008) Cross-induction of detoxification genes by environmental xenobiotics and insecticides in the mosquito Aedes aegypti: impact on larval tolerance to chemical insecticides. Insect Biochem Mol Biol 38:540–551

Puinean AM, Foster SP, Oliphant L, Denholm I, Field LM, Millar NS, Williamson MS, Bass C (2010) Amplification of a cytochrome P450 gene is associated with resistance to neonicotinoid insecticides in the aphid Myzus persicae. PLoS Genet 6:e1000999

Ramachandran R, Mukherjee SN, Sharma RN (1988) Hormetic effect of azadirachtin on Triboleum castaneum (Herbst) (Coleoptera: Tenebrionidae). Indian J Exp Biol 26:913–914

Riaz MA, Poupardin R, Reynaud S, Strode C, Ranson H, David J-P (2009) Impact of glyphosate and benzo[a]pyrene on the tolerance of mosquito larvae to chemical insecticides. Role of detoxification genes in response to xenobiotics. Aquat Toxicol 93:61–69

SAS (2008) SAS Version 9.2. SAS Institute Inc., Cary, NC

Stanley K, Fenton B (2000) A member of the Hsp60 gene family from the peach potato aphid, Myzus persicae (Sulzer). Insect Mol Biol 9:211–215

Terriere LC (1984) Induction of detoxification enzymes in insects. Annu Rev Entomol 29:71–88

Walthall WK, Stark JD (1997) Comparison of two population-level ecotoxicological endpoints: The intrinsic (r(m)) and instantaneous (r(i)) rates of increase. Environ Toxicol Chem 16:1068–1073

Wu C (1995) Heat shock transcription factors: structure and regulation. Annu Rev Cell Dev Biol 11:441–469

Yoshimi T, Minowa K, Karouna-Renier NK, Watanabe C, Sugaya Y, Miura T (2002) Activation of a stress-induced gene by insecticides in the midge, Chironomus yoshimatsui. J Biochem Mol Toxicol 16:10–17

Yu Y, Shen G, Zhu H, Lu Y (2010) Imidacloprid-induced hormesis on the fecundity and juvenile hormone levels of the green peach aphid Myzus persicae (Sulzer). Pestic Biochem Physiol 98:238–242

Zhang Y-E et al (2012) Induction of detoxification enzymes by quercetin in the silkworm. J Econ Entomol 105:1034–1042

Zhao L, Jones WA (2012) Expression of heat shock protein genes in insect stress responses. ISJ-Invertebr Surviv J 9:93–101
Acknowledgments
Funding for this research was through an NSERC Discovery Grant to GCC (Grant No. RGPIN-2014-03577). We thank D. O'Neail and B. Prithiviraj for technical assistance.
Author contributions
GCC and MMA conceived and designed the experiments. MMA and RRR conducted experiments. MMA and RRR analysed data. GCC supplied materials and analytical tools. RRR, MMA and GCC wrote the manuscript.
Additional information
Communicated by M. Traugott.
About this article
Cite this article
Rix, R.R., Ayyanath, M.M. & Christopher Cutler, G. Sublethal concentrations of imidacloprid increase reproduction, alter expression of detoxification genes, and prime Myzus persicae for subsequent stress. J Pest Sci 89, 581–589 (2016). https://doi.org/10.1007/s10340-015-0716-5
Received:

Revised:

Accepted:

Published:

Issue Date:

DOI: https://doi.org/10.1007/s10340-015-0716-5
Keywords
Hormesis

Green peach aphid

Stimulated reproduction

Gene expression

Stress conditioning