Abstract
Management of wireworms in potatoes is commonly through the use of insecticides applied at planting. With many insecticides for wireworm control now disappearing worldwide, there is an urgent need for lower risk, efficacious, and cost-effective alternative strategies for use in the twenty first century. To address this need, a novel intercrop attract-and-kill (A&K) method for controlling wireworm damage to tubers and reducing wireworms was evaluated in British Columbia (Agriotes obscurus), and Ontario (Melanotus spp.). Wheat seed treated with fipronil and/or thiamethoxam was planted in-furrow alongside untreated mother tubers. In BC trials, wheat seed treated with fipronil, or fipronil plus thiamethoxam, provided comparable blemish reductions to in-furrow granular applications of Thimet 15G, containing phorate. With these A&K treatments, mean reduction in wireworms relative to untreated controls ranged from 89 to 100 %, as compared to a 59.2 % reduction with Thimet. In the Ontario studies, mean blemish reductions of 81.2 % occurred with intercropped fipronil-treated wheat, and a 66.6 % reduction in damage with fipronil plus thiamethoxam in comparison to Thimet (83.4 % reduction). Reduction in potato yield due to competition with intercropped wheat was seldom observed. It is concluded that an A&K strategy with wheat treated with fipronil at 5 g active ingredient (AI)/100 kg seed would require only 3.4 g AI/ha, relative to 3250 g AI of phorate/ha to achieve comparable control. This A&K strategy offers a highly effective means of wireworm blemish and population control; has low environmental risk; and would be comparable to the cost of currently used prophylactic insecticide treatments such as phorate.
Access options
Buy single article
Instant access to the full article PDF.
US$ 39.95
Tax calculation will be finalised during checkout.
Subscribe to journal
Immediate online access to all issues from 2019. Subscription will auto renew annually.
US$ 79
Tax calculation will be finalised during checkout.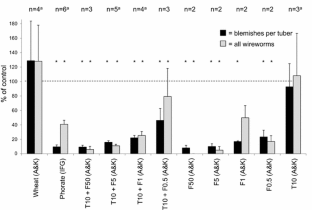 References
Barsics F, Haubruge E, Verheggen FJ (2013) Wireworms' management: an overview of the existing methods, with particular regards to Agriotes spp. (Coleoptera: Elateridae). Insects 4:117–152

Blackshaw RP, Kerry BR (2008) Root herbivory in agricultural ecosystems. In: Johnson SJ, Murray PJ (eds) Root feeders—an ecosystem perspective. CABI, Wallingford, UK, pp 35–53

Charmillot PJ, Hofer D, Pasquier D (2000) Attract and kill: a new method for control of the codling moth Cydia pomonella. Entomol Exp Appl 94:211–216

Doane JF, Lee YW, Klinger J, Westcott ND (1975) The orientation response of Ctenicera destructor and other wireworms (Coleoptera: Elateridae) to germinating grain and carbon dioxide. Can Entomol 107:1233–1252

El Sayed AM, Suckling DM, Byers JA, Jang EB, Wearing CH (2009) Potential of 'Lure and Kill' in long-term pest management and eradication of invasive species. J Econ Entomol 102:812–835

Furlan L, Toffanin F (1998) Effectiveness of new seed dressings (imidacloprid and fipronil) on elaterid larvae in a controlled environment. ATTI Giornate Fitopatologiche 1998:195–200

Gallo MA, Lawryk NJ (1991) Organic phosphorus pesticides. In: Hayes WJ Jr, Laws ER Jr (eds) Handbook of pesticide toxicology. Academic Press, New York, pp 917–1123

Gfeller A, Laloux M, Barsics F, Kati DE, Haubruge E, du Jardin P, Verheggen FJ, Lognay G, Wathelet JP, Fauconnier ML (2013) Characterization of volatile organic compounds emitted by barley (Hordeum vulgare L.) roots and their attractiveness to wireworms. J Chem Ecol 39:1129–1139

Gut LJ, Stelinski LL, Thomson DR, Miller JR (2004) Behaviour-modifying chemicals: prospects and constraints in IPM. In: Koul O, Dhaliwal DS, Cuperus GW (eds) Integrated pest management: potential, constraints and challenges. CABI, New York, pp 73–121

Horton D, Landolt P (2002) Orientation response of Pacific coast wireworm (Coleoptera: Elateridae) to food baits in laboratory and effectiveness of baits in field. Can Entomol 134:357–367

Jansson RK, Seal DR (1994) Biology and management of wireworm on potato. In: Zehnder GW, Powelson ML, Jansson RK, Raman KV (eds) Advances in potato pest biology and management. American Phytopathological Society Press, St. Paul, pp 31–53

Johnson SN, Gregory PJ (2006) Chemically-mediated host-plant location and selection by root-feeding insects. Phys Entomol 13:1–13

Johnson SN, Nielsen UN (2012) Foraging in the dark – chemically mediated host plant location by belowground insect herbivores. J Chem Ecol 38:604–614

Kuhar TP, Alvarez JM (2008) Timing of injury and efficacy of soil-applied insecticides against wireworms on potato in Virginia. Crop Prot 27:792–798

Kuryakov Y, Larionova AA (2005) Root and rhizomicrobial respiration: a review of approaches to estimate respiration by autotrophic and heterotrophic organisms in soil. J Plant Nutr Soil Sci 168:503–520

Landl M, Glauninger J (2013) Preliminary investigations into the use of trap crops to control Agriotes spp. (Coleoptera: Elateridae) in potato crops. J Pest Sci 86:85–90

Miles HW, M Cohen (1938) Investigations on wireworms and their control. Ann Rep 1937 Entomol Field Sta, Warburton

Morales-Rodriguez A, Wanner KW (2015) Efficacy of thiamethoxam and fipronil, applied alone and in combination, to control Limonius californicus and Hypnoidus bicolor (Coleoptera: Elateridae). Pest Manag Sci 71:584–591

Mortimer SR, van der Putten WH, Brown VK (1999) Insect and nematode herbivory underground: interactions and role in vegetation succession. In: Olff H, Brown VK, Drent RH (eds) Herbivores: between plants and predators. Blackwell Science, Oxford, pp 205–238

Parker WE, Howard JJ (2001) The biology and management of wireworms (Agriotes spp.) on potato with particular reference to the U.K. Agric For Entomol 3:85–98

Prokopy RJ, Wright SE, Black JL, Hu XP, McGuire MR (2000) Attracticidal spheres for controlling apple maggot flies: commercial-orchard trials. Entomol Exp Appl 97:293–299

Ritter C, Richter E (2013) Control methods and monitoring of Agriotes wireworms (Coleoptera: Elateridae). J Plant Dis Prot 120:4–15

Ritter C, Katroschan K-U, Richter E (2011) Alternative methods to control wireworms (Agriotes spp., Coleoptera: Elateridae) in vegetable production—potential of calcium cyanamide and Metarhizium anisopliae. IOBC-WPRS Bull 66:521–524

Schumann M, Patel A, Vidal S (2013) Evaluation of an attract and kill strategy for western corn rootworm larvae. Appl Soil Ecol 64:178–189

Staudacher K, Schallhart N, Thalinger B, Wallinger C, Juen A, Traugott M (2013) Plant diversity affects behaviour of generalist root herbivores, reduces crop damage and enhances crop yield. Ecol Appl 23:1135–1145

Tingle CC, Rother JA, Dewhurst CF, Lauer S, King WJ (2003) Fipronil: environmental fate, ecotoxicology, and human health concerns. Rev Environ Contam Toxicol 176:1–66

Traugott M, Benefer CM, Blackshaw RP, van Herk WG, Vernon RS (2015) Biology, ecology, and control of Elaterid beetles in agricultural land. Ann Rev Entomol 60:313–334

van Herk WG, Vernon RS (2007) Soil bioassay for studying behavioral responses of wireworms (Coleoptera: Elateridae) to insecticide-treated wheat seed. Environ Entomol 36:1441–1449

van Herk WG, Vernon RS, Clodius M, Harding C, Tolman JH (2007) Morbidity of five wireworm species (Coleoptera: Elateridae), following topical application of clothianidin and chlorpyrifos. J Entomol Soc B C 104:55–63

van Herk WG, Vernon RS, Tolman JH, Ortiz Saavedra H (2008a) Mortality of a wireworm, Agriotes obscurus (Coleoptera: Elateridae), following topical application of various insecticides. J Econ Entomol 101:375–383

van Herk WG, Vernon RS, Moffat C, Harding C (2008b) Response of the Pacific Coast wireworm, Limonius canus, and the dusky wireworm, Agriotes obscurus (Coleoptera: Elateridae), to insecticide-treated wheat seeds in a soil bioassay. Phytoprotection 89:7–19

van Herk WG, Vernon RS, Vojtko B, Snow S, Fortier J, Fortin C (2015) Contact behaviour and mortality of wireworms exposed to six classes of insecticide applied to wheat seed. J Pest Sci 88:717–739. doi:10.1007/s10340-015-0697-4

van Rozen K, Huiting HF, Wilhelm R, Heger M, Ester A (2013) Efficacy of insecticides through contact and oral uptake towards four Agriotes wireworm species under controlled conditions. EPPO Bull 43:172–179

Vernon RS (2005) Aggregation and mortality of Agriotes obscurus (Coleoptera: Elateridae) at insecticide-treated trap crops of wheat. J Econ Entomol 98:1999–2005

Vernon RS, van Herk WG (2012) Wireworms as pests of potato. In: Giordanengo P, Vincent C, Alyokhin A (eds) Insect pests of potato: global perspectives on biology and management. Academic Press, Elsevier, pp 103–164

Vernon RS, Kabaluk T, Behringer A (2000) Movement of Agriotes obscurus (Coleoptera: Elateridae) in strawberry (Rosaceae) plantings with wheat (Gramineae) as a trap crop. Can Entomol 132:231–241

Vernon RS, LaGasa E, Philip H (2001) Geographic and temporal distribution of Agriotes obscurus and A. lineatus (Coleoptera: Elateridae) in British Columbia and Washington as determined by pheromone trap surveys. J Entomol Soc B C 98:257–265

Vernon RS, van Herk WG, Tolman J, Ortiz Saavedra H, Clodius M, Gage B (2008) Transitional sublethal and lethal effects of insecticides following dermal exposures to five economic species of wireworms (Coleoptera: Elateridae). J Econ Entomol 101:367–374

Vernon RS, van Herk WG, Clodius M, Harding C (2009) Wireworm management I: stand protection versus wireworm mortality with wheat seed treatments. J Econ Entomol 102:2126–2136

Vernon RS, van Herk WG, Clodius M, Harding C (2013a) Crop protection and mortality of Agriotes obscurus wireworms with blended insecticidal wheat seed treatments. J Pest Sci 86:137–150

Vernon RS, van Herk WG, Clodius M, Harding C (2013b) Further studies on wireworm management in Canada: Damage protection versus wireworm mortality in potatoes. J Econ Entomol 106:786–799

Wilkinson ATS (1963) Wireworms of cultivated land in British Columbia. Proc Entomol Soc B C 60:3–17

Wilson LK, Elliott JE, Vernon RS, Smith BD, Szeto SY (2002) Persistence and retention of active ingredients in four granular cholinesterase-inhibiting insecticides in agricultural soils of the lower Fraser River valley, British Columbia, Canada, with implications for wildlife poisoning. Environ Toxicol Chem 121:260–268
Acknowledgments
We thank numerous summer students for their various contributions, and Leona Arnold for potato grading. This study was supported in part by the Matching Investment Initiative and Improved Farming Systems and Practices Initiative grants from Agriculture and Agri-Food Canada (Pest Management Centre), and funding from the B.C. Potato Industry Development Committee.
Author contribution statement
RSV conceived the research. JT conducted studies in Ontario. RSV, WVH, and MC conducted studies in BC. WVH conducted statistical analyses. RSV wrote the manuscript and secured funding.
Additional information
Communicated by M. Traugott.
About this article
Cite this article
Vernon, R.S., van Herk, W.G., Clodius, M. et al. Companion planting attract-and-kill method for wireworm management in potatoes. J Pest Sci 89, 375–389 (2016). https://doi.org/10.1007/s10340-015-0707-6
Received:

Accepted:

Published:

Issue Date:
Keywords
Wireworms

Potatoes

Attract and kill

Companion planting

Thiamethoxam

Fipronil

Phorate