Abstract
Drosophila suzukii (Matsumura) is an economic pest of small fruits and cherries that attacks intact ripening fruits. Host susceptibility may be influenced by characteristics such as flesh firmness, penetration force of the skin, total soluble solids (TSS, also known as °Brix), and pH. Improved knowledge of factors affecting fruit susceptibility is needed for developing thresholds and risk prediction models for IPM. A combination of laboratory and field studies was conducted to develop prediction and potential management tools. First, a direct bioassay was used to calculate the probability of oviposition in a given fruit based on various characteristics as determined across laboratory and field trials in Oregon and North Carolina, US. When multiple characteristics were evaluated simultaneously, oviposition probability consistently increased as penetration force decreased and pH increased. Oviposition probability sometimes increased as TSS increased. Second, raspberries and blueberries in unsprayed fields had substantially lower infestation in ripening fruit compared to ripe fruit. There was no or minimal infestation in green fruit. Third, given that skin penetration force influences oviposition, practices used to improve fruit quality were examined in laboratory no-choice cages for potential reduction of oviposition. Blueberry fruit sprayed with calcium silicate in the field had greater penetration force and firmness and reduced number of eggs laid by D. suzukii compared to untreated fruit. Other calcium-based treatments increased Ca content and firmness of fruit relative to untreated fruit. Timing of insecticide spray for D. suzukii might be delayed until fruit become susceptible.
This is a preview of subscription content, log in to check access.
Access options
Buy single article
Instant access to the full article PDF.
US$ 39.95
Price includes VAT for USA
Subscribe to journal
Immediate online access to all issues from 2019. Subscription will auto renew annually.
US$ 99
This is the net price. Taxes to be calculated in checkout.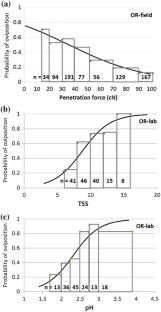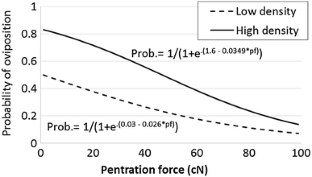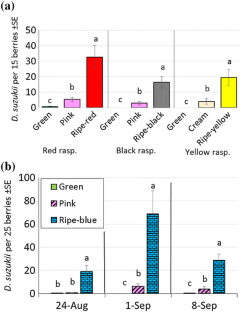 References
Angeletti P, Castagnasso H, Miceli E, Terminiello L, Concellón A, Chaves A, Vicente AR (2010) Effect of preharvest calcium applications on postharvest quality, softening and cell wall degradation of two blueberry (Vaccinium corymbosum) varieties. Postharvest Biol Technol 58:98–103

Asplen MK, Anfora G, Biondi A, Choi D-S, Chu D, Daane KM, Gibert P, Gutierrez AP, Hoelmer KA, Hutchison WD, Isaacs R, Jiang Z-L, Kárpáti Z, Kimura MT, Pascual M, Philips CR, Plantamp C, Ponti L, Vétek G, Vogt H, Walton VM, Yu Y, Zappalà L, Desneux N (2015) Invasion biology of spotted wing Drosophila (Drosophila suzukii): a global perspective and future priorities. J Pest Sci. doi:10.1007/s20340-015-0681-z

Bellamy DE, Sisteron MS, Walse SS (2013) Quantifying host potentials: indexing postharvest fresh fruits for spotted wing drosophila, Drosophila suzukii. PLoS ONE 8:1–10

Burrack HJ, Fernandez GE, Spivey T, Kraus DA (2013) Variation in selection and utilization of host crops in the field and laboratory by Drosophila suzukii Matsumara (Diptera: Drosophilidae), an invasive frugivore. Pest Manag Sci 69:1173–1180

Cini A, Anfora G, Escuder-Colomar LA, Grassi A, Santosuosso Seljak G, Papini A (2014) Tracking the invasion of the alien fruit pest Drosophila suzukii in Europe. J Pest Sci 87:559–566

Deprá M, Lucas Poppe J, Jose Schmitz H, Cristina de Toni D, Valente VLS (2014) The first records of the invasive pest Drosophila suzukii in the South American continent. J Pest Sci 87:379–383

Gavlak RG, Horneck DA, Miller RO (1994) Soild and plant tissue reference methods for the western region. University of Alaska Western Regional Publication 125, Fairbanks

Hanson EJ (1995) Preharvest calcium sprays do not improve highbush blueberry (Vaccinium corymbosum L.) quality. HortScience 30:977–978

Hosmer DW, Lemeshow S (2000) Applied logistic regression, 2nd edn. John Wiley & Sons, Inc., New York

Ioriatti C, Walton V, Dalton D, Anfora G, Grassi A, Maistri S, Mazzoni V (2015) Drosophila suzukii (Diptera: Drosophilidae) and its potential impact to wine grapes during harvest in two cool climate wine grape production regions. J Econ Entomol. doi:10.1093/jee/tov042

Kaiser C, Christensen JM, Long LE, Meland M, Fallabi E (2014) Prevention of sweet cherry fruit cracking using SureSeal, an organic biofilm. Acta Hortic 1020:477–488

Kinjo H, Kunimi Y, Ban T, Nakai M (2013) Oviposition efficacy of Drosophila suzukii (Diptera: Drosophilidae) on different cultivars of blueberry. J Econ Entomol 106:1767–1771

Lee JC, Bruck DJ, Curry H, Edwards D, Haviland DR, Van Steenwyk RA, Yorgey BM (2011) The susceptibility of small fruits and cherries to the spotted-wing drosophila, Drosophila suzukii. Pest Manag Sci 67:1358–1367

Lee JC, Dreves AJ, Cave AM, Kawai S, Isaacs R, Miller JC, Van Timmeren S, Bruck DJ (2015) Infestation of wild and ornamental noncrop fruits by Drosophila suzukii (Diptera: Drosophilidae). Ann Entomol Soc Am 108:117–129

NeSmith DS (2005) Use of plant growth regulators in blueberry production in the southeastern U.S. Int J Fruit Sci 5:41–54

NeSmith DS, Krewer G (1999) Effect of bee pollination and GA3 on fruit size and maturity of three rabbiteye blueberry cultivars with similar fruit densities. HortScience 34:1106–1107

Ochmian I (2012) The impact of foliar application of calcium fertilizers on the quality of highbush blueberry fruits belonging to the 'Duke' cultivar. Not Bot Horti Agobot 40:163–169

SAS (2013) JMP® 11.0.0. SAS Institute Inc., Cary

Stewart TJ, Wang X-G, Molinar A, Daane KM (2014) Factors limiting peach as a potential host for Drosophila suzukii (Diptera: Drosophilidae). J Econ Entomol 107:1771–1779

Swoboda-Bhattarai KA, Burrack HJ (2014) Influence of edible fruit coatings on Drosophila suzukii (Matsumura) (Diptera: Drosophilidae) oviposition and development. Int J Pest Manag 60:279–286

Tochen S, Dalton DT, Wiman N, Hamm C, Shearer PW, Walton VM (2014) Temperature-related development and population parameters for Drosophila suzukii (Diptera: Drosophilidae) on cherry and blueberry. Environ Entomol 43:501–510

Wiman NG, Walton VM, Dalton DT, Anfora G, Burrack HJ, Chiu JC, Daane KM, Grassi A, Miller B, Tochen S, Wang X, Ioriatti C (2014) Integrating temperature-dependent life table data into a matrix projection model for Drosophila suzukii population estimation. PLoS One 9:e106909

Woltz JM, Donahue KM, Bruck DJ, Lee JC (2015) Efficacy of commercially available predators, nematodes and fungal entomopathogens for augmentative control of Drosophila suzukii. J Appl Entomol. doi:10.1111/jen.12200
Acknowledgments
We are grateful to Austin Cuenca, Christina Fieland, Jesse Mindolovich, Danielle Selleck, and Jeff Wong for assistance with the studies. We thank Dave Bryla and Chad Finn for use of the small fruit plots, and two anonymous growers. Funding was provided by the Northwest Center for Small Fruit Research, USDA SCRI Grant 2010-51181-21167, and USDA CRIS 5358-22000-037-00D.
Author contribution statement
JL, HB, and VW conceived and designed research. DB, DD, KS, JL, BS, and DD conducted experiments. JL and JW analyzed data. All authors contributed to writing the paper with JL as the lead.
Additional information
Communicated by A. Biondi.
About this article
Cite this article
Lee, J.C., Dalton, D.T., Swoboda-Bhattarai, K.A. et al. Characterization and manipulation of fruit susceptibility to Drosophila suzukii . J Pest Sci 89, 771–780 (2016). https://doi.org/10.1007/s10340-015-0692-9
Received:

Revised:

Accepted:

Published:

Issue Date:
Keywords
Brix

Firmness

Fruit preference

pH

Spotted wing drosophila