Abstract
The success of an invasive species can be reduced by biotic resistance from the native fauna. For example, an invader that is eaten by native predators is less likely to thrive than one that is invulnerable. The ability of invasive cane toads (Rhinella marina) to spread through Australia has been attributed to the toad's potent defensive chemicals that can be fatal if ingested by native snakes, lizards, marsupials and crocodiles. However, several taxa of native insects and birds are resistant to cane toad toxins. If native rodents are also capable of eating toads (as suggested by anecdotal reports), these large, abundant and voracious predators might reduce toad numbers. Our field observations and laboratory trials confirm that native rodents (Melomys burtoni, Rattus colletti and Rattus tunneyi) readily kill and consume cane toads (especially small toads), and are not overtly affected by toad toxins. Captive rodents did not decrease their consumption of toads over successive trials, and ate toads even when alternative food types were available. In combination with anecdotal reports, our data suggest that rodents (both native and invasive) are predators of cane toads in Australia. Despite concerns about the decline of rodents following the invasion of toads, our data suggest that the species we studied are not threatened by toads as toxic prey, and no specific conservation actions are required to ensure their persistence.
Access options
Buy single article
Instant access to the full article PDF.
US$ 39.95
Tax calculation will be finalised during checkout.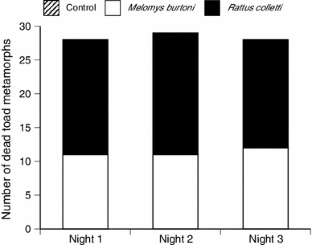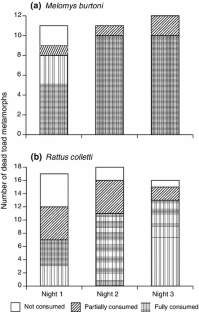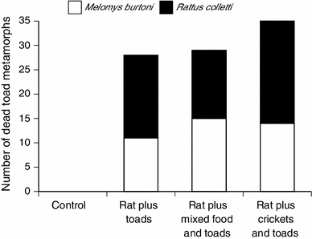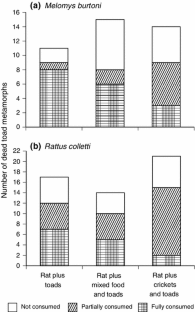 References
Adams NGK (1967) Bufo marinus eaten by Rattus rattus. N Qld Nat 34:5

Alford RA, Cohen MP, Crossland MR, Hearnden MN, James D, Schwarzkopf L (1995) Population biology of Bufo marinus in northern Australia. In: Finlayson M (ed) Wetland research in the wet-dry tropics of Australia. Supervising scientist report 101. Canberra, pp 173–181

Alford RA, Schwarzkopf L, Brown GP, Phillips B, Shine R (2006) Characteristics of Bufo marinus in old and recently established populations. In: Molloy K, Henderson W (eds) Science of cane toad invasion and control. Proceedings of the invasive animals CRC/CSIRO/Qld NRM&W cane toad workshop. Invasive Animals Cooperative Research Centre, Canberra, pp 42–46

Bagrov AY, Roukoyatkina NI, Fedorova OV, Pinaev AG, Ukhanova MV (1993) Digitalis-like and vasoconstrictor effects of endogenous digoxin-like factor(s) from the venom of Bufo marinus toad. Eur J Pharmacol 234:165–172

Beckmann C, Shine R (2009) Impact of invasive cane toads on Australian birds. Conserv Biol 23:1544–1549

Beckmann C, Shine R (2011) Toad's tongue for breakfast: exploitation of a novel prey type, the invasive cane toad, by scavenging raptors in tropical Australia. Biol Invasions 13:1447–1455

Bernard BK (1974) Frog killing (ranacide) in the male rat: lack of effect of hormonal manipulations. Physiol Behav 12:405–408

Braithwaite RW, Griffiths AD (1996) The paradox of Rattus tunneyi: endangerment of a native pest. Wildl Res 23:1–21

Breed B, Ford F (2007) Native mice and rats. CSIRO Publishing, Australia

Brown GP, Ujvari B, Madsen T, Shine R (2013) Invader impact clarifies the roles of top-down and bottom-up effects on tropical snake populations. Funct Ecol 27:351–361

Burnett S (1997) Colonizing cane toads cause population declines in native predators: reliable anecdotal information and management implications. Pac Conserv Biol 3:65–72

Cabrera-Guzmán E, Crossland MR, Shine R (2012) Predation on the eggs and larvae of invasive cane toads (Rhinella marina) by native aquatic invertebrates in tropical Australia. Biol Conserv 153:1–9

Cabrera-Guzmán E, Crossland MR, Shine R (2013) Competing tadpoles: Australian native frogs affect invasive cane toads (Rhinella marina) in natural waterbodies. Austral Ecol 38:896–904

Cassels AJ (1966) Disembowelled toads near water. N Qld Nat 34:6

Child T, Phillips BL, Brown GP, Shine R (2008a) The spatial ecology of cane toads (Bufo marinus) in tropical Australia: why do metamorph toads stay near the water? Austral Ecol 33:630–640

Child T, Phillips BL, Shine R (2008b) Abiotic and biotic influences on the dispersal behaviour of metamorph cane toads (Bufo marinus) in tropical Australia. J Exp Zool 309A:215–224

Cohen MP, Alford RA (1993) Growth, survival and activity patterns of recently metamorphosed Bufo marinus. Wildl Res 20:1–13

Covacevich J, Archer M (1975) The distribution of the cane toad Bufo marinus in Australia and its effects on indigenous vertebrates. Mem Qld Mus 17:305–310

Crossland MR, Alford RA (1998) Evaluation of the toxicity of eggs, hatchlings and tadpoles of the introduced cane toad Bufo marinus (Anura: Bufonidae) to native Australian aquatic predators. Aust J Ecol 23:129–137

Daly JW, Myers CW, Whittaker N (1987) Further classification of skin alkaloids from neotropical poison frogs (Dendrobatidae) with a general survey of toxic/noxious substances in the amphibia. Toxicon 25:1023–1095

Doody JS, Green B, Sims R, Rhind D, West P, Steer D (2006) Indirect impacts of invasive cane toads (Bufo marinus) on nest predation in pig-nosed turtles (Carettochelys insculpta). Wildl Res 33:349–354

Dumont CP, Gaymer CF, Thiel M (2011) Predation contributes to invasion resistance of benthic communities against the non-indigenous tunicate Ciona intestinalis. Biol Invasions 13:2023–2034

Elton CS (1958) The ecology of invasions by animals and plants. Methuen, London

Fitzgerald M (1990) Rattus rattus: the introduced black rat, a successful predator on the introduced cane toad Bufo marinus in northern New South Wales. Herpetofauna 20:9–14

Flier J, Edwards MW, Daly JW, Myers CW (1980) Widespread occurrence in frogs and toads of skin compounds interacting with the Ouabain site Na+ K+-ATPase. Science NS 208:503–505

Freeland WJ (1986) Populations of cane toad, Bufo marinus, in relation to time since colonization. Aust Wildl Res 13:321–329

Freeland WJ, Kerin SH (1991) Ontogenic alteration of activity and habitat selection by Bufo marinus. Wildl Res 18:431–443

Freeland WJ, Delvinqueir BLJ, Bonnin B (1986) Food and parasitism of the cane toad, Bufo marinus, in relation to time since colonization. Aust Wildl Res 13:489–499

Glendinning JI (1990) Responses of three mouse species to deterrent chemicals in the monarch butterfly. II Taste tests using intact monarchs. Chemoecology 1:124–130

Hamley T, Georges A (1985) The Australian snapping tortoise Elseya latisternum: a successful predator on the introduced Cane Toad? Aust Zool 21:607–610

Hayes RA, Crossland MR, Hagman M, Capon RJ, Shine R (2009) Ontogenetic variation in the chemical defences of cane toads (Bufo marinus): toxin profiles and effects on predators. J Chem Ecol 35:391–399

Jaisser F, Canessa CM, Horisberger J-D, Rossier BC (1992) Primary sequence and functional expression of a novel ouabain resistant Na, K-ATPase. J Biol Chem 267:16895–16903

Jeschke JM, Strayer DL (2006) Determinants of vertebrate invasion success in Europe and North America. Glob Chang Biol 12:1608–1619

Kearney M, Phillips BL, Tracy CR, Christian KA, Betts G, Porter WP (2008) Modelling species distributions without using species distributions: the cane toad in Australia under current and future climates. Ecography 31:423–434

Kelehear C, Webb JK, Shine R (2009) Rhabdias pseudosphaerocephala infection in Bufo marinus: lung nematodes reduce viability of metamorph cane toads. Parasitology 136:919–927

Kerle JA (1995) Grassland melomys Melomys burtoni. In: Strahan R (ed) The mammals of Australia. Reed New Holland and Australian Museum, Sydney, pp 632–634

Lampo M, de Leo GA (1998) The invasion ecology of Bufo marinus: from South America to Australia. Ecol Appl 8:388–396

Letnic M, Webb JK, Shine R (2008) Invasive cane toads (Bufo marinus) cause mass mortality of freshwater crocodiles (Crocodylus johnstoni) in tropical Australia. Biol Conserv 141:1773–1782

Lever C (2001) The cane toad. The history and ecology of a successful colonist. Westbury Scientific Publishing, Otley

Llewelyn J, Phillips BL, Brown GP, Schwarzkopf L, Alford RA, Shine R (2011) Adaptation or preadaptation: why are keelback snakes (Tropidonophis mairii) less vulnerable to invasive cane toads (Bufo marinus) than are other Australian snakes? Evol Ecol 25:13–24

Llewelyn J, Bell K, Schwarzkopf L, Alford RA, Shine R (2012) Ontogenetic shifts in a prey's chemical defences influence feeding responses of a snake predator. Oecologia 169:965–973

Madsen T, Shine R (1999) Rainfall and rats: climatically-driven dynamics of a tropical rodent population. Aust J Ecol 24:80–89

Madsen T, Ujvari B, Shine R, Buttemer W, Olsson M (2006) Size matters: extraordinary rodent abundance on an Australian tropical flood plain. Austral Ecol 31:361–365

McKilligan NG (1984) The food and feeding ecology of the cattle egret, Ardea ibis, when nesting in south-east Queensland. Aust Wildl Res 11:133–144

Menkhorst P, Knight F (2011) A field guide to the mammals of Australia. Oxford University Press, Melbourne

Menkhorst KA, Woinarski JCZ (1992) Distribution of mammals in monsoon rainforests of the Northern Territory. Wildl Res 19:295–316

Olsen PD (1995) Water-rat. In: Strahan R (ed) The mammals of Australia. Reed New Holland and Australian Museum, Sydney, pp 628–629

Paine RT (1976) Size-limited predation: an observational and experimental approach with the Mytilus-Pisaster interaction. Ecology 57:858–873

Pearson D (2009) Government of Western Australia. Department of Environment and Conservation. WA update Cane toad. www.dec.wa.gov.au/publications/doc_download/3583-wa-cane-toad-update-june-2009.html. Accessed 21 Jan 2013

Phillips BL, Brown GP, Shine R (2003) Assessing the potential impact of cane toads on Australian snakes. Conserv Biol 17:1738–1747

Pizzatto L, Shine R (2008) The behavioral ecology of cannibalism in cane toads (Bufo marinus). Behav Ecol Sociobiol 63:123–133

Posner I, Miley WM (1982) Discriminative control of interspecific killing in hungry and satiated rats. Anim Learn Behav 10:141–144

Price EM, Lingrel JB (1988) Structure-function relationships in the Na, K-ATPase α subunit: site-directed mutagenesis of glutamine-111 to arginine and asparagine-122 to aspartic-acid generates a ouabain-resistant enzyme. Biochemistry 27:8400–8408

Price-Rees SJ, Brown GP, Shine R (2010) Predation on toxic cane toads (Bufo marinus) may imperil bluetongue lizards (Tiliqua scincoides intermedia, Scincidae) in tropical Australia. Wildl Res 37:166–173

R Core Team (2013) R: a language and environment for statistical computing. R Foundation for Statistical Computing. http://www.R-project.org/Vienna

Redhead TD (1979) On the demography of Rattus sordidus colletti in monsoonal Australia. Aust J Ecol 4:115–136

Rozin P, Kalat JW (1971) Specific hungers and poison avoidance as adaptive specializations of learning. Psychol Rev 78:459–486

Ruiz LP Jr, White SF, Hove EL (1977) The alkaloid content of sweet lupin seed used in feeding trials on pigs and rats. Anim Feed Sci Tech 2:59–66

Samuni-Blank M, Izhaki I, Dearing MD, Karasov WH, Gerchman Y, Kohl KD, Lymberakis P, Kurnath P, Arad Z (2013) Physiological and behavioural effects of fruit toxins on seed-predating versus seed-dispersing congeneric rodents. J Exp Biol 216:3667–3673

SAS (2002) JMP 5.0.1. SAS Institute, Cary

Schmidt-Rhaesa A (2007) The evolution of organ systems. Oxford University Press, Oxford

Seabrook WA, Dettmann EB (1996) Roads as activity corridors for cane toads in Australia. J Wildl Manag 60:363–368

Shine R (2010) The ecological impact of invasive cane toads (Bufo marinus) in Australia. Q Rev Biol 85:253–291

Shine R, Brown GP (2008) Adapting to the unpredictable: reproductive biology of vertebrates in the Australian wet-dry tropics. Philos Trans R Soc B 363:363–373

Smales LR, Cribb TH (1997) Helminth parasite communities of the water-rat, Hydromys chrysogaster, from Queensland. Wildlife Res 24:445–457

St. Cloud SF (1966) Observation by J. James at Tinaroo Creek. N Qld Nat 34:6

Thurley T, Bell BD (1994) Habitat Distribution and Predation on a Western Population of Terrestrial Leiopelma (Anura, Leiopelmatidae) in the Northern King Country, New-Zealand. N Z J Zool 21:431–436

Ujvari B, Madsen T (2009) Increased mortality of naïve varanid lizards after the invasion non-native cane toads (Bufo marinus). Herpetol Conserv Biol 4:248–251

Ujvari B, Mun H, Conigrave AD, Osterkamp J, Bray A, Halling P, Madsen T (2013) Isolation breeds naivety: island living robs Australian varanid lizards of toad-toxin immunity via four-base-pair mutation. Evolution 67:289–294

Ward-Fear G, Brown GP, Greenlees MJ, Shine R (2009) Maladaptive traits in invasive species: in Australia, cane toads are more vulnerable to predatory ants than are native frogs. Funct Ecol 23:559–568

Ward-Fear G, Brown GP, Shine R (2010) Factors affecting the vulnerability of cane toads (Bufo marinus) to predation by ants. Biol J Linn Soc 99:738–751

Watts CHS (1977) The foods eaten by some Australian rodents (Muridae). Aust Wildl Res 4:151–157

Watts CHS, Aslin HJ (1981) The rodents of Australia. Angus and Robertson Publishers, Sydney

Webb JK, Brown GP, Child T, Greenlees MJ, Phillips BL, Shine R (2008) A native dasyurid predator (common planigale, Planigale maculata) rapidly learns to avoid a toxic invader. Austral Ecol 33:821–829

Webb JK, Pearson D, Shine R (2011) A small dasyurid predator (Sminthopsis virginiae) rapidly learns to avoid a toxic invader. Wildl Res 38:726–731

Whishaw IQ, Sarna JR, Pellis SM (1998) Evidence for rodent-common and species-typical limb and digit use in eating, derived from a comparative analysis of ten rodent species. Behav Brain Res 96:79–91

Williams CK (1995) Dusky Rats Rattus colletti. In: Strahan R (ed) The mammals of Australia. Reed New Holland and Australian Museum, Sydney, pp 648–649

Woinarski JCZ, Armstrong M, Brennan K, Fisher A, Griffiths AD, Hill B, Milne DJ, Palmer C, Ward S, Watson M, Winderlich S, Young S (2010) Monitoring indicates rapid and severe decline of native small mammals in Kakadu National Park, northern Australia. Wildl Res 37:116–126

Xiao Z, Chang G, Zhang Z (2008) Testing the high-tannin hypothesis with scatter-hoarding rodents: experimental and field evidence. Anim Behav 75:1235–1241

Zug GR, Zug PB (1979) The Marine Toad, Bufo marinus: a natural history resumé of native populations. Smithson Contrib Zool 284:1–58
Acknowledgments
We thank Lígia Pizzatto, Matt Greenlees, Gregory P. Brown, Joanna Barstow and Rick Lewis for providing field observations of dead toads killed by rodents; Thomas Madsen for advice; Christopher Dickman for confirming rodent identification; Z. Anahí Ávila, Michelle Franklin, Lauren Brown, Kate George, Bill Stewart, and Myfanwy Webb for assistance in the field; Eric Cox, Grant and Lea Hamilton for allowing access to Beatrice Hill Farm, and Melanie Elphick for help in figures preparation. The Northern Territory Land Corporation provided facilities. The work was funded by the Australian Research Council, the Australian Government, the National Council on Science and Technology of Mexico (CONACyT), the Department of Parks and Wildlife (WA), and the University of Sydney. All procedures were approved by the University of Sydney Animal Ethics Committee (Approval Numbers: L04/5-2007/3/4514 and L04/4-2011/2/5472).
Additional information
Communicated by J. Jacob.
Electronic supplementary material
Below is the link to the electronic supplementary material.
About this article
Cite this article
Cabrera-Guzmán, E., Crossland, M.R., Pearson, D. et al. Predation on invasive cane toads (Rhinella marina) by native Australian rodents. J Pest Sci 88, 143–153 (2015). https://doi.org/10.1007/s10340-014-0586-2
Received:

Accepted:

Published:

Issue Date:
Keywords
Alien species

Biotic resistance

Bufo marinus
Rhinella marina

Predation

Toxin resistance