Abstract
The effectiveness of bees as vectors for microbial biological control agents has been demonstrated in greenhouses and some small-acreage crops. Less is known about the viability of this tactic for other cropping systems, or the effects of outfitting hives with dispensers on the bees. Experiments conducted in lowbush blueberry (Vaccinium angustifolium) fields indicated that home-made wooden, Koppert, and Enviroquest dispensers had no significant effects on foraging behavior or pollen loads of the bumble bee Bombus impatiens, but the presence of a dispenser did reduce the rate of workers exiting hives. Following exit of bees from dispensers, no difference was found in the quantity of the microbial agent Clonostachys rosea applied to the bees or blossoms, and distribution of product in the field was not influenced by dispenser design or distance from hives. However, the prevalence of the pathogen Botrytis cinerea in blossoms from cages that contained hives with dispensers with C. rosea was significantly less (10–20 %) than blossom infection in control plots, despite unseasonably inclement conditions and restricted foraging. These results suggest that C. rosea can be effectively delivered by commercial bumble bees for prevention of B. cinerea infection in V. angustifolium, but the efficacy of the technique will be limited during periods of poor weather that often occur in regions where lowbush blueberries are grown. Some technical issues with dispensers and commercial B. impatiens hives also need to be addressed before widespread use can be expected within commercial lowbush blueberry production.
Access options
Buy single article
Instant access to the full article PDF.
US$ 39.95
Tax calculation will be finalised during checkout.
Subscribe to journal
Immediate online access to all issues from 2019. Subscription will auto renew annually.
US$ 79
Tax calculation will be finalised during checkout.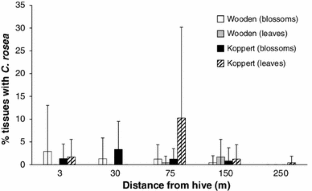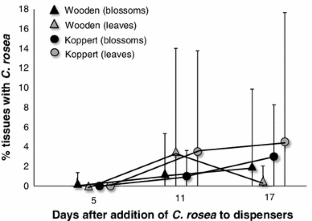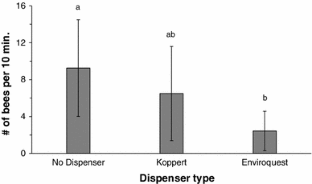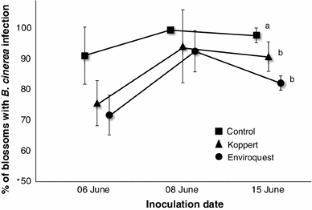 Notes
1.

Research Scientist, Atlantic Food and Horticulture Research Centre, Agriculture and Agri-Food Canada, Kentville, Nova Scotia.
References
Aalders LE, Hall IV (1961) Pollen incompatibility and fruit set in lowbush blueberries. Can J Genet Cytol 3:300–307

Albano S, Chagnon M, de Oliveira D, Houle E, Thibodeau PO, Mexia A (2009) Effectiveness of Apis mellifera and Bombus impatiens as dispersers of the Rootshield biofungicide (Trichoderma harzianum, strain T-22) in a strawberry crop. Hellenic Plant Prot J 2:57–66

Al-mazra'awi MS, Shipp JL, Broadbent AB, Kevan PG (2006a) Dissemination of Beauveria bassiana by honey bees (Hymenoptera: Apidae) for control of tarnished plant bug (Hemiptera: Miridae) on canola. Environ Entomol 35:1569–1577

Al-mazra'awi MS, Shipp L, Broadbent B, Kevan P (2006b) Biological control of Lygus lineolaris (Hemiptera: Miridae) and Frankliniella occidentalis (Thysanoptera: Thripidae) by Bombus impatiens (Hymenoptera: Apidae) vectored Beauveria bassiana in greenhouse sweet pepper. Biol Control 37:89–97

Aras P, De Oliveira D, Savoie L (1996) Effect of a honey bee (Hymenoptera: Apidae) gradient on the pollination and yield of lowbush blueberry. J Econ Entomol 89:1080–1083

Butt TM, Carreck NL, Ibrahim L, Williams IH (2008) Honey-bee-mediated infection of pollen beetle (Meligethes aeneus Fab.) by the insect-pathogenic fungus, Metarhizium anisopliae. Biocontrol Sci Tech 8:533–538

Chatterton S, Jayaraman J, Punja ZK (2008) Colonization of cucumber plants by the biocontrol fungus Clonostachys rosea f. catenulata. Biol Control 46:267–278

Cutler GC, Reeh KR, Sproule JM, Ramanaidu K (2012) Berry unexpected: nocturnal pollination of lowbush blueberry. Can J Plant Sci 92:707–711

Dedej S, Delaplane KS, Scherm H (2004) Effectiveness of honey bees in delivering the biocontrol agent Bacillus subtilis to blueberry flowers to suppress mummy berry disease. Biol Control 31:422–427

Delbridge R, Rogers D, Burgess P, Wood S (2011) Wild blueberry insect and disease management schedule. Nova Scotia Department of Agriculture, Truro, p 16

Environment-Canada (2013) Historical weather data. http://climate.weather.gc.ca/climateData/dailydata_e.html?StationID=42243

Gross HR, Hamm JJ, Carpenter JE (1994) Design and application of a hive-mounted device that uses honey bees (Hymenoptera: Apidae) to disseminate Heliothis nuclear polyhedrosis virus. Environ Entomol 23:492–501

Harrison JG, Lowe R (1987) Wind dispersal of conidia of Botrytis spp. pathogenic to Vicia faba. Plant Pathol 36:5–15

Hildebrand PD, McRae KB, Lu X (2001) Factors affecting flower infection and disease severity of lowbush blueberry by Botrytis cinerea. Can J Plant Pathol 23:364–370

Howatt S (2005) Crop Profile for Wild Blueberry in Canada. Pest Management Centre, Agriculture and Agri-Food Canada, p 39

Jarvis WR (1962) Splash dispersal of spores of Botrytis cinerea Pers. Nature 193:599

Javorek SK, Mackenzie KE, Vander Kloet SP (2002) Comparative pollination effectiveness among bees (Hymenoptera: Apoidea) on lowbush blueberry (Ericaceae: Vaccinium angustifolium). Ann Entomol Soc Am 95:345–351

Johnson KB, Stockwell VO, Burgett DM, Sugar D, Loper JE (1993) Dispersal of Erwinia amylovora and Pseudomonas fluorescens by honey bees from hives to apple and pear blossoms. Phytopathology 83:478–484

Kapongo JP, Shipp L, Kevan P, Sutton JC (2008) Co-vectoring of Beauveria bassiana and Clonostachys rosea by bumblebees (Bombus impatiens) for control of insect pests and suppression of grey mould in greenhouse tomato and sweet pepper. Biol Control 46:508–514

Kendrick B (2000) The fifth kingdom, 3rd edn. Focus Publishing, Newburyport

Kevan PG, Al-Mazra'awi MS, Sutton J, Tam L, Boland G, Broadbent B, Thomson SV, Brewer GJ (2003) Using pollinators to deliver biological control agents against crop pests. In: Downer RA, Mueninghoff JC, Volgas GC (eds) Pesticide formulations and delivery systems: meeting the challenges of the current crop protection industry, vol 1430. American Society for Testing and Materials Special Technical Publication, West Conshohocken, pp 148–153

Kevan PG, Kapongo JP, Al Mazra'awi M, Shipp L (2008) Honey bees, bumble bees, and biocontrol: new alliances between old friends. In: James RR, Pitts-Singer TI (eds) Bee pollination in agricultural ecosystems. Oxford University Press, New York, pp 65–82

Kovach J, Petzoldt R, Harman GE (2000) Use of honey bees and bumble bees to disseminate Trichoderma harzianum 1295-22 to strawberries for Botrytis control. Biol Control 18:235–242

Lambert DH (1990) Postharvest fungi of lowbush blueberry fruit. Plant Dis 74:285–287

Leach JG (1935) Insects in relation to plant diseases. Bot Rev 1:448–466

Lubeck M, Knudsen IMB, Jensen B, Thrane U, Janvier C, Funck Jensen D (2002) GUS and GFP transformation of the biocontrol strain Clonostachys rosea IK726 and the use of these marker genes in ecological studies. Mycol Res 106:815–826

Maccagnani B, Mocioni M, Ladurner E, Gullino ML, Maini S (2005) Investigation of hive-mounted devices for the dissemination of microbiological preparations by Bombus terrestris. Bull Insectol 58:3–8

Madigan MT, Martinko JM, Parker J (2003) Brock biology of microorganisms, 10th edn. Pearson Education Canada Ltd., Toronto

Mohr NA, Kevan PG (1987) Pollinators and pollination requirements of lowbush blueberry (Vaccinium angustifolium Ait. and Vaccinium myrtilloides Michx.) and cranberry (Vaccinium macrocarpon Ait.) in Ontario Canada with notes on highbush blueberry (Vaccinium corymbosum L.) and lingonberry (Vaccinium vitis idaea L.). Proc Entomol Soc Ontario 118:149–154

Mommaerts V, Smagghe G (2011) Entomovectoring in plant protection. Arthropod-Plant Interact 5:81–95

Mommaerts V, Sterk G, Hoffmann L, Smagghe G (2009) A laboratory evaluation to determine the compatibility of microbiological control agents with the pollinator Bombus terrestris. Pest Manag Sci 65:949–955

Mommaerts V, Put K, Vandeven J, Jans K, Sterk G, Hoffmann L, Smagghe G (2010) Development of a new dispenser for microbiological control agents and evaluation of dissemination by bumblebees in greenhouse strawberries. Pest Manag Sci 66:1199–1207

Mommaerts V, Put K, Smagghe G (2011) Bombus terrestris as pollinator-and-vector to suppress Botrytis cinerea in greenhouse strawberry. Pest Manag Sci 67:1069–1075

Morandi MAB, Sutton JC, Maffia LA (2000) Effects of host and microbial factors on development of Clonostachys rosea and control of Botrytis cinerea in rose. Eur J Plant Pathol 106:439–448

Morandi MAB, Mattos LPV, Santos ER, Bonugli RC (2008) Influence of application time on the establishment, survival, and ability of Clonostachys rosea to suppress Botrytis cinerea sporulation on rose debris. Crop Prot 27:77–83

Peng G, Sutton JC (1991) Evaluation of microorganisms for biocontrol of Botrytis cinerea in strawberry. Can J Plant Pathol 13:247–257

Peng G, Sutton JC, Kevan PG (1992) Effectiveness of honey bees for applying the biocontrol agent Gliocladium roseum to strawberry flowers to suppress Botrytis cinerea. Can J Plant Pathol 14:117–129

Plant Disease Diagnostic Clinic (2011) Botrytis blight. Cornell University, Ithaca

R Core Team (2013) R: A language and environment for statistical computing. http://www.R-project.org/

Reeh KW, Cutler GC (2013) Laboratory efficacy and fungicide compatibility of Clonostachys rosea against Botrytis blight on lowbush blueberry. Can J Plant Sci 93:639–642

Roberti R, Badiali F, Pisi A, Pancaldi D, Cesari A (2006) Sensitivity of Clonostachys rosea and Trichoderma spp. as potential biocontrol agents to pesticides. J Phytopathol 154:100–109

SAS (2010) JMP 9.0. SAS Institute Inc., Cary, NC

Schroers H, Samuels GJ, Seifert KA, Gams W (1999) Classification of the mycoparasite Gliocladium roseum in Clonostachys as C. rosea, its relationship to Bionectria ochroleuca, and notes on other Gliocladium-like fungi. Mycologia 91:365–385

Stubbs CS, Drummond FA (2001) Bombus impatiens (Hymenoptera: Apidae): an alternative to Apis mellifera (Hymenoptera: Apidae) for lowbush blueberry pollination. J Econ Entomol 94:609–616

Sutton JC, Peng G (1993) Biocontrol of Botrytis cinerea in strawberry leaves. Phytopathol 83:615–621

Sutton JC, Li D-W, Peng G, Yu H, Valdebenito-Sanhueza RM (1997) Gliocladium roseum: a versatile adversary of Botrytis cinerea in crops. Plant Dis 81:316–328

Whidden T (1996) The fidelity of commercially reared colonies of Bombus impatiens Cresson (Hymenoptera: Apidae) to lowbush blueberry in southern New Brunswick. Can Entomol 128:957–958

Williamson B, Tudzynski B, Tudzynski P, Van Kan JAL (2007) Botrytis cinerea: the cause of grey mould disease. Mol Plant Pathol 8:561–580

Wood GW (1965) Note on the activity of native pollinators in relation to the bloom period of lowbush blueberry. J Econ Entomol 58:777

Yu H, Sutton JC (1997) Effectiveness of bumblebees and honeybees for delivering inoculum of Gliocladium roseum to raspberry flowers to control Botrytis cinerea. Biol Control 10:113–122
Acknowledgments
We thank members of the Cutler entomology lab for technical assistance, and P. Hildebrand for the donation of cultures, and technical advice with B. cinerea. We are grateful to Koppert Canada Ltd. and Enviroquest Ltd. for providing bees and dispensers, and P. G. Kevan, J. C. Sutton, and T. Mason for providing C. rosea. Financial support was provided by an NSERC-CGS to KWR, NSERC-CANPOLIN, and the Nova Department of Agriculture Technology Development Program in partnership with the Wild Blueberry Producers Association of Nova Scotia. This is publication Number 108 of NSERC-CANPOLIN.
Additional information
Communicated by M. Traugott.
About this article
Cite this article
Reeh, K.W., Hillier, N.K. & Cutler, G.C. Potential of bumble bees as bio-vectors of Clonostachys rosea for Botrytis blight management in lowbush blueberry. J Pest Sci 87, 543–550 (2014). https://doi.org/10.1007/s10340-014-0565-7
Received:

Accepted:

Published:

Issue Date:
Keywords
Vaccinium angustifolium
Clonostachys rosea
Botrytis cinerea

Biological control

Bio-vectoring

Entomovectoring