Abstract
Invasive species management is a critical issue worldwide, but mitigation strategies are slow to develop, and invader populations often expand too rapidly for eradication to be feasible. Thus, reduction in numbers of individuals is the most heavily used management strategy for invasive pests. While long-term biocontrol agents may take years or decades to develop, simple trap modifications can increase capture of targeted demographic groups, such as ovigerous females. The present study identifies the effectiveness of trap modification and use of multiple attractants to capture the invasive cane toad (Rhinella marina). Cane toad traps typically use lights to attract insect prey. Studies suggest that adding a male cane toad advertisement call to attract toads by phonotaxis may be effective. The aims of this study were to determine whether (i) female capture efficiency was influenced by attractants in the same manner as male and juvenile captures, (ii) an acoustic attractant alone (without a light attractant) was sufficient to attract toads, and (iii) the location of an acoustic attractant (inside or on top of the trap) influenced trap success. Male toads were captured more frequently than females and juveniles; combining light and acoustic attractants increased toad capture; and placing the acoustic attractant inside the trap increased the capture of female cane toads. Removal of adult, ovigerous females is a promising strategy to slow population growth of invasive species. Our results suggest that using a sound attractant inside the trap with a UV light is most effective in targeting that particular cane toad cohort.
Access options
Buy single article
Instant access to the full article PDF.
US$ 39.95
Tax calculation will be finalised during checkout.
Subscribe to journal
Immediate online access to all issues from 2019. Subscription will auto renew annually.
US$ 79
Tax calculation will be finalised during checkout.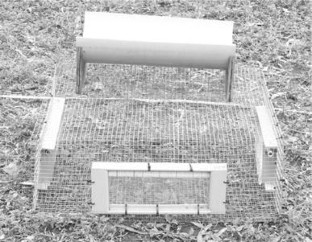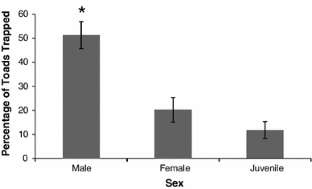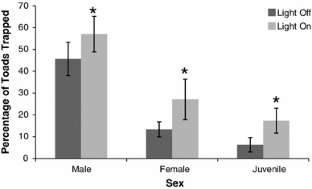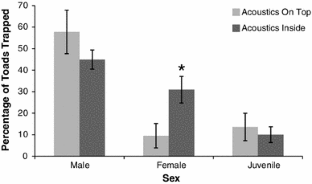 References
Alford RA, Schwarzkopf L, Brown G, Phillips B, Shine R (2006) Characteristics of Bufo marinus in old and recently established populations. In: Molloy KL, Henderson WR (eds) Science of cane toad invation and control. Proceedings of the Invasive Animals CRC/CSIRO/Qld NRM&W Cane Toad Workshop, June 2006, Brisbane. Invasive Animals Cooperative Research Centre, Canberra

Alford RA, Brown GP, Schwarzkopf L, Phillips BL, Shine R (2009) Comparisons through time and space suggest rapid evolution of dispersal behaviour in an invasive species. Wildl Res 36:23–28

Beacham TD, Krebs CJ (1980) Pitfall versus live-trap enumeration of fluctuating population of Microtus townsendii. J Mammal 61(3):486–499

Bioacoustics Research Program (2003) Raven lite: interactive sound analysis software (Version 1.0) [Computer software]. The Cornell Lab of Ornithology, Ithaca. <http://www.birds.cornell.edu/raven>. Accessed 21 Jan 2014

Bowcock H, Brown GP, Shine R (2009) Beastly bondage: the costs of amplexus in cane toads (Bufo marina). Copeia 1:29–36

Browne RK, Zippel K (2007) Reproduction and larval rearing of amphibians. ILAR J 48(3):215–234

Commonwealth of Australia (2013) Australian Government Bureau of Meteorology. <http://www.bom.gov.au/>. Accessed 21 Jan 2014

Crossland MR, Shine R (2010) Vulnerability of an Australian anuran tadpole assemblage to the toxic eggs of the invasive cane toad (Bufo marina). Aust Ecol 35:197–204

Dall D (2011) A catastrophe of cane toads. Outlooks Pest Manage 22(5):226–229

Davis J (2008) Improving short-term removal methods of the introduced pest species the cane toad, Chaunus [Bufo] marinus, in North-eastern Australia. MSc Dissertation, James Cook University, Townsville

Faul F, Erdfelder E, Buchner A, Lang A-G (2009) Statistical power analyses using G*Power 3.1: tests for correlation and regression analyses. Behav Res Methods 41:1149–1160

Forester DC, Lykens DV (1986) Significance of satellite males in a population of spring peepers (Hyla crucifer). Copeia 1986(3):719–724

Garg AD, Hippargi RV, Gandhare AN (2009) Toad skin-secretions: potent source of pharmacologically and therapeutically significant compounds. Internet J Pharmacol 5(2). <http://ispub.com/IJPHARM/5/2/9352>. Accessed 21 Jan 2014

Gerhardt HC, Huber F (2002) Acoustic communication in insects and anurans, common problems and diverse solutions. Chicago University Press, Chicago

Global Invasive Species Database (2005) Rhinella marina. <http://www.issg.org/database/species/ecology.asp?si=113&fr=1&sts=sss&lang=E>. Accessed 21 Jan 2014

Greenslade PJM (1964) Pitfall trapping as a method for studying populations of carabidae (Coleoptera). J Anim Ecol 33(2):301–310

Hagman M, Shine R (2008) Understanding the toad code: behavioural responses of cane toad (Chaunus marina) larvae and metamorphs to chemical cues. Aust Ecol 33:37–44

Hienton TE (1974) Summary of investigations of electric insect traps. US Dep Agric Technol Bull 1498:136

IBM (2007) SPSS Statistics 20.0 with WinWrap Basic. Polar Engineering and Consulting, Nikiski

Lampo M, De Leo G (1998) The invasive ecology of the toad Bufo marina: from South America to Australia. Ecol Appl 8(2):388–396

Mazzoni D (2004) AUDACITY 1.2.6. <http://audacity.sourceforge.net/>. Accessed 21 Jan 2014

Miller M (2006) Effectiveness of cane toad eradication methods: Arakwal National Park. Unpublished student report. World Learning, Cairns

Molloy KL, Henderson WR (eds) (2006) Science of cane toad invasion and control. In: Proceedings of the invasive animals CRC/CSIRO/Qld NRM&W cane toad workshop, June 2006, Brisbane. Invasive Animals Cooperative Research Centre, Canberra, Australia

Reeves MP (2004) A retrospective report of 90 dogs with suspected cane toad (Bufo marinus) toxicity. Aust Vet J 82(10):608–611

Sawyer G (2006) FrogWatch trap trials report observations. pp 1–15. <http://www.frogwatch.org>. Accessed 21 Jan 2014

Schwarzkopf L, Alford RA (2002) Nomadic movement in tropical toads. Oikos 96:492–506

Schwarzkopf L, Alford RA (2006) Increasing the effectiveness of toad traps: olfactory and acoustic attractants. In: Molloy KL, Henderson WR (eds) Science of cane toad invasion and control. Proceedings of the invasive animals CRC/CSIRO/Qld NRM&W cane toad workshop, June 2006, Brisbane. Invasive Animals Cooperative Research Centre, Canberra, Australia

Schwarzkopf L, Alford RA (2007) Acoustic attractants enhance trapping success for cane toads. Wildl Res 34:366–370

Schwarzkopf L and Forbes S (2010) Stop the invasion: enhancing the effectiveness of trapping methods to control cane toads (Rhinella marinus). Final Report to the Environmental Biosecurity Section of the Department of Sustainability, Environment, Water, Population and Communities

Seebacher F, Alford RA (1999) Movement and microhabitat use of a terrestrial amphibian (Bufo marinus) on a Tropical Island: seasonal variation and environmental correlates. J Herpetol 33(2):208–214

Strom BL, Roton LM, Goyer RA, Meeker JR (1999) Visual and semiochemical disruptions of host finding in the southern pine beetle. Ecol Appl 9(3):1028–1038

Taylor R, Edwards G (2005) A review of the impact and control of cane toads in Australia with recommendations for future research and management approaches. Vertebr Pests Comm, National Cane Toad Taskforce, pp 1–97

The State of Queensland DAFF (Department of Agriculture, Fisheries and Forestry) (2013) Cane toads, Bufo marinus, Pest Animal Fact sheet. <http://www.daff.qld.gov.au/__data/assets/pdf_file/0005/77360/IPA-Cane-Toad-PA21.pdf>. Accessed 21 Jan 2014

Thresher RE (2007) Genetic options for the control of invasive vertebrate pests: prospects and constraints. In: Witmer GW, Pitt WC, Fagerstone KA (eds) Managing vertebrate invasive species, Proceedings of an international symposium. USDA/APHIS/WS, National Wildlife Research Center, Fort Collins, CO, USA

Urban MC, Phillips BL, Skelly SK, Shine R (2007) The cane toad's (Chaunus [Bufo] marinus) increasing ability to invade Australia is revealed by a dynamically updated range model. Proc R Soc B 274:1413–1419

Zug GR, Zug PB (1979) The marine toad, Bufo marina: a natural history resumé of native populations. Smithson Contrib Zool 284:1–54
Acknowledgments
We would like to thank the Student International Training World Learning program, especially academic director Tony Cummings and all the students from SIT Cairns Fall 2010. We also thank the Gettysburg College Environmental Studies Department, Provost's Senior Research Fund, and Faculty Research and Professional Development Fund for financial support.
Additional information
Communicated by J. Jacob.
About this article
Cite this article
Yeager, A., Commito, J., Wilson, A. et al. Sex, light, and sound: location and combination of multiple attractants affect probability of cane toad (Rhinella marina) capture. J Pest Sci 87, 323–329 (2014). https://doi.org/10.1007/s10340-014-0555-9
Received:

Accepted:

Published:

Issue Date:
Keywords
Rhinella marina

Cane toad

Trap

Invasive

Acoustic attractant

Light attractant

Capture

Management

Mating