Abstract
Glyphosate-resistant (GR) hairy fleabane was first documented in California in 2007. A preliminary study comparing plants from this population to a glyphosate-susceptible (GS) population determined that they developed more rapidly than the GS plants. However, it was not known if this was a general characteristic of all GR populations. Therefore, seeds of hairy fleabane were collected from 122 locations in central California. Plants from each location were grown and tested for resistance using a shikimate enzyme assay. Seeds from 90 locations germinated of which 27 % were determined as GR, 21 % as GS, and 52 % as intermediate/mixed. Plants from five GR and five GS populations, as determined by the assay, were randomly selected for comparisons and were grown in 2010/2011. Time taken by each plant to reach key phenological stages was recorded and converted into growing degree day (GDD) using a base temperature of 4.2 °C. The biomass of each plant was recorded at seed set. The five GR and GS plants had similar phenological development rates and biomass. Therefore, the differences previously identified between the two populations were not present in the additionally tested populations. The phenological development was hence described by a common GDD model with the plants requiring 374, 711, 970, 1289, and 1551 GDD, to reach the rosette, bolting, first bud, first flower, and first seed stages, respectively. This study shows widespread distribution of GR hairy fleabane in central California, provides useful information on biology of this weed for management, and suggests possible label changes to herbicide manufacturers.
Access options
Buy single article
Instant access to the full article PDF.
US$ 39.95
Tax calculation will be finalised during checkout.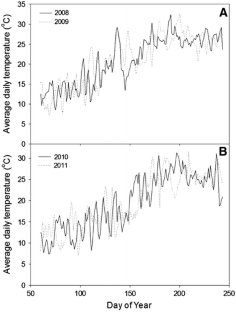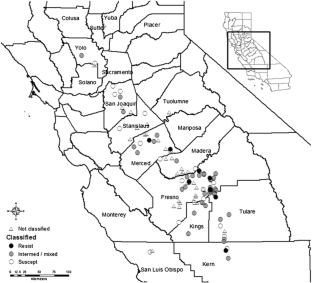 References
Alarcón-Reverte R, García A, Urzúa J, Fischer AJ (2012) Resistance to glyphosate in junglerice (Echinochloa colona) from California. Weed Sci 61:48–54

Alcorta M, Fidelibus MW, Steenwerth K, Shrestha A (2010) Effect of vineyard row orientation on growth and phenology of glyphosate-resistant and glyphosate-susceptible horseweed (Conyza canadensis L. Cronq.). Weed Sci 59:55–60

Baucom RS, Mauricio R (2004) Fitness costs and benefits of novel herbicide tolerance in a noxious weed. Proc Nat Acad Sci USA 101:13386–13390

Brabham CB, Gerber CK, Johnson WG (2011) Fate of glyphosate-resistant giant ragweed (Ambrosia trifida) in the presence and absence of glyphosate. Weed Sci 59:506–511

Davis VM, Kruger GR, Stachler JM, Loux MM, Johnson WG (2009) Growth and seed production of horseweed (Conyza canadensis) populations resistant to glyphosate, ALS-inhibiting, and multiple (glyphosate + ALS-inhibiting) herbicides. Weed Sci 57:494–504

Duke SO, Powles SB (2008) Glyphosate: a once-in-a-century herbicide. Pest Manag Sci 64:319–325

Grantz DA, Shrestha A, Vu H (2008) Early vigor and ozone response in horseweed biotypes differing in glyphosate resistance. Weed Sci 56:224–230

Gressel J (1985) Herbicide tolerance and resistance: alteration of site activity. In: Duke SO (ed) Weed physiology. CRC Press, Boca Raton, pp 159–189

Hanson BD, Shrestha A, Shaner DL (2009) Distribution of glyphosate-resistant horseweed (Conyza canadensis) and relationship to cropping systems in the Central Valley of California. Weed Sci 57:48–53

Heap I (2013) International survey of herbicide resistant weeds. http://www.weedscience.org. Accessed 30 July 2013

Jasieniuk M, Ahmad R, Sherwood AM, Firestone JL, Perez-Jones A, Lanini WT, Mallory-Smith C, Stednick Z (2008) Glyphosate-resistant Italian ryegrass (Lolium multiflorum) in California: distribution, response to glyphosate, and molecular evidence for an altered target enzyme. Weed Sci 56:496–502

Paris M, Roux F, Bérard A, Reboud X (2008) The effect of the genetic background on herbicide resistance fitness cost and its associated dominance in Arabidopsis thaliana. Heredity 101:499–506

Pedersen BP, Neve P, Andreasen C, Powles SB (2007) Ecological fitness of a glyphosate-resistant Lolium rigidum population: growth and seed production along a competition gradient. Basic Appl Ecol 8:258–268

Powles SB, Lorraine-Colwill DF, Dellow JJ, Preston C (1998) Evolved resistance to glyphosate in rigid ryegrass (Lolium rigidum) in Australia. Weed Sci 46:604–607

Preston C, Wakelin AM, Dolman FC, Bostamam Y, Boutsalis P (2009) A decade of glyphosate-resistant Lolium around the world: mechanisms, genes, fitness, and agronomic management. Weed Sci 57:435–441

Schönfeld M, Yaacoby T, Michael O, Rubin B (1987) Triazine resistance without reduced vigor in Phalaris paradoxa. Plant Physiol 83:329–333

Shaner DL, Nadler-Hassar T, Henry WB, Koger CH (2005) A rapid in vivo shikimate accumulation assay with excised leaf discs. Weed Sci 53:769–774

Shrestha A, Hanson BD, Hembree KJ (2008) Glyphosate-resistant hairy fleabane (Conyza bonariensis) documented in the Central valley. Calif Agric 62:116–119

Shrestha A, Fidelibus MW, Alcorta M, Hanson BD (2010) Growth, phenology, and intra-specific competition between glyphosate-resistant and glyphosate-susceptible horseweed (Conyza canadensis) in the San Joaquin Valley of California. Weed Sci 58:147–153

Sibony M, Rubin B (2003) The ecological fitness of ALS-resistant Amaranthus retroflexus and multiple-resistant Amaranthus blitoides. Weed Res 43:40–47

Travlos IS, Chachalis D (2010) Glyphosate-resistant hairy fleabane (Conyza bonariensis) is reported in Greece. Weed Technol 24:569–573

Travlos IS, Chachalis D (2013) Relative competitiveness of glyphosate-resistant and glyphosate-susceptible populations of hairy fleabane, Conyza bonariensis. J Pest Sci 86:345–351

Urbano JM, Borrego A, Torres V, Leon JM, Jimenez C, Dinelli G, Barnes J (2007) Glyphosate-resistant hairy fleabane (Conyza bonariensis) in Spain. Weed Technol 21:396–401

Vila-Aiub MM, Neve P, Powles SB (2009) Fitness costs associated with evolved resistance alleles in plants. New Phytol 184:751–767

Walker S, Bell K, Robinson G, Widderick M (2011) Flaxleaf fleabane (Conyza bonariensis) populations have developed glyphosate resistance in north-east Australian cropping fields. Crop Prot 30:311–317

Westhoven AM, Kruger GR, Gerber CK, Stachler JM, Loux MM, Johnson WG (2008) Characterization of selected common lambsquarters (Chenopodium album) biotypes with tolerance to glyphosate. Weed Sci 56:685–691

Williams MM II, Jordan N (1995) The fitness cost of triazine resistance in jimsonweed (Datura stramonium L.). Am Midl Nat 133:131–137

Wu H, Walker S, Rollin MJ, Tan DKY, Robinson G, Werth J (2007) Germination, persistence, and emergence of flaxleaf fleabane (Conyza bonariensis [L.] Cronquist). Weed Biol Manag 7:192–199

Zambrano-Navea C, Bastida F, Gonzalez-Andujar JL (2013) A hydrothermal seedling emergence model for Conyza bonariensis. Weed Res 53:213–220
Acknowledgments
The assistance of California State University (CSU), Fresno students Jeffrey Gallagher and Lorin Zozaya is gratefully acknowledged. Partial funding for this work was provided by CSU-ARI Seed Grant Award No. 09-10-011 and USDA-NIFA-AFRI Award No. 2010-85320-20415.
Additional information
Communicated by M. Traugott
About this article
Cite this article
Shrestha, A., Steinhauer, K.M., Moretti, M.L. et al. Distribution of glyphosate-resistant and glyphosate-susceptible hairy fleabane (Conyza bonariensis) in central California and their phenological development. J Pest Sci 87, 201–209 (2014). https://doi.org/10.1007/s10340-013-0524-8
Received:

Accepted:

Published:

Issue Date:
Keywords
Enzyme assay

Growing degree days

Hairy fleabane

Phenology

Shikimate